How To Tell if You're Addicted to Exercise (And Why That Might Be a Problem)
Studies show anywhere from 20 to 41 percent of triathletes are addicted to exercise - and that's not necessarily a good thing.
Heading out the door? Read this article on the new Outside+ app available now on iOS devices for members! Download the app.
We've all had that moment of questioning our relationship with exercise. Mine happened one morning in south Florida when my training partner hopped on her bike and rode off into a torrential downpour. A wave of thoughts hit me as I sat in my car. I should get out there. I've got to make up for this session. I will be anxious for the rest of the day. I'll have to adjust my nutrition. Maybe I should just suck it up and ride. While it might be easy for some to simply head back home, others will not tolerate the idea of skipping that workout. We'll grit our teeth and hammer the ride, no matter what. But, it's just because we want to, not because we have to…right?
It's become a cliché for triathletes on social media to label themselves "endurance junkies" or talk about needing to get their "workout fix" every day. But claiming to be addicted to exercise isn't quite the virtuous Instagram flex some might think it is – and in some cases, it can signal a much bigger problem.
Exercise Addiction isn't a myth
There is abundant research on the prevalence of exercise addiction (EA), also called "exercise dependence," in triathletes. One study of 1,285 triathletes found that 20% showed signs of EA, and that those who compete at longer distances are at greater risk. Another study on both amateur and professional triathletes found the rate of EA to be between 20-30% overall, but 41% in the professional group.
Primary EA refers to a behavioral addiction to exercise that begins with the intention of improving performance, though it often turns into an obsessive need to train. Secondary EA refers to the compulsion to exercise associated with eating disorders with the main goal of burning calories and controlling weight. Scientifically validated risk assessments and even a discussion of EA in the International Olympic Committee's Consensus Statement on Mental Health all confirm that both types of EA are a real concern for countless athletes. Yet some of us may find it hard to believe that we can become addicted to something that seems so healthy. It's not only possible, but it also may be more likely in our community.
RELATED: Mental Health Used to Be Taboo in Endurance Sports. These Researchers Are Changing That.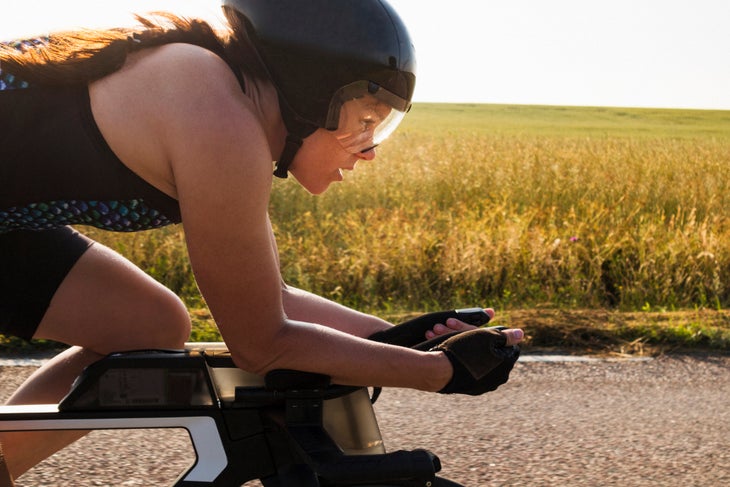 Getting high on tri
There are some neurobiological reasons why triathletes may be more likely to experience EA. Studies of endurance athletes demonstrate that both the high-volume training, as well as the very high dedication to the sport exhibited by most triathletes is more likely to result in dependence behaviors. This may be due to findings in emerging research that show that long hours of training may create a chemical dependency from the release of opioid-like neurotransmitters. That means that our mood may suffer without the influx of happy, calming neurochemicals until we're able to exercise. Similarly, studies have shown that the goal-achievement associated with completing workouts and competing may cause an influx of dopamine that will also keep us coming back for more.
It's possible that the runner's high may have a lot in common with the high we might get from drugs and alcohol. In fact, many of the features of substance addictions are also found in EA. Athletes may experience salience when we can't stop thinking about training even when at work, with family, or during other activities. Conflict may arise when we realize that we are lying about how much we're training, exercising while injured, or even in dangerous circumstances. We may experience mood modification, or feeling sad, anxious, depressed, and/or sluggish until we're able to train. We build a tolerance, needing ever-increasing volumes to feel that same high. Symptoms of withdrawal come on quickly when we can't train and we may feel additionally anxious, distracted, or down. Inevitable relapse happens when we simply can't go without training, often adding even more volume and intensity. Replace "exercise" with "alcohol" in any of those sentences, and you'll see how addiction – even to something healthy, like training – can be harmful.
The reasons we might feel compelled to exercise are not all chemical. Some triathletes use training to combat feelings of low self-esteem, to not feel lonely, to manage weight and body image, or to cope with anxiety and depression. Therefore, not training means not managing those issues. When faced with beating back our demons or being hounded by emotional thoughts all day, many of us quite literally choose to run. This situation is much more common than we might believe. How many of us have said that we don't feel like ourselves if we don't train on any given day? It's this feeling of "missing something" that drives our behavior.
All of these addiction factors are exacerbated by the messages that are constantly pumped out by the media. Fitness and health directives are largely directed toward the majority of the population, which tends to be more sedentary and therefore those messages are likely to encourage more physical activity, not less. Research on cultural perceptions of endurance athletes shows that fears around weight gain and body size are rampant, and a detailed study of fitness-oriented social media demonstrates that we are being conditioned to associate the pursuit of athletics with personal success, perseverance, and even sex appeal. On top of this, we're inundated with marketing messages telling us that we have no limits, that pain is good for us, and that we shouldn't stop when we're tired–in fact, we shouldn't stop at all. The resulting media focus is on exercising at all costs, all the time. It's no wonder that many of us might be suffering from EA.
RELATED: Pain is a Message, and We're Horrible at Listening to it
Red flags of exercise addiction
It may be difficult to recognize some of these features in ourselves or our training partners, but there are some red flags that we could be dealing with EA. The items in the list below are examples of just some behaviors that could be questionable, but of course, every athlete will have different experiences.
Saying yes to every invitation to exercise, even when you've completed your planned workout for the day.
Are you doing double sessions when it's not necessary? Are you adding extra walks, gym sessions, etc.?
Excessive use of fitness trackers, activity trackers, and calorie trackers to dictate training and nutrition.
Do you bike an extra quarter of a mile to make a round number? Do you find it impossible not to hit your planned mileage/speed/number of sessions for the week? Do you scrape a half-tablespoon of peanut butter back into the jar because it doesn't match up with the data from your tracker?
Not showing up to important meetings, canceling plans with friends and family, and/or lying about how much you're training.
Do you habitually leave meetings early to jump on your bike? Does everyone in your family know that you will not skip a long run even on a holiday? Do you routinely leave out the details for fear of a reaction from others?
Training when you're injured, sick, or should be taking a rest day.
Have you complained that you "just can't taper" and trained anyway? Do you only allow "active recovery" days instead of full rest? Have you been out exercising in a rain storm/snow storm/cold snap/heat wave?
RELATED: Triathlete Hour: We've Been Approaching Mental Health In Tri All Wrong
What to do if you think you (or a friend) are addicted to exercise
It may be difficult to talk with a friend who you think might be struggling, but having an honest conversation could help that person gain perspective. A first step in understanding the risk for EA might be to take a quality self-assessment like the Exercise Addiction Inventory. However, if you or a friend identify with any of the above red flags, it still might be a good idea to consult with a mental healthcare practitioner who specializes in EA. Maintaining a healthy relationship with triathlon could also mean working with a coach who can provide you with a plan that incorporates rest days with an appropriate amount of volume and intensity for your chosen goal.
In our community, athletes often get used to exercise habits that could be considered excessive. It can be difficult to step back and recognize where we might have turned the corner from "motivated" to "obsessed." Left unchecked, EA can lead to serious injury, Overtraining Syndrome (OTS), hormonal disruption, worsening anxiety and depression, and even poor performance at work or in school. So go ahead and have those tough talks with your friend – or even yourself. It might just make the difference between a short fling with triathlon and a healthy long-term relationship.
RELATED: Mental Health Resources for Triathletes
Jill Colangelo is a Sports Psychiatry researcher at the University of Bern and a former triathlete and ultramarathoner.