Jeanni Metzler's Journey Back to Health, Happiness, and the Top of the Podium
Jeanni Metzler took 18 months away from professional racing after a debilitating battle with anxiety and depression—and the key to her recovery came from the most unexpected of places.
Heading out the door? Read this article on the new Outside+ app available now on iOS devices for members! Download the app.
Nowhere are emotions more raw or real than on finish lines, and anyone who watched Jeanni Metzler cross the finish line at 70.3 St. George recently will know it was far more than your average victory celebration. When Metzler toed the line in Utah on May 6, it was a return to racing after an 18-month struggle with anxiety and depression that had left her wondering if she'd ever find her way back to the sport she loves. Her race in St. George proved to her that not only had she made it back, but she'd done so in style with a resounding win in a world-class field. And perhaps more importantly for her, she'd returned as a stronger, healthier, happier version of herself, someone who had fought her demons head on—and won.
"It was only a few weeks ago that I honestly questioned whether I'd continue as a professional triathlete," Metzler said. "I think that's why I was so emotional, because I think this was just my final chance to give it one last go. So to be back on the start line, feeling excited and to have glimpses of my old self was a really great feeling—and then to be able to win on the day, well, that was the cherry on top."
RELATED: Last Weekend Now: Stunners in St. George, Ibiza, and Oz
The high, and then the crash
But getting back to the top of that podium has been a rollercoaster ride that has seen the 31-year-old South African completely step away from training and racing. And while many might think the challenges would have begun after a disappointing race or a tough spell in training, the opposite is actually true: Metzler said she first started to encounter mental health struggles after her career-best performance at 70.3 Worlds in 2021, where she finished second behind Lucy Charles-Barclay and just seconds ahead of friend and training partner Taylor Knibb.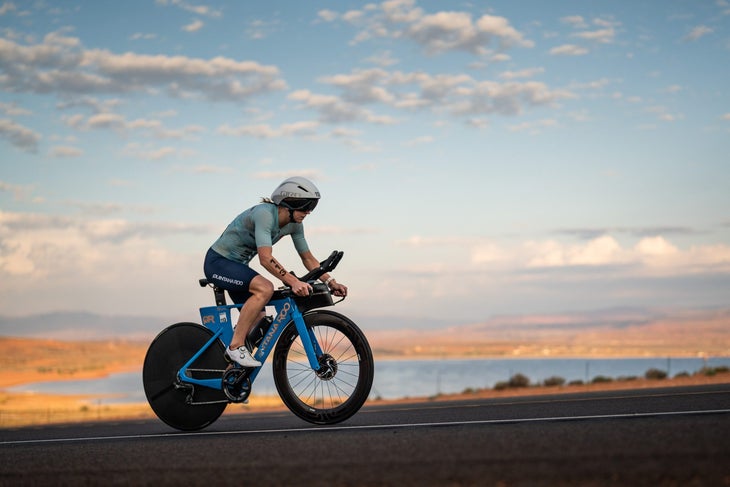 "I think just coming down from the high, the career-best performance, was something I really struggled to deal with," she said. "I don't think I was ready for that. And instead of just feeling very proud of that, I honestly felt behind and the pressure to improve upon that performance got the better of me. And that's kind of where my mental health started to decline and got out of my control."
She said that for some time she "tried to be brave and just work through it," but this only led to her feeling more shame, more vulnerable, and more alone.
"I was fighting it for a while, just out of pressure to get back to racing," she said. "But I think in the fall of last year, I kind of knew there was just no joy in the daily training, I lost my competitive edge, and I felt more anxious to get back to racing than excitement. And I think my health and relationships also started to fall by the wayside. So that's when I really had to stop and get the help that I needed."
RELATED: Mental Health Used to Be Taboo in Endurance Sports. These Researchers Are Changing That.
Her husband and fellow pro Justin Metzler said this was an incredibly difficult time, but ultimately the decision for Jeanni to step away from the sport "made itself." He said: "I think it was something that evolved over time and (she) continued to get more evidence to show that she wasn't okay. And then it sort of spiraled into a place where it had gone on for so long that the decision sort of made itself."
Metzler added: "It was hard, for sure, in terms of my career, because it's the sport that I love, so it was just a hard decision from that perspective. But also, on the flip side, I knew that's what I needed to do if I wanted to have any chance of getting back; I just had to prioritize my health."
RELATED: Triathlete Hour: We've Been Approaching Mental Health In Tri All Wrong
Finding help
From that point on, Metzler realized it was all about finding the right help, which was a challenge in itself. "I tried a lot of things, therapy, medications. I really tried to ask for a lot of help, which can be the hardest part."
After trying lots of different avenues, the help and the therapy that really helped Metzler find her path back to health and happiness came from an unexpected source: equine therapy and coach Siri Lindley. As someone who has won world championships, coached athletes to world championship titles, and beaten cancer, Lindley knows how to overcome physical, mental, and emotional challenges—and this challenge was one that Metzler did not expect to find herself facing, nor did she realize just how powerful Lindley's help would prove to be.
"As I look back on that time, what really helped me was working through my mental stuff with Siri, who was just down the road from me [in Boulder, Colorado] and working with horses at the Believe Ranch and Rescue. That really helped me through at that time."
Metzler worked with Lindley not as a triathlon coach (she was not training during this time), but as a life coach, using this time with horses and equine therapy to help re-center her.
"I'll forever be grateful for the impact Siri has had on my life," Metzler said. "She's one of the most relentlessly positive people out there. And she was just honestly a guiding light for me during that time; she helped shed some light on my thinking and helped me get to a place where I can accept myself and be kind to myself and love myself. And it's still something I have to work on every day. But I think it was just a process of getting my priorities in order again, and really knowing who I am, knowing my values and what I want to get out of life."
RELATED: Mental Health Resources for Triathletes
"I knew I was ready because of the weeks of consistent training and feeling that joy again. I think those were the clear signs that I was ready to be on a start line again. I felt excited to race. I knew I was ready to get back."
A different kind of therapy
While most pros are logging 25 to 30 hours of training a week, Metzler said that during this period she was spending time with Lindley once or twice a week for talk therapy, while also spending a few days a week working with horses and being outside. "That time was a real rollercoaster for me. Most days I was pretty low and struggling, but I was working, working hard to try and just get myself back."
There was no obvious turning point, she said, nor any time when the path ahead was clear, but rather "what it came down to was really just doing the hard work, the internal work on my mental side, of figuring out really just how I'm thinking, what I believe about myself and just how important those thoughts are impacting my daily life," she said. "It was by no means easy and I had a lot of support from my husband and my mom, who came from South Africa to help me through."
Her race in St. George was not her first return to racing. Metzler raced at 70.3 Indian Wells in December last year, finishing fourth, yet acknowledging, "that was just too soon. I was still struggling, and, honestly, just not ready to get back to racing at that point."And despite still having doubts about her future in the sport in the weeks leading up to 70.3 St. George, something simply felt different then for Metzler: "I knew I was ready because of the weeks of consistent training and feeling that joy again. I think those were the clear signs that I was ready to be on a start line again. I felt excited to race. I knew I was ready to get back."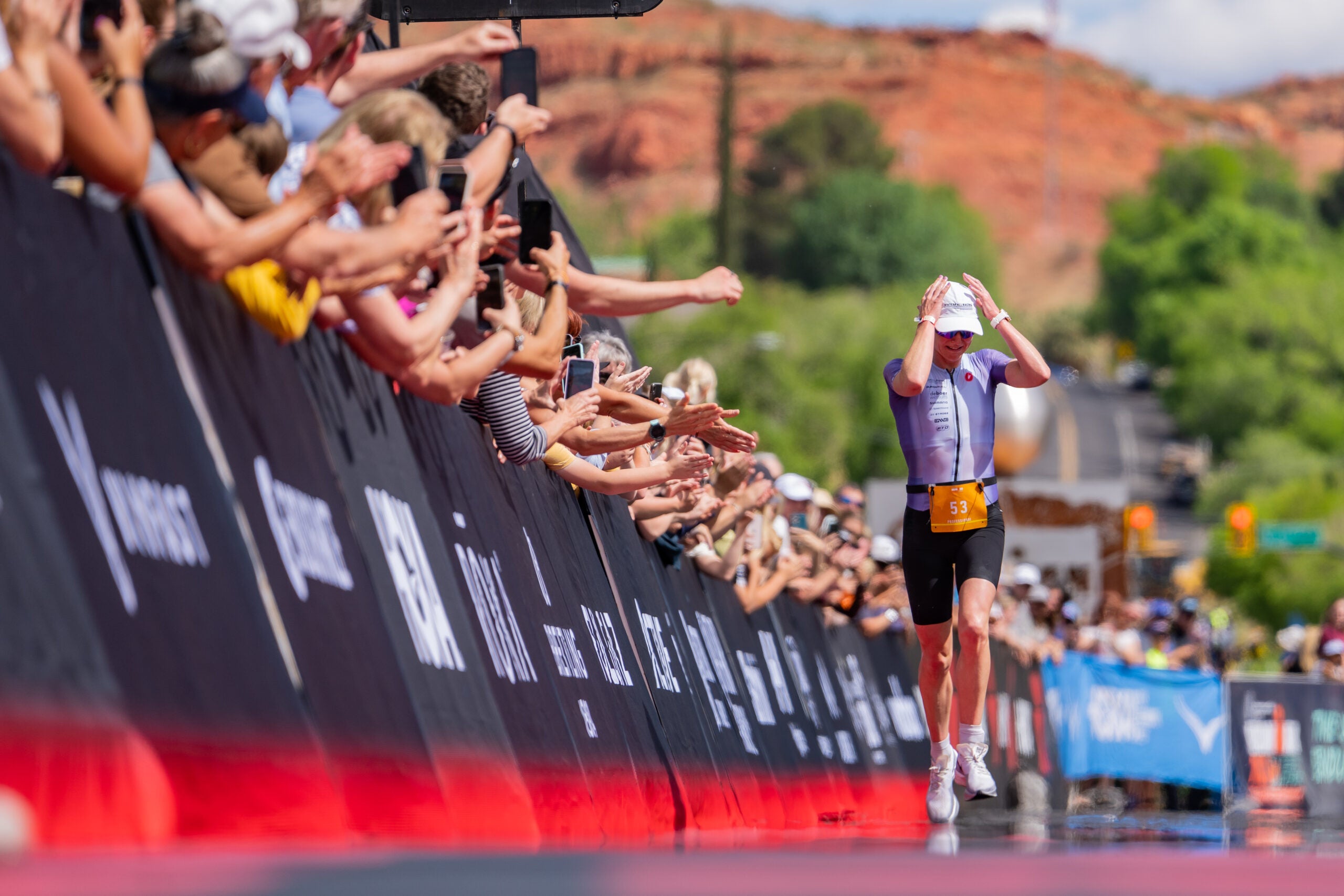 And as she looks ahead to the rest of the season and, indeed, her career, she holds on tightly to the lessons learned during this time away from triathlon.
"I've learned so much during this time," she said. "I've learned that winning and achieving success is great, but it's not the most important thing. My health and my family are. And I've learned how important the way you think and the way you believe impacts your life."
"I internalized my struggles, and it only got worse"
For those athletes who might be experiencing similar struggles to her, Metzler has a simple message: "Ask for help. It's the hardest part, but it's the most important."
She added: "I think for a long time I internalized my struggles, and it only got worse. It's about knowing that if you just ask for help, there is so much out there. And so many people are willing to give you that help. A lot of people have actually experienced the same thing you have, but it can be the hardest thing when you feel alone or ashamed. Just know that it can get better."
She also advised that finding help can be a hard path in itself and that not everything you try will work: "I think everyone's path is going to be different," she said. "I know for myself, and how I've been as an athlete, I've never given up. And I think that's translated into my life too. So I just wanted to be back so badly and just be myself again that I was just relentless in the pursuit of figuring out what's going to get me back on the right path. And so there were many days I wanted to give up. I think I wasn't very fun to be around, but my family really were the ones who never gave up on me, so I knew I owed it to them to just keep pushing through and doing the hard work to find myself back here, back on the right path."