9 Takeaways From the Pro Race at 70.3 Oceanside
If Saturday's race was any indication, we're in for an amazing season of professional triathlon.
Heading out the door? Read this article on the new Outside+ app available now on iOS devices for members! Download the app.
Ironman 70.3 Oceanside marked the start of the North American Ironman season. Located just up the coast from the birthplace of triathlon, and with a packed field of professionals, expectations for Oceanside were high – and the race delivered.
It might have been a cold morning, but the action soon became heated. After two enthralling races, we were left with some red-hot run splits and two deserving new champions. Leo Bergere carried out his plans for a smash-and-grab win in California, breaking the tape in 3:45:25 on his long-course stopover en route to Paris 2024, while Tamara Jewett laid down a blazing-fast run to push her way to the top podium step in 4:08:09.
Here are nine things we're taking away from the race as we blast off into the 2023 season.
Missed the action in Oceanside? Outside Watch has made the replay of the race broadcast free for all. See the race from start to finish by hitting the button below:
RELATED: The 2023 (Must-Watch) Pro Triathlon Calendar
1. No one made the same (freezing) mistake twice.
The weather in most of the United States has been miserable of late, and despite it being Southern California, the early start of the day – with the pro men going off at 6:40 a.m. – made for chilly conditions. The water temperature was just 57 degrees F, and the ambient conditions not much more. But whereas a host of athletes were caught out (and near-hypothermic) in similar conditions at the Ironman 70.3 World Championship in Utah last year, lessons had clearly been learned.
RELATED: The Danger Lurking Behind "Getting Too Cold" In A Tri
Notably, Holly Lawrence ditched her normal high-cut racing suit for additional layers, and swapped blue lips for blowing past a chunk of the men's field. Perhaps the decisions of 70.3 world champion Taylor Knibb had been noted from St. George, where the the number-one priority for the now reigning 70.3 world champion was to be cozy for the start of the bike leg. (Although there were no such considerations for Knibb here, as she wasn't racing – instead, was wrapped up in the Ironman commentary booth.)
https://twitter.com/IRONMANtri/status/1642188291368787969
2. The payout isn't as big as you think.
This was a high-profile curtain-raiser to the North American Ironman season, with almost 100 names on the pro start list, 3,500 amateurs and a live broadcast to boot. Yet the prize money at just $50,000 was derisory, especially compared to other pro prize purses offered by other race organizers. Some quick math on the $1,200 Ironman pro license shows that if they race on average four times a year, then around $30,000 poured into Ironman's coffers for this race from their license fees alone. Essentially, the pros are funding much of their own prize pot. The age-old problem is that although there is huge value in the pros for below-the-line marketing of the Ironman brand – i.e., the pictures that sell these races – Ironman prize purses may not necessarily align with that value.
RELATED: How Does A Triathlete "Go Pro?"
3. 5-star performances are the norm, not the exception.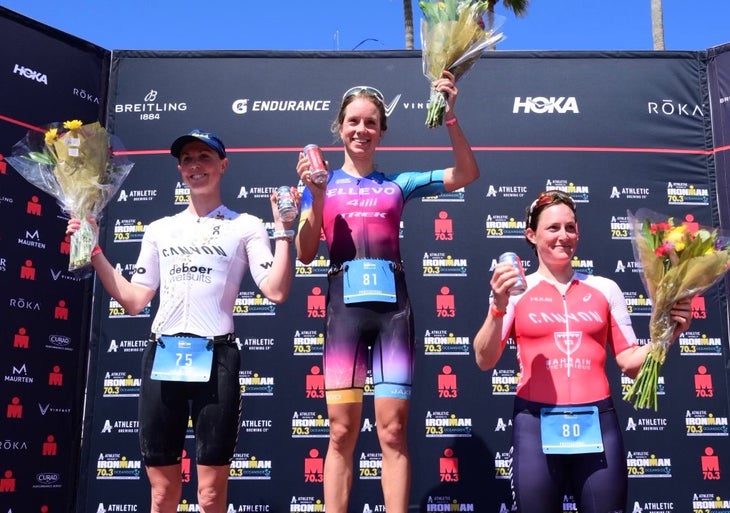 From early on, it was clear that there were only ever five women in this contest, and all of them had a chance at the win. Paula Findlay led early and faded late, while Tamara Jewett held on early and hammered through at the end. There were no surprises in Chelsea Sodaro, Kat Matthews and Holly Lawrence, either – they were in the mix, and moves from all three made for more exciting racing. The pro women's field has some bona-fide superstars right now. The rest of the season, whether it's PTO racing or Ironman, comes laced with anticipation. The rest of the pack must work out how to catch on and catch up.
4. Bergere was brilliant – but won't be back.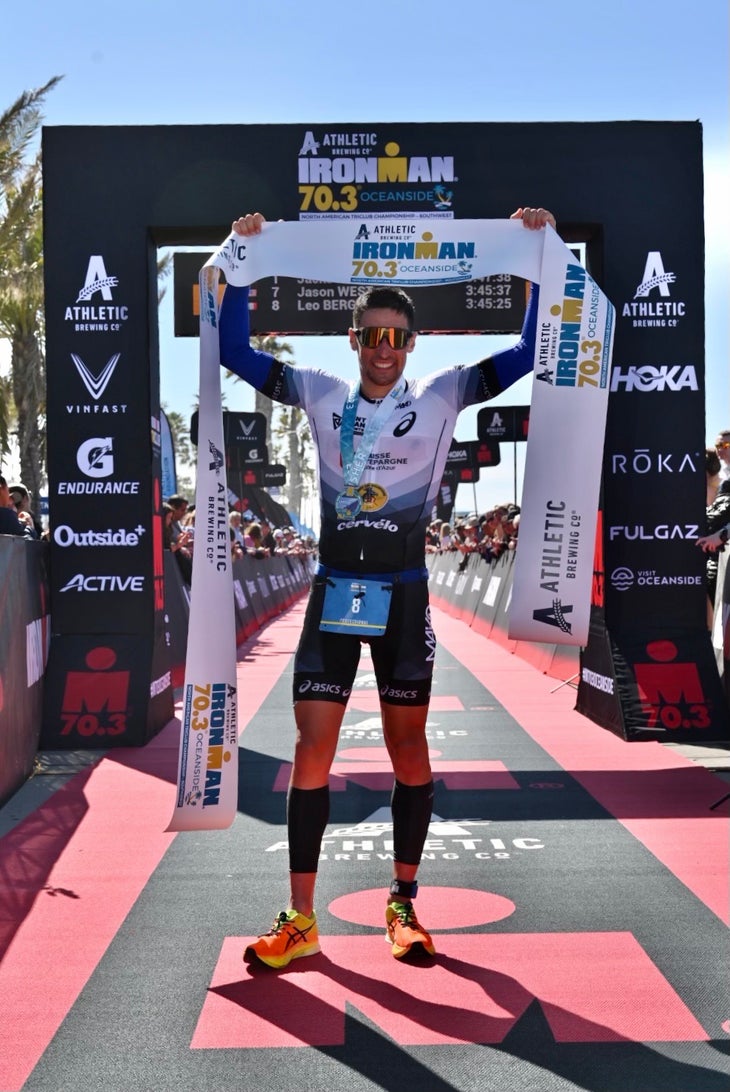 As was befitting a reigning World Triathlon Championship Series champion, Bergere was a class act from first to last in Oceanside, leading the swim, staying upfront on the bike leg and then leading through the half-marathon. We shouldn't be surprised. We found out before the race that he's done the work dialing in his position on the time trial bike, he's won over this distance before, and he's an Olympic medal favorite for Paris – so speed isn't a problem. That's even true with Jason West marauding through the field. The 26-year-old Frenchman just stayed cool, checked his watch, looked over his shoulder, and eased to the tape.
But if you're looking for more non-drafting action from Bergere, you'll have to wait. It's now full focus on Olympic qualification and a return to the World Series. The French short course men have the strongest depth of talent in the world currently, and he needs to make sure he's on the team for next summer on the banks of the Seine. If people weren't sure of his name in Oceanside, it's likely to be a household one after Paris.
5. The runners are getting into position.
There has never been any doubting the running pedigree of USA's Jason West and Canada's Tamara Jewett. For many observers, they are the two quickest runners in middle-distance triathlon right now. If they're in the mix come T2, they're strong favorites for the win. Even a 30-second blocking penalty on the bike for Jewett was shrugged off as a minor inconvenience as she plowed her way out of T2 and into first place. With superbly executed swims and bikes, the case as contenders has been well and truly proven for both. If the dime hadn't already dropped, the idea of them being allowed to (legally) sit in on a paceline without being attacked in future has dissolved just as fast.
Leo is in the lead, but he sees Jason behind… pic.twitter.com/tPzYLvEdoE

— IRONMAN Triathlon (@IRONMANtri) April 1, 2023
6. About those run splits…
In the 13.1 mile run leg, West clocked a 1:07:41, and Jewett 1:13:00. West and (particularly) Jewett's half-marathon splits blew up on social media with no filter to the hyperbole that was flowing. They were fast and deserved the praise, no doubt, but take a look at the historic performances of both athletes and you can see it's in the same ballpark as they've regularly been clocking for 70.3 runs over the past three years. All it proves is that this isn't a one-off, and in many ways, that makes it even more exciting for what's to come.
RELATED: How Fast Can the Fastest Pros Run in Ironman?
7. Three minutes is not enough between pro fields.
Having the professional women start three minutes after the pro men, when the men's field is saturated and the threshold for being a pro man isn't high enough, is a recipe for a mashed-up mess, with pro women forced to swim and bike through the back end of the men's race. Getting separation between the two races may not always be easy, but there has to be a better option than than a measly three minutes.
8. Emotion is rocket fuel.
Oceanside was awash with emotion even before the cannon went. Particularly, Matthews – returning from a bike crash that almost took her life before Kona – and Sodaro, who admitted to debilitating mental health struggles in the wake of her Ironman title triumph in October. Emotion has long been the intangible dimension that adds jeopardy to the result. How both Matthews and Sodaro, and even Sam Long – who saw this as a redemption race after a controversial penalty in St. George – responded showed they have the maturity not just to process emotions, but harness them into a performance to be proud of.
9. Chelsea has the final word.
After 4 hours of intense racing, Sodaro used the post-race interview to reaffirm her pre-race commitment to give her prize money ($5,000) to Moms Demand Action, a grassroots movement trying to address the nation's culture of gun violence. Her simple message: "I just want to be able to drop my child off at school with the knowledge that I'll be able to pick them up again."
Sodaro's 70.3 Oceanside post-race interview:
2023 Ironman 70.3 Oceanside Results
Men's Pro Race
| | | | | |
| --- | --- | --- | --- | --- |
| Name | Swim | Bike | Run | Finish |
| 1. Leo Bergere (FRA) | 22:10 | 2:08:18 | 1:10:34 | 3:45:25 |
| 2. Jason West (USA) | 22:44 | 2:11:04 | 1:07:41 | 3:45:37 |
| 3. Jackson Laundry (CAN) | 23:47 | 2:06:59 | 1:12:38 | 3:47:38 |
| 4. Ben Kanute (USA) | 22:39 | 2:09:47 | 1:13:00 | 3:49:38 |
| 5. George Goodwin (GBR) | 23:22 | 2:07:18 | 1:15:27 | 3:50:35 |
Women's Pro Race
| | | | | |
| --- | --- | --- | --- | --- |
| Name | Swim | Bike | Run | Finish |
| 1. Tamara Jewett | 25:45 | 2:24:38 | 1:13:00 | 4:08:09 |
| 2. Chelsea Sodaro | 25:45 | 2:23:37 | 1:15:21 | 4:09:31 |
| 3. Kat Matthews | 25:44 | 2:23:10 | 1:18:34 | 4:12:27 |
| 4. Holly Lawrence | 24:15 | 2:25:09 | 1:22:39 | 4:16:32 |
| 5. Paula Findlay | 25:45 | 2:23:17 | 1:27:50 | 4:21:52 |
For the full results from the pro and age-group races at Ironman 70.3 Oceanside, visit the Ironman website.