The Best Triathlon Bikes of 2022
Ranging from $3,500 to $12,000, we hands-on review and rate five of the best triathlon bikes from 2022 and beyond.
Heading out the door? Read this article on the new Outside+ app available now on iOS devices for members! Download the app.
This year marks the return of a slew of brand-new bikes from familiar brands—Trek and A2 finally throw their hats into the disc-brake ring, while Quintana Roo and Ventum remix old models into new ones, and Argon's new budget disc frame is a surprisingly well-rounded offering. We've been super busy this spring, riding and reviewing all of these interesting new bikes—parsing out the marketing hype from the real-world, on-the-road reality to determine the best triathlon bikes of 2022.
What makes something a good triathlon or TT bike? We base our best triathlon bikes of 2022 ratings off the following criteria (noted below): fit range, value, comfort, acceleration stiffness, handling tightness, stability, ease of assembly—and we let you know what distance we think that tri bike is best suited for.
| | |
| --- | --- |
| Criteria | Description |
| Fit Range | This is not only the number of sizes offered, but also the range from smallest to largest. Obviously tri bikes can (and should) be adapted by a good fitter, and a fitter should ideally be consulted even before purchasing a bike, but this rating details how much adjustment (I.e., aerobar spacers, alternate saddle positions, etc) from the frame's baseline could be required to get an optimal fit. |
| Value | Here we look at the value behind the complete bike, looking mostly at components, but also frame quality as well. This is not just absolute price from low to high. |
| Comfort | This rating specifically judges the complete bike on vertical compliance, not fit or handling. Keep in mind that more than just a frame can affect comfort, and since we evaluate the complete bike as it's sold, other components can come into play—wheels, tires, even bars. |
| Acceleration Stiffness | This is another rating that looks at the sum of the parts on the complete build. Here we're evaluating how the bike responds under high torque (standing up over a hill or out of a corner) and high wattage (powering over a roller). Again, other components aside from the frame can come into play here. |
| Handling Tightness | Separate from stability, this is the rating that scores how sharp the bike cuts corners. This isn't necessarily a positive thing if you prefer a bike that sweeps more reliably through corners, as opposed to a bike that can turn on a dime. 5/5 here is very tight handling; 1 / 5 is a bike that swoops out on corners but might be more consistent. |
| Stability | This rating looks at how stable a bike feels in the aerobars in crosswinds and on descents. A more stable bike will require less input from the rider to stay straight, but again, it looks at the complete bike as a whole—wheels included. |
| Best Distance | This is a quick look at which distance tri the bike will be good for, out of the box. Of course pretty much all the bikes we review work for almost any distance, but these distances are where each complete bike—as shipped—will shine. |
| Ease of Assembly | With so many bike brands using the direct-to-consumer model, we rate how easy the home build would be for the average triathlete. Here, we're assuming a low level of mechanical skill—for instance, the person we're rating for could change a tire, but maybe not adjust a derailleur. |
While the gear below was loaned out by the brands represented, all choices were selected independently by the tester without any promotional consideration or brand input. Also, unlike other "best triathlon bike review" websites, our testers actually build and ride each of the bikes ourselves—no glancing at spec sheets and rewording marketing terms!
---
Do you have more questions about your first (second, third, or tenth) tri? We have an active and supportive community of everyday athletes and experts in Team Triathlete who are willing to help. Plus: Members have exclusive, near-instant access to the entire editorial staff at Triathlete. Help is just an @ away! Become an Outside+ Member and join Team Triathlete now!
---
Best Triathlon Bikes of 2022
Section divider
Ventum One
$7,500, 23lbs. 15oz. (size 56, no hydration), Ultegra Di2 Build, Vision Team 30 Wheels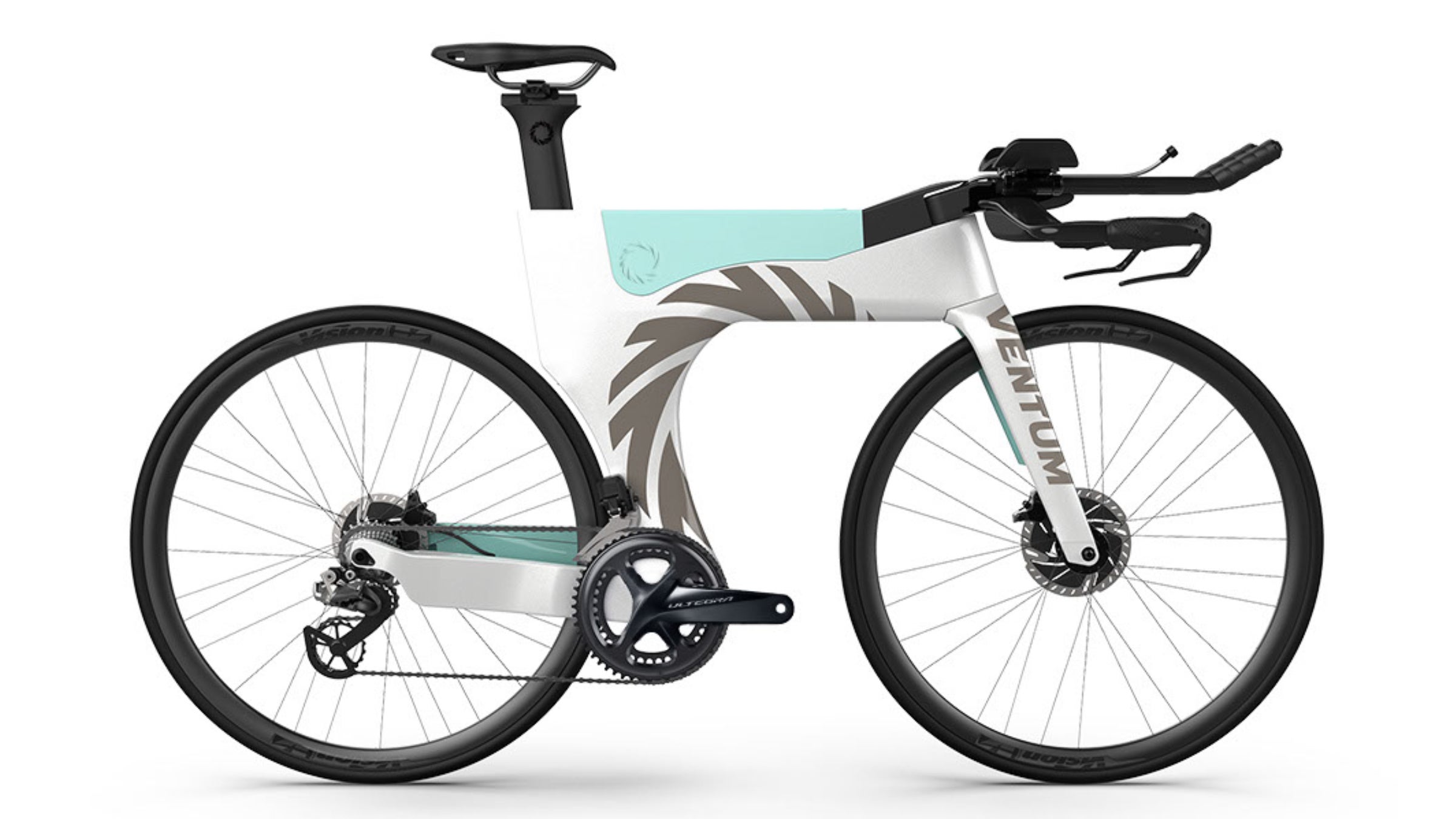 | | |
| --- | --- |
| Best Triathlon Bikes Category | Rating |
| Overall Rating | ★★★ |
| Fit Range | ★★★★★ |
| Value | ★★★★ |
| Comfort | ★★★★★ |
| Acceleration Stiffness | ★★ |
| Handling Tightness | ★★★ |
| Stability | ★★★★ |
| Ease of Assembly | ★★★★★ |
| Best Distance | 70.3 and over |
Over the last few years, Ventum has slowly "optimized"  its line of tri bikes from the wildy flamboyant, all-in One that broke all records with its $29,000 dream bike to a more affordable (and actually quite capable) Z, and now back to a more middle-of-the-road One with disc brakes. With competing non-double-diamond brands like Dimond slowly losing market share and Cervelo keeping its P5X well out of reach of mere mortals, Ventum's One remains the most viable solution to those looking for an aero-at-all-costs, non-UCI rig.
One glance at the specs, and you'll see that the new One is no lighter than the old version, in fact, it's got an extra pound on the old rim-braked Z—even with all hydration removed. But put that out of your mind: This bike is meant for flat to rolling tris, and if there's a gnarly crosswind, all the better. The ride on this setup is incredibly comfy, and it comes fully set up with the most intuitive, hassle-free, and aerodynamic hydration system we've ever tested. The hydration system is expertly tucked into the top tube (in fact it is effectively the top tube, and as such the bike is faster with the hydration system installed), and you'll find additional flat storage beneath the ample hydration compartment.
Furthermore, the front end has been redesigned, much like other brands (Orbea, upper-end Cervelos, Canyon, etc.) with a monopost front end that easily adjusts the aero bars, but also still allows space for front hydration as well (unlike some of the previously mentioned brands). Elsewhere, the disc brakes are well-hidden, the front fork is monstrously wide, and you still won't win any town-line sprints on this frame, but you'll likely shave minutes off your bike split and (more importantly!) hop off the bike less beat up from the road and the wind.
RELATED: A Deep Dive Into the New Ventum One Tri Bike
Section divider
Argon E-117 Tri Disc
$6,000, 23lbs. 15oz. (size 56), Force eTap AXS Build, Vision Team 35 Wheels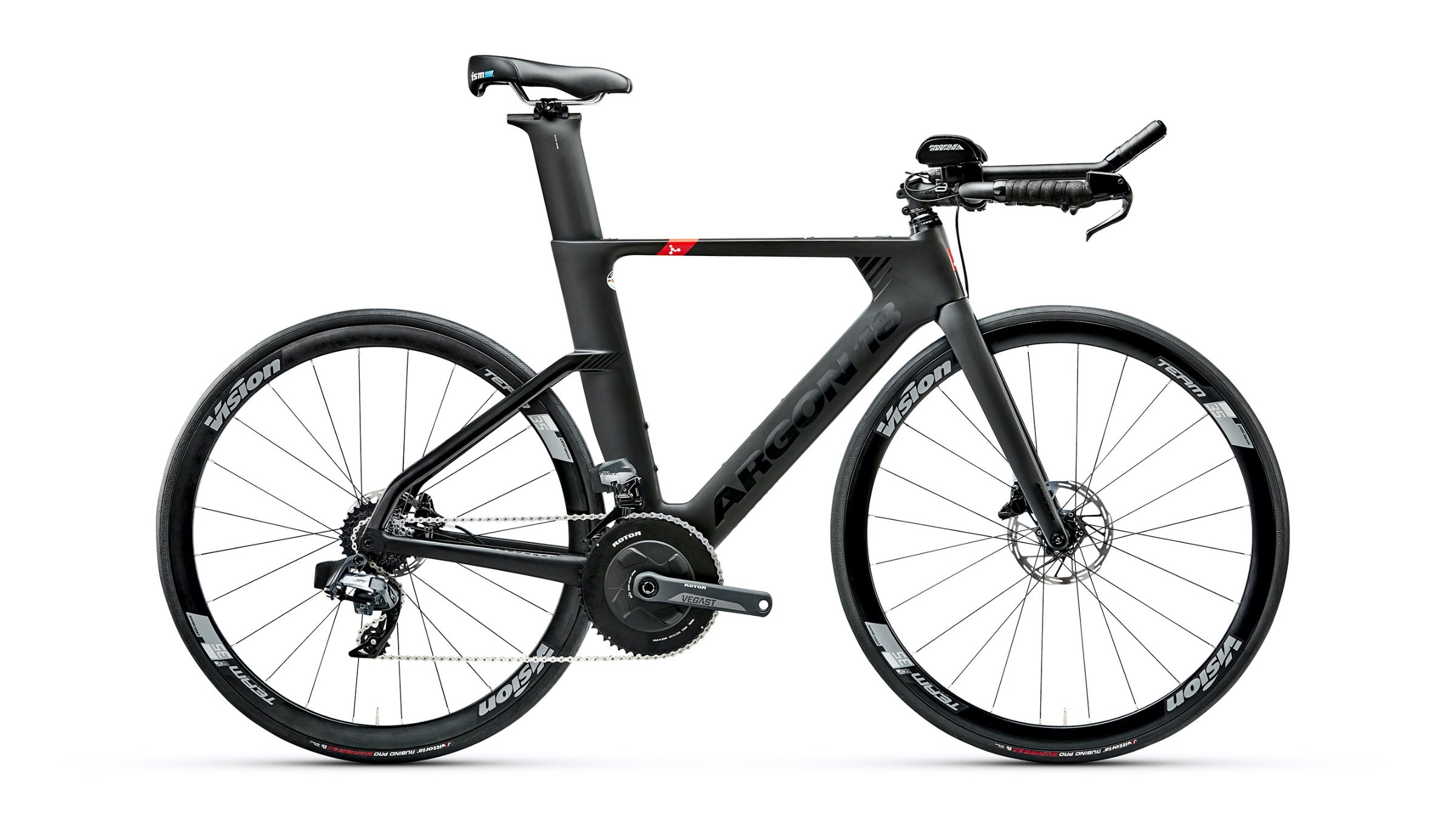 | | |
| --- | --- |
| Best Triathlon Bikes Category | Rating |
| Overall Rating | ★★★★ |
| Fit Range | ★★★★★ |
| Value | ★★★★★ |
| Comfort | ★★★★ |
| Acceleration Stiffness | ★★★ |
| Handling Tightness | ★★★★ |
| Stability | ★★★ |
| Best Distance | All distances |
On its surface, Argon's disc update to their E-117 line may not seem super exciting, but in fact with this bike, Argon got a lot right that it had previously been missing on. Their last disc model, the E-118 Tri+ was super light, super aggressive, and a little too much like a Ferrari for those of us riding far and long. The E-117 Disc, on the other hand, is a great middle-of-the-road effort that could be used at any distance, by any level rider. We found it to be both stable and smooth over all bumps, except for the biggest, and not as ginsu knifelike around corners—for better, not worse. While still not as stable as the new Ventum One or the new Trek Speed Concept, this is still a great option for long-course racing, which we could not have said about previous versions.
In terms of spec, $6,000 is a great value for a hydraulic disc brake bike with eTap, and the six sizes means you'll find a fit that not only works, but will work as your fit needs change. The fork is a totally standard 1 1/8" steerer tube, so you can run any stem/bar combo you choose (further enhancing the fit options). Of course all of this points to the lack of an integrated "superbike" front end, but it also speaks well to its serviceability and compatibility in a time when that's sometimes rare. Finally, while the eTap build is a good value, this frame's sweetspot build is likely the $3,600 Force 22 setup, which is a crazy value for such a well-rounded frameset.
Section divider
Quintana Roo V-PR
$12,400, 20lbs. 2oz. (size 54, no hydration), Dura-Ace Di2 Build, HED Vanquish RC6/8 Pro Wheels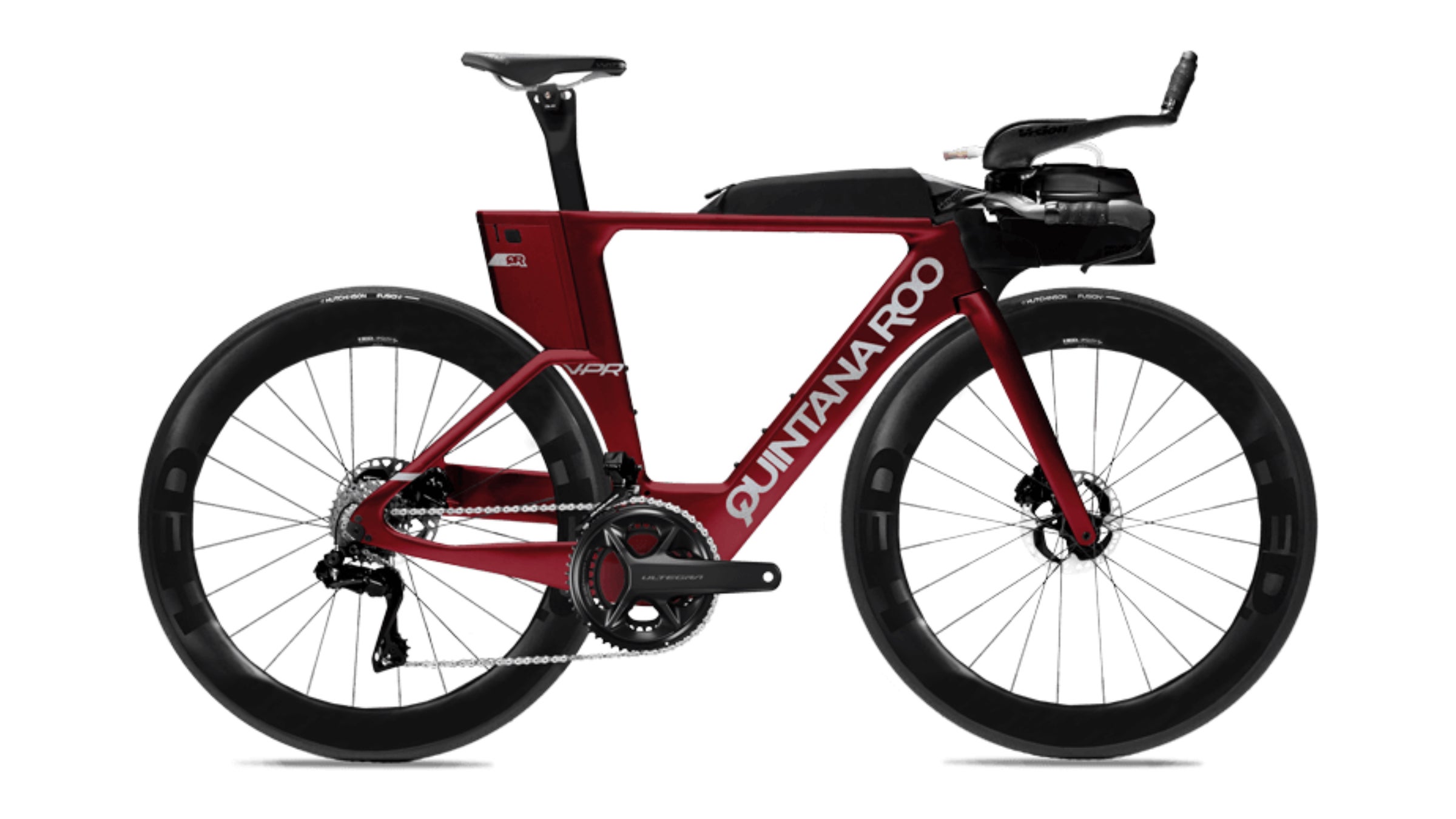 | | |
| --- | --- |
| Best Triathlon Bikes Category | Rating |
| Overall Rating | ★★★★ |
| Fit Range | ★★★★★ |
| Value | ★★★ |
| Comfort | ★★★★ |
| Acceleration Stiffness | ★★★★ |
| Handling Tightness | ★★★ |
| Stability | ★★★★ |
| Ease of Assembly | ★★★★★ |
| Best Distance | All distances |
Though touted as a massive revamp of their PR-Series bike line, on paper, the V-PR looks like an accumulation of small, marginal gains (sounds like our training plans, no?). Weight was reduced somewhat, the handling improved (particularly in straight lines), and the ready-to ride prebuild is nothing short of revolutionary. But if you look at the PRsix2 Disc next to the V-PR, you might mistake them for twins. That's ok, because the V-PR (much like the PRsix2 before it) is still one of the better tri-first bikes at the top of the heap.
The ride of the V-PR is unsurprisingly smooth and excellent in straight lines—perfect for 70.3 and above—and further reinforces its long-course pedigree with tons of storage on the top tube (nutrition) and behind the seat tube (flat kits, tools, etc.) as well as 30oz. of neatly integrated between-the-arms hydration. There's also still space for more hydration either behind the saddle or in the frame triangle. While the price is still pretty prohibitive, and the "entry-level" V-PR is a wallet-sapping $9k, that's also still perfectly in line with its competitors like the new Trek Speed Concept or the Scott Plasma RC 6. All in all, the V-PR is a summary upgrade to an already great long-course design.
RELATED: A Deep Dive Into Quintana Roo's V-PR Tri Bike
Section divider
Trek Speed Concept SLR 7 Gen 3
$9,500, 19lbs. 12oz. (size M, no hydration), Ultegra Di2 Build, Bontrager Aeolus Pro 51 Wheels
| | |
| --- | --- |
| Best Triathlon Bikes Category | Rating |
| Overall Rating | ★★★★ |
| Fit Range | ★★★ |
| Value | ★★★ |
| Comfort | ★★★★ |
| Acceleration Stiffness | ★★★★ |
| Handling Tightness | ★★★★ |
| Stability | ★★★★★ |
| Best Distance | All distances |
It took them long enough, but Trek finally added disc brakes to their well-loved Speed Concept line of tri bikes. The good news is they pulled it off well (and added some fun gimmicks to make it worth the wait), but the bad news is if you want in on a new Speed Concept, you'll be parting with at least $9k of your hard-earned cash. Much like previous versions of the Speed Concept, however, Trek has put together a tight, stable, smooth, and nearly perfect tri bike that's tough to find real faults with.
The most interesting feature on this new iteration has to be the IsoSpeed coupler/suspension system that reduces high- and mid-range road vibrations. The coupler has been present on many of Trek's road bikes for years—to varying effect—but has puzzingly been left out of the tri line, where it could potentially do the most good. That said, it's a good first try, but without any adjustability or way to tune the ride, your mileage may vary on its effectiveness. The bike is mostly smooth, but we were still surprised by larger bumps that took us out of our comfy zone in the super-stable and connected integrated cockpit. Elsewhere, we loved the built-in downtube hydration (and handy hidden tool compartment), and felt just as good cranking hard with our heads down in the aerobars as we did standing up and twisting the basebars up climbs.
RELATED: Trek Speed Concept SLR 7 Extended Review
Section divider
A2 Bikes SP1.2
$3,500, 22lbs. 2oz. (size XL, no hydration), Ultegra Build, Vision Team 30 Wheels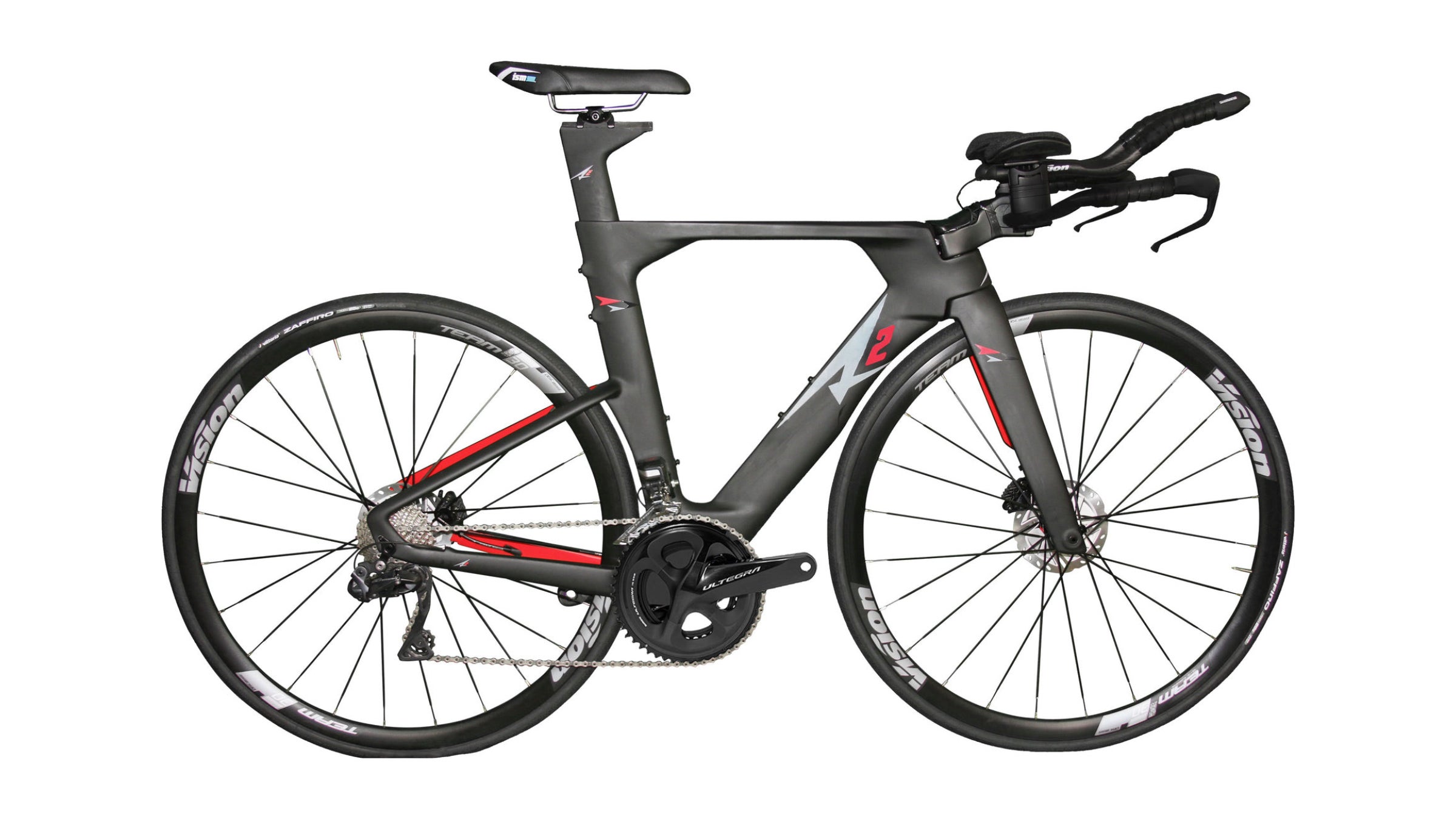 | | |
| --- | --- |
| Best Triathlon Bikes Category | Rating |
| Overall Rating | ★★★ |
| Fit Range | ★★★ |
| Value | ★★★★★ |
| Comfort | ★★★★ |
| Acceleration Stiffness | ★★★ |
| Handling Tightness | ★★★ |
| Stability | ★★ |
| Ease of Assembly | ★★★★ |
| Best Distance | All distances |
A2 Bikes began with a mission to cut out the middleman and connect triathletes (almost) directly with bike manufacturers overseas. At the time it was pretty revolutionary thinking: direct sales. But now, there are many brands skipping the bike shop, and even a few—like A2—who go low marketing, low overhead in an effort to cut costs to the very bottom. A2's first bike, the Speed Phreak, was a result of this, and as such it was a fine bike—albeit a little raw in terms of handling, stability, and fit flexibility. The good news with the new SP1.x line is that A2 has fixed most of those issues and kept the price in check.
The result with the SP1.2 is a hydraulic disc brake-equipped bike, with decent components for under $4k. In terms of ride, it's a much smoother bike than the first iteration with much better adjustability—particularly when you consider this setup technically falls in the superbike category. However, when it comes to ride stability, we struggled with handling, as the frame seemed to wander slightly during our testing. It's possible that this was a one-off on an early model, but it was present. 
Featurewise, the bike has some serious aero pedigree, as the new frame was designed by former Cervelo engineer Kevin Quan and his team—the same group responsible for the head-turning Diamondback Andean. It also features frame bosses for water bottles in the frame, nutrition on the top tube, and a first—Bontrager SpeedBox-compatible bosses on the rear of the seat tube.
RELATED: An In-Depth Look At A2 Bikes' New SP1.2 Superbike
Section divider
More of the Best Triathlon Bikes
Bike Buying Advice
RELATED: Triathlete's Gear Guide