Dear Cyclists Everywhere: Taylor Knibb Will Ride the Legs Off You
What we saw during Taylor Knibb's comeback victory at 70.3 Boulder is just the tip of the iceberg. With her coach, Ian O'Brien, the Olympian and reigning 70.3 World Champion shares how she used an injury rehab period to take her riding to a (scarily fast) new level.
Heading out the door? Read this article on the new Outside+ app available now on iOS devices for members! Download the app.
Taylor Knibb makes winning look easy. So easy, in fact, that you'd never have guessed that the athlete who dominated at 70.3 Boulder this past weekend, is actually still building back from injury and illness. After six months away from racing due to a stress fracture and subsequent surgery, Knibb admits she "really wasn't sure what to expect" about her return to 70.3 racing in her hometown. It turns out her modest expectations translated into an entirely dominating performance with the 25-year-old American finishing some eight minutes ahead of runners-up Holly Lawrence and Jeanni Metzler.
"I was super grateful to be able to race. It was so special to race—and win—at home," Knibb says. She is part of the Boulder-based Ian O'Brien Coaching squad, led by high-performance coach and former military man Ian O'Brien. And it's the likes of O'Brien that Knibb credits with making this latest win so special.
"This race was special because of the people I was able to share the experience with on the day," she says. "I do not get to start lines alone. But it is rare that the people who are integral to getting me to the start and finish lines healthy, excited, and ready to race actually get to come to the race and watch. Because the race was in Boulder, almost everyone was able to come. It was definitely rare and memorable."
And Knibb acknowledges that over the past year, she has needed those people more than ever before. After a breakthrough 2021 and a world championship-winning 2022, she was sidelined with an injury late last year and for the first quarter of this year, ultimately electing to have surgery in January for a stress fracture that wasn't healing.
"I was first diagnosed with a stress reaction in the fifth metatarsal of my left foot in June last year," she says. After being told it was a minor edema and it wouldn't take long to heal, she decided not to worry too much. But after 11 weeks of no running (and no healing), she sought out a second opinion.
"I was told I could start running again because either it was healed or it was not going to heal on its own and it would need a screw put in. I heard the first part of that sentence." She resumed running about a month before the PTO U.S. Open last September (where she finished second), then continued to successfully train and race all fall, winning the 70.3 World Championship in St. George in October. It was only during her post-season break that she began to feel pain in her foot again.
"Something felt off," she says. "I got an MRI, it showed that the edema had worsened. So I got a CT scan, which revealed a fracture."
With time off prior to surgery due to the holidays, and another month of no swim, bike, run post-surgery, by the end of January Knibb had logged zero hours of training for more than nine weeks—and it was around that time she really started to realize just how much she needs training for the mental benefits, not just the physical ones.
"It was definitely challenging," she says. "January was super tough for me. I truly love what I do and the day-to-day process is what I missed the most. I am super grateful for the people who helped me through the month—and beyond."
A team rebuilding effort
High on that list are O'Brien and strength coach Erin Carson, who say this time for Knibb has involved a lot of learning and growth.
"Taylor leaves no stone unturned, and we work so well together solving problems," O'Brien says. "But the reduction in training and the dopamine you get from training was reduced to almost nothing for a period of time. We had to rebuild everything from the bottom up. It's going well so far, but we are actually still rebuilding."
Yes, you read that right—the woman who just won 70.3 Boulder in a world-class field by more than eight minutes is actually still rebuilding.
O'Brien says he can typically predict the outcome of a race for his charge, based on the start list and how her training has been going. But given her recent bout of illness – she got sick after WTCS Yokohama in May and was still not feeling 100 percent recovered on race day in Boulder – it wasn't as straightforward as usual.
"We talked through strategy and power and pace specifically for this course," he says, "but to be honest, this time it was a case of 'let's see how it goes' based on how she was feeling."
Her plan was to do a "systems check" after the swim and then bike within power parameters that O'Brien had set. "She executed the bike actually at the top end of my predicted outcome and she sustained a very controlled output. I was on the course and driving from point to point to give her splits back to the next three or four athletes so she could use that information to be more situationally aware. However, she was so fast that I missed her a couple of times. I literally would pull over and she would pass! We laughed afterwards about that."
Yet it wasn't just her coach she was outpacing – the rest of the women's field were experiencing the same issue. Knibb clocked the fastest bike split by five minutes (2:06), which set her up for a comfortable victory with O'Brien advising her to "maintain a sustainable, consistent pace" on the run.
"I managed to place myself on the run course to see her three times but my advice to her was mostly about managing the heat and taking care of herself," he says.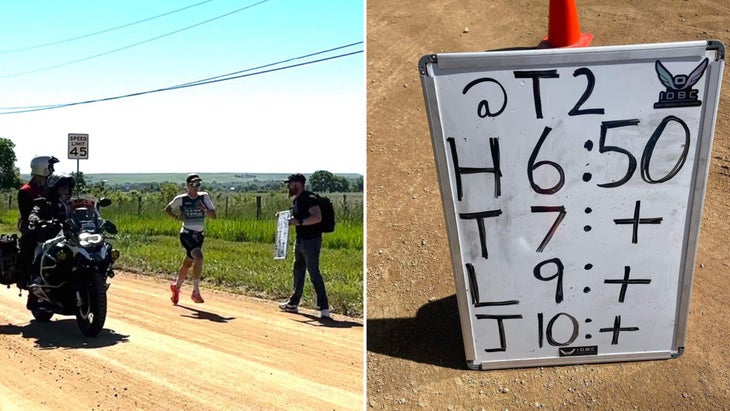 The silver lining of injury: More time on the bike
As both athlete and coach reflect on the win and, in fact, on the time out due to injury, they both acknowledge that the silver lining from this cloud is the bigger bike blocks she's been able to tackle in training, which, based on her performance at 70.3 Boulder, now look to be translating to total dominance on two wheels (riding five minutes into a biker like Holly Lawrence is no mean feat).
"I have been able to put in a huge bike-focused block," Knibb says. "It was the first time I was ever able to do that and it was quite fun. I was shocked by the amount of riding and quality of riding that my body was able to handle…and it has definitely taken my riding to a new level."
She'll be putting that new level on full display at her next race: the U.S. Time Trial National Championship on June 22, where Knibb will race for Team Trek-Segafredo.
"She's doing the time trial to help sharpen her ability to be a force on the bike for the [triathlon] mixed team relay by focusing on effective power, detailed race line-taking, and handling abilities," says O'Brien. "The course in Knoxville has some technical sections that will be harder to negotiate on a time trial bike, and so riding a road bike in a relay will be exponentially more efficient."
Could Knibb be tempted to take a page from Cam Wurf's book, conquering both the cycling and triathlon worlds? Perhaps. Says O'Brien: "This [racing Time Trial Nationals] could open the doors to more opportunities in the cycling world in the future."
RELATED: How to Pull off a Mid-Season, Single-Sport Focused Training Block
What's next for Knibb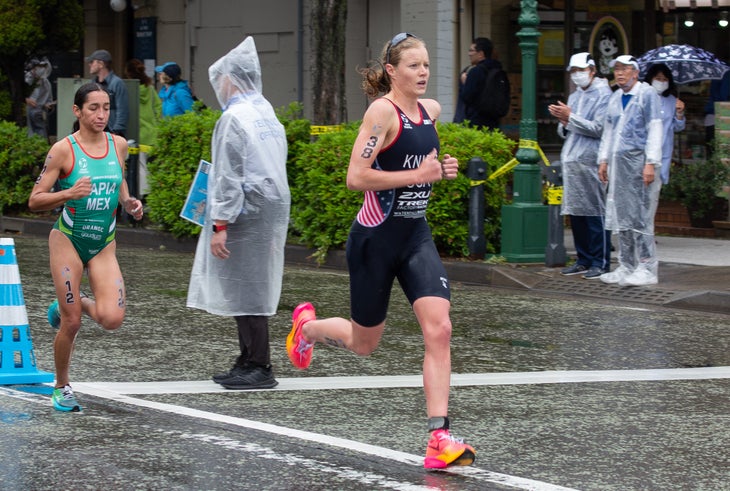 So what does this spell for the future? Will Knibb now focus solely on qualifying for the Olympics—or will she tackle 70.3 Worlds too?
Her answer is simple: "The priority this year is the test event in Paris on August 17. I need to be the best prepared on that date as possible." That said, she is also hoping to be on the start line at 70.3 Worlds in Finland nine days later.
"It's fortunate that they're both on the same continent and the order that they are," she says. "I'll take it one at a time, and that is where I'm very grateful that Ian looks at the big picture and manages the plan."
Indeed, if there's one area in which O'Brien truly shines, it's in managing the details to enable his athletes to arrive at the start line ready to excel. Both he and Knibb felt that racing at 70.3 Boulder would give her the race stimulus she needed, without any of the travel stress.  "You also never know what you are going to learn in a race that will translate into confidence in another down the road," she says.
Knibb hopes to show off what she's learned (and still learning) in what O'Brien calls a "tentative, best-case scenario" race schedule they've laid out for the remainder of the season.
"In terms of training, I have to be very careful to ensure we can excel in both disciplines/distances, which is absolutely possible," O'Brien says. "However, with the focus being on Paris, we will place most of our emphasis there in terms of training preparation."
Given that it was the Tokyo test event when Knibb first burst onto the short-course main stage (securing her spot on the U.S. Olympic team while most of us were still Googling her name), it would be a fool's errand to bet against this pair when it comes to Olympic qualifying, and, in fact, an Olympic medal.
Of the changes he's seen in his athlete since her injury, O'Brien says "she has developed her ability to take a step back and see the bigger picture. That has enabled her to trust and believe in the rebuild, medical guidance, training, new tactics and procedures that we have developed for 2023."
The journey to Paris is under way for Knibb—and she's more than ready for it.
See it for yourself: Outside+ Members can replay the action from Knibb's win at 70.3 Boulder on demand with Outside Watch. Become a member today!