The Secrets of the Fastest Female Runners in Tri
We have entered a golden age of women's running in our sport. The coaches of today's fastest female pros spill the speed-invoking secrets of Anne Haug, Tamara Jewett, and Ashleigh Gentle so you can set a run PR, too.
Photo: Professional Triathletes Organization, Triathlete
Heading out the door? Read this article on the new Outside+ app available now on iOS devices for members! Download the app.
At the 1987 Ironman World Championships, Erin Baker became the first woman to run the entirety of an Ironman marathon without walk breaks, shattering the previously-held run course and overall Kona records and taking women's professional triathlon to a new level. Since then, women only have gotten faster, and now we've entered a golden age for women's running in our sport. For proof, take a look at recent performances like Tamara Jewett's 1:13:00 half-marathon at Oceanside 70.3, or Chelsea Sodaro's 2:51:45 marathon last year in Kona.
So how did we get from there to here, and what can we all learn from the fleet-footed females of triathlon? We chatted with three of the coaches behind some of the top runners: Suzanne Zelazo (Tamara Jewett), Dan Lorang (Anne Haug), and David Tilbury-Davis (Ashleigh Gentle) to find out more.
"The depth of talent right now is incredible," Zelazo says. "I think it's a combination of things, but partly because women in the sport are seeing what's possible and together continuing to push the boundaries. Their respect for each other as competitors and change-makers is community-building. This current group of fast-running women is raising the standard and eroding the gender gap to be sure."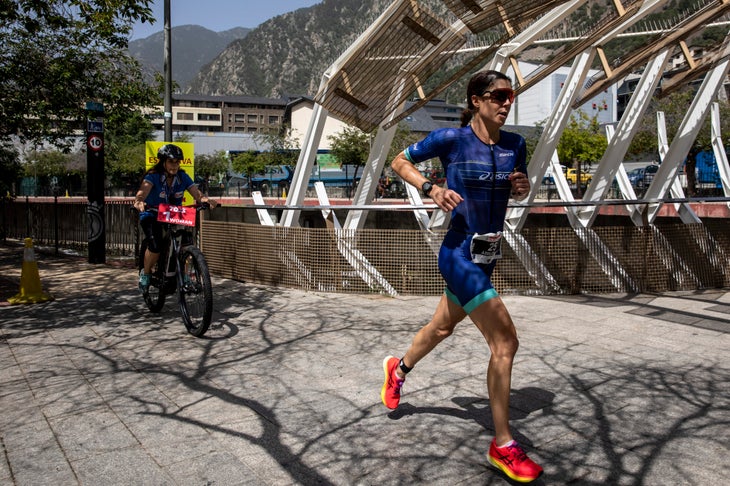 The "magic formula"
You might wonder if there's some magical formula that has led the success of these fast running females. Is it high volume with low intensity? Low volume with high intensity? But all three coaches are quick to dispel the notion of a silver bullet.
"Ashleigh is neither high volume nor high intensity," Tilbury-Davis says. "It's about the right amount of quality at the right time and training consistently. That's it."
When talking about high volume, Lorang says you first have to define that that really means. "For Anne, 70-75 kilometers per week is really high volume, but this is more the exception. Sometimes, she's doing this when working on longer distances, but mainly she's doing 40-45 km per week."
Tamara Jewett's best half marathon came at Oceanside 70.3 this year. Although she comes from a track and field background, she suffered injuries that often kept her sidelined. In fact, she started training for triathlon as a way to limit her run mileage.
RELATED: Tamara Jewett Is Becoming the Most Feared Runner in Triathlon
"Many of the women in this group come from very successful track backgrounds," Zelazo says. "They understand what their bodies need or don't need in terms of the run. Anecdotally, I would say people are more open to the idea that less can be more, in terms of volume, if that's what their bodies dictate."
In reference to the massive workouts of Kenyan runners, Tilbury-Davis says people are mistaken if they believe that high volume is the sole reason for their success. "They run long on dirt and gravel, forest trails with roots, at altitude, uphill, and downhill. From a neurological and biomechanical perspective, that's making a person bulletproof. You're stressing ligaments and tendons and expressing force in a multitude of ways."
He says this outside-the-box thinking is applicable to long distance triathlon. To run fast, you first have to run efficiently. Age groupers can take a page out of this book by thinking about ways to improve resiliency of the body.
"When you think about running fast, you want to inure your body to fatigue and neurological breakdown," Tilbury-Davis says. "Behind the tip of that iceberg sits everything else about strength, conditioning, and mobility."
Lorang points to consistency and a gradual build up of mileage as two of the most important factors for age groupers. Going for a run on Monday and not running again until Sunday isn't going to cut it. But you can have too much of a good thing. While back-to-back run days can be helpful in certain situations, he recommends taking 48 hours between quality runs to make sure you have enough time to recover properly.
RELATED: Consistency is the Foundation of Triathlon Success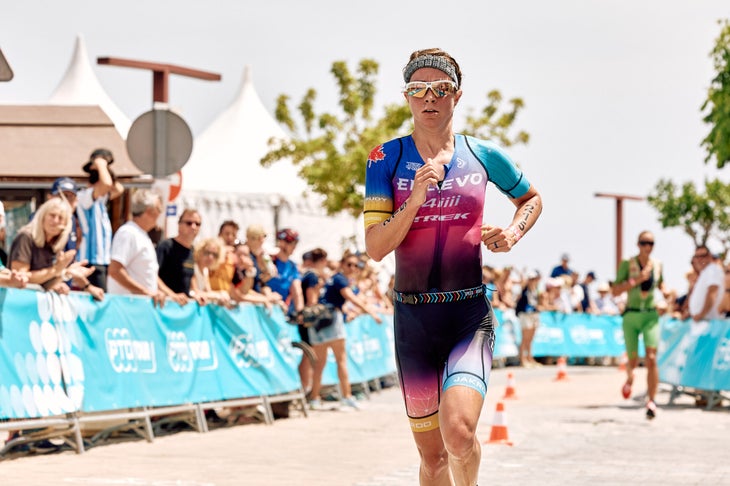 Brick workouts vs. running fresh
Jewett's run coach, Ethan Davenport, provides workouts that Zelazo describes as "incredibly thoughtful and varied," and they often incorporate running off the bike, also known as brick workouts. "We're constantly working a slightly different stimulus within a fixed number of days and overall volume," she says. "We set her key brick workouts together, and the aim of each one varies depending on what's coming up."
While brick workouts can be helpful to simulate the feeling of running off the bike, Lorang cautions against always running with fatigue. "We don't do a lot of running after biking in order to avoid injury and to have enough time to recover for the next run session," he says. "At the beginning of the season, I always recommend putting focus on running fresh, especially the quality sessions."
Haug likes to do some of those quality sessions on the treadmill. An example workout might include 12 times 1K with 1K at 90% threshold, 1K at 95%, 1K at 100% and repeat. "It's a workout she likes to do on the treadmill, because the environment is really controlled," Lorang says.
RELATED: The Treadmill Is Your Secret Run Speed Weapon
More focus on RPE, less reliance on gadgets
These days, we have a buffet of technology to look at when we run: heart rate monitors, smart watches, running power, and more. While those tools can be helpful, one thing these fast runners have in common is the ability to run by feel.
Jewett trains with a few gadgets, but she doesn't race with a watch on the run, preferring instead to go by rate of perceived exertion (RPE). Lorang monitors lactate levels during progression runs, but Haug often runs by RPE as well.
"We go by RPE and lactate, especially in the build phase to make sure she's in the right training zone," Lorang says. "Heart rate is used more on endurance runs to keep it easy. Honestly, Anne goes more on feeling, and I don't try to restrain her too much with boundaries."
Lorang's tip for age groupers is to commit to running the easy runs at an actual easy pace. If you waste too much energy on the easy run, you won't be able to run the faster workout like it's intended. The result is a dreaded flatline effect where you don't get any slower, but you don't get any faster either.
RELATED: What Pace Should You Run On Easy Long Runs?
Well-rounded athletes know how to pace
It's easy to look at the top running women and credit their success to simply being fast runners, but that's not entirely accurate. Everyone in this group is strong in all three disciplines, and they know how to pace to perfection.
"It's important to underscore that being a strong runner doesn't mean you're therefore a weak swimmer or cyclist," Zelazo says. "It's a faulty assumption that seems to get spun in media coverage. Every one of the women in this esteemed crew of fast runners is also strong on the swim and bike, even when their run may be their not-so secret weapon."
Tilbury-Davis concurs, saying that while Gentle is often described as a "run weapon," she's also just a really well-rounded athlete. "Five or ten years ago, you might have had somebody who was an OK swimmer, a weapon on the bike, and an OK runner. That's not going to cut it in long-distance racing anymore, because the caliber is so high."
While the run often receives the most attention, setting yourself up to run fast at the end of a race happens much earlier on, during the swim and especially the bike. Tilbury-Davis describes Gentle as a self-aware athlete who knows her strengths and races with humility.
"You always see these men, who have such a great swim, push really hard for the first hour on the bike, and blow up savagely on the run. I hate to be the bearer of bad news, but you didn't check your ego at the door, and you didn't understand your physiological poker hand," he says. "What you see in the best athletes at the top of their game is they intimately know their poker hand. They know how to bet, when to bluff, how big a match to burn to be successful. When they race, they have a smorgasbord of tactical execution they can roll out in any specific scenario."
One of the biggest takeaways for age groupers is knowing how hard you can push on the bike, and how many times you can surge, without it having a negative effect later on in the run.
RELATED: Stay or Go? When to Follow the Race Plan (and When to Go for Broke)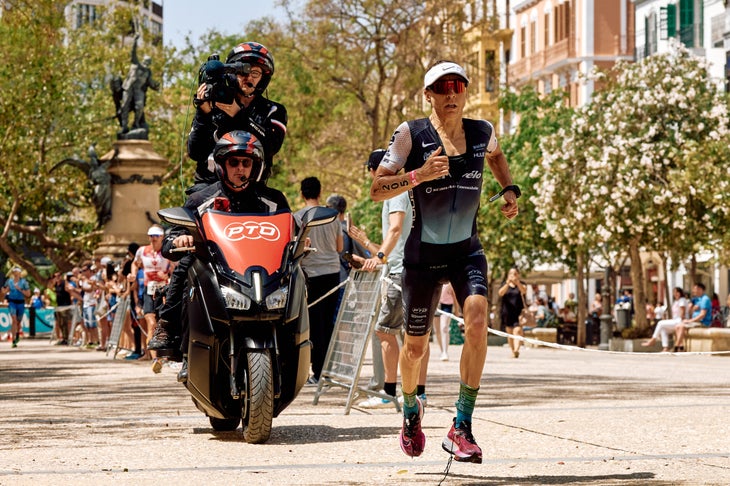 Strong women do strength work
Strength work is an often-underrated component of a runner's arsenal. It's not only crucial for injury prevention, but also to improve strength and speed.
"Tamara is very dedicated to strength work and to regular recovery and treatment modalities, including osteopathy," Zelazo says.
Haug visits a physiotherapist twice a week and follows an endurance-specific strength program that changes in duration and frequency as the season evolves.
Tilbury-Davis explains that for a pro triathlete who trains 25 hours a week, two and a half of those hours might be spent in the gym: "It's not always power-lifting, but sometimes yoga, Pilates, core exercises, dynamic multi-plane stuff, and medicine ball work. Swim, bike, and run are absolutely linear and yet, particularly in running, the ability to express energy is derived from rotational mechanics."
RELATED: Strength Training for Triathletes
It can be tough for age-groupers to fit in yet another workout, so if a strength session isn't possible, Tilbury-Davis recommends incorporating dynamic drills during your warm-up, cooldown, and even during a run session. "The reason I say during a run is because if I send you out for a 90-minute run and every 20 minutes, I have you pause for 1-2 minutes to do some drills to improve your ground contact time, it doesn't make a bit of difference to your physiological adaptation, because all the stress hormones are still coursing about your body," he says.
Strength work is important for all runners, but Lorang says the benefits are even greater for women. That's because strength training produces testosterone, which can increase muscle mass and bone density. "With endurance training, hormones levels can get quite flat, so strength training is quite important with women, even more so than men," he says.
RELATED: Why (and How) Triathletes Should Lift Heavy Sh*t
A related component is the importance of good form and high cadence, something Haug is known for. Her running style is characterized by a slight forward lean, good arm carriage, and short ground contact time.
"For an age group athlete, maintaining higher cadence is a big thing that also lowers impact and risk of injury," Lorang says. "Use different amplitudes of cadence, or experiment with longer or shorter strides, even when running uphill. Technical work helps you get to a more economical running style."
Prioritize recovery
Another area many athletes neglect, despite being crucial for fast running, is prioritizing recovery. Tilbury-Davis remembers listening to an interview with Chrissie Wellington where someone asked her how many hours a week she trained. Her response: 160 hours. Everyone was taken aback, until someone pointed out that's the number of hours in a week.
"The point is she's a professional, so she acts professional in every hour of every day," he says. "These top women are very good at compartmentalizing training, eating, sleeping, recovery, and mental refreshment. All of these things add up toward executing the perfect race and being able to run to the best of your ability."
Lorang says one of the biggest differences between pros and age groupers isn't necessarily the volume or type of training; it's the quality of recovery. "You might have an age grouper who's training 20 hours a week, and they have a regular job and a family. That's how much some young pros are training, but the problem is you can't recover like they can. A pro athlete trains and tries to avoid everything else. That's the biggest difference."
While it's fun to look at the Strava stats of your favorite pros, the worst thing an age grouper can do is try to replicate what the pros are doing. "Instead of focusing on what they're doing, focus on why they're doing it," Tilbury-Davis says.
RELATED: Pull Back the Curtain on the "Why" Behind Your Workouts