Tamara Jewett Is Becoming the Most Feared Runner in Triathlon
With a breakthrough win at Oceanside, the Canadian cemented her reputation for running through rivals on the course - and through their heads off it.
Heading out the door? Read this article on the new Outside+ app available now on iOS devices for members! Download the app.
When the hunter becomes the hunted in professional triathlon, they know they're on the right track. Last Saturday in southern California, Tamara Jewett had a glorious six miles to relish her new role. At 70.3 Oceanside, there would be no more chasing the leaders over the half marathon, hoping she wouldn't run out of road before making the catch. As she pulled ahead, she somehow found even more spring in her step than before.
A quick watch of Holly Lawrence's raw race recap on YouTube illustrates the clear and present danger the Canadian posed. As the Brit's foreboding attested, the professional women's field have been aware of the emergence of the 31-year-old from Toronto for the past three years. It's just that in Oceanside, they couldn't do anything about it. If Jewett retains this form, she'll continue running through rivals on the course and through their heads off it.
Incredible performance by Tamara Jewett who now takes the lead in the Professional Women's race. Who will be crowned champion of 2023 Athlete Brewing IRONMAN 70.3 Oceanside?#IM703Oceanside #IRONMANtri #AnythingIsPossible pic.twitter.com/npZIvdGKhb

— IRONMAN Triathlon (@IRONMANtri) April 1, 2023
When fastest wasn't fast enough
In almost every race Jewett enters, she posts the fastest run split, often with a substantial gap. In minutes, her half-marathons at the 70.3 distance in 2021 read 76, 74, 79, 73 and 76. Last year, it was 74, 74, 80 (still 9 minutes faster than anyone else), 76 and 74. The only times she hasn't claimed the fastest run split of the day were exceptional circumstances involving exceptional athletes: Anne Haug in a head-to-head match-up in last year's Collins Cup; Australian Ashleigh Gentle in the PTO Opens in Edmonton and Dallas; Lucy Charles-Barclay on a career-best day at 70.3 worlds in 2021. It's a short list and an esteemed one.
But her rivals knew the former track runner often exited T2 so far back that even these half-marathon splits wouldn't be enough to claim top spot on the podium. In fact, for all that impressive running, only two were turned into Ironman 70.3 victories: at Timberman in 2021, and Mont-Tremblant last year. Against the big names – those ranked above the new PTO world No 15 – clawing enough time back, quickly enough, hasn't been possible.
Until Oceanside.
Cracking the code at Oceanside
"It's always a relief when you get to the finish line, particularly when you have that field running behind you," Jewett says, having beaten second-place finisher (and reigning Ironman world champion) Chelsea Sodaro, with a returning Kat Matthews in third, Lawrence in fourth and fellow Canadian Paula Findlay in fifth. But she won't be resting on her laurels. "I'm eager to get back into a training groove. It's early days, and I'm excited to solidify the gains we've made so far."
Jewett remains circumspect. Winning in a high-profile race like Oceanside is a boost, but it's also only April. She does concede that the 72:59 split that took her there – seemingly the fastest on record for an Ironman 70.3 – was her best half marathon to date, and probably surpasses what she achieved in a decade spent trying to crack the code as a pure runner.
"For this type of running, I am a lot stronger than I was when I focused on track and field," she explains. "I didn't race anything more than a 10K and didn't do many road races, but I don't think I could've put together a half marathon on its own as strong as this."
RELATED: 9 Takeaways From the Pro Race at 70.3 Oceanside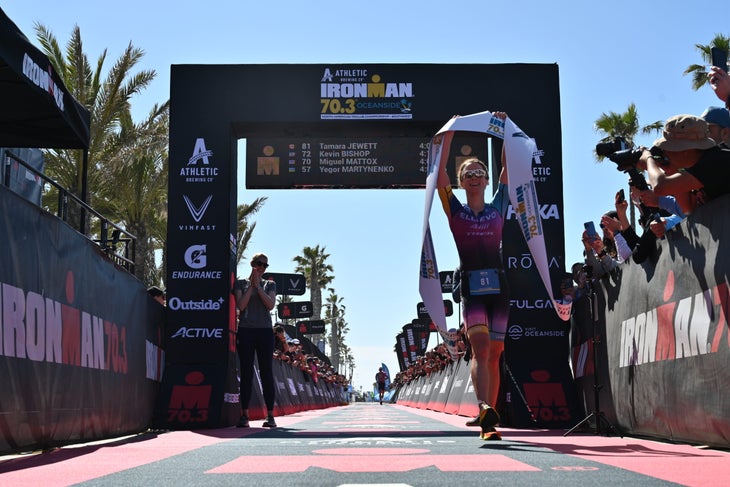 "It's been fun to change the story a bit."
Jewett's track career is an example of where results belie the talent. In 2008, she ran a big personal best of 9 minutes 15 seconds for 3,000 meters in the world junior track and field championship, but never progressed to break 9 minutes. A 10K time of 33 minutes 33 seconds from Ottawa in 2019 is a solid run, but not indicative of the triathlon success we're now witnessing.
"Trying to explain my track background is a little tricky," she admits. "The times don't really reflect it because I was injured so much. A lot of that experience was being sidelined and a bundle of unfulfilled potential."
She's finally seeing that potential realized. "A really exciting thing about putting together a race like Oceanside was that for a long time I thought my junior track experiences would be my career highlights," Jewett says. "It's been fun to change the story a bit."
Perhaps more than a bit.
The biggest setback during her track career, and the one that ultimately became the catalyst to move to triathlon, was a plantar fascia tear that kept her out of action for 18 months.
"Any chronic injury is tough because the healing timeline becomes unpredictable," Jewett says. "It was unclear whether it would heal properly and if I could return to running. Every once in a while I would try to build up slowly, but my foot wasn't holding up."
Jewett's husband, Chris, was taking part in age-group triathlons and she reached out to his coach, Suzanne Zelazo, to put together some swim-bike training. "To stay sane," is how Jewett puts it.
Jewett credits Zelazo's patient approach for her return to health and while the idea of taking part in triathlon was initially to help limit the run mileage, Jewett fell in love with multisport. "I was just having so much more fun," she says. "That's how I ended up where I am now."
Her first 70.3 races took place in the fall of 2019. Both were won by Sodaro, also from a track running background and a year further forward in her development. Jewett finished fourth and third, and the run leg was already proving a weapon. The running again came to the fore as she won the Canadian Pro Championship mid-pandemic in September 2020, and as restrictions eased the following year there was a first success at Timberman in New Hampshire and podiums at Augusta and Indian Wells.
There was also an Ironman 70.3 World Championship debut in St. George and a 13th-place finish, almost 20 minutes behind Charles-Barclay, served as a barometer for her progression while showing how much further there was to go to reach the pinnacle.
While victory in Mont-Tremblant and two more podiums were claimed last year, there were also more challenging – and at times, chastening – races as Jewett put herself on the line in the PTO Opens in Edmonton (13th) and Dallas (16th), plus a return to St. George for 9th place – this time, 12 minutes back from the winner, Taylor Knibb. There was still sizable gap, but it was closing.
It shouldn't be overlooked how new to the sport Jewett is, nor that until November, she was still working part-time as a lawyer. To accomplish so much in both fields required what she called "time management Tetris." After last year's Collins Cup, she decided to go all-in on professional triathlon. Less than five months later, the decision has already paid off.
That Oceanside race (and penalty)
The cycling performance witnessed in Oceanside was born from another winter's solid training and an increase in intensity on the bike.
"I'm getting more confident at being able to hold higher power for longer," she says. "If I come out of the water a little behind I have the confidence that I can hold enough watts to catch up. It's also helped having extra time to recover from those workouts."
In contrast, the swim has been completely remodeled. "When I first met my swim coach [Miguel Vadillo], he said: 'It's surprising, because you swim pretty decently for someone who doesn't know how to swim at all!' Miguel has taken the time to reform my stroke so I move differently in the water, and now we're starting to build some of my fitness on to that and it's coming along well."
But one important element, which can only be gained from race experience, is being in the mix at the front of the bike leg. "There have been a lot of races in my career where I was in total no-man's land," Jewett says. "Having competition to focus on makes the time go by faster and the effort in some way feel a bit easier, even if I'm pushing higher watts at some points. The number of cyclists around changed throughout the race, though, and I found the passing dynamic more difficult."
This dynamic was more testing in Oceanside due to the presence of cyclists from the back of the men's pro field, which started just 3 minutes ahead. In the fallout, Jewett picked up a 30-second blocking penalty that she served in T2. "There were a lot of us [pro women] and we were catching up with some of the pro men who were breaking up the women's race," she says. "That's a dynamic I need more experience with. I'd prefer to focus on my competitors without worrying about another race."
She adds: "I still need to sit down and properly understand what happened. But certainly I was relieved it was 30 seconds, as 5 minutes [the alternative drafting penalty] is hard to come back from."
As the front four of the women's race set out on the run, Jewett used the 30 seconds in the penalty tent to compose herself and find a "positive headspace" for the half-marathon to come.
"I was trying to be as cheerful and gracious as possible," she adds. "Suzanne really values dealing with race setbacks productively and with good humor. Anything that goes a bit wrong is just part of the race and part of my job to deal with." In contrast, as she took the lead from Sodaro around the halfway point in the half-marathon everything looked to be going just about right.
The racing schedule won't be getting any easier. Jewett will head next to the PTO European Open in Ibiza before a first Ironman 70.3 on European soil at Aix-en-Provence in France. She'll then return to Canada to try to defend her 70.3 Mont-Tremblant title before focusing on the Ironman 70.3 World Championship in Finland.
Jewett also knows that she's now an even more marked woman. The rest will be heeding Lawrence's laments and any element of surprise that remained in California this past weekend is now gone.
"I have no idea," she replies when asked if she thinks her rivals were shocked by her performance. "I can speak more for my supporters and I know a core group that were not surprised at all, and a few were very surprised, saying, 'Who is this Tamara Jewett?!'" If they didn't before, everybody in the sport knows now.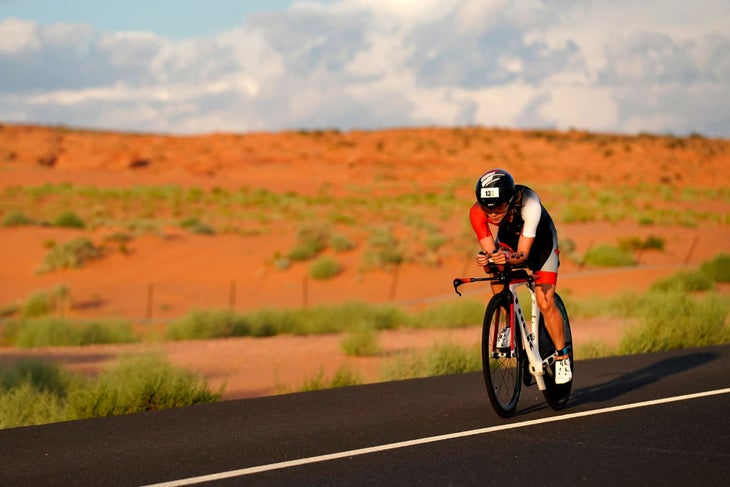 Tamara's killer brick session run
Tamara says: "My run training is a little different all the time, and whenever I think I can see patterns emerging, Suzanne changes it a little bit. In the two weeks leading into this one we repeated this brick session each week. This is a strength building workout, and I found the discomfort on the hills in the middle of a hard workout to be confidence-building for this particular race. It's tough when you increase the pace and then go into the hill repeats. A love-hate session where you really have to focus. It might not feel great at the time, but if you can complete it, it's a huge confidence boost."
Bike
2-hour steady ride
Run
15-minute tempo
5-minute threshold/70.3 race pace
2-3-minute break
6 x 1-minute hill repeats with jog down recovery
3-minute break
15-minute tempo
5-minute threshold/70.3 race pace
2-3-minute break
6 x 1-minute hill repeats with jog down recovery
15-minute cooldown
Missed the action in Oceanside? Outside Watch has made the replay of the race broadcast free for all. See the race from start to finish by hitting the button below: