What is Patellar Tendinopathy? Understanding Flora Duffy's Injury
The complication that has sidelined Flora Duffy for months is common in runners and triathletes.
Heading out the door? Read this article on the new Outside+ app available now on iOS devices for members! Download the app.
Flora Duffy was on quite a tear. After winning the Olympic gold medal in Tokyo in 2021, she followed that up with a Commonwealth Games gold in 2022 to go along with her World Championship victories on the ITU circuit for both years and her XTERRA World Championship in 2021.
Then, in November of 2022, Duffy finally had to slow down. Alas, It wasn't a competitor who beat her. Instead, it turns out it was an injury. Duffy has recently come clean about her absence from racing and it turns out that it is related to ongoing issues from tendinopathy in her knee. So what is this issue that is keeping her from training and racing, and can we hope to see her back in time to defend her Gold medal in Paris next summer?
RELATED: Recalled: Flora Duffy's World Championship Trifecta
What is patellar tendiopathy?
The patella is another name for the kneecap, which is the largest free-floating bone in the body. The patella sits within a thick fibrous band of tissue, the patellar tendon, that runs from the quadriceps muscle in the thigh to its attachment on the anterior shin. The combination of the quadriceps, patellar tendon, and patella form the extensor mechanism of the knee and is responsible for straightening the leg at the knee joint.
Patellar tendinopathy develops when microscopic damage – in the form of tiny tears – develops within the tendon. This results from repetitive stresses in the extensor mechanism of the knee and is more prevalent in sports that involve jumping, which explains why this condition has been given the common name "Jumper's Knee." Clinically, it presents with pain and occasionally swelling in the area below the kneecap where the tendon attaches to the tibia or shin bone. In many cases, the pain can be so bad that participating in sports is impossible.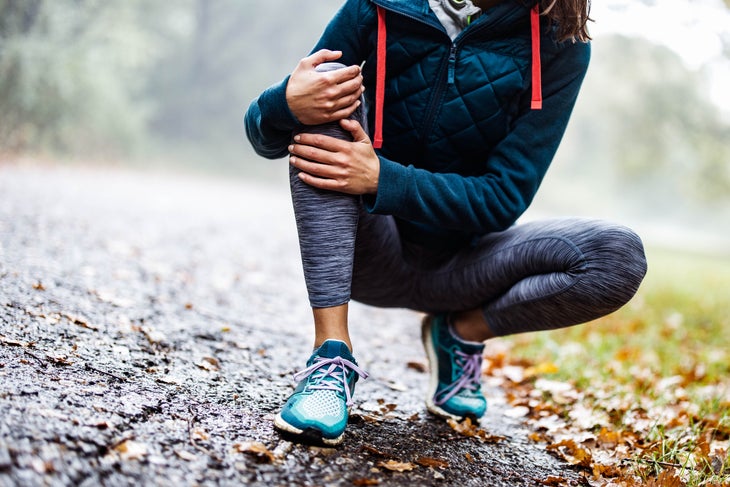 Risk factors for patellar tendinopathy
There are several factors that can predispose a person to developing patellar tendinopathy (it is important to note at this point that inflammation is not a primary factor in this ailment and the term tendinitis is actually a misnomer. Tendinosis or tendinopathy are more appropriate). A recent systematic review demonstrated that there are several anthropometric factors that increase the risk of developing this condition, including, higher body mass index, leg length discrepancy, and flat feet. Weak quadriceps muscles and low flexibility of the quadriceps and hamstring muscles are also risk factors. Gender and factors associated with the sport being participated in, including training time, the training surface, and the type of training, were not found to be correlated with the development of patellar tendinopathy.
Although it is predominantly identified in athletes who participate in jumping sports, (45% of professional volleyball players and 32% of professional basketball players) patellar tendinopathy is frequently seen in those who participate in sports where jumping is not involved. One study reported as many as 8.5% of amateur athletes may suffer from this entity.
Stages of patellar tendinopathy
Patellar tendinopathy can be clinically staged by the severity of symptoms that this entity will progress through:
In stage 1 there is pain only after sports.
In stage 2 there is pain at the beginning of sports, disappearing after a warm-up, but reappearing during fatigue.
In stage 3 there is constant pain at rest and with activity.
Stage 4 is marked by complete rupture of the patellar tendon.
Treating patellar tendiopathy
Treatment of patellar tendinopathy is primarily non-surgical and aimed at preventing progression to more advanced stages. The best evidence suggests that excellent results can be achieved by a cessation of normal activity that led to the problem in combination with a program employing eccentric loading exercises. These cause an increase in the remodeling process of the collagen fibers in the patellar tendon. This causes the musculoskeletal unit to adapt to protect itself from the stress related to physical activity and often is enough to resolve the problem entirely.
Although non-steroidal anti-inflammatory drugs (NSAIDs) are frequently recommended for patients with patellar tendinopathy, these are most useful for managing the symptoms and do not help address the underlying problem. As mentioned earlier, inflammation is not a prominent factor in the development of Jumper's Knee and so drugs that interfere in the inflammatory process are not going to be helpful. Indeed, studies that have evaluated steroids for this problem have repeatedly shown that these agents are unhelpful and may even delay healing making them unadvisable for managing this injury.
RELATED: Train Your Tendons for Better Running
PRP injections for patellar tendinopathy
When Duffy announced her injury, she mentioned that she had been treated with injections of platelet-rich plasma (PRP). PRP injections are theorized to be helpful for managing tendinopathies because they include high concentrations of growth factors and should be helpful in promoting healing. Unfortunately, what research has been done in this area has yet to deliver the promised results, and while PRP is still hoped to provide an avenue for treatment for athletes with this condition, at this time it is still only considered investigational.
Surgical treatment is also an option for the most severe cases, especially in those who have suffered a complete rupture of the tendon. Of those who need surgery, only about eighty percent or so are able to return to sport and it is unclear how many of those do so at the same level as before their operation. As in most cases, if surgery can be avoided, that is always the best option, especially for a defending Olympic Champion.
The road to recovery
The question remains as to whether we can hope to see Duffy return to training and racing in a meaningful way soon enough to be able to return to form and defend her gold medal in Paris. It is certainly never a good idea to count out an Olympic Champion but given her own admission that she had developed a partial tear in her tendon and the fact that she has been dealing with this issue for as long as she has, there is certainly reason to be concerned. Hopefully, Duffy's announcement came at the point at which her condition is at its nadir and she will soon start to see significant improvement. If that is the case, then we could definitely expect to see her back in action and ready to race on the Chaps d'Elysée next August.
Dr. Jeffrey Sankoff is a Denver, Colorado-based emergency room physician, who  produces the "TriDoc Podcast." Dr. Sankoff is also a triathlete himself and a USAT- and Ironman-certified coach.