Can I Do a 70.3 as My First Triathlon?
Can you do a 70.3 as your first triathlon? Yes. But should you? Coach Alison Freeman dives into what you need to know about going all-in on the half distance for your first race.
Heading out the door? Read this article on the new Outside+ app available now on iOS devices for members! Download the app.
Every new triathlete's first race is a big goal that can feel equal parts exciting and scary. But some triathletes go really big – as in bypassing shorter races like sprints and Olympic-distance events and going straight to doing a half-iron or 70.3 as their first triathlon. In recent years, coaches like me have heard from a lot of people who wonder: Can I do a 70.3 as my first triathlon?
Here's the tough thing about this question: on one hand, I freakin' love the ambition behind tackling this big, scary goal. I love that you're thinking big and bold and likely beyond anything you've ever done before. On the other hand, as a triathlon coach, I know what it takes to be successful at the 70.3-distance, and I'm worried that you may not quite understand the full scope of what you're getting yourself into.
Additionally, as a coach and a lover of the sport, I want to make sure you have a great experience with your first triathlon so that you stick around and come back for more. With that in mind, let's dive into what's great about this big, scary goal – and also what you'll need to consider in order to ensure that you set yourself up for success.
RELATED: Triathlete's Complete Guide to Training for a Half-Iron/70.3 Triathlon
Why a 70.3 is an exciting goal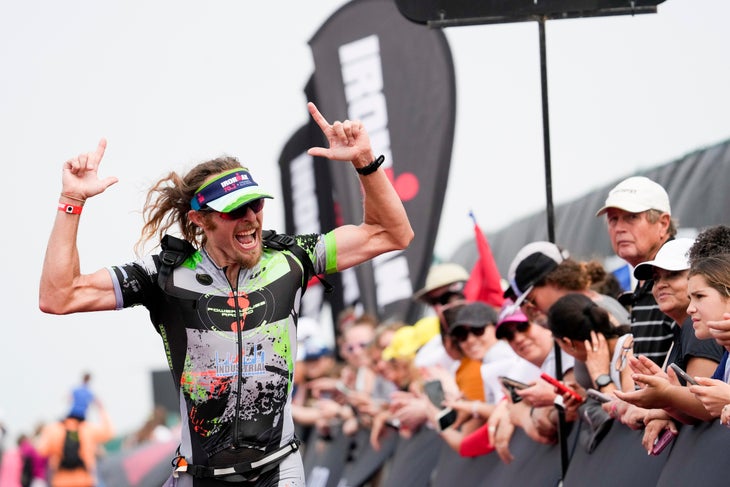 Supersized athletic endeavors have become more and more popular over the past decade or so. They seem to fill a void in our otherwise sometimes routine lives of work, eat, maybe socialize, sleep, repeat. In fact, if you google "midlife crisis endurance sports" you'll find upwards of half a dozen articles on the topic, including this one: Is The "Midlife Crisis Tri" A Thing?
These supersized events are exciting exactly because they are big goals. They're no slam dunk, I've-got-this-in-the-bag, weekend 5 or 10k. You can't do them on a whim, or on a few weeks' notice. The 70.3 in particular can feel like the Goldilocks of triathlon distances – not so manageable that the challenge doesn't feel big enough, like a sprint- or Olympic-distance triathlon, but not too big a challenge for your first event the way a full Ironman might be.
So, yeah, a 70.3 as your first triathlon is a big, scary, exciting goal with just the right level of challenge. But there's also a reason why people often start off with shorter distances.
Before you register for a 70.3 as your first triathlon, consider this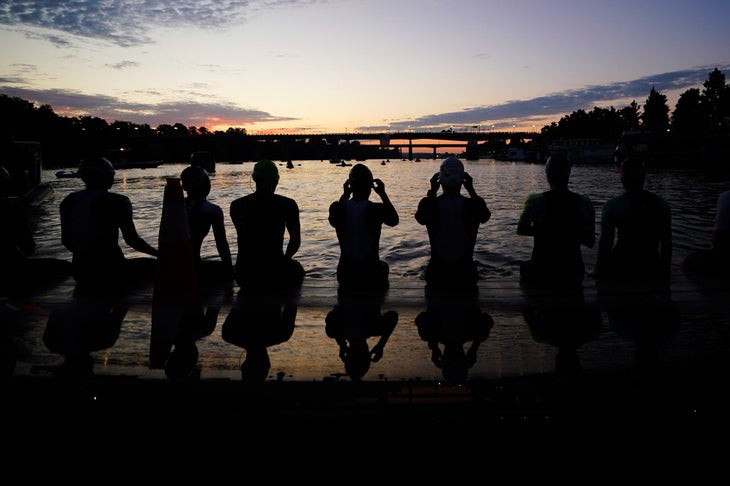 Setting a goal of completing a half-distance triathlon is actually two goals rolled into one: Your first goal is to develop the fitness needed to propel yourself across the 70.3 total miles of the triathlon course. Your second goal is to complete the race, which requires fitness, of course, but also some triathlon skills and knowledge. You'll want a plan for how to accomplish both goals if you're going to do a 70.3 as your first triathlon.
Endurance isn't built in a day
Building up the fitness and endurance to carry you through six to eight hours on a triathlon course isn't something that happens overnight. Even backing up from that, stepping into a typical 70.3-training plan that incorporates eight or nine swim-bike-run workouts a week, plus strength training – starting in week one – isn't something you do from the couch. Given that, it's best to think through your runway from your fitness today to the fitness you'll need to start your official 70.3 training to the fitness you'll need come race day before you officially sign up for your event.
It's a big time investment
So about those eight or nine swim-bike-run workouts each week, plus strength training…you'll want to think through where and how those fit into your current weekly schedule. A typical 70.3 training plan starts with about eight hours of weekly training and builds to 12-14 hours of weekly training. To state the obvious, that's a lot of hours. Take the time to think through the impact that allocating the time for those workouts might have on the time you currently devote toward work, your family, your social life, and other hobbies. Because there are definitely still only 24 hours in a day, and only seven days in a week.
RELATED: How Much Time Does It Take To Train For A Triathlon?
There's a learning curve to triathlon
Triathlon is a complicated sport: there's gear like wetsuits and clipless bike pedals, there are skills to master like bike handling and open water swimming, and there's both an art and a science to maintaining constant motion for 70.3 miles across three different sports. Typically the skills and experience that are beneficial for the half-iron distance are developed as you build from sprint to Olympic to ultimately a 70.3. If you're going to jump straight into the 70.3, then, you'll need to think carefully about how you're going to incorporate that skill- and experience-building into your training.
How to approach a 70.3 as your first triathlon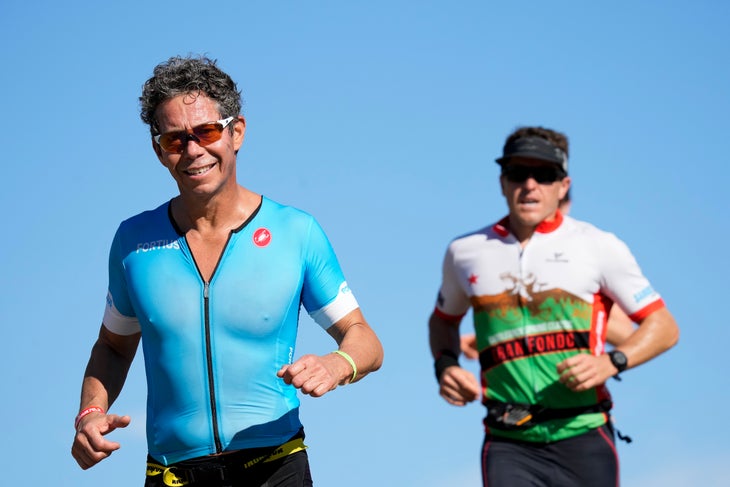 With all that being said, yes, you can do a 70.3 as your first triathlon. Just please be smart about it.
Take the time – lots of time – to build fitness appropriately
Most 70.3 training plans develop the fitness needed for race day over 16 to 20 weeks, so start by allowing for that timeframe. Then back up even further to allow yourself time to get in shape for week one of the plan. No, I'm not kidding. there's a reason why Triathlete's most popular (and most-shared) training plan is the 20-Week Training Plan for Your First 70.3 Triathlon – it's helped thousands of triathletes gradually build the fitness they need to feel strong and have fun in their first attempt at the half-iron distance. Other plans that take shortcuts are more likely to result in a really bad race experience that leaves you never wanting to swim, bike, or run again.
If you are currently training in only one of the swim-bike-run disciplines for three to four hours weekly, you'll need about eight weeks to layer in the other two sports. If you are currently training two of the three disciplines for a combined total of five to six hours weekly, you'll need about four weeks to layer in the third sport. If you aren't swim-bike-running at all, or you are but your weekly hours are below those ranges, then add four to six weeks to build volume within your first sport or two to four weeks to increase your weekly volume.
Look into a pre-race prep event
OK, yes: If you do a sprint- or Olympic-distance triathlon before your 70.3, then technically your 70.3 isn't your first triathlon. But triathlon has a lot of moving parts, and you really want to iron out all the kinks before your big day. Think of those shorter races as a dress rehearsal instead of an actual race if that helps you feel better. I promise that your 70.3 will go smoother for having gained some race-day experience before your "official" first triathlon.
RELATED: The Ten Most Common First-Time Triathlete Mistakes
Include a race-day simulation within your training
In addition to an actual prep race, race day simulations are great, low-stress opportunities to practice everything you're going to need, use, and do on race day. Because the cardinal rule of racing, regardless of distance, is "nothing new on race day."
I recommend incorporating what's known as a "Metric 70.3" into your training plan – in other words, replacing miles with kilometers for a shorter test run of your race:
750m or 750yd swim
56km, or 35-mile bike
13km, or 8-mile run
The goal here is to simulate your event as closely as possible, within reason.
If an open-water swim is easy to access for you, go for a test swim. Swimming in open water is much different than in a pool, and ideally, race day won't be the time you discover this firsthand.
Either wear your race-day outfit in the water or change into it immediately after the swim so you get to experience biking while sopping wet. (And yes, you can wear your wetsuit in the pool if you need to test it out.)
Start the bike from the parking lot of the swim – quick transition! – and be sure to practice the pacing/effort level and fueling plan you'll use on race day.
Return to the parking lot and transition there directly to the run, again following the pacing/effort level and fueling plan you'll use on race day.
RELATED: A Half-Ironman (70.3) Nutrition Plan
You will learn a lot from your race day simulation, no matter how that day plays out. Whether it is a complete success or a colossal mess, you can evaluate the day to get a handle on what worked – and what you can change – going into your actual race day.
With proper preparation, doing a 70.3 as your first triathlon can be an awesome goal to set and accomplish. So be smart about it, set yourself up for success, and go crush it!
Alison Freeman co-founded NYX Endurance, a female-owned coaching group based in Boulder, CO, and San Diego, CA. She is also a USAT Level II-certified and Ironman University-certified coach as well as a multiple iron-distance finisher.