The Best Hand Position For Swimming
Which of these hand positions is best for swimming? Read on to find out.
Heading out the door? Read this article on the new Outside+ app available now on iOS devices for members! Download the app.
There are numerous components of the swim stroke that help you move through the water. Swimming is a sport and skill where every part of your body, from the position of your fingers to the angle of your feet, can help or hinder your goal of getting to the finish quickly. One specific part is the shape of your hand and how close together your fingers and thumb are during the underwater pull. Think of the hand as a paddle which provides forward propulsion and your goal is to create the largest paddle with each of your hands.
If you had time to analyze lots of slow-motion videos of elite & Olympic swimmers, you would notice that daylight is visible through their fingers under the water. If this is confusing and seems like they are not doing a good job at creating a large paddle, you're alone with these thoughts! When you dig into swimming science, however, you might be surprised to learn the way you use your hands has a direct impact on how well you swim – and perhaps not in the way you might assume! Use these practical drills in the pool to be your own scientist, making observations or conclusions about your own hand position along the way.
RELATED: A Complete Guide to Triathlon Swimming
Section divider
Hand position for swimming
The four basic hand options are: wide, tight, cup, or gap.
Wide hand position for swimming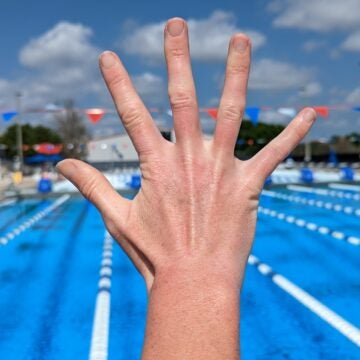 A wide hand position is with the fingers and thumb spread wide apart. This creates a large gap between each digit where the water slips through. A low amount of force is produced because the only solid paddle is the palm of the hand.
Tight hand position for swimming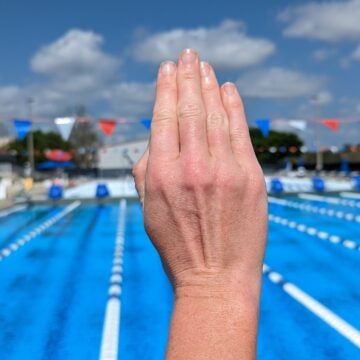 A tight hand is with the fingers and thumb squeezed together and touching. A common issue is hand cramping due to the stiffness and strain on the whole hand. The position does create a larger paddle and more force than a wide hand.
Cupped hand position for swimming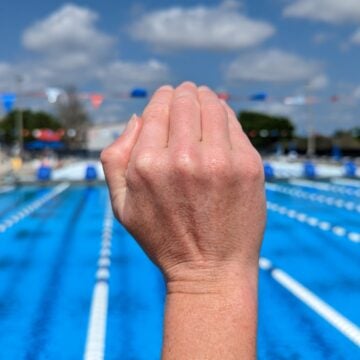 A cupped hand is a common misconception for swimmer that try to "move water backwards". Unfortunately, a cupped hand also reduces the surface area of your paddle and has a low force production against the water.
Gapped hand position for swimming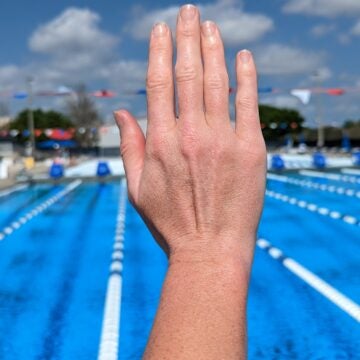 A gapped hand is when you hold your hand flat but keep a small space between each finger – in other words, what your hand likely does naturally when relaxed. The small gaps between the fingers form vortices which don't allow water to pass through, and therefore increase the overall size of your paddle for maximum force production.
Section divider
What's the best hand position for swimming?
Quite a bit of research has been conducted and published regarding the nuances of finger spacing and hand shape in relation to fluid dynamics, drag, force production, and locomotion (forward movement). Generally, 85-90% of swimming speed comes from the force propulsion created by your hand and forearm. Therefore, the way you hold your hand and fingers as you pull backwards can increase (or decrease) your propulsion, power, and speed.
Scientist Alberto Minetti found the optimal spacing between fingers for swimming is 3-8mm, or roughly the natural distance between fingers when your hand is relaxed. Researchers out of the University of Toulouse were able to prove that fingers spread slightly can exert 5-10% greater force than fingers are held tight or spread wide apart. And to make it even more complicated, a study by a mechanical engineering team out of Lithuania quantified the difference between the thumb being held in next to the fingers or extended out. As predicted, the most force was produced when the thumb was adducted (next to the fingers) versus held away from the hand.
Section divider
How to improve your hand position for swimming
Experiment with different hand positions to create a larger paddle with your hand and apply more pressure to the water with each stroke. This is also known as improving your feel for the water.
Treading water
Move into deep water or lift your legs off the bottom of the pool and use a side-to-side sweeping motion with your hands and forearms about 1-2 feet below the surface. Change the shape of your hands and the position of your fingers while treading water and observe which hand position provides the most lift to keep your head out of the water. You can also do this drill with your feet on the bottom and just observe which hand position feels the hardest to move through the water.
Sculling or dog-paddle
Use a similar back-and-forth sweeping motion as described above while floating on your stomach. Open your fingers wide, squeeze them together, cup your hands, and try as many other formations as you can to see how different configurations feel in the water.
Goldilocks
Swim a couple of 25s where you change your hands and fingers. Count how many strokes you take and note your times for each 25. You can swim with your hands "too hot" (very wide spread fingers), "too cold" (fingers too close together), and "just right" (with a small gap). Track which hand position resulted in the fastest, least strokes, and easiest to swim 25s.
Use equipment
The Dubl Wide from Aqua Knuckles are a pair of silicone rings that slide on your middle fingers and force the perfect size gap between all your fingers. The idea is that the rings will help you learn how to hold your fingers with the optimal finger spacing, without having to constantly remember or be reminded of the correct hand position.
Play with the wind
Stick your hand out of the car window during the drive to practice and observe which hand position creates the most pressure against the wind.