If You're Going to Eat Fast, Eat Right
Look, we're not going to pretend every long ride or run ends with a homemade smoothie and bowl of superfoods. If you're going to hit up the drive-thru window after your workout, at least choose one of these R.D.-approved options for recovery fuel.
Heading out the door? Read this article on the new Outside+ app available now on iOS devices for members! Download the app.
When we think of eating healthy, fast food isn't always the first thing to come to mind. And for good reason: Frequent consumption of the ultra-processed food typically dished out by fast food outlets has been linked to poor health and shortened lifespan. A major concern is that frequent fast food consumption is associated with a lower overall diet quality by raising the intake of calories, fat and sodium while decreasing the consumption of important micronutrients (especially magnesium and calcium, which are vital for overall well-being and athletic performance).
But no matter how anti-fast-food you are, there's always the possibility you could end up making a pit stop at one location or another, especially while on a long road trip home from a race or when a greasy craving strikes after you've put in a big physical effort. Nobody is immune from lusting after fries or ice cream after a long run.
Though it's never recommended to make a trip to the Golden Arches the default for getting your recovery nutrition, an interesting study by researchers at the University of Montana illustrates that fast food can help you mend after a workout just as well as anything you'd find at the vitamin shop. In the investigation, published in The International Journal of Sports Nutrition and Exercise Metabolism, volunteers took part in two 90-minute bike rides designed to deplete their glycogen stores and then a 20K time trial after a 4-hour recovery period. During on recovery period, sports supplements such as bars and energy chews were provided. Turing the other recovery time frame, small portions of fast-food items, including burgers and fries, were consumed. Each provided the same number of calories, roughly 1,300. It turns out, rates of glycogen resynthesis from the feedings were the same, and there was no difference in time trail performance between the two diets. The takeaway is that recovery can be accelerated as long as the body is provided with the necessary nutrition, including carbs and protein, regardless of whether they hail from so-called "sports foods" or a cheeseburger.
So it's always nice to know what your better options are when you're in a pinch and need something quick at the drive-through. It's not all nutritional doom and gloom. From fully loaded taco bowls to classic burgers to frosty treats—these are our picks for fast-food winners when your body needs to recoup, pronto. Dig in.
RELATED: The Best Post-Workout Foods to Fight Inflammation and Boost Recovery
McDonald's Filet-o-Fish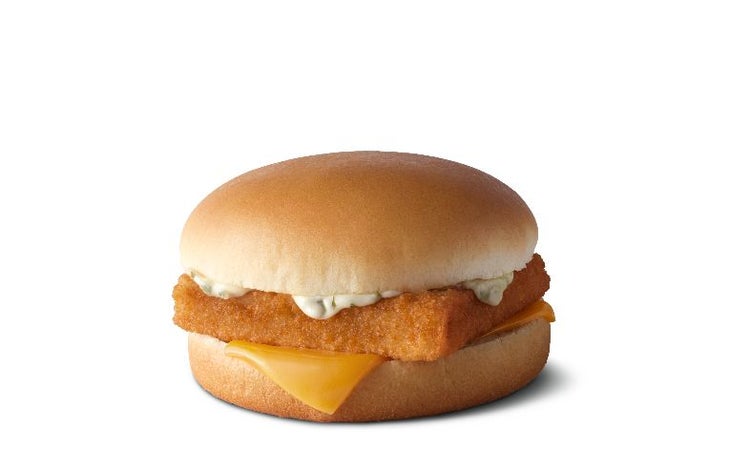 Per sandwich: 390 calories, 16g protein, 39g carbs (2g fiber, 5g sugar), 19g fat, 580mg sodium
The golden arches have been serving the iconic Filet-O-Fish since the mid-60s, and it's one of the less hazardous fast food fish sandwiches out there. There is a good ratio of carbs to protein to help spur recovery from a big workout. The company also boasts that the Alaskan pollock it uses for the sandwich is "100% sourced from sustainable fisheries." Instead of fries, consider ordering this with a side of apple slices – we know, that's a tough sacrifice for better nutrition.
Starbucks Chicken & Quinoa Protein Bowl
420 calories, 27g protein, 42g carbs (9g fiber, 11g sugar), 17g fat, 1030 mg sodium
Starbucks breathes new life into the stale fast-food chicken salad by making theirs with roasted corn, quinoa, cotija cheese, and a punchy greens mix. The macros here are certainly conducive to helping your war-torn muscles bounce back better. Black beans add a good dose of fiber helping to make the dish seem more substantial. Like most fast food salads it's surprisingly high in sodium, but this could work to your advantage if digging in after a hard, sweaty workout.
Wendy's Jr. Cheeseburger Deluxe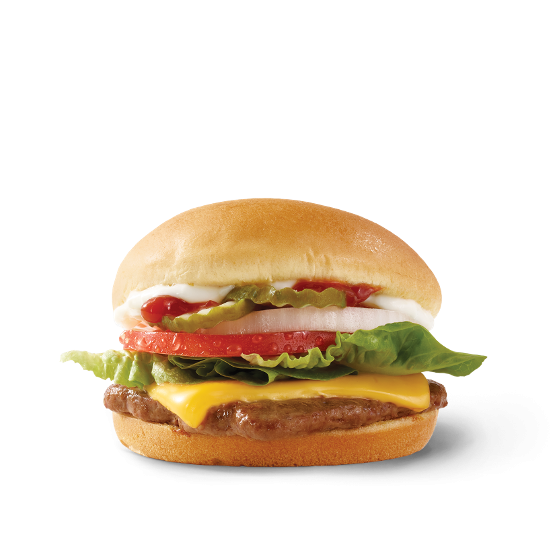 340 calories, 15g protein, 27g carbs (1g fiber, 6g sugar), 20g fat, 610mg sodium
This one will help you crush a fast food burger craving without the huge nutritional burden of most loaded-down patties. You could be forgiven for ordering up two if you just finished up a calorie-crushing workout. Order it with a plain baked potato for a bigger dose of recovery carbs.
Pizza Hut Veggie Lover's Large Thin 'N Crispy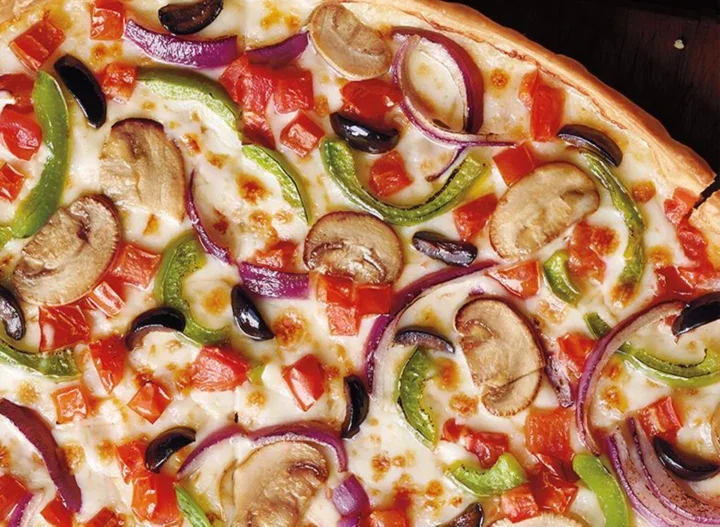 2 large slices: 470 cal, 15g Fat, 27g carbs (6g fiber, 11g sugar), 22g pro, 1130 mg sodium
If you're hankering for a cheesy slice after a sweaty workout, this veggie-laced pizza is one of your best bets. It swaps out the highly processed meat for an ample amount of veggies but still delivers a healthy amount of protein to charge up muscle repair.
RELATED: The Pros and Cons of Plant-Based Eating for Endurance Athletes
Burger King Single Impossible King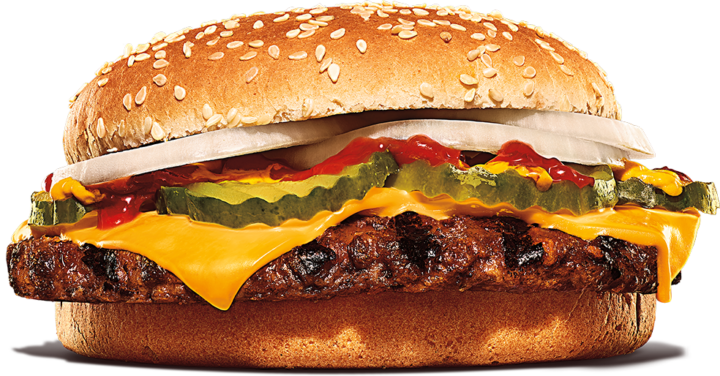 551 cal, 22g Fat, 57g carbs (5g fiber, 10g sugar), 29g pro, 2000 mg sodium
Featuring a flame-grilled patty topped with American cheese, sliced white onions, crunchy pickles, ketchup, and mustard on a toasted sesame seed bun, this is a classic fast-food burger minus the meat. Utilizing the plant-based Impossible patty, the burger has all the recovery protein your muscles crave and the quintessential flavor you'd expect from the classic hand-held meal. But it's a sodium bomb, so go easy on salt elsewhere in your diet. There is an applesauce side option instead of greasy fries…just saying.
Taco Bell Power Menu Bowl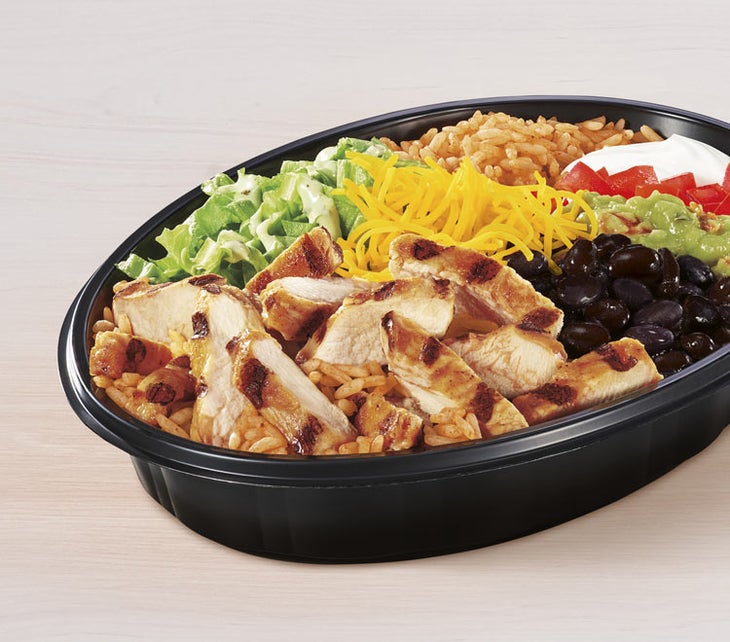 460 calories, 26g protein, 41g carbs (8g fiber, 3g sugar), 21g fat, 1250mg sodium
You don't need a fried shell to enjoy a taco bell repast. This power bowl stars grilled chicken, black beans, lettuce, tomato, guac, and sour cream for everything you need to recover like a champ. The avocado ranch sauce puts it over the top. If you need to go bigger on carbs after a herculean workout then order up the roasted potatoes to add to the bowl.
Subway Turkey Cali Club 6-inch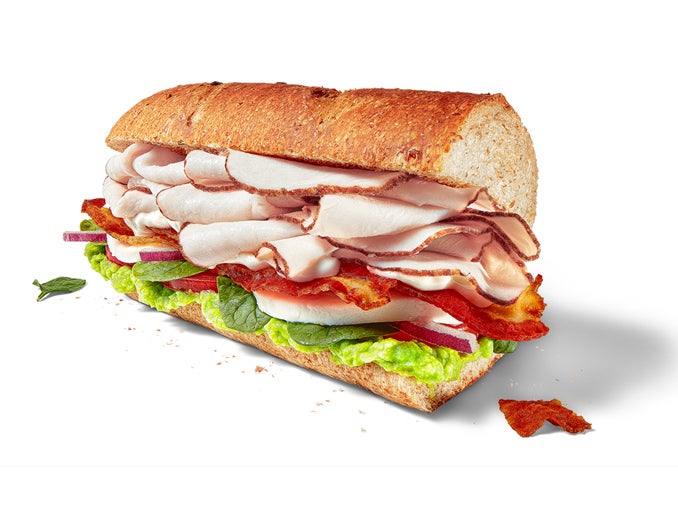 590 calories, 31g protein, 43g carbs (6g fiber, 7g sugar), 34g fat, 1260mg sodium
If you're already a fan of the chain's classic oven-roasted turkey sub, this one takes things up a notch with an appetizing mix of tasty smashed avocado, mozzarella and hickory-smoked bacon. Of course, as always, you can customize the sandwich to your liking, adding whatever extra nutrition you want, like banana peppers or jalapenos. Plus, you could always lighten it up a bit by swapping the mayo for mustard or omitting the cheese altogether.
RELATED: These Healthy Sandwich Recipes are the Greatest Thing Since Sliced Bread
Dunkin Donuts Sourdough Breakfast Sandwich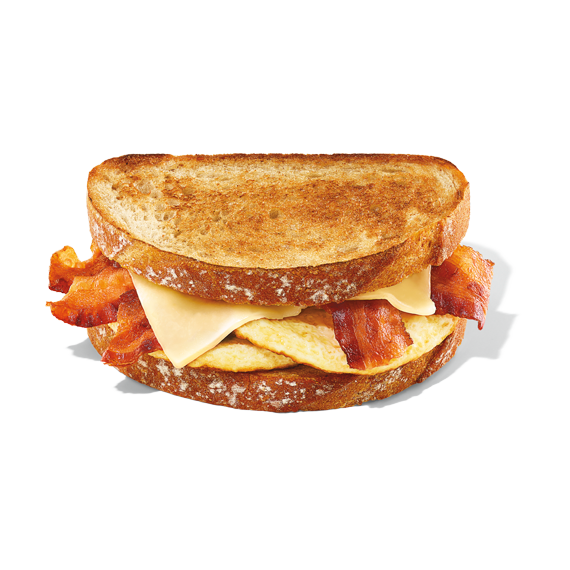 650 calories, 31g protein, 58g carbs (3g fiber, 2g sugar), 32g fat, 1360mg sodium
Almost nothing on the DD menu can be considered remotely close to "healthy" – including this all-day breakfast sandwich. But it certainly will help you satisfy those salty cravings after a sweat session and there are enough carbs and protein here to give you a recovery boost. Sometimes the simple act of getting in enough calories when training hard is of utmost importance, even if some of those calories aren't nutritionally stellar.
KFC Chicken Pot Pie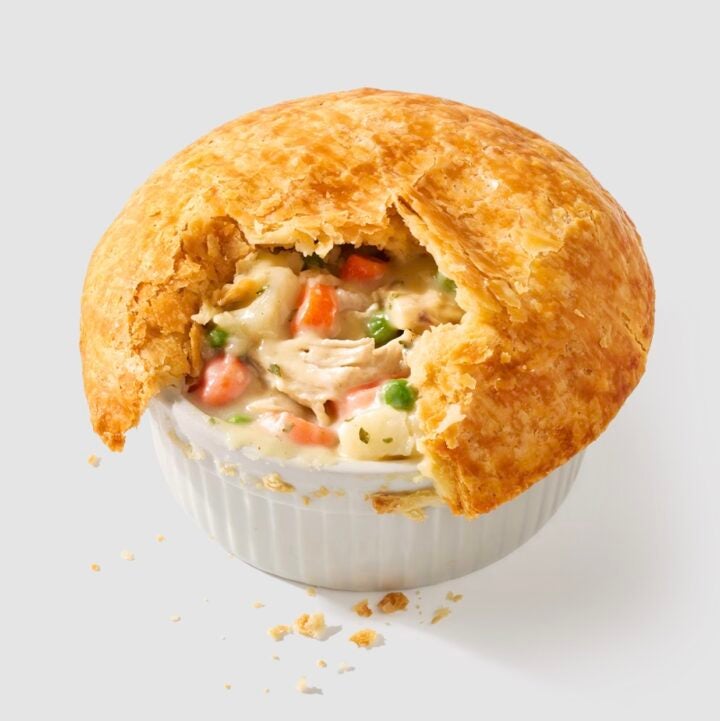 720 calories, 26g protein, 58g carbs (7g fiber, 5g sugar), 41g fat, 1750mg sodium
Kentucky Fried Chicken promises finger-lickin' good chicken but it never said anything about nutrition. The majority of KFC options are nutritional landmines, especially in the wake of the discontinuation of the grilled chicken option. Compared to the fried chicken on the menu, the hearty pot pie is a better option for a recovery meal and will fill you up with all the necessary calories, carbs and protein. It also supplies a surprising amount of fiber. Order with a side of whole kernel corn for a better attempt to get in some good nutrition.
Dairy Queen Banana Split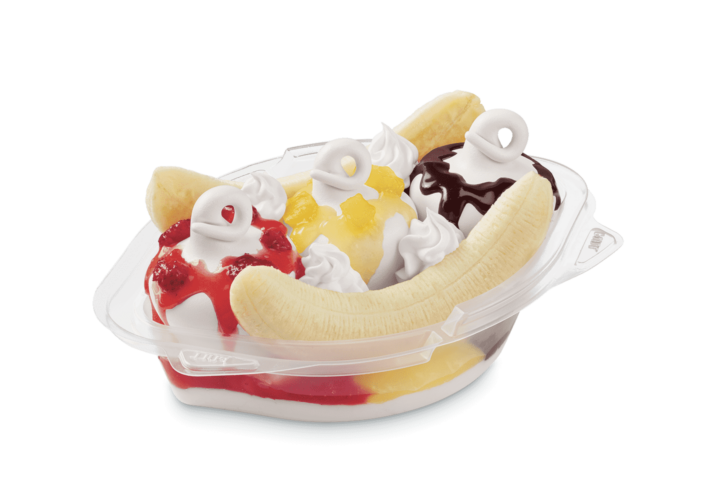 520 calories, 9g protein, 94g carbs, 14g fat, 150mg sodium
Picture this: You've just wrapped up a steamy workout and you're desperate for something frosty. (We've all been there.) Which leaves you high-tailing it to Dairy Queen for both some cold deliciousness and a touch of nostalgia. Made with lower fat ice cream and a whole banana for extra carbs and potassium, you could do worse than ordering up a banana split post-run. All of these carbs will be most beneficial when trying to recover from a long workout that sucked your energy stores dry. Just don't make it a habit.