Ask A Gear Guru: What's The Best Swim Trainer?
Top swimmers agree: Dryland training is essential for taking your swim to the next level. We look at five of the top swim trainers—from $60 stretch cords to $2,000 ergometer benches.
Heading out the door? Read this article on the new Outside+ app available now on iOS devices for members! Download the app.
A swim trainer refers to any device or machine that mimics the action of swimming on dry land. Swimmers and triathletes use swim trainers to increase the frequency of swim workouts without additional pool or travel time. Being able to increase swim-specific training at home, while traveling, or in addition to pool workouts can translate to additional strength and speed in the water. Before we get into the best swim trainers available to triathletes today, let's take a look at what they are and what they do.
What type of swim trainers are out there?
Swim trainers cover a wide range of product sizes and price tags. A simple set of stretch cords are easy to pack in your luggage or store in your closet and can cost less than $60. A bench or ergometer system will require additional space in your pain cave and can cost over $2,000.
What do swim trainers do?
A swim trainer can help correct and improve technique, and it can build strength in the muscles needed to swim faster. The key feature of a swim trainer is to mimic the exact movements of the freestyle stroke while outside of the water. The goal is to increase strength and efficiency in a controlled environment where technique can easily be observed by the athlete or a coach—without the need for breathing or other non pull-related factors.
What can't swim trainers do?
Swim trainers cannot help an athlete become more comfortable in the water. Some of the basic requirements for swimming efficiently, including breathing, horizontal body position, and gaining a "feel" for the water, can only be achieved through spending time in the water. If you're a new swimmer, a swim trainer will not help you with your biggest limiter in triathlon swimming—proficiency in the open water.
What to look for
When shopping for a swim trainer, consider your current swimming ability, your long-term goals, your budget, and your available space. Ask your training partners or local tri team to get some real-life feedback and testimonials. Speak to your coach about what would best fit into your current training plan. Read below for fiof the most popular swim trainers, all with different strengths and uses.
The best swim trainers for triathletes
Section divider
Travel-Friendly Swim Trainer
StrechCordz with Paddles
$60, nzcordz.com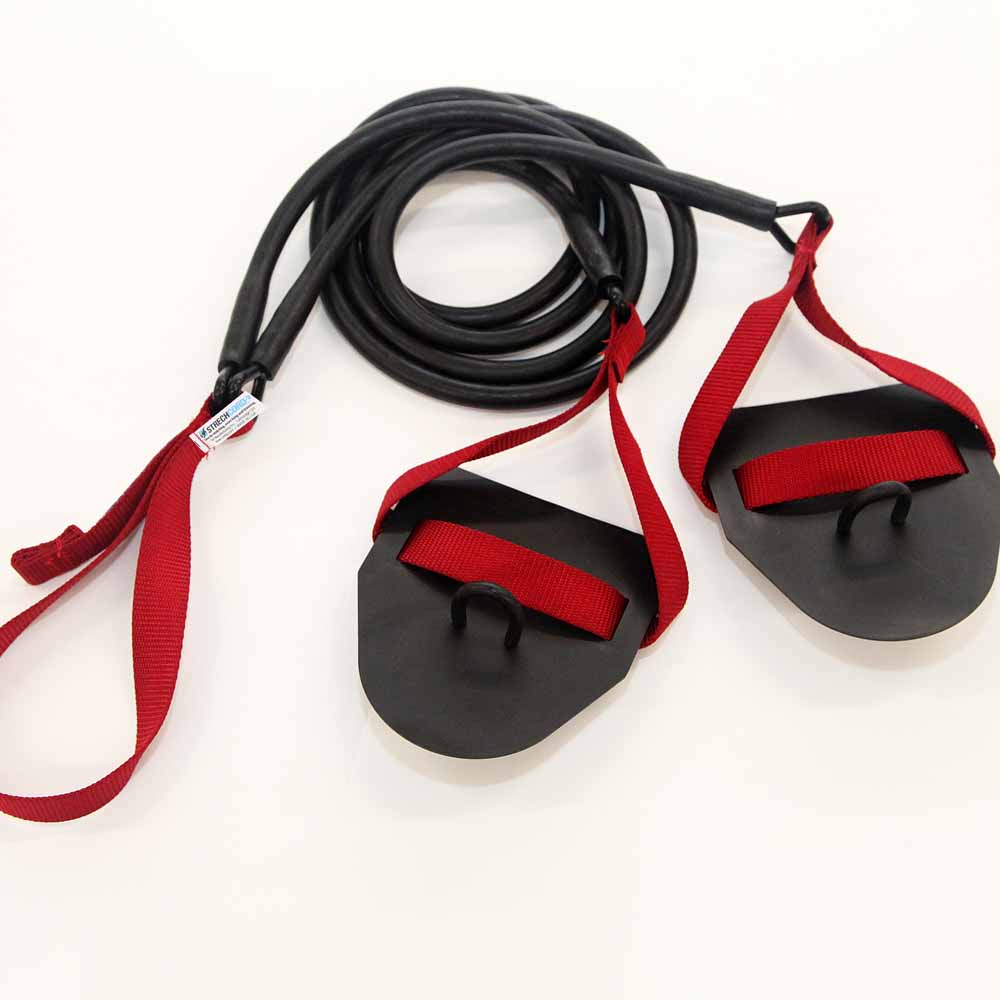 The StrechCordz swim trainer consists of a simple set of resistance bands (5 levels of resistance offered) with full size hand paddles and an attachment point. Easy to pack in luggage for training while traveling for work or pleasure. Convenient method to warm up before swim practice or cold-water races. Simply attach to a fence or pole and execute countless stroke specific or strength building exercises. 
Section divider
Consistent Resistance Swim Trainer
Slide Dryland Trainer
$65, finisswim.com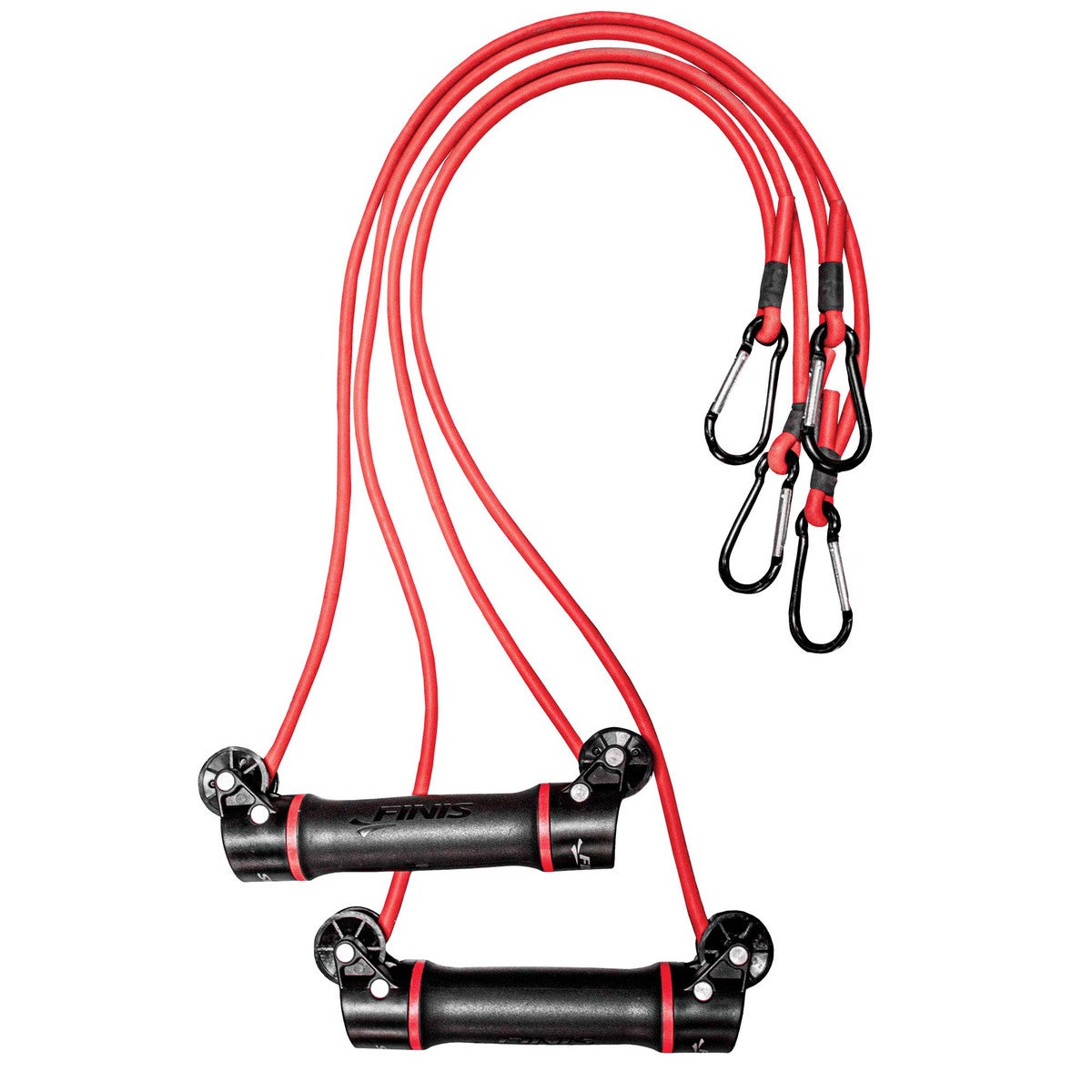 Attach the Slide Trainer to a fence and you can be dryland training in less than a minute. Unlike typical stretch bands, the Slide handles move along the cords to keep resistance constant through the entire exercise motions reducing the risk for injuries—unlike basic bands that increase resistance as they are pulled. All strokes and hundreds of exercises can be achieved by adjusting the anchoring positions.
Section divider
Affordable Bench Swim Trainer
Zen8 Trainer
$200, zen8swimtrainer.com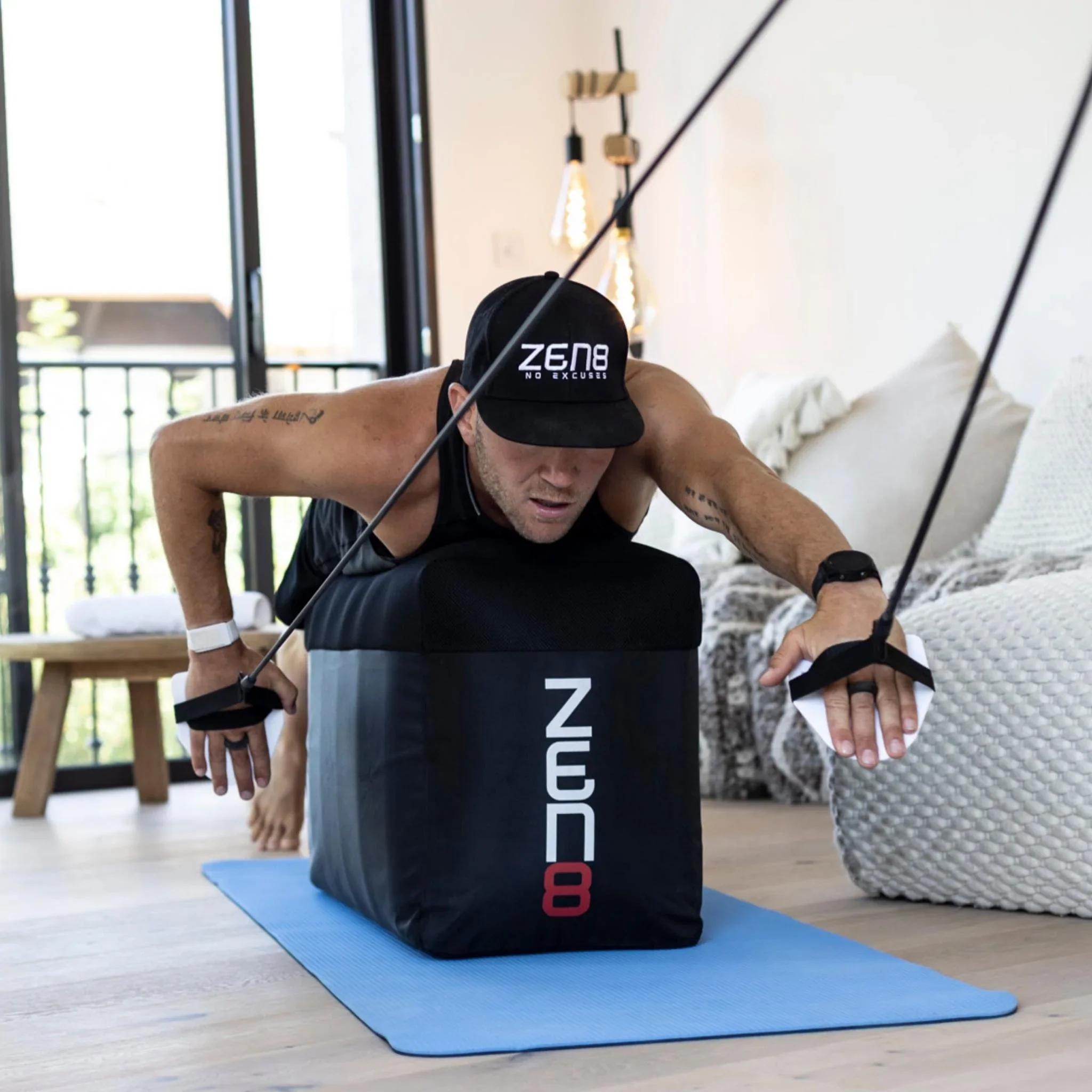 The starter bundle comes with an inflatable bench, cover, cords, paddles, and a foundation training plan to help get you started. The bench is easily inflated and deflated for storage and it allows for accurate horizontal body position when performing the movements. The online coaching options enhance the product by offering real life training options along with the training system. 
Section divider
The OG Swim Trainer
Vasa Trainer Pro
$900, vasatrainer.com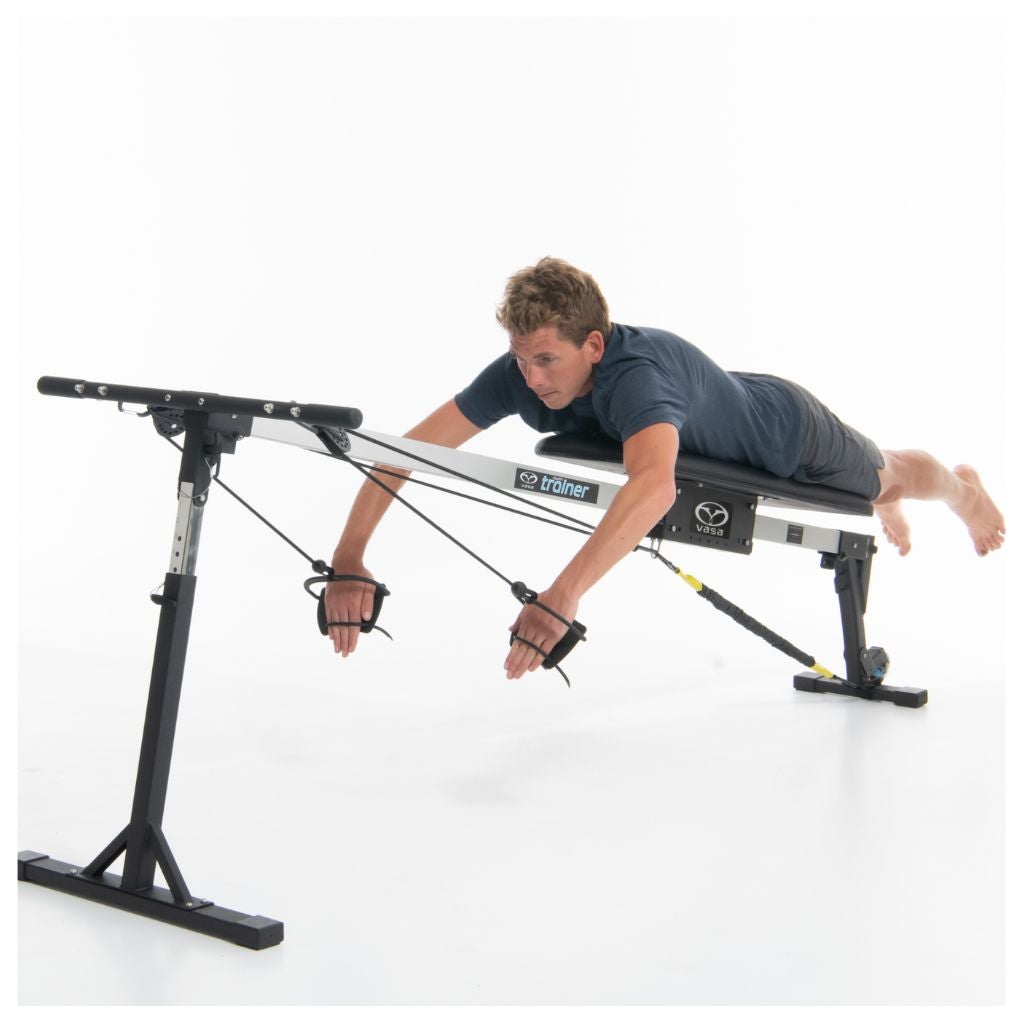 Proof of the Vasa system's success as a dry land swim training system is demonstrated by how long the product has been around and how many elite swim programs use the trainers. The design allows the athlete to perform almost every facet of the swim stroke in proper position on a sliding rail and bungee system. It's a bigger investment but the cost is easily outweighed by the benefits of additional swim workouts without the extra pool time.
Section divider
The Ergometer Swim Trainer
KayakPro SwimFast
$2,000, kayakpro.com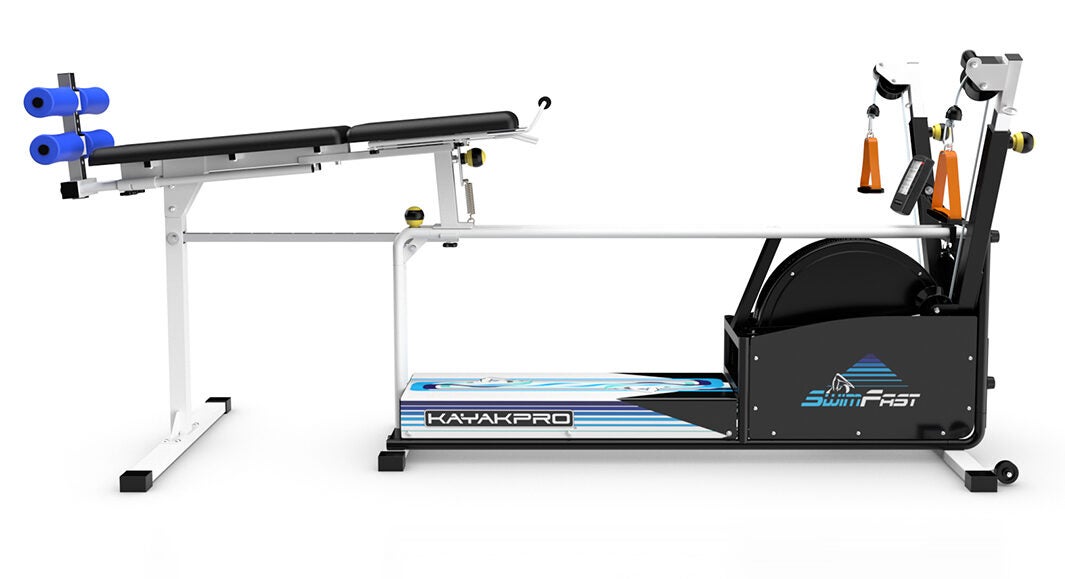 Why stop at cycling and running when it comes to training with watts, power, and other metrics? The SwimFast ergometer is like a rowing or ski erg with an adjustable flywheel that provides realistic water resistance during the power phase. The rotating bench is unique among swim trainers to replicate upper body movements. If you don't or can't get in the water for any reason, the SwimFast Erg is as close as you can get to true swimming while staying dry.