Lesley Paterson's Journey From Professional Triathlete to the Academy Awards
Three-time XTERRA world champion and two-time ITU Cross Triathlon World Champion Lesley Paterson just won a BAFTA Award for her screenplay of "All Quiet on the Western Front." Up next: The Oscars.
Photo: XTERRA, Karwai Tang/WireImage
Heading out the door? Read this article on the new Outside+ app available now on iOS devices for members! Download the app.
You might know Lesley Paterson as a tenacious off-road triathlete and inspiring endurance coach – not a BAFTA-winning and Oscar-nominated screenwriter. But truth be told, she had a passion for artistry and storytelling long before she found success in endurance sports. Triathlon was a way to fund her ultimate goal on the silver screen – and as it turns out, it was a very good strategy.
Growing up in Stirling, Scotland, Paterson discovered her athleticism at an early age in a wide variety of sports, but she also loved to dance and perform. A typical Saturday in her youth typically meant hitting the pitch to play for an all-boys rugby team in the morning, then heading to the local dance hall to do several hours of ballet in the afternoon with the girls. But back then, she said was equally fascinated by 1980s American movies — "ET," "The Goonies" and "Back to the Future," to name a few — because of the escapism and excitement they provided.
"I was into contemporary dance for quite a bit and that's kind of abstract storytelling," she says. "I've always been about understanding the meaning of things and coming up with themes and messages that you were trying to tell by movement. And that really suited me because I was an athlete. And then, you know, I also absolutely loved film."
It was a combination of those passions that led Paterson to filmmaking, but it took 16 long years — during which she became a very successful professional triathlete — to see one of her first big projects come to fruition.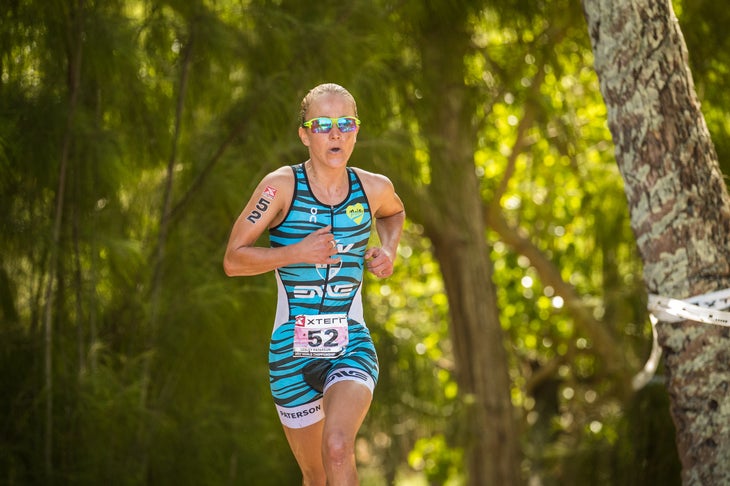 With the 95th annual Academy Awards coming up on March 12, Paterson has become an Oscar-nominated screenwriter for the German adaptation of "All Quiet on the Western Front," an epic cinematic remake of Erich Maria Remarque's 1929 anti-war novel about the brutality of World War I.
Working with writing partner Ian Stokell, Paterson optioned the rights to the book in 2006, but it took until 2020 when Netflix commissioned it as a German-language film to get it into production.
She said she called on the inherent tenacity and mental strength and endurance that would eventually help her become a three-time XTERRA World Champion and two-time ITU Cross Triathlon World Champion to reach the finish line with the movie.
"It's just so, so hard to get a film off the ground because it really is about timing and people come and go and at some point you think this is going to be it," said Paterson, 42, who lives in San Diego, with her husband, Simon Marshall, a sports psychologist who's become a filmmaking partner with her. "You just have to keep pushing through. You just, you really have to have that endurance and that passion and not get frustrated to just keep going. Even when something happens you didn't expect, you just have to say, 'OK, that didn't work out' and keep moving forward."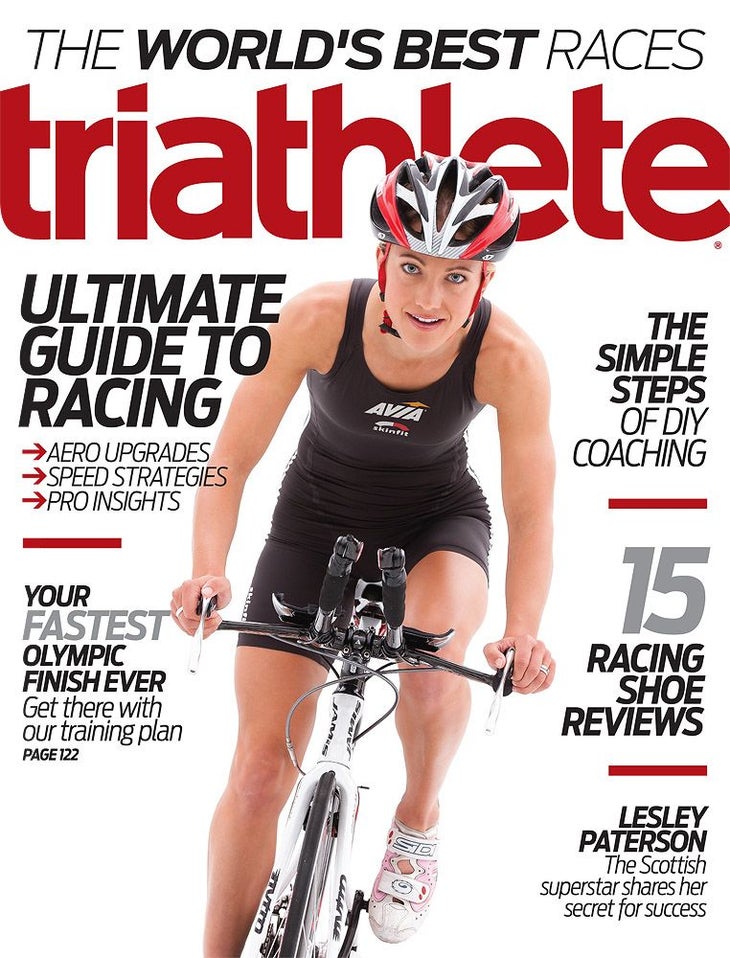 Getting started
When she was no longer allowed to play rugby with the boys as a young girl, Paterson turned to fell running and eventually duathlon and triathlon. As a teenager, she chose Loughborough University for her undergraduate education because the national triathlon team was based there but also because wanted to study in the school's outstanding drama program.
After winning the Scottish junior triathlon championships in 1997 and taking 15th place in the 1999 World Junior Triathlon Championships, she earned bronze and silver medals, respectively, in the ITU Duathlon World Championships in 1998 and 2000. But her tri career stalled in her early 20s after failing to earn a spot in the 2002 Commonwealth Games, so she took a break to pursue her dream of becoming a filmmaker.
It started with earning a master's degree in film theater from San Diego State University in 2005, then working on a few smaller projects. When she and Stokell found the rights to "All Quiet on the Western Front" were available, they jumped at the opportunity.
They pitched an original angle for a film adaptation, but after earning the chance to option the rights with a $15,000 investment, they quickly found that taking it from a basic idea for a new adaptation to finished product would take a long time. Once they had a basic script, there was the process of finding a director, coming up with a cast, and pitching it to production houses to get it made — a multi-year process that required having to renew the rights every 12 to 18 months or so.
"We thought, yay, we're off to the races," she said. "But then of course you have to adapt it and write the screenplay, which is very challenging. That took us a good couple of years to develop something that we felt was good enough to kind of pitch it around town. Then when you're an outsider, to get in the door with anyone is just brutal. So, yeah, becoming an overnight success ain't no overnight, that's for sure."
It didn't help that, at the time, World War I history wasn't very popular as a movie subject. The tide eventually turned in their favor after the release of the "1917" film in 2019 and a new interest in foreign language cinema developed. Director Edward Berger and producer Malte Grunert suggested pitching the film in German, rather than English, a move that ultimately gained a lot of momentum.
Ultimately, with Netflix behind it, the movie was and released last September at the Toronto Film Festival to great critical acclaim. It debuted on Netflix in October and then received nine Oscar nominations — including for best picture, best adapted screenplay and best international feature — and a record-tying 14 British Academy Film Awards nominations.
Directed by Berger, it follows Felix Kammerer as a young idealistic German foot soldier Paul Bäumer through the dreadful conditions of trench warfare in stark mud and blood detail. But the screenplay Paterson and Stokell adapted also explores a new narrative about the Armistice negotiations to end the war and how the devastating impacts to the German economy — especially to returning soldiers like Bäumer — set the stage for the rise of the Nazi party and the start of World War II.
The gruesome tone is set early in the film when Bäumer, who volunteers for service with friends based on the zealous recommendation of a high school teacher, unknowingly receives a uniform from a soldier killed in a previous battle. It gets darker when one of the friends is shot and killed within hours of being sent to the front line and continues to a scene near the end of the film when Bäumer and fellow soldier Stanislaus Katczinsky steal a goose from a French farmer, only to have the farmer shoot and kill Katczinsky as they try to escape, not knowing the Armistice had been signed and the war was technically over.
The movie has become especially profound since Russia attacked Ukraine in early 2022, beginning a war that has been marked war trench warfare tactics that were used more than a century ago in World War I. And, as the old adage says, art imitates life. In mid-November, Paterson said she read an article about how Russia is repurposing its uniforms for the new soldiers being conscripted into service.
"'All Quiet on the Western Front' is a substantial, serious work, acted with urgency and focus and with battlefield scenes whose digital fabrications are expertly melded into the action," wrote Peter Bradshaw in his review for The Guardian. "It never fails to do justice to its subject matter, though is perhaps conscious of its own classic status."
RELATED: The Triathlete Hour Podcast: Lesley Paterson Is On An Adventure
Rise to triathlon gold and the silver screen
Throughout the time she working on the film, Paterson also revamped her triathlon career by focusing primarily on the XTERRA off-road circuit. from 2009 to 2019, she racked up seven podium finishes at the XTERRA World Championships — including wins in 2011, 2012 and 2018. She also launched Braveheart Coaching in 2011 and, in 2017, published The Brave Athlete: Calm the F*ck Down and Rise to the Occasion, a book that solves common mental conundrums athletes face in everyday training and racing.
Paterson's success as a pro triathlete and the prize money she earned helped fund the renewed movie rights, although Paterson and her husband also took out another mortgage on their house. The out-of-pocket cost to keep the project alive — ultimately more than $200,000 — included added stress when she endured less-than-optimal triathlon results, acquired Lyme Disease that kept her from racing for parts of two years, and suffered a broken shoulder the day before an XTERRA race in Puerto Rico in 2016.
Despite the injury, Marshall convinced her to race. He knew she had been strong at one-armed swimming drills and, despite the pain, could cover the 1.5km swim and figured she could prop her injured limb on her mountain bike handlebars just to get through the 40km bike section before getting to her strong suit of running the 10km on trails.
"I literally couldn't lift up my arm," she recalls. "But there I was out in the water. I did the swim with one arm and it was brutal. I came out of the water 12 minutes down, I got on the bike, had to walk the technical sections but I cycled up to second place and then won the bloody race."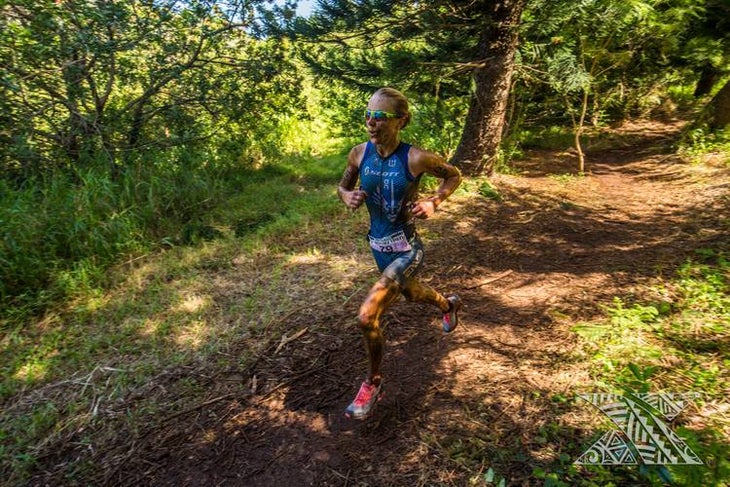 Although she's retired from triathlon racing, Paterson is still coaching athletes and continues to derive inspiration from the sport. She has several more film projects in the works, all at various stages and each with its own set of challenges. (She no longer works with Stockell, but instead has teamed with Marshall to start their own production company.)
Paterson has already started racking up the awards for her movie, including the coveted Best Film Award at the BAFTAs, or British Academy Film awards, Britian's equivalent of Hollywood's Academy Awards. Whether she wins an Oscar or not, Paterson's success with "All Quiet on the Western Front" will no doubt help open more doors in Hollywood. But knows that future accomplishments — as with triathlon racing — will only come from being bold enough to get out of her comfort zone.
"I really truly believe that you're not going to excel if you don't face your fears and if you're not brave about it," Paterson said. "You've got to get yourself out of your comfort zone because that's where the magic happens. I mean, I've spent my entire life searching for not being in comfort. And again, I don't really know where that comes from. I don't know if it's a Calvinistic sort of upbringing or what it is, but I searched for the hard things and that seems to get me satisfied."