Mental Mastery With Mark Allen Week 9: Running With a Champion's Mindset
Running fast is just as much a mental effort as it is a physical one. Six-time Ironman World Champion Mark Allen shares a track workout to build the required skills for both.
Heading out the door? Read this article on the new Outside+ app available now on iOS devices for members! Download the app.
You did it! You've reached the final installment of our nine-week Mental Mastery series. And just like we do in a triathlon, we will be closing things out with a run.
Most likely, you've noticed how when running, your perceived effort at any given heart rate is lower than at those same heart rates when cycling or swimming. This is because running is weight-bearing, and that elevates the heart rate much more, with less effort. It feels hard, but the good thing about this is that it means huge fitness gains can come from running fast. Even better news: An interval workout doesn't have to be long and drawn-out to have the huge benefits of running fast will bring you.
The flip side of how quickly you can get your heart rate up running, however, is that when you push to the top end of your capabilities as a runner, the pain factor increases as well. But that's okay! You'll be incorporating the three pillars of Mental Mastery into this short and sweet interval session in a way that will help you embrace the experience rather than shy away from it.
Remember those three pillars of Mental Mastery? A refresher:
Body Awareness – Tuning into how you are moving.
Internal Dialogue – Being aware of what you are telling yourself.
Mental Race Prep – Connecting your immediate effort to the outcome you want.
The workout I'm sharing with you today was my bread-and-butter track session that I repeated countless times throughout the season. It was always the first one I would do in the early season when adding interval workouts to my training plan, because it was short enough that I knew I could get through it. I also did it in the middle of the season, because it showed me where my fitness was. And finally, I did it in preparation for the Ironman World Championships at the end of the season, to balance out all the longer endurance workouts I was doing in preparation for that event.
Every time, this session was a critical part of preparing for racing. There was never a single point in any race that was as intense as the final two 400's in this workout. It reset my gauge of what I could manage, which made race day seem like just another day. I knew I could handle the intensity of racing because of what it took to execute this session successfully!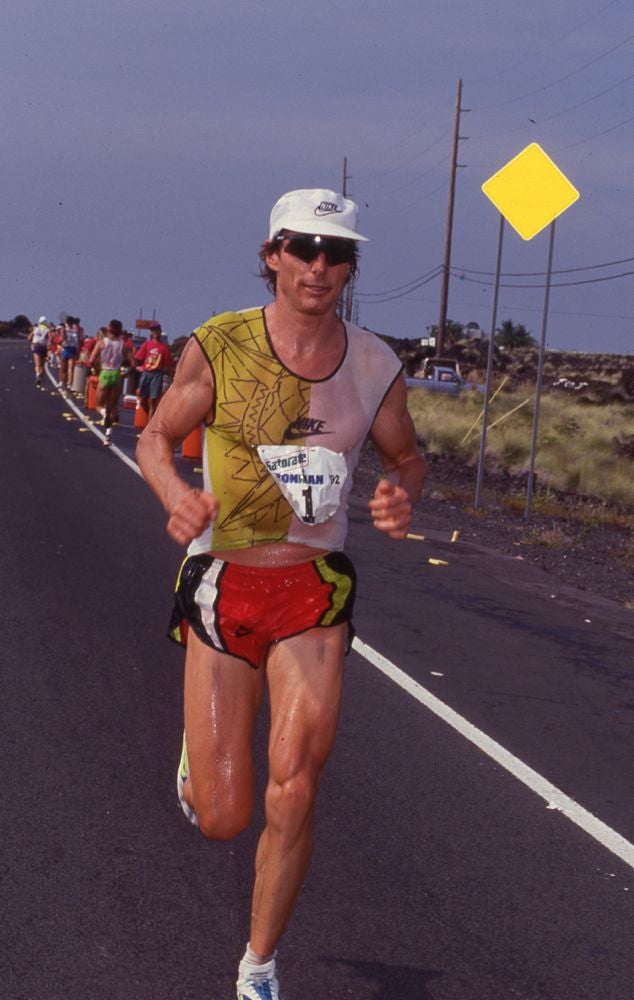 Week 3: Key Speed Run Workout and Mental Mastery Drills
This session is the same for any distance race you are targeting. It's a set of 8x400m – in total, 2 miles fast. Ideally, this session would be done at a running track. If you don't have access to a track, you can do it on the roads. You would just need to estimate how long it takes you to run 400m (probably somewhere around 90-120 seconds) and then use that amount of time for each of your 8 fast segments.
You might think it's too short to get any real benefits from it that will help you in your races, especially if you are targeting a longer triathlon. But trust me, if done correctly by the time you finish that 8th 400 you will not feel cheated in the least!
The reason why this workout is so potent is because your body needs to be stimulated to raise your VO2max. That number is the rate at which you can get oxygen into your body. The more oxygen you can get in per unit of time, the faster you can go at the top end, and the more efficient you will be at more endurance-oriented speeds with the result of having lower heart rates at all levels of running.That big gain in VO2max takes place by running at speeds that get your heart rate up close to your maximum level at some point in the workout. This session is short enough to afford you that ability. If it was a significantly longer workout, you wouldn't be able to go hard enough to get anywhere close to your max heart rate, and consequently your bump up in VO2max would be less.
RELATED: 6 Swim, Bike, and Run Workouts to Boost Your VO2 Max
Warm-up
15-20 minutes easy jogging, gradually building your speed in the final 5-minutes of the session to be close to the top of Z2.
800m straights and curves. This is where on the straight part of the track you accelerate from easy up to around 5k pace in the final 10m or so of the straight, then jog easy on the curved part of the track. Do this is a continuous run.
400m easy
Main Set
8×400 fast, building your speed in sets of two, with an easy half lap jog recovery between each 400. This is also continuous (no stopping!). Pacing cues:
The first 2 should be fast, but not your top speed.
The next two, see if you can go 1-2 seconds/400 than you did on the first two.
Then in the third set of 2, increase your speed again seeing if you can get another 1-2 seconds faster/400 than you did in the previous two. You should be running near your maximum speed, but still not quite at it.
Then in the final 2 go as fast as you can. If you can improve your time another 1-2 seconds, that is perfect. If you cannot, just to the best you can. Experience will help you know how to pace this over time.
Cooldown:
Jog 5-10 minutes, very easy
Mental Mastery Focus Cues
The first 2×400 is where you will be working on your Body Awareness. To go fast, but not be at your top-end speed, requires maintaining a relaxed sense about your body even as you run at a pace that you could not maintain for much longer than each of those 400s. Think relaxed shoulders, quick light midfoot strike, ease of arm swing, breathing from the belly with a rhythm that is very much under control. This should have a feeling of "float" to it.
The next 4×400 is primed to work on your Internal Dialogue. The physical demand of the session will be getting your attention in these middle 400s, and you may feel like you can't execute the session as planned. But you can! The skill here is to shift your internal dialogue away from outcome and occupies it with execution. In this case, focus on how you are pacing each 400. Quickly get up to speed on the first 100, hold that speed for the second 100, then slightly up the speed in the third 100 and then bring it home as best as you can the final 100. Forget about how many more you must complete. Don't worry about how you will make it through. During high-intensity moments like these 400s, your internal dialogue might be screaming to you to stop or slow down. But all of that becomes background noise when you bring your focus into one point that has nothing to do with actual discomfort or judgement or anticipation. Focusing on pacing gives you one task and quiets your internal dialogue.
This is the champion's mindset, where your internal dialogue is focused on one specific aspect of execution rather than having an internal dialogue that is worrying about outcome.
The final 2×400 now becomes your Race Prep pillar opportunity. To navigate these final two intervals successfully and get your maximum speed out of them, shift into race mode mindset. That is a mindset that says yes, this is tough, but it is also not something you are going to have to do all the time. It's a special chance to really test yourself. And it took doing the first 6x400s to get you to the point where you can now get the benefits out of these final two. Bring everything together you have learned in these final two 400's. Fast, but relaxed. Controlled breathing even though you are at your limit. Remember: Execution over outcome. Rise up and get it done today, because race day is also about rising and getting it done. This is your Race Prep. Practice doing it now. Then you'll own that ability on the days that count most.
I hope you have enjoyed the Mental Mastery series. If you missed any of them, you can always go back to the full series and do these workouts as you need. Keep the three pillars in mind as you do your workouts. They are Body Awareness, Internal Dialogue and Race Prep. Use them to enhance your training sessions. Some workouts will require more of one than the others. Some will beg you to use all three at the same time in the tougher parts of a big session.When put together, they will bring you a champion's mindset and enable you to get the most fulfilling experience from the sport and the most empowerment from what you are able to accomplish.
See you at the races!