Mental Mastery With Mark Allen Week 8: Biking Beyond Your Limits
This bike workout, combining physical effort and mental mastery, helped six-time Ironman World Champion break through his limits and race strong all the way to the finish line.
Heading out the door? Read this article on the new Outside+ app available now on iOS devices for members! Download the app.
Time-trialing, which is used in the bike leg of almost all triathlon races, requires a certain set of skills to be successful. One of those skills is developing muscle recruitment. Research shows that in endurance events, we are not using all of that recruitment ability, which is partly responsible for keeping us going going hour after hour.
The workout in this week's Mental Mastery series will help with that recruitment ability. Yes, it is somewhat like the last strength cycling workout, where I had you accelerate up to top speed from a dead stop. But this is a repeat set that is just a bit longer, and will make your longer sustained efforts so much easier. It will also help you to go past where you think your limits are right now.
To do this, you'll be required to pull from all three pillars of Mental Mastery:
Body Awareness – Tuning into how you are moving.
Internal Dialogue – Being aware of what you are telling yourself.
Mental Race Prep – Connecting your immediate effort to the outcome you want.
Each of the Mental Mastery drills will be engaged throughout the entire set. You'll see there are components of Race Prep, Body Awareness and Internal Dialogue mixed throughout each interval. Just like the final 100 swim in last week's speed swim set, this is real-world experience. Rarely are things contained in nice, tidy packages in races. This set will enable you to shift back and forth between the three pillars of Mental Mastery seamlessly.
Time to ride!
RELATED: Motivation Is the Most Important Mental "Muscle" in Triathlon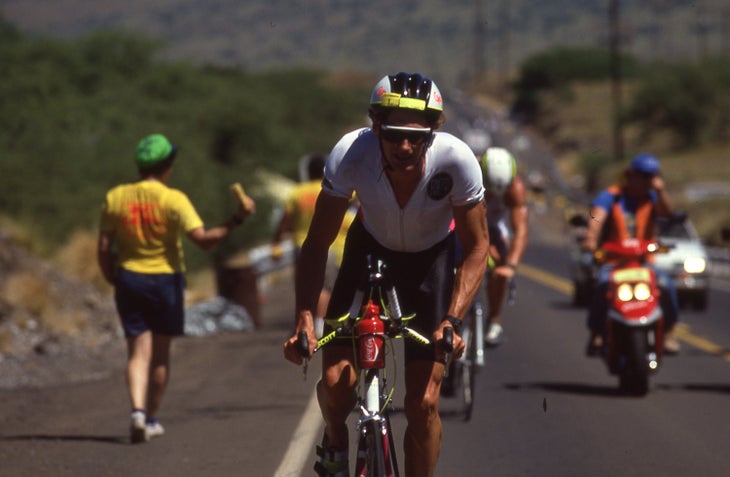 Week 8: Key Speed Bike Workout and Mental Mastery Drills
You can do this session on a stationary trainer. You can also do it outside. If you do that, the ideal way is to pick a long stretch that has a very slight upgrade to it. If you have something like that, you can go back and forth on the same stretch of road. One direction will be a bit easier, as the upgrade will then become a downgrade. But that isn't a time to coast! Instead, you will learn how to push to your limits, even on a slight downward incline.
These 1-minute intervals should be as fast as you can go without blowing up. If your quads feel like they are loading up with lactate, drop the effort down slightly.
The result of this is workout that you will teach your body to sustain a very high watt average, well above anything you will need to do in a race. Just like the speed swim set last week, you'll reset your body's gauge of what "fast" really is, enabling you to hold a much higher watt or speed than before.
Warm-up:
15 minutes spinning, low gear, easy, as:
First 5 minutes, 80-85rpm, same or slightly bigger gear at around 95rpm
Second 5 minutes, slightly bigger gear 90rpm
Final 5-minutes all done in Z1/Z2.
5×10 second accelerations going from moderate to fast in the final few seconds, 15-seconds easy spin recovery
Main Set:
Sprint or Olympic distance focus:
10×1 minute fast, with 30-second easy spinning recovery between each.
Half-iron/70.3 distance focus:
12×1 minute fast, with 30-second easy spinning recovery between each.
Full/Ironman focus:
15×1 minute fast, with 30-second easy spinning recovery between each.
Mental Mastery Focus Cues
Within each of the 1-minute intervals, incorporate each of the three pillars in the following way:
As you accelerate up to top speed in the aero position, think "race energy." You are going for it. You are not saving anything for tomorrow. This set is it! This is your Race Prep pillar. It's pulling up energy you normally don't use in your average training session at more moderate speed.
Once up to speed for the next 5-10 seconds, tune into any excess tension in your body. Relax the shoulders. Make sure your glutes are activated, and that it's not all quads generating the power. Keep your cadence rate up around 90-95rpm. Control your breathing. This your Body Awareness component.
For the remainder of the minute, do the following. Tell yourself that you are going to sustain that effort for an extra 15-seconds beyond the minute mark. Mentally carry your interval all the way through that minute mark. Don't let up as you get close to 60 seconds – to accomplish this, mentally tell yourself you will go another 15 seconds, even though in reality you are not going to. This is your Internal Dialogue drill. (I'll explain the genius of this thinking in a moment.)
The result of incorporating all three pillars into each interval is multifaceted. First, it will enable you to run through each of those three as needed in a race. For example, if your focus starts to wane in a race, you'll immediately be able to go back to it, because you have practiced it. You'll notice when you start to tighten up your body and reduce your natural physical flow because of this set.
You'll also have one of the most potent keys to racing strong all the way through the finish line: looking beyond the finish line. Whether in a 60-second interval, like this workout, or in a race, place your personal finish line just 100 meters past everyone else's. When they stop, tell yourself you'll keep going for that extra 100m.
The first time I put my finish line 100m past everyone else's was at my final Ironman World Championship in 1995. All day, I told myself I was going to keep running past everyone else as they stopped, and would keep going for another 100m beyond them. And you know what? That was the very first year I was strong all the way through the finish. I never felt like I was just hanging, on hoping to get there. I never slowed in the last miles of the marathon, and my mechanics were solid all the way to the finish. Practice this mindset now, and then try it in your next race. You'll be amazed!