Mental Mastery With Mark Allen Week 7: Swim Speed Reset
Six-time Ironman World Champion shares what he calls the "ultimate race-prep drill" to find a new physical and mental gear in the swim.
Heading out the door? Read this article on the new Outside+ app available now on iOS devices for members! Download the app.
As a triathlete, you likely do a ton of steady-state swimming, and not a lot of top-end swimming. That's good for building endurance, but as you head into race season, it's good to reset your body's gauge of what it can do at a fast speed – physically and mentally. That's why this week's installment of our nine-week Mental Mastery series will take you to the pool for a fast and furious workout.
Going fast presents perhaps the biggest challenge to keeping your three pillars of Mental Mastery dialed in and active. Hard efforts can be uncomfortable, and physical discomfort can be a distraction to staying locked into a champion's Mental Mastery focus. This swim workout will blend physical and mental skills to ensure you get the hang of this demanding aspect of athletics.
These types of sets were extremely important for me to do from time to time even when I was getting ready for an Ironman. The intensity of short and fast is like a concentrated form of what takes place over a much longer period of time in a race.
This type of set also reinforced my ability to do the ultimate athletic race prep multitask, which was to go fast but to also stay focused on economy of motion, on keeping my mental chatter to as close to zero as possible, and to resetting my fast gauge.
Sometimes, just thinking about a hard workout can be a mental roadblock. I would always have to rein in my anxiety and the anticipation of how the set would feel, and just launch into doing it. Remember: It's always so much easier to deal with it while doing the set, than it is to let your mind spiral about what-ifs. The what-ifs in your head are almost always worse than how it actually turns out in real life.
Before we get to the workout and the Mental Mastery drills, let me remind you again what the three pillars of mental mastery are:
Body Awareness- This is developing the ability to be aware of how your body is moving, especially when you are fatiguing or going at a very fast pace or high-power output.
Internal Dialogue- This is being aware of when chatter is getting in the way of performance and developing the ability to change the channel quickly to a space that supports your physical efforts rather than weakening them.
Mental Race Prep- This is remembering what the day-to-day work is going toward and using that vision to propel you to your personal best in your pursuit of the extraordinary.
Let's get wet!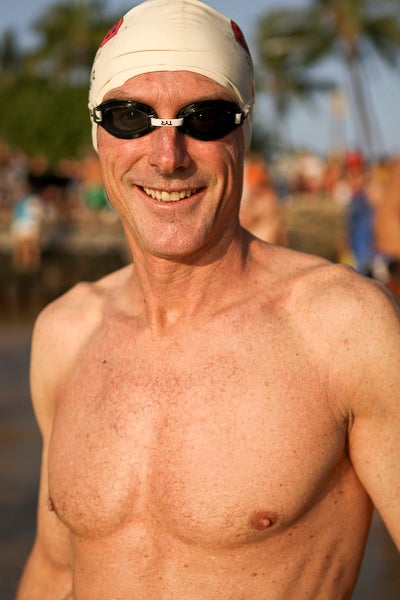 Week 7: Key Speed Swim Workout and Mental Mastery Drills
This set can be a complete workout on its own, but is likely better as a set to do in the beginning of a longer swim session, since it is short. As you can see, it's a set of 100s that you will do three times through. Then at the end, you'll do an all-out 100 to finish with.
The goal of the set is to really push your limits. Pick as fast a 100 pace as you feel you can sustain throughout the three sets, or that you can ideally improve on by 1-2 seconds in the second and third set.
Warm-up:
200 easy
200 pull
100 moderate
8×50 on 20-seconds rest as: 25 fast, 25 easy long strokes
Main Set
Sprint or Olympic distance athletes:
3 sets of 3×100 as: 2 fast, 1 moderate on 20 seconds rest, 1 minute between each set
200 recovery
Finish with 1×100 all-out
Half-iron/70.3 athletes:
3 sets of 4×100 as: 3 fast, 1 moderate on 20 seconds rest, 1 minute between each set
200 recovery
Finish with 1×100 all-out
Full/Ironman athletes:
3 sets of 5×100 as: 4 fast, 1 moderate on 20 seconds rest, 1 minute between each set
200 recovery
Finish with 1×100 all-out
Cooldown
200 easy, or progress to your longer swim workout
Mental Mastery Focus Cues:
As is good to work on in every swim you do, start with Body Awareness. Take the first two sets to work on this. Think pacing, stroke efficiency and body position. Speed should not come at the expense technique. If you have to slow down a second or two per 100 to regain control of your breathing and settle back into a relaxed feel, do so. Set a good stroke first, then go for the "beyond" effort.
RELATED: Do's, Don'ts, and Drills for Every Part of the Freestyle Swim Stroke
In the third and final set of 100's switch to your Internal Dialogue. Bring your brain into a one-word focus. I like to just repeat "steady, steady". It doesn't matter what the word is, but find one word that you can repeat in rhythm with your stroke or breathing. And if that seems impossible, switch to concentrating solely on your breathing pattern, even if the pattern is not rhythmic. Maybe you breathe a few strokes on one side, then once on the other, then two on one side and two on the other, and so on. But just focus on that, and how it is changing as you go through the 100.
This may sound like a pointless exercise in the middle of a fast set, but it's not. It shifts your focus from being consumed by a global discomfort and places it on one element. That has the result of quieting your internal dialogue. Taking focus away from that discomfort helps relax your entire being, even within the intensity.
Now for the final 100 all-out. This is like a race in the sense that going fast can reduce your your Body Awareness. The intensity can take your focus away from keeping a steady internal mono-focused Internal Dialogue.
The final 100 all out and is your Race Prep. It's your chance go as fast as you can while keeping a solid, relaxed, efficient stroke and mental focus. This is your final exam for swimming in Mental Mastery. It's the ultimate race prep drill. Go all-out, but be aware of your body. Go as fast as you can with a one-word internal dialogue focus: "steady". With this strategy, you'll likely go faster than you normally do. It may be tough, but you did it anyway. You just prepped yourself for a race by setting a new standard for yourself!