Using An Anti-Gravity Treadmill As A Recovery Tool
Heading out the door? Read this article on the new Outside+ app available now on iOS devices for members! Download the app.
Is the use of an anti-gravity treadmill for recovery from an injury a fad, or is it a tool that will someday be available to the everyday athlete? Brian Metzler explores this topic and finds out why so many elite athletes have made it a part of their recovery process.
Written by: Brian Metzler
With as much time as he spent nursing a foot injury last spring, Ethan Brown could have gotten pretty bummed out. Or pretty out of shape.
But neither thing happened. In fact, the 24-year-old third-year pro turned in a pretty solid first half of his season, with a runner-up finish at an ITU Continental Cup race in Mexico and a sixth-place showing at the ITU Pan-Am Championships in Oklahoma City. He also fared pretty well against the big boys, finishing a respectable 34th in the ITU HyVee World Cup on June 28 in Des Moines, Iowa.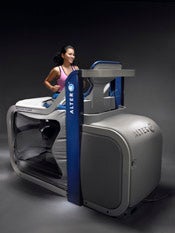 Not bad considering he started the season on a down note because of foot pain that was eventually diagnosed as an irritated joint in his left big toe. He missed his first race of the season but wound up maintaining his fitness pretty well thanks to getting the chance to train on an AlterG anti-gravity treadmill at the U.S. Olympic Training Center in Chula Vista, Calif.
What is an anti-gravity treadmill? It's a machine that essentially allows an athlete to run at less than his full body weight, thus reducing the pounding on joints, ligaments, tendons and muscles. It creates a sealed chamber below the waist—the runner is zipped into a pair of neoprene shorts with a closure similar to that of a whitewater kayak—and lifts the runner slightly with upward air pressure.
An anti-gravity treadmill looks likes a compact personal spaceship ready for orbit. It's only coincidence that the 750-pound machines utilize technology that was first proposed for use on a space station. Once accessible only to pro athletes, they're starting to pop up in health clubs and rehab centers where age-groupers can use them. Running on one produces an incredible feeling of weightlessness, even though you're still running with your normal gait.
Brown's injury wasn't getting any better by running on it, so, instead of taking time completely off his feet or running in the pool—blech!—he logged copious miles on an AlterG positioned in front of a large flat-screen TV for about a month and a half.
"It's not as good as being outside and really running, but it's pretty cool," says Brown, a two-time U-23 national champion. "I didn't seem to lose a whole lot of fitness and had some strong early-season races."
At first, the AlterG apparatuses were seen primarily as rehab machines. A 144-pound athlete like Brown could run with a simulated weight of 72 pounds or even much less and be able to reduce the stress on an injury while still maintaining or even increasing fitness. You can run sub-5:30-mile pace while carrying on a conversation or rev your heart rate to the moon and, as Brown found out, still be gentle to your ailing big toe because your footsteps are much lighter than they would ever be in the real world.
But lately, elite coaches are seeing those high-tech treadmills as a supplemental training tool for healthy athletes.
Former U.S. marathon great Alberto Salazar has most of his world-class runners in the Nike Oregon Project train on them on a regular basis. Those athletes include half marathon world championship bronze medalist Dathan Ritzenhein, U.S. mile recordholder Alan Webb and rising marathon star Kara Goucher.
Salazar uses Alter-G's to increase training volume while reducing the chance for injury and shortening the time it takes to recover from hard workouts. The machines can also allow for low-intensity interval training, overspeed training and hill training up to a 15-percent incline. Back-to-back high-intensity workouts and even backwards hill training are possible.
AlterG machines have been around for a couple of years, but not many non-pro runners and triathletes have gotten the chance to use them. At $75,000 apiece, it is a tool only pro sports teams, top-tier rehab facilities and Olympic training centers can afford.
In the last year and a half, AlterG's have started appearing at a handful of training clubs around the country, where they are available to those willing to pay a hefty per-hour use fee. Elite age-grouper Peter Russo first benefitted from time on an AlterG by using it to get over shin splits and a stress reaction, but then he continued to use one to supplement his training once he was healthy.
Russo, a five-time, sub-10-hour Ironman finisher, ran on one three days a week at Foundation Performance in Pawtucket, R.I., and within a few months placed fifth in the 40-44 age group and 53rd overall in 9:29:11 at Ironman Arizona.
Foundation Performance co-owner Michael Silva, a physical therapist, exercise physiologist and conditioning coach, says running on an AlterG is more effective than aqua jogging, mostly because you can't attain normal mechanics in the water because of the resistance and, in deep-water jogging, the feet never touch the ground.
"Peter started using the AlterG just after he was diagnosed, and we had him running at 30 percent of his body weight," Silva says. "His feet were barely touching the ground and we had him run 90 minutes at a time a couple of days a week. As his facture was healing, we slowly increased the weight. He came back strong after that. He's one of our biggest success stories."
Foundation Performance is one of a growing number of clubs around the country that offer time on an AlterG for healthy runners. Foundation charges $25 for a 30-minute stint, but also offers bulk discounts. Two clubs in New York City are charging $50 for half-hour sessions.
Last fall, AlterG unveiled a lower-priced model called the M320. It costs $24,500—still out of the price range of most, but worth the hit to the wallet in the view of many. It works out to about $550 a month for five years, or about the price of a mid-range car. Silva thinks every collegiate and pro sports training room will have one within the next three years and won't be surprised if more top age-groupers and pros buy their own.
What makes an AlterG especially useful for healthy athletes is the training protocol developed at the University of Colorado Department of Integrative Physiology. It's a spreadsheet that takes a runner's weight into account and ultimately determines how fast he or she needs to run at a simulated weight on an AlterG to get the metabolic equivalent of running on the roads.
"A lot of people worry that they're not going to be as fit if they're on the AlterG, but we explain to them that we can be if we play around the intensity of the run and ultimately give them the same workout," Silva says. "We have healthy runners and triathletes, people using it to get extra mileage and build their pace, shaving a few percentage points off to ease the stress on their joints. There's nothing else that can do what this machine can. You can have normal gait mechanics at a reduced body weight. It's phenomenal."
Click here to get a first-hand look at the Alter-G anti-gravity treadmill.
Boulder-based writer, runner and part-time coach Brian Metzler is the senior editor of Running Times.