The Lightning-Speed Rise of Chase McQueen
With a big win at Super League Arena Games Montreal (over Lionel Sanders, no less), Chase McQueen's breakthrough year is only getting started. Learn more about the up-and-comer and check out two of his favorite snappy short-course workout sets.
Heading out the door? Read this article on the new Outside+ app available now on iOS devices for members! Download the app.
When the inaugural Couples Championship took place last year, it featuring household names in triathlon who have myriad titles under their belts. Yet for all the successes within the field, it's doubtful that any of the duos lining up in Florida had ever celebrated winning individual races in such quick succession as Gina Sereno and partner Chase McQueen achieved in Montreal last weekend.
The Boulder-based couple took part in the first event of this year's Super League Triathlon Arena Games, where Sereno was first to take top honors in the women's race. McQueen followed a hour later in the men's race, holding off 2016 Rio Olympic bronze medallist Henri Shoeman and a certain Lionel Sanders. The two can now head for the final in London with realistic prospects of being crowned Triathlon eSports World Champions—couple or no. Not a bad afternoon's work for two young triathletes making their way in the sport.
RELATED: Last Weekend Now: Gwen, Super League and Frodo are Back
"After things settled down I was just extremely grateful," McQueen explains from his post-Montreal lodgings in La Paz in Mexico, where he was preparing to compete and finish a solid third in a World Triathlon Americas Cup race. "It was super emotional. Good days are few and far between for people like us, and for it to have come together on the same day was a really cool experience."
McQueen – one of those humble athletes whose talents can too easily be taken for granted – is doing himself a disservice. The timing of the 24-year-old's success might have been serendipitous, but it wasn't a surprise. From emerging (or perhaps submerging) in his first World Series race in Leeds, U.K. in 2021 – having been dunked by Alistair Brownlee – through to consistently impressing in last season's Super League Triathlon fall series and then being involved in a breakaway in the season-ending World Series climax in Abu Dhabi, McQueen has shown he's fast-becoming an all-round triathlete and genuine contender.
"The biggest thing people are quick to critique is my running ability," he says. "In my junior days, I was known as a pure swimmer, that's turned into being a swim-biker. The running is making progress. It just takes a long time to develop those skills."
RELATED: McQueen was named on our list of pros set to have a breakout year in 2023 – see who else made the list here.
On his big day in Montreal (and what it's like to beat Lionel Sanders)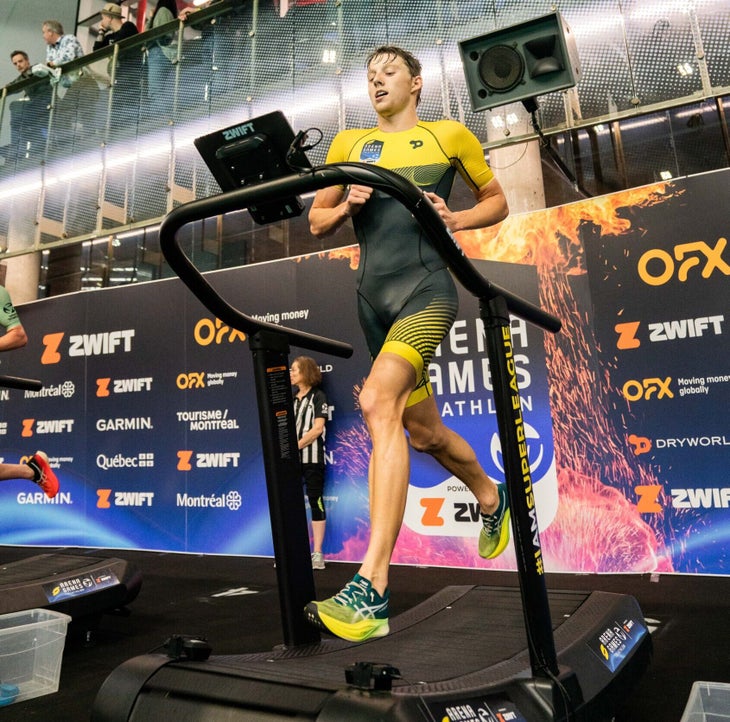 When it came to the Arena Games in Montreal, those run legs were more than up to the job as McQueen looked in command in the 10-strong field. Having eased through qualifying in the morning, he was just one second back after the first stage in the final, leading after stage two, and then held on in the final 1km run to beat Schoeman by 7 seconds. Sanders' much-billed appearance ended with the Canadian outperforming many people's expectations to finish 38 seconds back in sixth.
Arena Games is a blur of sweat and effort, but if McQueen looked composed among the mayhem, it's because he was. "It seems that things are moving so fast, but when you are in it it slows down a bit," he adds. "I was aware of what was going on around me and when you race so much you are in tune with your body and naturally know where your limits are."
Completing the bike and run formats on Zwift, organizers had a choice to enable drafting on the bike – effectively meaning athletes can benefit from being in the slipstream within the simulation. They chose not to.
"The Arena Games with non-drafting turns into swimming as hard as you can and biking as hard as you can. Everybody is cooked by the run and you just try and survive. I knew my best chance of winning was to capitalize on the bike and just hold on. Having raced it last year [McQueen finished fifth in both Munich and Singapore] was such an advantage, you get a lot from knowing what you're expecting to feel like – terrible! I didn't do a ton of work to specifically prepare and I wasn't spending a lot of time on curved treadmills," says McQueen, of the unique self-powered, curved treadmills that present a greater challenge than the most common ones you'd find at the local gym. "If you're fit for triathlon, you'll be fit for triathlon."
The atmosphere was a throwback to his high-school days as a competitive swimmer growing up in Indiana. "It was cool to be in an enclosed environment where the sounds were all reverberating. It's just really loud and reminds me of going to swimming meets. There was lots of intensity in there." But while it might have been familiar ground for McQueen, it was a long way from the Ironman comfort zone for Sanders, who received plenty of kudos for taking the plunge.
"He's down to earth and a genuine guy, but at the same time he's a psychopath," McQueen says with a smile. "A lot of people counted him out and he was ridiculed on social media before the event, but he's an entertainer and wears his heart on his sleeve and he doesn't really give a s*** if he finishes last, he just wants to see what he can get out of himself. He was the star of the show and brought so many fans as the hometown hero. Whatever they paid him to show up was not enough."
How Sereno's win set the stage for victory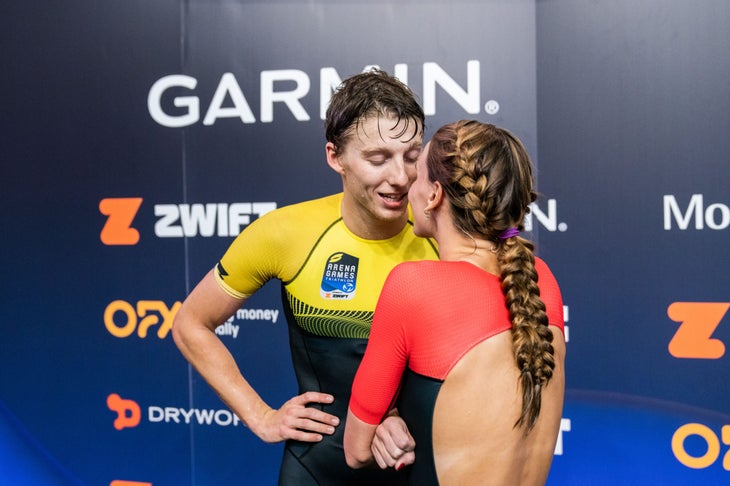 The biggest praise though was, of course, reserved for Sereno. Not just for her performance – Sereno by name, serene by nature – in a controlled 32 -second victory over Australian Sophie Linn, but for calming any pre-race nerves McQueen might have had.
"It played a big part in my race," he explains. "Before the event I was just so excited for her. I've seen her be pretty low and have some hard times, and we've had some big life changes in the past six months, so for this to pay off for her was really special. It took a lot of pressure off my race."
The duo have moved to a new training base in Boulder, where McQueen is now coached by Flora Duffy's coach, Nate Wilson, in a group with other U.S. triathletes including Kevin McDowell and Kirsten Kasper.
"I'd say Gina's way more talented than me, her ceiling is really high," McQueen adds. "She has all the tools to be one of the best women in the world, but it's those intangible skills like being tactical on the bike and knowing where to put down the power. It's so competitive on the U.S. women's side, it's going to come down to capitalizing on opportunities she can get."
RELATED: Chelsea Sereno's Win in Long Beach – A Morning In The Minors
What's next for Chase McQueen
McQueen plans a trip to London to compete in the Arena Games final, where he is ideally placed having won maximum points in Montreal. Then the season will just get busier. If he can cement his place as a top-five U.S. male, he should be able to get World Championship Series starts. He'll also target the outdoor Super League Triathlon season again where he finished eighth overall last fall. Then there's the small matter of Olympic qualification for 2024 where this summer's test event in Paris is a key focus.
"When I was on the start line in Leeds for my first WTCS, I was looking around saying, 'Holy ****, I do not belong here! These are guys I've looked up to for my whole life.' I've now done enough Super League lining up next to Alex [Yee] and Hayden [Wilde], it teaches me not to think like that. I do belong and I've worked hard for this.
"I am super blessed to live this lifestyle. My parents have taught me to be grateful for the opportunities I've been given and USA Triathlon and triathlon as a sport has given me everything I ever dreamed of as a kid. As long as I get the best out of myself, it's really everything I've ever wanted."
Two essential Chase McQueen workouts for short-course triathlon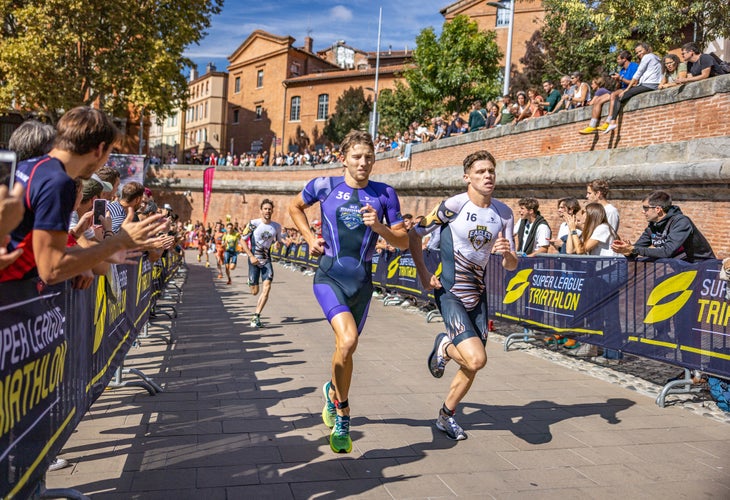 Though McQueen is getting lots of attention these days, he's no overnight success. Lots of hard work and hard efforts went into his development from swimmer to triathlete, including these intensity-threshold sets to get race sharp for short course.
High-Intensity Mix Swim
"The purpose is to get in some really good VO2 efforts close to race pace as well as being able to hold a threshold pace under fatigue," Chase says. "In the main set, I aim for the highest sustainable pace per 100m – so 65-66 seconds on the odd reps. The even reps were more like 69-70 seconds, similar to 1,500m pace. When swimming in the WTCS you have a certain aerobic level you need to be able to reach. There are around 50 guys in the race who can swim 1,500m in 17 minutes, and there can be so much change of pace. Also, having really good get-out speed to find clear water makes a world of difference."
Warm-up
600m easy aerobic with drills
4 x 100m: mix of strokes, upping intensity with each
4 x 100m: Each rep on 90sec, descending effort down to threshold (70sec per 100m)
Main set
20 x 100m: Odd reps leaving on 75sec; Even reps leaving on 80sec
Cooldown
300m-200m-100m easy pull
2 x 200m easy with drills
RELATED: Do These Workouts to Surge-Proof Your Swim Start
Short, Sharp, and Strength Track Workout
"I look to run controlled and stay fluid with my form rather than thinking about pace in the 200m," Chase says. "The first few were around 33 seconds and they dropped to 31 seconds by the final rep. I'd jog diagonally across the infield after each rep. After a short rest, I completed 2km in around 6min 8 sec, so around 10km pace. The 200m intervals are an easy way to trick the body into feeling fatigued for the 2km run, and you have to be able to run under fatigue in triathlon. When you get off the bike, you're not fresh at all!"
Warm-up
20min easy jogging (around 8-min/mile pace)
Finish warm-up with drills and strides
Main set
12 x 200m with 1min jog recovery
3min rest
2km at 10km pace
Cooldown
20 minutes easy jogging