Swimrun: Your Ticket to a Faster Tri
As the popularity of swimrun begins to grow, this wild, adventurous multisport cousin may be the best (and most fun) way to get better at your next tri.
Heading out the door? Read this article on the new Outside+ app available now on iOS devices for members! Download the app.
So you've heard about this new fad and now you want to try a swimrun. But how do you train for it? What do you need to know? Does it help with triathlon? And can it fit around your triathlon schedule?
"There's a lot of overlap, obviously," says Carrie McCusker, a triathlon coach who did one of the first big swimrun races in the U.S. just because it was in her backyard and now has a number of her triathletes training for swimruns. That means the short answer is: yes, you can definitely fit a swimrun race into a triathlon season. Or, as is increasingly becoming the trend in Europe, where the new sports is booming: Fit a triathlon into your swimrun season.
"Swimrun is becoming a sport in itself," says swimrunner Nicolas Remires, who trains almost exclusively for the sport. He's been in the top 10, as high as third, the last four years at the ÖtillÖ Swimrun World Championships in Sweden, and founded and coaches an international swimrun age-group team, Team Envol. For triathletes, he recommends trying a swimrun in their off-season, or using it to build endurance, open-water abilities, and even transition skills—but don't underestimate the sport as its own "thing."
"Some swimruns can be really challenging, and you should take care that you won't put too much energy into it if you have an important triathlon coming up," he says. "The biggest mistake I've seen so far is to lack respect for the swimrunners."
That doesn't mean you need to be scared to try one, either, though. "My overall top tip is to get on and have a go. Swimrun is an awesome sport, with an awesome community of adventurous, friendly people," says Jude Palmer, a swimmrunner and coach based in the U.K. In other words, go into it with an open mind, not thinking it'll be a breeze, or that it'll necessarily crush you—have fun, and know it'll help your tri training as well.
Here's how to get started.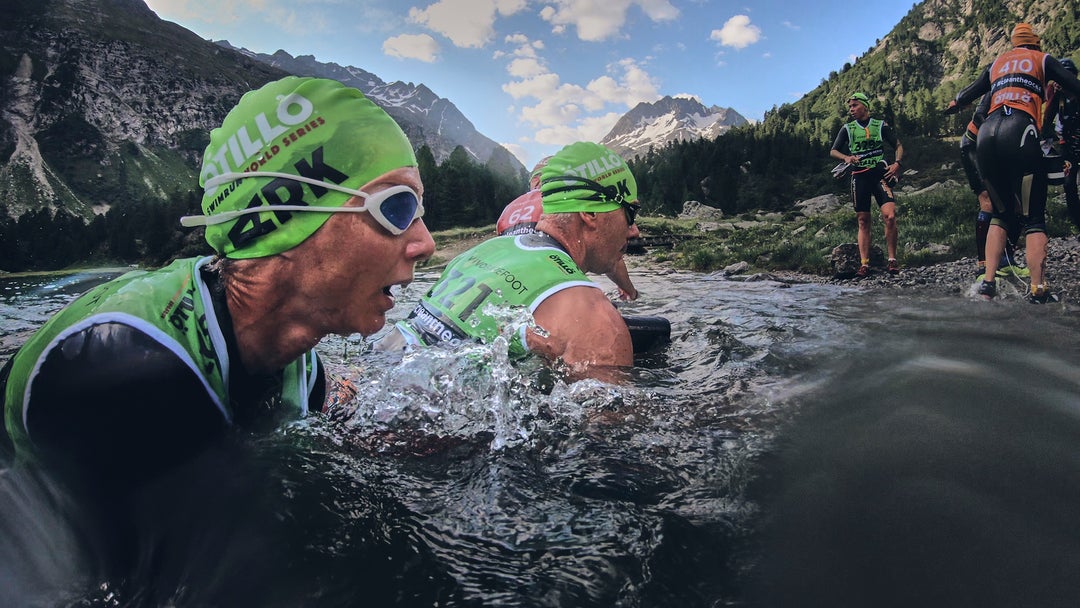 What is Swimrun?
First thing: Make sure you understand what you're signing up for. This is swimrun. It's not an aquathlon; it's more like an adventure.
Swimrun started in Sweden in 2002—legend has it, after a bar bet—with teams of two traversing a series of islands. Run across one and swim to the next. The catch is you have to carry all of your equipment the whole time, and you can never be more than (approximately) 10 yards from your teammate. Races typically vary based on the geography, but the highly competitive and selective world championship events are often around an Ironman length of time, split evenly between swimming and running. More moderate, but still competitive, middle distances cover somewhere around four to six miles of swimming and 12 to 17 miles of running. Increasingly, there are shorter beginner events being offered in lakes and parks.
Because you have to carry your equipment the whole time, swimrunners run and swim with their shoes on and swim with a pull buoy and paddles to offset the drag of their shoes. They then run in their wetsuit with things stuffed inside and bungee cords and carabiners attached.
While the sport has become wildly popular in Europe, it's only just starting to grow in the U.S. with a few big events put on in Maine, Boston Harbor, and the San Juan Islands. ÖtillÖ will launch its first U.S. race next year at Catalina off the coast of California.
What's different from triathlon?
In a nutshell: almost everything—and, yet, the basics are still the same.
Odds are you know how to swim and run, but this isn't running down a manicured bike path or swimming in a peaceful pool. Typically, swims in swimrun races take place in the open ocean, which can often be rough, and the runs are almost always highly technical trail segments—think XTERRA over Ironman. That means you'll need to practice like you race.
"Swimrun is really much more than a 1500m flat swim in 71-degree F water and a 10K on flat perfect asphalt," says Remires.
You'll also want to get in training with all your equipment, so you know what it'll be like to swim in your shoes and run in your wetsuit. And you'll want to practice with your partner at least once or twice. The best swimrunners stick with the same partner race after race, so they have all the communication and transitions down.
But beyond that, the biggest difference, said McCusker, is everything is controlled in triathlon. You know exactly where the aid stations and buoys are. Not so much in swimrun. "You'll want to be prepared for uncontrolled situations," she says. That includes scrambling over rocks, slipping on wet surfaces, running through mud, and adjusting for swim courses with nothing to sight off by a small beach in the distance. Splits go out the window; times mean very little.
"A looped course with massive buoys is rare. More likely you will be looking for a small flag on a shoreline a mile away," Palmer says. But of course this lack of predictability is a big part of triathlon too. Expect to be less surprised when something goes not-according-to-plan at your next tri; swimrun training and racing will give valuable "adversity training."
How do you train for a Swimrun race?
For the most part, coaches agree, you don't have to adapt your triathlon training too much—though you will want to shift some hours away from cycling closer to your race and you'll want to do more swimrun-specific work.
"About eight to 10 weeks out, shift more to include actual training with equipment," McCusker says. You also want to do more technical trail running and more open-water swimming.
Because most swimrunners use a pull buoy and paddles, you should gradually build up your paddle and pulling work in the pool and then in open water. Remires recommends building up to a brick with a steady open-water swim with paddles and pull buoy that goes into a long easy run for endurance—depending on how long your race is.
McCusker also adds in explosive and dynamic strength in order to deal with all the odds and ends the day will throw you.
But one of the most important things is to get used to all the equipment and coordinating with a partner. "Being well matched in both disciplines is ideal," says Palmer. "Knowing how to make swift transitions (swim-to-run and run-to-swim) with all the kit will shave off minutes from a race.". That means figuring out how you're going to attach your paddles to your body while you run. Figuring out how you're going to carry nutrition. Temperature differences can also be important to recognize and prepare for; you get a lot hotter running in a wetsuit, which is why swimrun wetsuits have zippers and short legs and arms.
For the most part, though, the training will complement your triathlon. It can add some strength and cross-training benefits, using slightly different muscles. Plus, you'll get transition practice and learn how to adapt to different conditions.
"Swimrun takes athletes out of their comfort zones, in a different way to triathlon," Palmer says. But with that said, the workouts and the races are a great way to get stronger and faster for your big race—all while keeping the training fresh and fun. Below are three swimrun workouts that also give big tri gains.
Swimrun Workouts:
Remires recommends (for a longer distance race) these two workouts:
Swim
Warm-up:
200 easy
4 x 50 of drills
Main Set:
4 x (
200 comfortable with paddles and snorkel
4 x 50 as 25 head-up water polo swimming hard/ 25 easy)
3 x (
800 steady pull with paddles
4 x 25 hard with no gear)
Cool-down:
200 easy pull buoy with band around ankles
100 easy swim
Total: 5,000
Run
Warm-up
30 minutes easy with some drills and 6 x :30 strides/accelerations
Main Set:
4 x 2K @ 90% with :90 jog/walk rest
Cool-down:
10-20 minutes easy
Total: 10-11 miles
Palmer suggests trying workouts like this:
Swim/Run
Swim hard with paddles for 1K
Get out and run 5K on trail and hills
Get back in and swim 1K with paddles again
Practice multiple short transitions and adaptations with your gear