Pros And Cons Of Bringing Triathlon Training Indoors
Duane Franks weighs the pros and cons of doing the majority of your triathlon training indoors.
Heading out the door? Read this article on the new Outside+ app available now on iOS devices for members! Download the app.
San Francisco-based triathlon coach Duane Franks weighs the pros and cons of doing the majority of your triathlon training indoors on a stationary bike or treadmill.
Featuring Duane Franks
Q: I'm hearing a lot about pro triathletes, such as Andy Potts and Tyler Stewart, who are doing most of their bike training indoors. What are the advantages and disadvantages of doing this? What's the best way to practice this approach if I want to try it?
Mike Holmes
Concord, N.H.
A: The reason you're hearing more about athletes performing indoor bike workouts is because they are time efficient, convenient and they can be a very effective way to improve fitness. Indoor cycling allows you to quickly get to the focus of the workout without having to deal with traffic, inclement weather and other distractions on the road.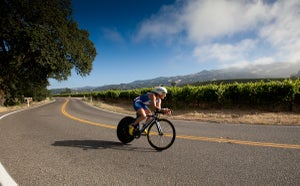 Coasting downhill and soft pedaling are essentially eliminated during an indoor ride, increasing the average intensity. Riding indoors eliminates environmental factors such as terrain and wind.
Furthermore, when riding indoors it's easier to control important performance variables such as intensity of effort, cadence, gearing selection, heart rate and power—if you have a power meter. Controlling these variables enables us to dial-in precise workloads during training and measure the effectiveness of our training program with objective feedback.
The list of disadvantages of indoor cycling is short but worth noting. First, the most obvious downside is that indoor cycling lacks the specificity and feel of the road. Riding on a bike trainer doesn't require the same balance and stability that riding outside does. Good road cycling skills are necessary for safe and efficient descending, cornering and group riding. Some triathletes complain that indoor riding is mind-numbing, so listening to music or watching motivating videos may help to reduce boredom.
There are several types of bike trainers that can be used for cycling indoors. The most common are wind, magnetic and fluid trainers. With a wind trainer, the rear wheel sits on a roller that provides resistance against the tire. The fluid and magnetically braked trainers create a smoother and quieter ride than the wind trainers. (Your roommates and neighbors will appreciate this, especially during those early morning sessions.)
You'll need to elevate your front wheel a few inches, placing it on a wood block or stack of books to match the height of your back wheel. You can take that a step further by elevating your front wheel even higher to simulate climbing. There are a few commercial products available that allow you to choose several height settings for the front wheel. My athletes use an inflated Bosu Ball—a special brand of exercise ball with a flat bottom—under their front wheels to simulate steep hills. This not only puts you in the climbing position, but it also forces you to spin smoothly and efficiently, or else you'll start bouncing on the ball. This method is ideal for athletes who don't have access to hills for road training.
More sophisticated trainers come with electronic systems that can regulate power resistance. CompuTrainer is a popular brand that does this with a variety of functions that customize your workout. It also downloads simulated race courses and can interface with your home computer or video monitor.
Experienced roadies often prefer to use bike rollers for their indoor workouts. These systems are composed of two rollers that support the back wheel and one for the front. Riding on rollers requires good balance and pedaling skills or else you'll be picking yourself up off the floor. The good news is that once you get past the initial learning curve, these skills transfer well to the road and will actually improve your outdoor riding.
Indoor cycling can also be done on a commercial studio cycle available in most gyms. Studio cycles have a fixed flywheel that promotes pedaling at higher cadences. A couple of brands of studio cycles, including Cycle Ops and Keiser M3, come equipped with power meters that allow you to set a more accurate and reliable workload.
Riding indoors can be done alone in the privacy of your home or you can join an organized class. These classes are typically led by a knowledgeable coach who will prescribe workouts in a systematic and progressive program. The camaraderie of the group setting will help make those hard intervals more enjoyable.
Duane Franks coaches with Trifiniti in the San Francisco Bay Area. Visit Trifiniti.com.