Important Protocols When Traveling to Races
It's extremely important to be on top of your schedule for the days leading up to a competition, whether at home or when traveling to a race.
Heading out the door? Read this article on the new Outside+ app available now on iOS devices for members! Download the app.
If you travel to a race in a different time zone, you need to plan how many days in advance of the race you need to adjust your sleeping, eating, training, and recovery habits to acclimate to the new time zone. If you don't have the luxury of changing your schedule ahead of time or arriving at your destination with ample time for acclimation, you can make some subtle and not-so-subtle changes after you arrive.
Sleep is one of the most crucial factors and one of the most difficult to navigate given jet lag and general fatigue. Be prepared with activities that will put your body at ease, such as reading a paperback book or meditating. Avoid the bright light from your electronic devices if you are struggling to sleep. Sleep requires your mind and body to be "at rest," so focus on being still, calming your mind, and making your bedroom as dark as possible.
On the contrary, sometimes acclimating requires you to force yourself to stay awake longer. In these situations, you can use your devices, which signal your brain to be active and alert and keep grogginess at bay. You can also help your body adjust by controlling your environment. Make it light when you want to simulate daytime hours and dark when you want to simulate nighttime hours and get to sleep.
Start eating at the proper mealtimes in the destination's time zone as soon as possible. If you don't feel hungry, err on the side of eating lighter meals with high protein content and have healthy snacks to eat before the next mealtime. When you arrive at the new destination you will be considerably dehydrated, so you'll want to focus on rehydrating with water and electrolyte drinks.
It's extremely important to be on top of your schedule for the days leading up to the race, whether at home or at your destination. Review when you'll be training each day and what you'll be doing. Also, be aware of any additional obligations, especially the day before the race. Know when and where you need to check in, pick up your race bib, sign final waivers, attend safety meetings, and take your gear to the transition area. It's also a good idea to get familiar with the racecourse, including the start, the swim course, the bike course, and the run course. Consider these actionable items, as important as the adjustments you make for eating, hydrating, sleeping/recovery, and training.
Domestic Races
If you are doing a B race, not your goal race, only two or three time zones away from home (for example, within the continental United States), you don't need to arrive at the race destination more than four days in advance. It's perfectly fine to arrive on Thursday for a Sunday morning race. That enables you to do some easy exercise on the day you travel, have a low-stress endurance day on Friday, and do something short and easy on Saturday with some ramping efforts to remind your body of intensity. It might seem like more pre-race time is better, but I've found it often makes athletes nervous and tired.
Gradually start transitioning your life toward the new time zone the week before you travel. The key here is recognizing the things you can control and manage: what you eat, when you sleep, when you train, and the lighting optimal for your biorhythms. This can be challenging for busy triathletes, but if you know the time of the day at which you'll be racing in that time zone, you can benefit by starting to do some of your training in your native time zone during the corresponding hours in the destination time zone. You can also adjust your sleep time and some of your meals by a few hours. For example, if you live in San Francisco and are traveling to New York for Ironman Lake Placid, you can adjust by training at EST to help you out on race day. It would also be smart to go to bed a couple of hours earlier, get up a couple of hours earlier, and shift your mealtimes accordingly.
Because it's always more difficult to travel from West to East for a race than vice versa, starting to adjust to the destination time zone ahead of time makes a big difference. For example, if you're traveling from the West Coast to the East Coast, you'll be eating meals three hours earlier than your body is used to, and you won't be sleepy for three hours later than it is out East. Though East Coast athletes will be eating an evening meal around 6 p.m. or 7 p.m. and going to bed by 9 p.m. or 10 p.m., your internal body clock will initially be telling you that it's only 3 or 4 p.m., too early to eat, and that bedtime feels like only 6 p.m. or 7 p.m., again too early. If you start these adjustments before you leave home, you'll get a leg up on those changes.
On the contrary, it is much easier to travel from East to West for a race; for example, if New York athletes travel to California for a race, they can eat a smart, healthy snack while waiting the additional two or three hours for the 6–7 p.m. mealtime on Pacific Time (actually 9–10 p.m. according to their internal body clocks) and then go to sleep soon thereafter. Those athletes would still have to be smart about eating, sleeping, and training times, but the adjustments will be much easier to make.
International Races
At Purple Patch, we tell athletes that the best rule is to arrive at least one day in advance for every hour of time-zone shift when traveling to an international race. The longer the flight, the longer it will take you to physically and hormonally calibrate to the new time zone.
For example, if an athlete lives in New York, and he or she is planning to race in Berlin (a six-hour time-zone difference), then it would be ideal to get there six days prior to race day. If an athlete lives in San Francisco and is traveling to South Africa for the Ironman 70.3 World Championships, a 10-hour time-zone shift, then arriving 10 days before the race would be optimal. It's not always possible, especially financially, to arrive so early, but if you start thinking along these lines, you'll be better able to work through the challenges of adjusting, such as travel-related sluggishness and fatigue, sleep challenges that come with jet lag, or dietary and intestinal struggles.
Even with international travel, you can shift some of your training schedule in advance. For example, if you know the race time in South Africa corresponds to 5 p.m. in San Francisco, then you might start doing more of your training at that time a few weeks ahead. Although it might feel a bit awkward, it will definitely feel more normal when you arrive in South Africa. These scenarios reinforce the value of arriving a week to 10 days in advance of international races that require long flights.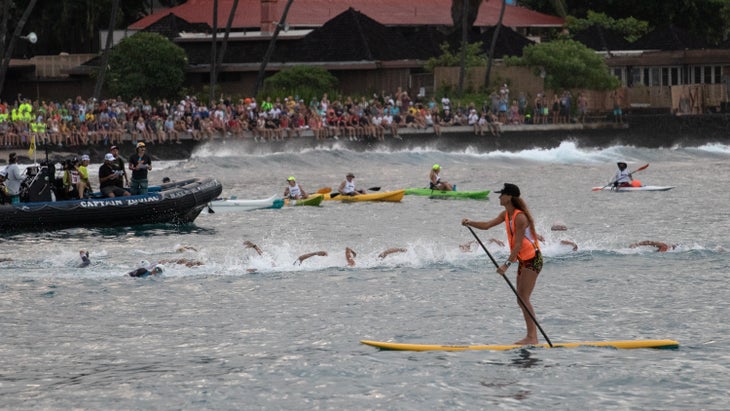 Traveling to Different Climates
How do you prepare for a race in a drastically different climate than the one in which you live and train? Traveling to that race is just like any other travel, but your body will perform differently in that climate than it did during training back home. If you live in the relatively dry, high-altitude conditions of Boulder, Colorado, and you qualify to compete in the Ironman World Championships in Kona, Hawaii, you'll have to acclimate to that new environment to race at an optimal level.
Simulated heat training is an emerging science that offers great value, both physiologically and emotionally, in preparing for a race. At Purple Patch, the athletes I coach use two different kinds of heat training derived from environmental physiologists, including Dr. Stacy Sims's scientific research, and my own firsthand knowledge of how athletes respond to heat. I recommend incorporating heat training in a sauna or steam room in the final 10–14 days prior to traveling to your race.
The goal of heat training is to add the stressor incrementally, managing it in the context of your training and life. If it depletes your energy or performance to the point where you can't execute the intent of the prescribed training, there's no net gain. The discomfort of the heat is intended to give you exposure to that variable, but it's important that these sessions are executed according to protocol:
When you are incorporating heat into your training sessions, avoid doing hard intervals and keep your efforts to an easy-to-moderate level. Alternatively, do a hard interval session and then go into the sauna/steam-room training.
Heat sessions should be avoided on full recovery days because the hormonal stress is counterproductive to your recovery process.
Finally, be sure to stop doing this heat training protocol two or three days before you travel so you don't begin your travel in a very dehydrated state.
You should evaluate simulated heat training on a cost/benefit basis. If you begin to feel excessively fatigued, if you aren't performing well in training, or if you are extremely uncomfortable, stop the session and hydrate so you can recover and return your body to equilibrium.
Postworkout Heat Simulation
To try simulated heat training after a workout, continue to follow your normal training plan, making sure to fuel and hydrate effectively beforehand and throughout the first part of the workout. Stop drinking fluids for the final 15 to 20 minutes of the session. After you are finished, spend 15–30 minutes in a sauna or steam room without attempting to rehydrate. Take in some calories via a recovery snack or energy bar if needed. Tolerate the heat and discomfort as long as you can, focusing on preparation for racing in a hot and humid destination. Follow your time in the sauna or steam room with a shower. Start hydrating with about 6–8 ounces of water with a pinch of salt and squirt of citrus juice, and then continue sipping fluids to restore full hydration status over the next four to five hours. Ensure you remember to promptly refuel with a postworkout meal in addition to commencing the rehydration process.
In-Training Heat Simulation
You can also simulate intense heat and humidity while on a bike trainer or a treadmill. Wear a good amount of clothing (a long-sleeved shirt over a base-layer T-shirt and maybe even long tights) and spin or run in a hot room with no fan or ventilation. It sounds primitive and uncomfortable (and it will be), but it will do the trick. Don't ride or run hard, but instead keep an easy-to-moderate intensity for 30–40 minutes (no more than 60 percent of your functional threshold power (FTP, or 60 percent of your best sustained effort over an hour), and hydrate as minimally as possible. You will become very thirsty in this session, perhaps uncomfortably so; take a few sips from a bottle if necessary. However, for the most part, ignore the urge to drink more and focus on how your body feels, reminding yourself that this is a race-preparation session, just not at race effort.
As with the postworkout simulated heat training in the sauna or steam room, take your time to shower, and then hydrate and eat a balanced meal. Once again, don't gulp excessive amounts of water immediately after getting off the bike or treadmill. Instead, drink a glass of water including that same pinch of salt and squirt of citrus juice, while eating your recovery meal. You can then continue sipping fluids to restore full hydration status over the next four to five hours.
It's undeniable that travel and environment are additional stress factors to be managed throughout training as well as in preparation for racing. Some extra planning and thought can go a long way to empowering you and limiting negative effects. Your best performance does not come from simply training hard and holding on to your routine. When you face disruptions and changes to your schedule, determine what factors you can control and continue to carefully manage your stress as part of your overall performance puzzle.
---
Republished from Fast-Track Triathlete by Matt Dixon with permission of VeloPress.