How to Start (Or Get Back to) Consistent Running
Whether you're just getting into running or returning after a hiatus, it's important to take a smart, gradual approach to gaining fitness.
Photo: Denver Sports Photographer - Kevin Thompson
Heading out the door? Read this article on the new Outside+ app available now on iOS devices for members! Download the app.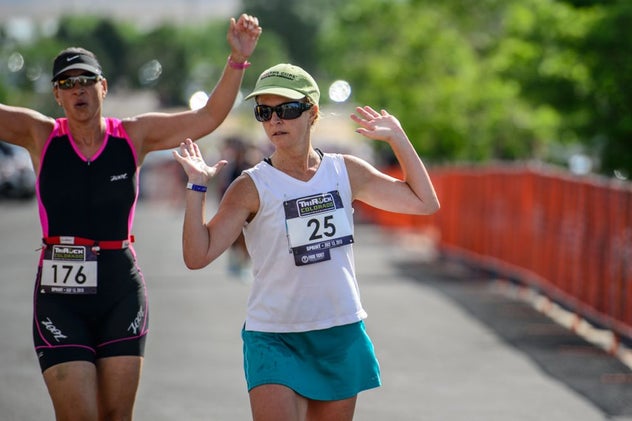 What you need to know to start—or get back to—consistent running for your first race.
Whether you're just getting into running or returning after a hiatus, it's important to take a smart, gradual approach to gaining fitness.
"Remember that not only do you need time to build your aerobic fitness, you also need time for your muscles, tendons, bones and connective tissues to adapt," says Andrew Dollar of Nashville, Tenn.-based FTP Coaching. "It's very easy to get injured simply from ramping up too fast."
Train this way
– If you're starting from scratch, use the run/walk method rather than trying to run a few miles at once, which could quickly lead to injury (and discouragement). For the first week, start out with three days of running separated by at least one rest day in between. Always do a five-minute warm-up and cool-down walk. Your progression could look something like this:
Workout 1:
10×1 min run/1 min walk
Workout 2:
12×1 min run/1 min walk
Workout 3:
4×2 min run/1 min walk, 5×1 min run/1 min walk
If this is too easy, start with more minutes at a time, but still include a walk break. Add up your total running minutes for the week and increase by 10 percent per week. Once you work up to running three miles at once, "frequency is your friend," Dollar says. "Running 10–15 miles a week split into 4–5 runs is safer and more beneficial than running 10–15 miles split into only two runs."
Coach Bethany Rutledge, the Atlanta Triathlon Club coaching director, is also an advocate of high frequency to increase volume and uses this approach with her athletes to improve running strength in the winter: "The goal is to build to 5–7 days of running a week," Rutledge says. "In order to accomplish this, you need to slightly alter how you define a run. Frequency is simply trying to run more often. But that means some runs need to be short—as short as 10 minutes for beginners."
If you do three 10-minute runs and three 20-minute runs per week, you'll accumulate 90 total minutes of running, which is much easier on the body than three 30-minute runs.
RELATED: Cycling Advice For Beginner Triathletes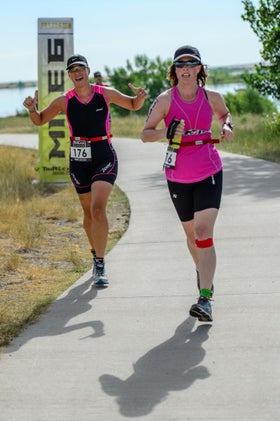 Speedwork?
Before you beeline it to the nearest track in search of speed, build up to at least six months of consistent running or 20–25 miles per week, suggests coach Stephanie Liles of TriAttic in Tallahassee, Fla. When you start, limit speedwork to one session per week. Try this if you're new to interval training:
• Do a local running race. "I always encourage my athletes to do 5K races for speedwork," Liles says. "It definitely pushes you to run harder than you would if you were training by yourself."
• End each run with a series of strides (20–30-second accelerations) or incorporate hill repeats (running fast up a hill and jogging down) into your weekly routine. "Both of these workouts are highly repeatable and will build the strength needed to become faster," Rutledge says.
• Try a fartlek (Swedish for "speedplay")—add in brief accelerations followed by easy recovery, based on seconds (15–60 at a time), or objects, like running hard to the next lamppost or mailbox.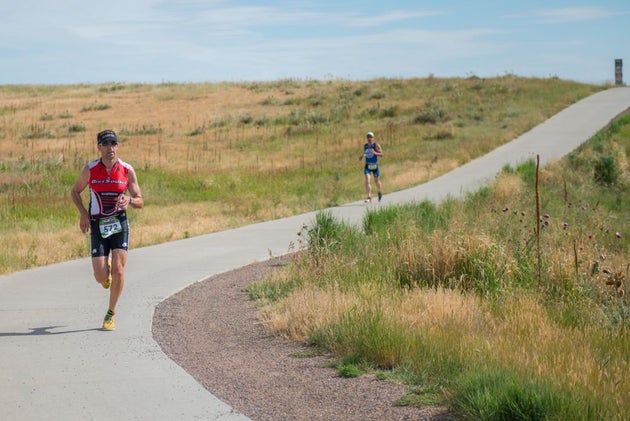 Avoid this newbie mistake:
Keep in mind that running on its own is different than running off the bike. "Beginner athletes often underestimate the impact the swim and bike can have on their run performance," coach Bethany Rutledge says. "One's ability to run well off the bike is often dependent on bike fitness and pacing."
If you've never done a triathlon, practice doing brick workouts, says another coach, Stephanie Liles. Right after a bike ride, do a 10-minute run off the bike. Practice this a few times preceding your race. "It helps you experience the feeling of wobbly legs that you will feel during the race."
The only real gear investment you need to make for running is a good pair of shoes. If possible, go to a specialty running store to have someone watch you run and outfit you with shoes for your stride type, and try on multiple pairs. Retire your kicks after 300–500 miles or 6–8 months. (Need help remembering? Take a Sharpie and write the date you bought them somewhere on the shoe.)