10 Group Fitness Classes for Triathletes
From trampolines to treadmill classes, the best ways to shake up a your swim-bike-run routine.
Heading out the door? Read this article on the new Outside+ app available now on iOS devices for members! Download the app.

From trampolines to treadmill classes, the best ways to shake up a your swim-bike-run routine.
Swim, bike, run…Pound? Believe it or not, group fitness classes like Pound, SoulCycle and Rope Burn are making their way into the rotation of many multisport athletes. In addition to providing a fresh take on fitness in a repetitive training routine, group classes provide a social outlet for athletes who typically log their workouts in solitude. Our picks for the best group fitness classes for triathletes: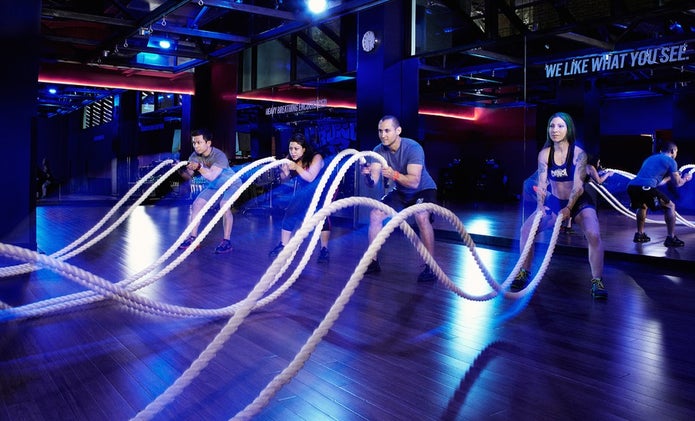 Rope Burn
What it is: An epic circuit class that moves between two intense rope experiences: jump ropes, for a cardio and agility focus, and battle ropes, which increase strength and power.
The Triathlete Factor: "Rope burn is awesome for those who mainly train in swim, bike, run modalities because it addresses the strength, endurance and agility needs for triathletes in a diverse and different way. It supports the athlete but varies the training methods using these two different pieces of equipment," says Marc Santa Maria, National Director of Group Fitness for Crunch Gym. Several movements in the class parallel the swim, bike, run aspects of competing – for example, some battle rope movements mimic a swim stroke.
Do it: Rope Burn is currently offered at Crunch Gyms nationwide.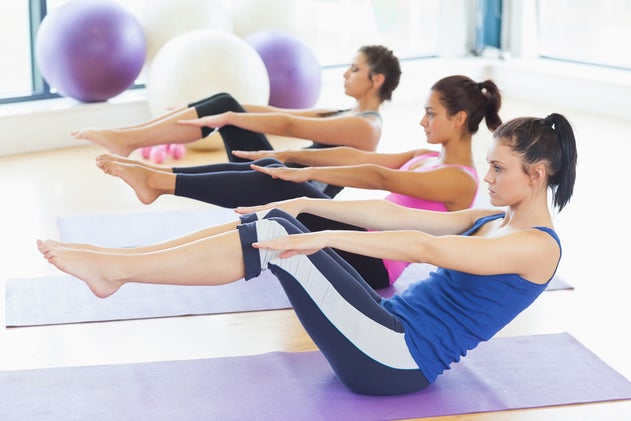 Pilates
What it is: A series of stabilizing, strengthening and stretching exercises originally designed to rehabilitate wounded soldiers during World War I. Today, those same exercises are used to improve functional mobility, core strength, and awareness of body mechanics.
The Triathlete Factor: Pilates corrects the muscle imbalances that cause injuries in the sport, says Ashly DeMik of Ignite Pilates. "It strengthens and stretches the fascia and muscles to treat and prevent shoulder injuries in the water, back pain on the bike, and joint pain while running." Pilates exercises also improve posture and flexibility—both critical elements of injury prevention.
Do it: Look for studios and teachers that are certified by PMA (Pilates Method Alliance), the accrediting board for Pilates instructors. PMA.org has a database of teachers that can be searched by location.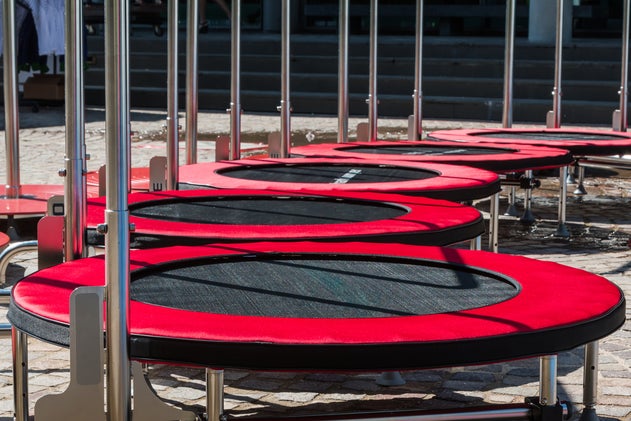 Rebounding
What it is: Bouncing, jumping, running, stretching, and balancing on a mini trampoline, or rebounder. Classes can provide an all-around workout or can specifically focus on cardio, stretching or strength building.
The Triathlete Factor: "The rebounder gives an athlete's body a break that actually makes them stronger," says Joanne Schmalenberger of GravOxy Fitness. The trampoline removes about 90 percent of shock from every step or jump, making rebounding workouts a nice complement to the high-impact workouts of the triathlete. Athletes on the rebounder can adapt sport-specific patterns to increase power, strength, and flexibility.
Do it: Schmalenberger cautions against gyms offer trampoline classes featuring pounding, frog-type bouncing with a static upper body holding onto a handle or bar. Though these classes are good for those with balance issues, they are counterintuitive for the triathlete, who relies on whole-body movements. Instead, sample available classes to find one that doesn't rely on a handle or bar.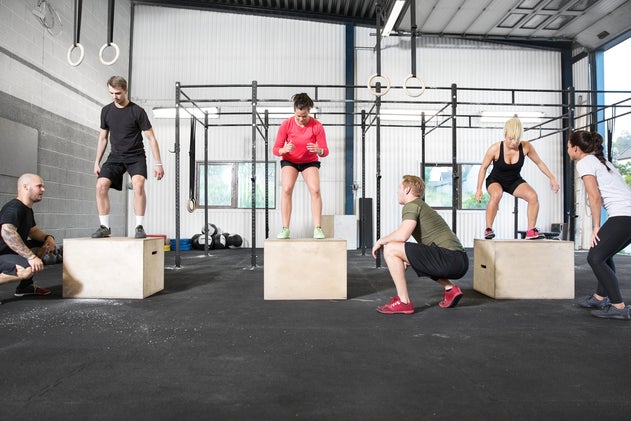 CrossFit
What it is: A high-intensity workout combining aerobic exercise, calisthenics, and weightlifting. WODs (Workout Of the Day) typically include at least one cardio, one weight, and one core training exercise, often performed in rapid succession.
The Triathlete Factor: When days are filled with swim, bike, and run workouts, it can be tough to find the time to fit in strength training. CrossFit, which fits a lot of work into a short duration (typical classes are one hour or less), can be an appealing time-saving option.
Do it: USAT Coach and CrossFit Instructor Jaclyn Fahey suggests looking for a local gym or coach offering CrossFit Endurance, which best complements the workouts taking place outside of the CrossFit gym.

Physique 57
What it is: A barre-based workout combining elements of cardio, strength training and stretching to strengthen and tone the entire body. Classes include intense thigh and seat sequences, arm exercises, ab moves, and fluid stretches.
The Triathlete Factor: According to co-founder Tanya Becker, Physique 57 utilizes an "interval overload method," which pushes an athlete's muscles to fatigue but then stretches them out. This results in strength and stamina work without debilitating next-day soreness.
Do it: Physique 57 has studios in New York, Los Angeles, Dubai and Bangkok, as well as a video-on-demand service that can be accessed nationwide.  The video platform offers individual videos, pre-set programs and a mash up feature that allows users to personalize workouts by combining videos of various lengths (10-57 minutes) and/or targeting specific areas of the body.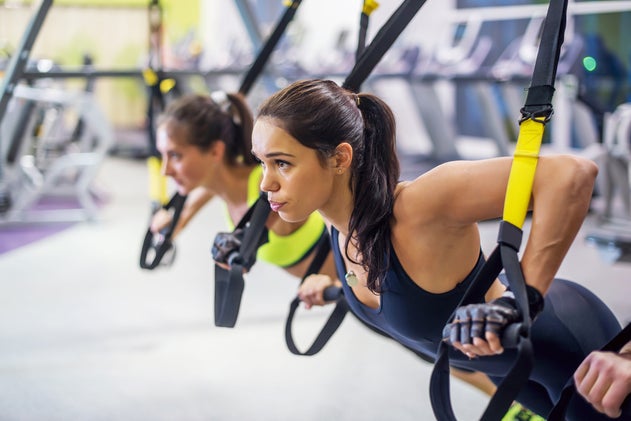 TRX
What it is: Originally developed for Navy Seals, TRX is a series of bodyweight exercises performed on a suspension trainer. The challenging exercises simultaneously develop strength, balance, and flexibility.
The Triathlete Factor: Your core is the key to your fitness. A strong, stable core prevents injuries while creating new speed and efficiency. "Performing eccentric exercises on the TRX suspension trainer forces the core to stabilize the body, engaging those all-important muscles," says Sander Vanacker, founder of FitGuana.
Do it: TRX has an online directory of certified trainers. Vanacker suggests looking for one who provides clear instruction on the basics while modifying each movement for individual needs: "High level athletes can complete a high level workout session while another triathlete, either beginning or recovering from an injury, can modify the exercises and difficulty with ease."

Mile High Run Club
What it is: Group treadmill classes led by elite triathletes, runners, and Olympians. Debora Warner, founder, created the Mile High Run Club to break up the monotony of treadmill running with great music, lighting and purposeful intervals (hills, speed, tempo and endurance).
The Triathlete Factor: No one breaks through running plateau doing the same old, same old. Mile High offers a variety of courses designed to hit specific goals. The "Dash 28" workout focuses on running-specific strength and power, which endurance athletes tend to neglect. Other signature classes include the "High 45," an interval-based running class for endurance and speed; and "The Distance," 60 minutes of challenging sprint, tempo, and hill training.
Do it: Currently, group classes are only offered at Mile High's two New York locations; private coaching is available remotely.

Pound
What it is: A full-body cardio jam session combining light resistance with constant simulated drumming. The workout fuses cardio, Pilates, Isometric movements, plyometrics and isometric poses to strengthen and sculpt—all while keeping the beat.
"Whether syncing breath with their running stride or setting a riding cadence, triathletes are often masterful rhythm creators," says Audrey Moreno of Pound. "For this reason, triathletes tend to connect innately and enthusiastically to the rhythm of a Pound class."
The Triathlete Factor: Pound's techniques require a participant to shift his or her bodyweight sideways, up, down, and in rotation, all while maintaining a purposeful rhythm with lightly-weighted exercise drumsticks. Moving the body through a variety of positions and techniques improves proprioception, coordination and strength.
Do it: Pound offers a searchable database of classes offered nationwide.

SoulCycle
What it is: Spin class to the max: on stationary bikes, participants perform a combination of cardio and cross training, including upper body movements with light weights.
The Triathlete Factor: This isn't a replacement for time in the (real) saddle; however, it can be a way to do brief, targeted training without safety concerns. "In class, you have an opportunity to really zone in on the body in a different and potentially deeper way than on the road," says Senior Instructor Emily Turner. "You can close your eyes to dig further on a climb or put you head down to push harder on a sprint, without worrying about outside distractions like traffic."
Do it: SoulCycle studios are located nationwide. To find a class near you, visit their website.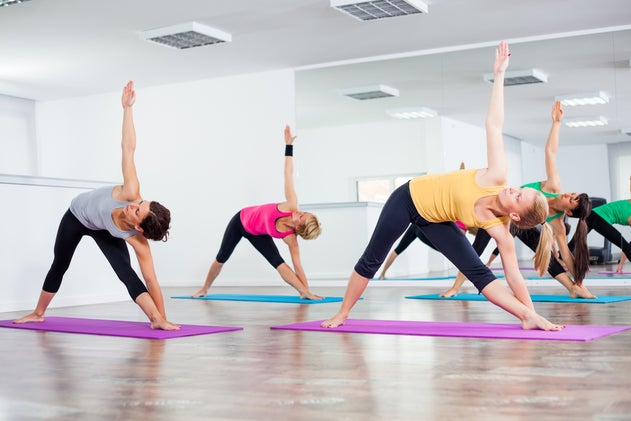 Bikram Yoga
What it is: A strength and stretching routine combining breathing techniques, meditation, and the adoption of 26 specific body postures. Unlike traditional yoga classes, which typically take place in air-conditioned rooms, Bikram is practiced in a room at or above 100 degrees Fahrenheit and 30 to 60 percent humidity.
The Triathlete Factor: "Bikram makes for excellent practice for trying to maintain physical strength, endurance and composure in conditions similar to that of racing in the heat," says USAT Coach and yoga instructor Kellye Mills. The heat also facilitates muscle pliability and elasticity, allowing for an easier, deeper stretch.
Do it: Look for an instructor with specific accreditation from Bikram Yoga College of India. For a list of studios in the United States, visit the Bikram Yoga website.