Overlooked Superfood: The Onion
Xterra pro Melanie McQuaid explains the benefits of incorporating onion into your diet.
Heading out the door? Read this article on the new Outside+ app available now on iOS devices for members! Download the app.
Xterra pro Melanie McQuaid explains the benefits of incorporating onion into your diet.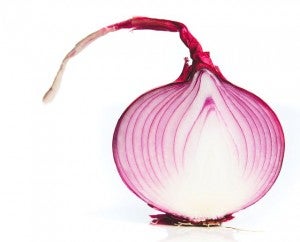 A family of superfoods that is a lesser-known superstar is the allium family. Often considered a flavoring rather than a food, garlic, onions, leeks and chives have potent health-enhancing qualities. These foods enhance the production of glutathione, a tripeptide that serves as an antioxidant for the liver. By helping to eliminate toxins and carcinogens, glutathione puts the allium family on the list of anti-cancer superfoods.
Onions contain calcium, potassium, vitamin C and folate. It is believed that anti-cancer benefits in onions come from the sulfur compounds known as allyl sulfides. In addition, onions contain the flavonoid quercetin which is associated with immune-boosting properties. It is interesting to note that onions and garlic contain a wider variety of health-enhancing sulfur compounds when cooked. There are still many benefits of raw garlic and onions, but this is good news for those who prefer them cooked. However, cooking them longer than 30 minutes can destroy most of the beneficial compounds.
One of the most delicious ways to enjoy onions is to caramelize them. Once cooked, they can be added to salads, sandwiches, pizza or sauces to add a wonderful sweetness and flavor to any recipe. If you shy away from onions because you are afraid of bad breath, eating them this way could change your mind, as caramelized onions will not give you any potent onion aftereffects.
References:
Fillion L, Henry CJ. "Nutrient losses and gains during frying: a review." Int J Food Sci Nutr, 1998 Mar;49(2):157-68 1998. PMID:18310.
Song K, Milner JA. "The influence of heating on the anticancer properties of garlic." J Nutr, 2001; 131(3s):1054S-7S 2001.
Whole foods. What they give you that supplements can't. Mayo Clinic Health Letter 1998 Aug;16(8):7 1998. PMID:17690.
The following recipe is a tasty way to enjoy the health benefits of onion.
Melanie's Warm Arugula Salad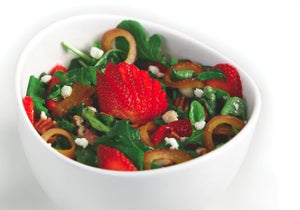 1. Peel and slice two medium onions in uniform thin slices. First cut in half, lay them cut side down on the board and slice thinly along the bulb. It is important to have the pieces nearly the same size.
2. Place pan on the stove over medium heat. Add oil to the pan and continue to allow both the pan and oil to come to temperature. Add the onions. They should sizzle but not splatter. Ensure you have enough oil to come in contact with all of the onions.
3. Stir every 30 seconds or so to ensure all of the onions contact the heat and the oil. Initially, the onions lose all of their water so the onions will reduce in size while the liquid in your pan increases. Then the sugars in the onions start to break down, which causes caramelization. Don't cook past a dark tan stage; you will risk burning them. As the onions start to brown, turn down the heat a bit to keep them from burning. They should cook 15 to 20 minutes.
4. Place warm onions over a large bowl of arugula, sliced strawberries, feta cheese and pecans. Add a couple of tablespoons of balsamic vinegar and olive oil to taste. Mix, allow greens to wilt slightly and enjoy!
Note: You can use red, white or yellow onions in this recipe, but green onions won't work. In addition, the white portion of leeks will also caramelize well if you would like to substitute. As members of the allium family, leeks have equal superfood benefits with their own special flavor and are fantastic in soups. Leeks contain vitamin C, vitamin E, and some B vitamins including folate along with the minerals copper, iron and potassium. They contain phytochemicals including saponins, which promote immune system health and can help to lower cholesterol.