5 Racing Weight Tips From Chris McCormack
Macca is living proof that you don't have to be a natural-born whippet to excel in long-distance triathlons.
Heading out the door? Read this article on the new Outside+ app available now on iOS devices for members! Download the app.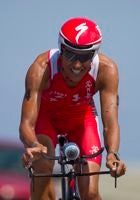 Sixteen men have won the Hawaii Ironman World Championship. None of them has weighed more than Chris "Macca" McCormack did when he won his first title in 2007 at 177 pounds. Macca is living proof that you don't have to be a natural-born whippet to excel in long-distance triathlons.
But he's also living proof that a careful and committed approach to weight management is needed to excel in longer races, especially if you are naturally bigger. McCormack's normal weight—the weight he returns to when he's not actively seeking his racing weight—is 185 pounds. When he claimed his second Ironman World Championship victory last October, he was just 175 pounds.
Nobody has more experience-based knowledge of how to manage weight for maximum triathlon performance than Macca. Here are his top five tips.
Experiment
McCormack failed to even finish his first attempt at the Hawaii Ironman in 2002, discovering the hard way that his size made it very difficult to handle the oppressive heat. He lost four more times before finally winning in 2007. "It took me some time to find my perfect Kona race weight," he says.
McCormack learned that losing too much weight weakened him, causing his performance to suffer despite his greater leanness. Realizing he could only get so far by dropping pounds, McCormack began to look at changing how he raced Ironman to make the most of his strength advantage and to minimize the effects of his weight disadvantage.
"I just had to find a way to get as light as I possibly could without losing my strength and then build a racing plan that suited the conditions and my issues in them," he says.
In the end McCormack learned that a racing weight of 175–177 pounds gave him the ideal balance of leanness and strength, and that being aggressive on the bike and more cautious on the run was the best Kona racing strategy for a big fella.
Let form follow function
Getting lighter is not an end in itself. Getting faster is the goal. There are different ways to get leaner, and not all of them will make you faster. McCormack saw that the best way to get faster through weight loss was to go fast in training.
"I added a lot more speed to my Kona training block last year," he says. "This really thinned out my core and gave me a tighter build over the hips."
Dial in your race nutrition
"It's no secret that the bigger you are, the more difficult dealing with heat and water loss is," McCormack says. So if you're a larger athlete, make an extra effort to develop the best race fueling and heat management strategy for you.
McCormack's formula for success, which took years to develop, includes racing primarily on liquids and gels instead of solid foods, using salt tablets, drinking cola during the marathon, and not forcing in nutrition when his stomach seems unable to tolerate it.
Don't go overboard
As Macca found out, it's possible to become too light, losing not only extra pounds but also essential pounds that you need to perform your best. It is also possible to reach the "right" weight the wrong way by under-fueling your body.
"My first few years in Kona I was petrified of the heat and was racing at 171 pounds," McCormack says. "I would starve myself to get my weight down to the realms I thought were necessary for a bigger guy to deal with the heat."
Keep your weight-loss goals practical.
Have fun with it
"I really enjoy the game of managing weight and speed and monitoring my body's feel at different weights," McCormack says.
No matter your size, improving over the long term in triathlon is like solving a puzzle. You need to figure out what's holding you back and experiment with various possible solutions. If you embrace this challenge, it can be half the fun!
[velopress cta="See more!" align="center" title="More from Matt Fitzgerald"]