Matt Lieto's Weight-Loss Journey And Tips
Matt Lieto shares his story of transformation from heavyset college kid to lean, mean pro triathlete.
Heading out the door? Read this article on the new Outside+ app available now on iOS devices for members! Download the app.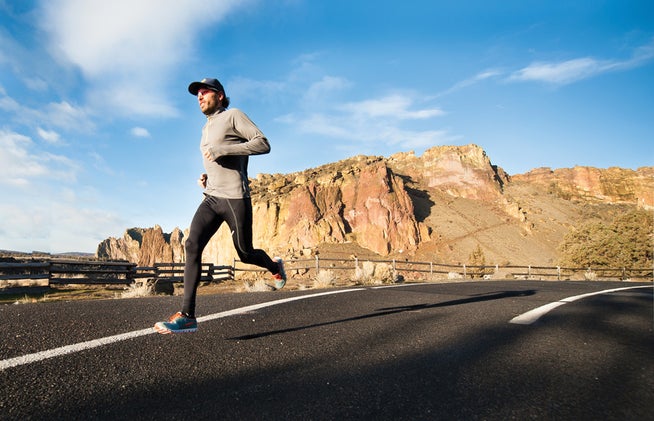 Matt Lieto shares his story of transformation from heavyset college kid to lean, mean pro triathlete. Also: Tips on how to stay healthy and tackle meal plans from a busy pro with a full-time job and a competitive age-grouper who's a father of two picky eaters.
Pro triathlete Matt Lieto recalls packing on the pounds from the age of 7, unlike his naturally lean brothers Chris (three-time Ironman champion Chris Lieto) and Paul, seven and nine years Matt's elders. Matt's trend toward tubbiness was fueled by the mountains of food on hand meant for the two always-hungry teen boys. "If I knew there was a pack of Oreos at the house, I would bust my ass home from school to get some. And if I did, I'd throw them all in my mouth as fast as I could," he says. In hindsight, a severe gluten intolerance, diagnosed in his 20s, was also a likely culprit in Matt's dietary dissonance. Laziness was not—despite being overweight, he was an active kid who played baseball, basketball, soccer and water polo, and rode his bike.
Growing up the lone chubby sibling wasn't easy. "I always joke—lovingly—that Chris popped out of the womb with a six-pack," says Matt. In contrast, he frequently fielded the question, "What happened to you?" "That was me, all through grade school, high school and three years of college. I went to college at 220 [on a 6'2" frame] and while there I gained more weight. It adds up over time, and you learn not to feel all that good about yourself. It compounds with eating for comfort and that sort of thing."
Matt topped out at 255 pounds.
A trip to the doctor when Matt was 21 marked a turning point in his life. "I had marks on my thighs and I was freaking out, thinking I had some kind of skin disorder," he says. "I went to a doctor who looked at me and said, 'Those are stretch marks.' To make it worse, I said, 'I know I'm unhealthy. What can I do to lose weight?' He said, 'To be honest, you're never going to change.' Brutal, huh? But in the end he was motivation for me, so I'm thankful for that."
Soon after, Matt traveled to the Big Island with his family to support Chris at the Ironman World Championship. "I'd never been around that many fit people in one place," Matt said, echoing the sentiment of most people witnessing Kona. He volunteered at an aid station toward the end of the run. "I remember some Euro dude was in the lead yelling, 'Ice! Ice!' And I couldn't catch him to give him the ice. He had been out there for eight or nine hours, and I couldn't keep up for 10 seconds."
Matt returned to college and set about changing his life. He became a vegetarian, switched his fast-food snacks to fruit and cut "anything in a box" from his diet. "Somebody told me, 'Eat like a king for breakfast, a prince for lunch and a pauper for dinner.' So I did that and also I carried a Nalgene bottle wherever I went. Any time I got hungry or thirsty I drank the whole Nalgene—so I ended up drinking four or five bottles a day."
Healthy eating was only half the solution for Matt, however. "People assume that I lost weight when I got into triathlon. But have you tried running at 250 pounds?" Instead, he spent five hours a day at the skate park. Within four and a half months Matt had whittled himself down to 165. "I was actually too skinny so I started eating meat again. I couldn't keep weight on without eating that level of protein."
A year later he tackled his first triathlon and soon realized he was skilled at multisport. He followed his brother's footsteps into the pro ranks and has never looked back. Nowadays, his weight fluctuates from 180 in the off-season to 170 at his peak fitness. "I try to keep it closer to 175–177 in winter," Matt says. "I know dudes that fluctuate 15–20 pounds, but I can't put my system through that. And I know if I gained 20 pounds I'd be an emotional disaster."
Matt has the potential to gain weight quickly, so he's careful to limit the temptations that might tip the scale. "People ask if I have a sweet tooth. I'm like, 'A sweet tooth, a savory tooth—you name it!' It's still always a struggle. If somebody brings over a plate of cookies, literally every moment that I'm in my house—and probably outside of my house—I'll be thinking about how much I want to eat them. I don't totally keep myself from eating anything like that, I just know that I can't have it in my house."
Over time, he's learned how his body responds to food, and he makes every effort to fuel himself right. Restricting calories in conjunction with heavy training—something he tried in the past—had an adverse affect, causing his metabolism to slow. He lost power and strength, not weight, and even developed chronic fatigue. Now, Matt says, "I eat a ton of food. I just make sure I eat it at the right time. I try to follow my old coach Matt Dixon's plan. The short version of that is to replace every calorie you burn in training within that training or within a couple hours after that training. If I go for a five-hour ride and burn 4,000 calories, I'll eat 4,000 calories within that period of time. When I focus on that, I get the leanest and the strongest. That's when I hit it just right." Matt knows there's a fine line between a healthy race weight and being too lean—and he prefers the extra pounds. "I'm gangly for sure," he says, "But there are times where I'm the 'chubby' dude out there. But I know that if I'm healthy I can totally empty my tank on race day. And when an athlete isn't one hundred percent healthy, they might be ahead at a certain point, but the potential for them to completely crack is huge. I think that happens all the time."
Matt, who speaks to youth groups whenever possible to share his healthy-lifestyle message, admits that his body image is still a mixed bag. "I do think I'm a fat guy in a skinny guy's body, to a certain extent. People think I'm OK with my body all the time, but I'm pretty shy, actually. I am definitely the guy that runs around with his shirt off, but only because it feels comfortable. And I may run around in a unicorn Speedo [a prank he pulled as a spectator at the 2013 Cyclocross National Championships], but I'm doing that as a joke. But I guess I wouldn't do it if I was super self-conscious about what I looked like. And I was the kid with the t-shirt on at the swimming pool until he was 21 years old, so that's a big change for me."
RELATED: The Single Most Effective Way To Lose Weight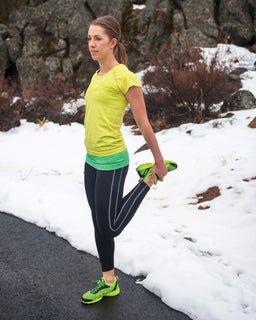 Fuel Smart Tip: Double-Duty Meals
Jen Luebke (who happens to be Lieto's girlfriend) has always been athletic, competing as a swimmer from age 6 to 14, then turning her attention to volleyball before discovering triathlon during her senior year in high school. A pro since 2009, Luebke credits her mother "big time" with helping her establish a strong self-image and healthy eating habits. "My mom gained a lot of weight when we were younger, but she totally turned it around with nutrition and exercise. And she always said, "I don't believe in the word 'diet!' She didn't do anything crazy or cut anything out—she just started eating a balanced mix of fruits and vegetables, proteins and carbs, and she exercised. It made my sister and I very aware of how we ate—but in a good way."
Luebke says she's most successful with her nutrition when she can plan ahead. But with a 35-hour-a-week job as an administrative assistant in a biomechanics lab along with triathlon training, her time is at a premium. "I'm always in a rush: to get to work, on my lunch hour, to get food in my stomach post-workout," says Luebke. "So I'm a big fan of ingredients that are partially prepared. Trader Joe's is great for those make-your-meal-faster ingredients: sauces, pre-chopped vegetables and marinated meats."
Below, Luebke shares a "double-duty meal" she enjoys making for dinner, then transforming into lunch the next day.
DINNER
Entrée: Grilled Chimichurri Chicken Salad
Sear chicken breasts in a pan lined with olive oil. Simultaneously, prep the chimichurri (an Argentinian pesto-like sauce). Using a little blender (I love the Bullet), combine 1 cup packed fresh parsley leaves, 2 teaspoons oregano, 1 tablespoon crushed garlic, 1 teaspoon salt, ¼ teaspoon finely ground black pepper, ¼ teaspoon crushed red pepper flakes, 2 tablespoons red wine vinegar and ½ cup olive oil. Lay the chicken on a bed of fresh greens and drizzle a tablespoon of chimichurri sauce on top. Voila!
Side: Coconut, Black Bean, Yam and Kale Salad
Cook 3–4 whole yams (in the oven if you have time; otherwise in the microwave on the "potato" setting). While yams are cooking, combine a can of rinsed black beans in a small pot with a can of light coconut milk and 2 cups of firmly packed chopped kale. Begin cooking on low. Once the yams are cooked, chop them and add them to the mix. Let the pot simmer until everything has thickened a bit. Add salt to taste and enjoy! (This makes a delicious side and is just as good the next day, hot or cold.)
LUNCH
Chimichurri Chicken or Veggie Tacos
Warm 2–3 soft corn tortillas (11 seconds in the microwave or on the stovetop if you're not in a hurry). Fill the tortillas with leftover chicken and chimichurri sauce. Or, if there's no chicken left from dinner, try the "Healthy 8 Chopped Veggie Mix" from Trader Joe's: green cabbage, red cabbage, carrots, broccoli, jicama, green bell pepper, radish and celery. Combine the chimichurri tacos with leftover cold coconut, black bean, yam and kale salad and you'll have an easy, delicious and nutritious lunch!
RELATED: Triathlete.com Recipes

Fuel Smart Tip: Family Favorites
At 41 years old, John Craft embodies the balance many triathletes strive for: splitting time between his wife Lori and two sons (Hunter, 11, and Heath, 9), his job as a fifth-grade teacher, and training. He's raced the gamut of distances and has now "settled into 70.3's," the best fit for his busy schedule.
Craft's nutritional upbringing was hardly the epitome of good health. "My parents are from Texas. If it wasn't deep fried it wasn't on the table!" he says. But his habits have evolved over time. In part, Craft has learned the importance of healthy eating by witnessing his sons. "They're doing endurance stuff that I wasn't into as a kid, and I see how as a family we can't eat the fast-food stuff I ate growing up. If they're swimming and they're cranky it's not because they're super tired—it's because they've been eating crap." But practicing proper nutrition can be tricky in a time-strapped family of four. "We try to do quick and easy yet nutritious meals," says Craft. "Just simple stuff. But Hunter is the pickiest eater I've ever met. So my parents came up with an idea. We all sat down for a family meeting and went around the circle, and each person listed all their favorite foods. Then my parents took the boys out and bought them a couple of cookbooks." The plan is to include at least one item from each boy's list for dinner, getting them involved in the process and ultimately encouraging new tastes. "The next night the boys made pizza together. We bought the dough pre-made, but they prepared everything else. We had some interesting combinations, but they loved it—and everyone ate."
RELATED: Balancing Family And Triathlon Training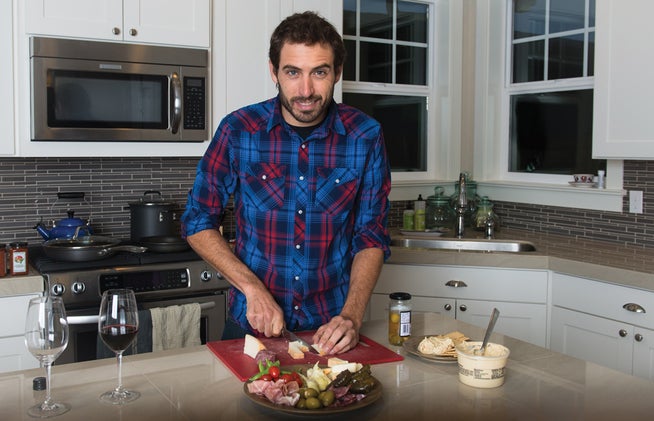 Matt Lieto's go-to snacks and simple meals
Matt isn't afraid to eat—a lot! But he makes sure his house is stocked with nutritious options. "When I'm home I don't have to worry about what I'm going to eat, because all the things I have around are tasty, healthy choices," he says. Here Matt shares his go-to favorites from a Mediterranean-themed diet teeming with fruits and vegetables, healthy fats and protein:
– Fruit is a big deal. I love apples, and like almost anybody who does our sport, I seem to have three bunches of bananas in the house at all times.
– I eat a ton of peanut butter—on everything! I make PB&J's, I eat it on bananas and on rice cakes. I make "training pancakes" with peanut butter blended into the batter, and we do a lot of peanut sauces. I put it in my oatmeal—or on any cereal, for that matter. Panda Puffs cereal with peanut butter is out of this world!
– I go through avocados like nobody's business.
– Hummus is a staple, especially with veggies like carrots and snap peas.
– I buy a lot of Glutino and Udi's gluten-free products—mostly bread, but I'll get into other carbs when I'm in Ironman training.
– I tend to eat seasonally, so I do a lot of brothy soups in the winter. In summer I'm huge into antipasto. Some good meats and cheese, artichoke hearts, olives, dolmas—I eat antipasto of some sort every day.
– I still drink tons of water and it helps me a lot. We got a Sodastream and that thing is the freakin' bomb!