How The 70.3 World Championships Became a Big Deal
A look at how 70.3 Worlds has transitioned from living under the shadow of Kona to being one of the most premium offerings the sport has to offer.
Photo: Getty Images for IRONMAN
Heading out the door? Read this article on the new Outside+ app available now on iOS devices for members! Download the app.
Diana Bertsch was running late to meet me in Nice, France because on her way through the 70.3 World Championship expo, finish, and transition area she saw some things she didn't like, some little things that needed fixing.
"It has to feel like a world championship," she said. As the head of Ironman's world championship events, she knows creating that feeling comes down to small and big things, from the quality of signage to the security guard at the expo gate to the organization of pedestrian traffic flow.
Attention to detail is part of what has turned the 70.3 World Championships into the destination event it now is. To take the 70.3 race from its humble origins as Kona's sort of distant cousin and grow it into a premier world championship took a coordinated conscious effort on Ironman's part the last six or seven years, with Bertsch at the lead.
And it's largely worked.
This weekend, over 5,700 athletes are registered over two days for world titles. Since the championship's original years in Clearwater, Florida (the first race in 2006 had 1,800 registered athletes), those numbers have grown drastically—much of which has come in the women's race. The last year the championship was in Vegas in 2013, there were about 800 women. This year, for the first time, there are over 2,000. (With another 3,400 or so men on their own day.)
Next year, the numbers will grow even more. Though there will be a handful more slots allocated to qualifying races around the world via the traditionally proportional system, the men's championship race is largely at capacity. It's the women's event that has room to grow.
In addition to the proportionally allocated slots, the last few years there have been additional qualifying slots for women at certain races via a Women for Tri initiative. Though not yet officially announced, that will increase to 1,000 extra slots next year. That means there should be another 500 or so women on the start line in New Zealand.
What's more, the 70.3 World Championships now attracts the very best, instead of people forgoing the race to focus on Kona: Daniela Ryf, Holly Lawrence, Lucy Charles-Barclay, Javier Gomez, Alistair Brownlee, Patrick Lange, Sebastian Kienle—and that's not even everyone racing this weekend. The list goes on and on.
Part of this came from moving the 70.3 race to September, making it a prologue to Kona—though plenty of people target the 70.3 world championships in its own right now with no intention of rolling it up into a trip to Hawaii. Part of it came from changing how Ironman picked destinations and courses, creating more exciting races that were tempting to the very best. At the pro press conference before Nice, every single athlete mentioned the incredibly challenging bike course and how it drew them to the race this year. Part of it also came from more marketing, more hullabaloo, just more.
This shift all started back in 2012, when Ironman CEO Andrew Messick, who had recently taken over, came to Bertsch with some thoughts about making the world championship really feel like a world championship. What exactly did that mean? What he told her, in so many words, was simply: Just fix it.
At first, they only changed a few things: making the post-race festival more organized, creating a bigger awards banquet, adding an event-specific logo and poster. But from there it grew. Bertsch wrote up a 12-page document out of a week-long brainstorming session that outlined all the expectations and requirements they would want to see at a world championship event. That document is now well over 100 pages. It includes specifications about transitions and pre-race events. There are now a week worth of 5K fun runs, IronKids, breakfasts, a parade of nations, a welcome banquet, a half-dozen briefings in different languages. All of that has been added over the years.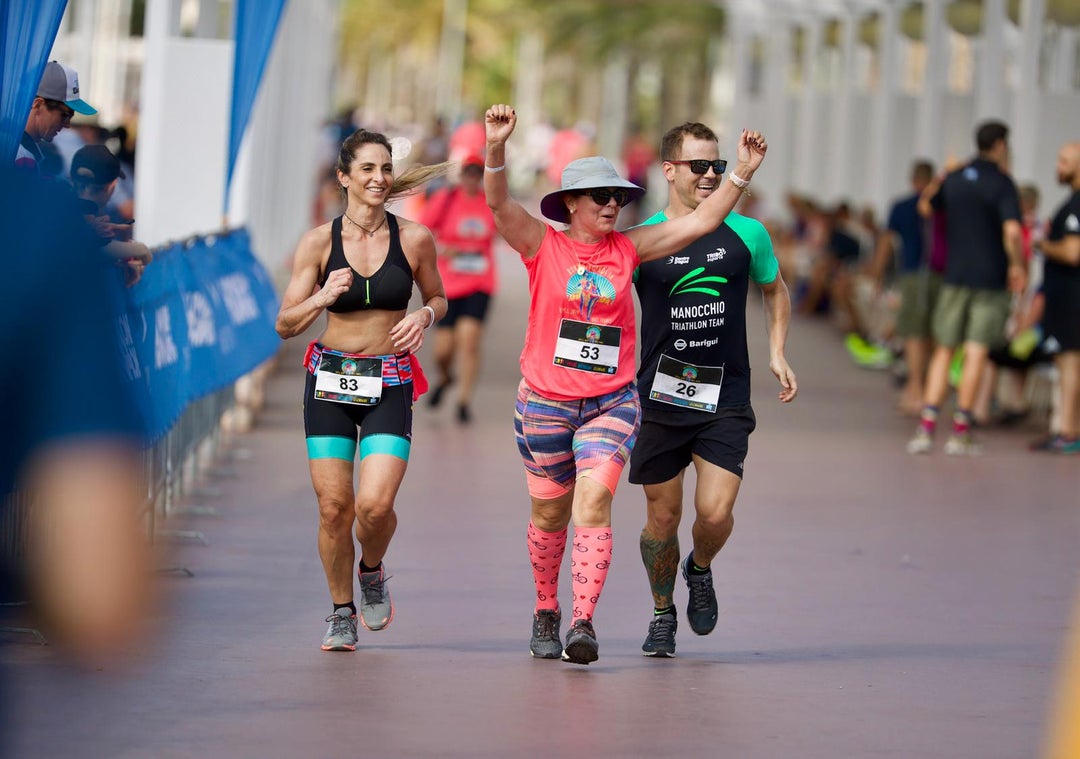 Bertsch, who had taken over managing the race in Kona years earlier, was struck by the idea of starting with a theme each year that represented the heart of the place. Why this? Why here? It sounds hokey, but it creates a sense of cohesion and pizazz from which to build up the specifics of the location.
She also realized she needed to build a team dedicated primarily to the world championship events and to building the 70.3 race into its own thing. She made the pitch to Messick and went around the company picking and choosing her team, which is now 30 people. Even the graphics and maps have to be made by someone and they have to be of a certain caliber.
The next step was the idea of rotating the race to different locations. Why should all the world championships of an increasingly global company be in the United States? At first, Ironman started with Mont-Tremblant simply because Mont-Tremblant had approached them wanting to host a world championship and it was a top-quality destination. From there, it took nearly four years to finalize an RFP process and schedule for host cities for the 70.3 World Championships.
(The company is currently taking RFPs for the 2022 event, which will ultimately be narrowed down to two to four locations, which will then be visited and scrutinized. This is all at the same time representatives from the 2020 Taupo, New Zealand event team and the 2021 St. George, Utah team are on site in Nice to get a feel for the experience and expectations.)
The next step was moving to the two-day event. In 2017, the race moved to two days in Chattanooga, Tennessee. "We listen to our athletes," said Bertsch. Obviously, they can't listen to every single complaint, but there was an overwhelming desire to let the women have their own day, instead of constantly being mixed up in the men's race. No one knew exactly how the logistics would work that first year or if the local community would tolerate roads being closed for two days, but it was considered a wild success.
The two-day format has also allowed the event to grow and add athletes in a way Kona can't. A few years ago, the team had to start working with timing crews and their referees to track the analytics. There are simply too many fast people racing now and they needed to organize the waves and timing in order to minimize crowding and to be sure every single age group gets a championship experience.
Around 90% of athletes who take their slots now start the race, which is significantly higher than it used to be. People also come earlier and stay longer, training on course or bringing along significant others who simply want to vacation in the destinations.
Next year the 70.3 World Championships will move back to November, because it'll be going into summer in New Zealand. The year after it'll be on Friday-Saturday, because having Sunday off for church was important to the local groups that staff volunteers in St. George, Utah. (Instead, local schools will be closing down on Friday and coming out.) It's hard to say how these changes will affect the races, but the biggest changes have already come.
"It's become its own beast," said Bertsch. "It's become a prestigious event."