Take Better Action Photos
Veteran tri photog Paul Phillips shares the gear and tips you need to start snapping your friends like a pro.
Heading out the door? Read this article on the new Outside+ app available now on iOS devices for members! Download the app.
Veteran tri photog Paul Phillips shares the gear and tips you need to start snapping your friends like a pro. 
Meet your guide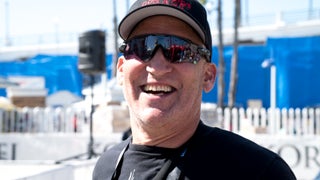 Paul Phillips, 68, has been shooting triathlon ever since he talked his way into a media credential at the 2002 Life Time Fitness Tri in Minneapolis and his photo of winner Barb Lindquist collapsed at the finish made it into the pages of this magazine. He now photographs 15 to 18 events a year all over the world, and has shot Kona seven times. His gear picks:
Canon EOS Rebel T6i
$750, Usa.canon.com
iPhones work well for landscape shots that set the scene. But for more functionality, including the ability to set your shutter speed and aperture, or how much light hits the sensor during an exposure, grab a dedicated digital camera. "It doesn't matter if it's a Sony, Nikon, Canon—for about $700 you can get some pretty amazing technology," says Phillips, who's used Canon cameras for nearly two decades for their quality, durability and feel. "Get one that feels the most comfortable in your hand," he says, and you'll be happier using it.
Canon EF 75-300mm f/4-5.6 III
$200, Usa.canon.com
"Most cameras come with a midrange zoom lens. If you want a great shot, you need a zoom that goes out to 200 millimeters to get you close to the action and isolate a single athlete," Phillips says. This telephoto lens gets the job done without breaking the bank.
SanDisk Etreme PRO SD UHS-1 Card
$35 for 64 GB, Sandisk.com
"Never miss a shot because you ran out of cards," Phillips says. This 64-gig card will get you about 2,500 photos shot in the highest resolution and transfer them to your computer lightning fast.
Quick Tips
Shoot in bursts of 3–4 photos a second or more. "Then you can pick out the photo with the best biomechanics, where your subject looks the best." Choose your background and let the action happen in front of it. Shoot a ton, then only show your buds the good stuff. "With digital photos, you can shoot all day. Out of 100 photos, maybe five will be good. Keep those, delete 95." On the run, people look best pushing off their back foot. Nobody looks good when they hit the ground. Set your camera to shutter priority so you can pick the shutter speed and it'll pick the aperture. Then set that speed to 1/800th of a second for crisp shots. On the bike, "the lower half of the leg looks best at the same angle as the bike downtube" for length and muscle definition (see photo above). Set your shutter speed to 1/1600th of a second to eliminate blur. In the swim, try dropping your smartphone in a waterproof case and shooting at water level for an exciting image.