Ask Aaron: GPS Devices For Swimming
In today's "Ask Aaron", Aaron lays explains why GPS devices cannot be used in the pool, explores the reasoning for the Clydesdale or Athena category and provides an apparel option for triathlons where the swim takes place in a pool.
Heading out the door? Read this article on the new Outside+ app available now on iOS devices for members! Download the app.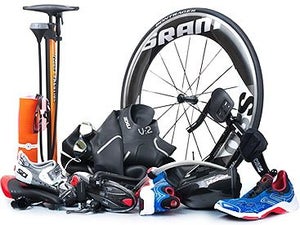 In today's "Ask Aaron", Aaron explains why GPS devices cannot be used in the pool, explores the reasoning for the Clydesdale or Athena category and provides an apparel option for triathlons where the swim takes place in a pool. Click here to see past editions of "Ask Aaron". To submit a question to Aaron, email Askaaron@competitorgroup.com.
Q. Hi Aaron:
I would like to find a GPS watch that will track distances while swimming either indoors or outdoors. Is there such a thing?
Thanks,
Ellen
A. Although many early-generation GPS devices could not withstand a swim, many of the current units are substantially water resistant. The Garmin 310XT, Timex Global Trainer and Polar RCX5 are three examples with water-proofing rated to 50m. The RCX5 uses a GPS pod and the other two have their GPS units integrated into the watch. These solutions only work outside in open water, however. The roof over an indoor pool disrupts the GPS signal, and abrupt pool turns make GPS tracking unreliable in an outdoor pool as well.
– Aaron
Q. Dear Aaron,
There seems to be dissension among the masses about the propriety of racing in the Clydesdale or Athena categories at a triathlon when one is at a normal weight for their height. To race as a Clydesdale or Athena a man must be over 200 pounds and a woman over 145 or 150 pounds.
There have been many heated debates when the issue comes up as to whether these categories intended for any athlete over the weight limits or for athletes that are actually challenged by their weight? An example would be the difference in fitness between a woman who weighs about 150 lbs at 5'9″ and one who weighs 150 at 5'1″.
Some of us believe that these categories are for folks who are really at a disadvantage because of a naturally larger build are trying to live active, healthy lives and cannot compete for medals against average-weight athletes in their age group. While some insist that they are carrying more weight than the "usual" athlete and it should not matter that they are a normal weight for their height.
So, Aaron, tell me, for who is the Clydesdale/Athena category really intended?
Thanks for your input.
Red
A. Interesting question, Red. I don't know the answer so I'll defer to USAT's COO Tim Yount.
Are the weight divisions intended to create a place for large-framed athletes to compete with each other or a way to help triathletes above-their-ideal-weight-and-trying-to-drop engage with the sport while getting in shape?
All the above. The intention was never to exclude anyone. We have a 6'8" 240lbs former lineman and a person 100lbs overweight at 5'6" in the same boat, same category looking for opportunities to compete against people like them. That's not something we want anyone to legislate. We don't ever want to get into that position. We really aren't going to do anything to take away from the basic intent of the categories: To let anyone and every the opportunity to compete head-to-head. If it mean that in due time they're able to loose weight and be a greyhound at 6'4," that's great.
Do you view the categories as a stepping-stone to the age divisions?
It's not a stepping-stone. What happens as a result is that they do become more fit and lose weight. They do ultimately choose to race the age groups even when Clydesdale may exist [as an option]. If you were to do a survey of all people currently in USAT, and gave them a choice between [racing] age group or Clydes/Ath, they'd choose AG because there's a stigma against it, especially Athena.
We haven't really push Clydesdale/Athena in any program we've done, the group committee has on its docket to see how we can reinvigorate the Clydesdale/Athena categories that hopefully will add a little excitement. Having those athletes qualify for national champs, right now there is no qualification necessary. We're going to be looking at perhaps some super-wave 250/200lbs and maybe contest for people to show how much weight they've lost. I think what it's doing is giving more options for people to reach their goals.
Q. Aaron,
I have finally signed up for my first sprint triathlon! But, the swim portion takes place in a pool. Are there good tri shorts that are okay to wear in chlorinated pools? All the tri shorts I find say to stay away from chlorine and warmer water… Or would a 'jammer' suffice?
Thanks,
Bill
A. Welcome to the sport, Bill! If you're looking for shorts that can stand up to chlorine, get a pair made of polyester. They'll probably cost a few dollars more than standard nylon options, but they will last for years without falling apart while nylon shorts typically last only months.
Race shorts, however, are almost never constructed from polyester. If you're only going to take your race shorts in the pool for the occasional pool-swim-triathlon, they should be fine, but if you want a single pair to last through training and racing, take a look at shorts made from hydrophobic fabrics with a more plastic-like feeling, such as TYR's Carbon line. And after washing your shorts, always hang dry them.
-Aaron
Follow Aaron on Twitter @triathletetech