This Skin-Cooling Tech Comes From a…Volcano?
How an accidental discovery built a better cycling kit.
Heading out the door? Read this article on the new Outside+ app available now on iOS devices for members! Download the app.
How an accidental discovery built a better cycling kit.
Some scientific discoveries come about after years of meticulous, carefully-designed lab work. But many are lucky accidents that yield answers to questions researchers didn't even know they had—penicillin was discovered in a pile of unwashed petri dishes; Velcro was modeled after burrs sticking to a dog's matted fur after a hike.
Gregory Haggquist knows this phenomenon all too well: a serendipitous trip to a volcano revealed the secrets to keeping athletes cool during hot, intense exercise.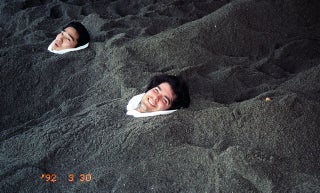 "I'm a photo-physical chemist. In 1992, while I was in Japan for a post-doctorate fellowship, I was taken to the volcanic sand baths on Mt. Aso," says Haggquist. "At first, I thought I would only be able to stand the heat from the volcano for a few minutes, but once buried in the sand I found it not to be hot but comfortable—so comfortable, that I stayed in the sand for an hour."
During that hour, Haggquist tried to explain this paradox—how could something so hot be so cool? "What I realized is comfort comes from balance," says Haggquist. "A balance between heat gain and heat loss. The volcanic sand was removing the sweat vapor from my skin so fast that I was continually cooled by sweat evaporation from my skin. This was the moment of clarity; when I understood that removing the sweat vapor before it turns to liquid sweat was key to comfort."
While other researchers were focused on developing moisture-wicking properties to keep athletes cool, Haggquist took a different approach: reducing humidity next to skin to maximize evaporative cooling. Using fibers infused with volcanic sand and activated carbon (made from coconut shells), Haggquist developed 37.5 Technology, named for the human body's ideal core temperature of 37.5° Celsius and ideal relative humidity of 37.5%.
RELATED: The Secret Sun-Cheating Ingredient in Your Tri Clothes
"Other technologies approach the problem differently, waiting until sweat turns to liquid to wick it away. This spreads the liquid, with the hope of speeding evaporation of liquid from the fabric, which then cools the fabric and then conductively transfers heat from the skin to the fabric. This method requires extra heat transfer steps making it less efficient." explains Haggquist. 37.5 technology works in the vapor stage to create a dry environment before liquid sweat forms. Haggquist describes it as Arizona's dry heat compared to Florida's dank humidity—both are hot, but Arizona can feel cooler, because faster evaporation of sweat leads to more cooling.
As it turned out, feeling cooler also led to performance gains. A 2017 study performed by the University of Colorado Boulder found that 37.5 Technology's evaporative cooling fabrics increased energy efficiency and output in cyclists performing a 60-minute lactate threshold test. Because of this, many activewear companies, including Salomon, Mavic, Bontrager, and Mission Workshop, have incorporated the technology into their fabrics.
Though building a better cycling jersey wasn't Haggquist's original career trajectory, his story is quite common for scientists—accidental revelations in unlikely places can sometimes yield the coolest discoveries.