The Rivian R1T Electric Truck Is a Triathlete's Dream
Be prepared for some hardcore tri-vehicular envy.
Heading out the door? Read this article on the new Outside+ app available now on iOS devices for members! Download the app.
Triathletes have a lot of stuff. It's the nature of our "game." We need wetsuits, goggles, towels, bags, bikes, helmets, shoes, shoes, and more shoes. Now there's (finally) a vehicle that truly gets our need for stuff storage—and it's electric, and it's awesome: Meet the Rivian R1T electric truck.
Rivian's R1T Electric Truck Nitty Gritty
Recently announced by electric startup Rivian—a brand with new funding from Amazon and Ford—the R1T is fully electric, with a range between 230 and 400 miles per full charge, and is geared toward the "outdoor adventurer" more than the working-truck purchaser. Though it can still tow a half ton with a 1,700-pound payload capacity, the big news for this futuristic beauty is the amount of locked storage and a new concept called the "modular box" that Rivian has patented.
Why Tri?
Triathletes should rejoice at the idea of the modular box because the concept allows for a variety of storage for gear that is sometimes valuable and oftentimes stinky. Heading off to a race? Pack the different styles of box that will become available with the full array of race gear and leave it outside in the e-truck while you sleep. Rivian also offers a collapsable rail system that can go across the bed for bike rack storage—or retract out of the way when not in use. Brick workout? Stick your trainer in the "gear tunnel" (as Rivian calls it), your bike on that rack, and create a secure transition area while you train.
Attendees at the recent Overland Expo West in Flagstaff were teased with Rivian's "camper configuration" version of the modular box that showed off an expandable bar extending from behind the cab and acting as a de facto buffet for outdoor adventures. (Just imagine the tri-possibilities!) Rivian had this to say on Twitter about the camper concept that could conceivably be expanded to something even more tri-specific once released:
"We've cooked up a mobile kitchen prototype that showcases just one of the many ways to utilize the extra storage space in the #R1T. It features 2 induction burners, a sink, 5 gallons of water storage and keeps all your cookware and utensils organized while you're out in the wild."
Unique Vehicle Concept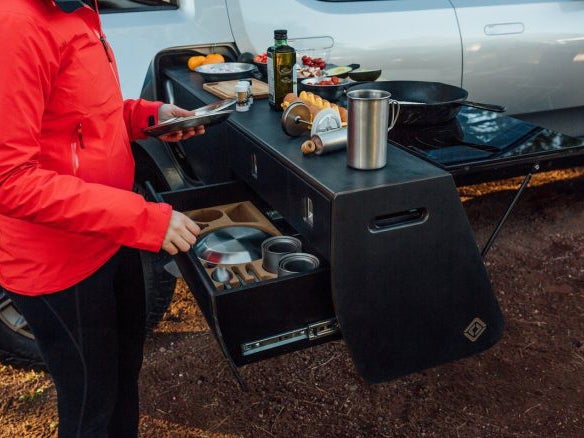 The options for storage can be so creative as the R1T is built without a traditional drivetrain and runs off four electric motors that operate independently on each wheel. This not only gives freedom for storage space, but off-road truck buffs will recognize that this provides tons of solutions for custom traction control in the dirt.
Real Talk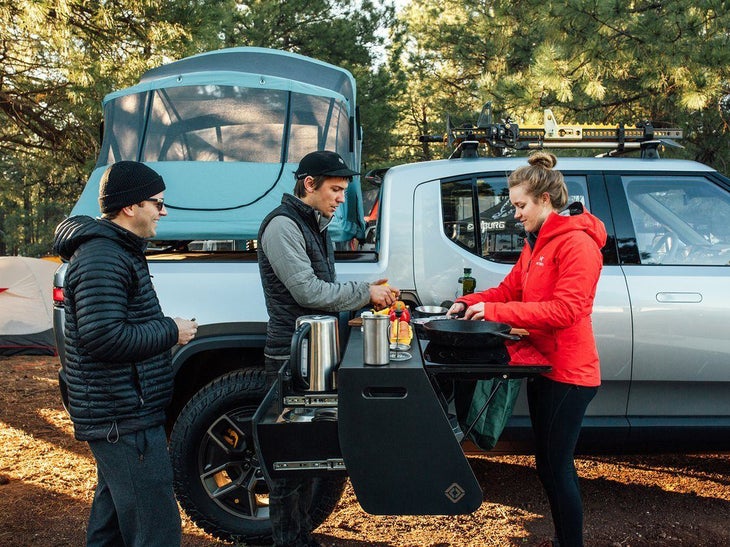 While it's unclear if Rivian will take the camper module to production, it still shows off what a gear junkie with multisport inclinations (and a little creativity) could do with the unique design. Unfortunately the R1T won't be on streets until after the truck goes into production next year, but Rivian is taking pre-orders on their website for a $1,000 deposit.
Potential Rivian R1T electric truck owners should expect to spend about $70,000 for the new tri dreamtruck—but that's before federal rebates for electric vehicles, which haven't yet been published for Rivian, but should range on the higher end of $2,500 to $7,500. And bear in mind a year or two is just enough time to brace yourself for the looks of envy you'll feel in the race-day parking lot.