Critique My Fit: Sliding Forward on The Saddle, Shoulder Issues, and More
This edition of "Critique My Fit" has our expert fitter look at an Outside+ member's issues on his tri bike and offers a few surprising solutions.
Heading out the door? Read this article on the new Outside+ app available now on iOS devices for members! Download the app.
Each month, we'll be choosing one of our members to get a free virtual fit from expert bike fitter, Jon Blyer, owner of Brooklyn-based ACME Bicycles, a Retül Certified Master Bike Fitter, and teacher at the Guru Academy in Bethel, CT.
Using the member's email fit feedback and three video angles, Blyer gives his recommendations below, along with suggestions that can apply to other readers' situations with similar problems.
For your chance to get a free virtual fit from one of the top fitters in the country, be sure to sign up for Outside+.
Hi Jonathan,
I am currently riding a 2019 Cervelo P3 (56cm frame) configured with Shimano Ultegra components, Shimano 105 pedals, ISM PS1.0 saddle, and Profile Design SVET/R aerobars. I had great help from Taylor Rogers at Fraser Bikes in southeast Michigan picking out this build, but I wasn't able to get a bike fitting before moving to Waco, Texas. I am 24 years old, 5-feet-11-inches with a 33-inch inseam, and I've been racing triathlons for just over five years now. I primarily race at the Olympic distance and am hoping for a decent age-group placement at the 2021 USAT Age Group National Championship this coming August. I've also enjoyed training and racing the 70.3 distance as well, and I'm hoping to post a PR this coming October at 70.3 Waco (how lucky am I, having an Ironman race in my city?!).
My primary discomfort while riding revolves around my hips "slipping" forward on my saddle, which in turn changes the tilt of my pelvis and puts extra strain on the front of my shoulder. This "slip" usually occurs when I am fatigued or in a high-power section of my workout. My main goal is to adjust my bike to prevent this from happening, while also dropping my upper body into a better aero position to maximize my cycling efficiency. To solve this slipping/consistent aero tuck problem I have tried extending my aerobars by about a half inch to lay out my upper body slightly more—hoping to eliminate any possibility of allowing my body to slip forward by decreasing my angle, in turn lengthening my torso. Additionally, I make a conscious effort of maintaining proper seating on the saddle throughout long solid-state workouts to try and build up muscle/feel memory for proper riding position.
Thank you for your help,
David G.
Waco, Texas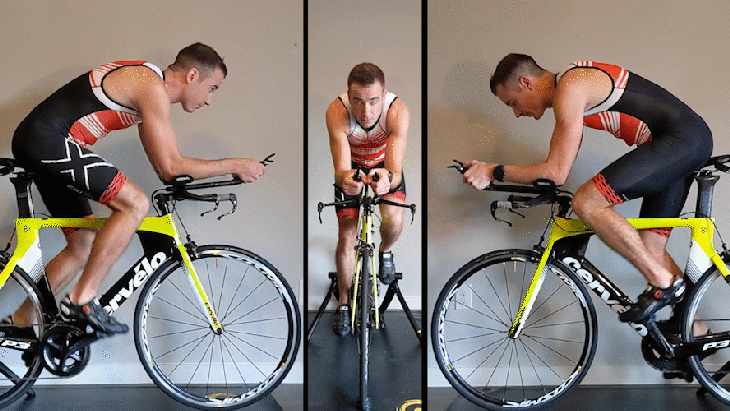 Hi David,
Thanks for the background information—I see a few areas of concern in your position which I'll discuss but your bike fit does look like it is off to a good start but maybe just needs some fine-tuning. I love how still your upper body is and your leg extension seems to be just about perfect. Your posture on the bike looks great as well, so I can see that you've been working on that. I also love your head position, your head is low and out of the wind with just your eyes gazing down the road. Looking only at your bike, it looks like the saddle is in a reasonable position.  I am guesstimating that your effective seat tube angle is about 78 degrees, which is a pretty normal spot for a saddle on a triathlon bike. The surface of your saddle looks like it is gently sloped downwards which is also usually appropriate for a triathlon bike.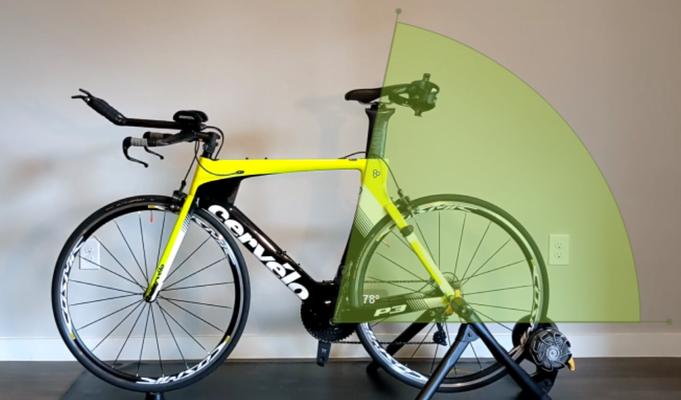 Root of The Problem
Once you get on your bike and start riding, I can start to see some issues. Generally, riders are supposed to sit fairly far forward on saddles such as the ISM PS1.0, and a common mistake is to sit too far backwards on these split nose saddles, which can cause a whole host of problems.  In your case, you may actually be sitting too far forward on the saddle which isn't quite as problematic as sitting too far back, but it can increase saddle pressure and create a fairly unstable riding position.  When you ride the saddle so far forwards, it makes the distance between your hips and elbows seem fairly short and everything looks pretty unstable. While I am not a huge fan of measured body angles in bike fits, they can be helpful in these remote fits to explain things.  Your measured shoulder angle is about 67 degrees, whereas a more common shoulder angle would be about 80 degrees. You weren't totally wrong to extend your aerobars a bit to give you more room for your upper body, but you should have been moving the arm pad and extensions forward as a single unit, and not moving just the extensions.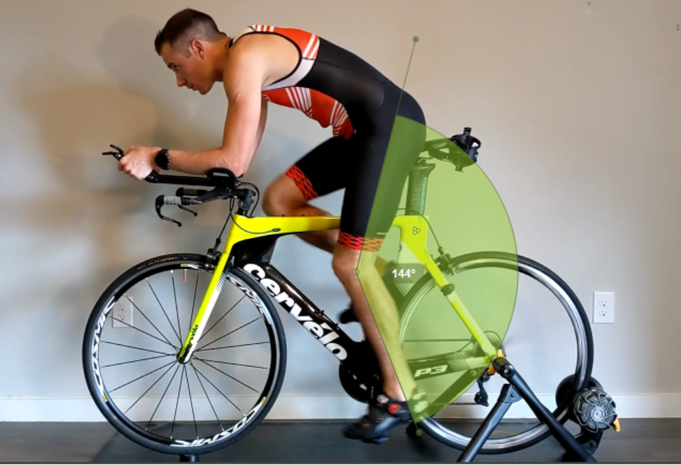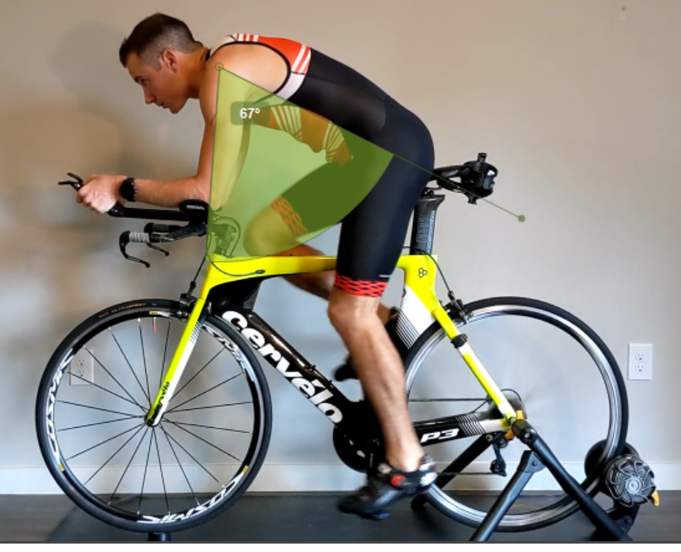 Saddle Height
To remedy your issues, I suggest trying to lower your saddle height, which I imagine doesn't make a whole lot of sense based on what I've already said since I mentioned that your leg extension looked good and all the critiques from above had to do with your body sitting forward on the saddle and your cramped cockpit. However, lowering the saddle will force you to slide backwards on the saddle to maintain good leg extension, or thinking about it in reverse, your saddle may be too high right now which could be forcing you to come to the front of the saddle to effectively lower it.  If lowering the saddle turns out to not solve any of your issues, I suggest trying to raise the saddle nose ever so slightly to see if that at least helps with the sliding forward issues. If neither of these seems to be good solutions, you can consider a saddle like the ISM PN3.0 which has a slightly longer "nose" than the PS1.0 you are currently using.
Adjust The Aerobars
Another remedy that you can consider in addition to the saddle changes would be to tilt your aerobars (the pads and extensions as a unit) up by 10-15 degrees. You may have noticed that many riders have been riding this way, and for good reason. While the wind tunnel data on tilted aerobars doesn't necessarily show that raised bars are more aerodynamically efficient than level ones, the empirical data shows that slightly tilted bars are 99.9% more comfortable than level ones, so I would definitely give that a try. Tilting the bars can also have the added effect of stabilizing your upper body and helping to prevent the sliding forward sensation that you are experiencing. From my experience, I've found that tilting the aerobars up almost always feels more comfortable with them slightly further out as well, so you should experiment with this while you are at it.
Hand Position
Additionally, a finer point, but one worth making; I like the location on your forearm that the arm pad is contacting, but I do not like where your hands are holding on to the extensions. In order for you to shift your gears, you will have to let go of the extension, slide your elbow and hand forward an inch or so, shift the gear and then slide everything backwards. I would prefer to see your hand closer to the shifter, if not totally on top of the shifter so that shifting gears takes nothing more than a flick of the wrist.  With the shifter more conveniently placed, you'll be more inclined to shift (a good thing) and you won't have to move around as much to make this happen.
Lastly, once you are able to remedy some of the stability issues you are having, I would definitely try to lower your aerobars down a little bit to see if you can squeeze out a little more speed without cutting down on comfort or efficiency. You can do this most easily by removing spacers from below your stem. I suggest only reducing the height by 5mm at a time and giving each increment a few rides to assess. If it feels like it's getting hard to pedal or to maintain the aero position, then raise the bars back up until they are just high enough to keep you comfy for the duration of your events.
Thanks again for submitting the information and the videos, and I wish you luck for the rest of the season!
Best Regards,
Jonathan
Jonathan Blyer is the owner of Brooklyn-based ACME Bicycles, a Retül Certified Master Bike Fitter, and teacher at the Guru Academy in Bethel, CT.