Ask Aaron: Upgrades, Fit Adjustments & GPS Watches
This week in "Ask Aaron", Aaron answers triathlon gear questions about affordable aerodynamic upgrades, the proper bike fit for the most power and how to choose a GPS device.
Heading out the door? Read this article on the new Outside+ app available now on iOS devices for members! Download the app.
This week in "Ask Aaron", Aaron answers triathlon gear questions about affordable aerodynamic upgrades, the proper bike fit for the most power and how to choose a GPS device. Click here to see past editions of "Ask Aaron". To submit a question to Aaron, email Askaaron@competitorgroup.com.

Q. Aaron,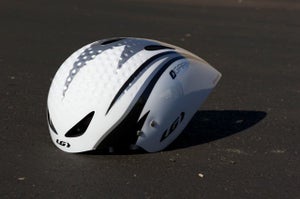 I'm new to the sport and won't be quitting my day job anytime soon. I'm an age grouper and really enjoying the sport, recently purchased my first tri bike with entry-level wheels and was fitted to the bike. Is it worth the money to upgrade to better aluminum wheels or entry-level aluminum/carbon hybrid wheels?
Thanks!
─Alan
A. Hey Alan,
Aero wheels are certainly an effective upgrade because they can improve acceleration and aerodynamic performance, but they aren't cheap. Before putting the money up for aero wheels, get an aero helmet and well-fitting race clothes. Once you have those upgrades, wheels are the next component to consider. In the mean time, a wheel cover such as the Aero Disc Cover from Wheelbuilder.com turns your standard entry-level training wheel into the aerodynamic equivalent of a $1,000+ disc.
─Aaron
Q. Aaron,
I've been doing a lot of time on my indoor trainer over the winter on my Cervelo P2C.  I do not have a power meter, but I've discovered that I am more able to sustain higher consistent speed and cadence (85-95) when I am positioned up on the bar ends and out of the aero position. Two questions:
1) When on the road, does being in the aero position outweigh the potential power loss of riding upright?  In other words, if I am riding in the aero position will I generate better performance despite my inability to generate potentially higher power output in the upright position?
2) I imagine that your response will say something about improving my aero positioning through fit adjustments.  I'm on a limited budget and can't afford to sit for high priced professional fitting with all the bells and whistles so do you have some suggestions with regard to fit that I can try myself?
─Steve
A. Steve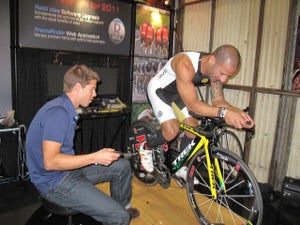 You're correct, the answer to your problem is to improve your fit. You already ponied up for a real tri bike, but it sounds like you aren't reaping the benefits. I would recommend putting a fit at the top of your list for future upgrades. In the mean time, you should be able to adjust your bike to allow you to produce more power in the aerobars. It is impossible to give an accurate answer without seeing you on the bike. But, if you are able to ride normally when up on the brake hoods, but struggle when you lower yourself onto the aerobars, your bars might be too low. Raising the aerobars is a good place to start before getting professionally fit. Which is totally worth the money, by the way.
─Aaron
Q. Hi Aaron,
My husband Mark has the triathlon bug. He regularly competes each season and is always looking for ways to improve his times.
His 40th birthday is approaching and I'd like to buy him a GPS watch that will be able to track his pace, distance, heart rate, calories expended, etc. and that he can use for running, swimming and cycling.
I'm considering the Garmin Forerunner 310XT, but I'm really open to suggestions about a good device. Any advice you can provide will be gratefully appreciated.
Regards.
─Sharon
A. Hi Sharon,
The 310XT is a great option that I find easy to use. It can track the three sports and has a useful multisport mode to track a triathlon. The Timex Global Trainer and Polar RS 800X are other options that have every function a triathlete could desire. The Garmin and Timex units have the GPS unit within the wristwatch, but they both need to be charged regularly. The Polar uses a GPS pod, which means the watch doesn't have to be frequently charged, but carrying the pod is a little less convenient than just wearing the wrist unit. Watches like the Garmin 210 and the Suunto M5 do a great job measuring run training, but aren't designed for the other two sports.
Happy birthday Mark!
─Aaron