Sitting In With Chris Lieto
Lieto, who turns 40 soon, talks about his form leading up to Panama 70.3, his first crack at Abu Dhabi, and how he will approach Kona.
Heading out the door? Read this article on the new Outside+ app available now on iOS devices for members! Download the app.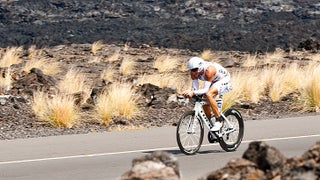 Pro triathlete Chris Lieto, who turns 40 in a couple weeks, talks about his form leading up to his first race of the 2012 season, Panama 70.3 (where he's also spearheading a More Than Sport project to give back to the local community), his first crack at the Abu Dhabi International Triathlon, and how his Kona approach will be different this year.
Triathlete.com: So, you're gearing up for the first race of the season, Panama 70.3 [on February 12].
Chris Lieto: Yeah it's going to be the kick-off for the year. It seems like the season starts earlier and earlier every year—I think this is the earliest it's ever been.  It's going to be interesting to see how it goes. I think the fitness is going to be there but I'm trying to also keep an eye out for the whole year and not go crazy getting ready for one race in February.
Triathlete.com: How's the training been going?
Lieto: It's actually been going really good. I turn 40 in a couple weeks so I think I'm the oldest one on the circuit as far as I know—there may be a few others. But with 40 coming up this is actually the best I've felt at this time of year, so I'm pretty happy with everything.
Triathlete.com: Is there a certain focus in your training right now—an aspect that you're spending more time on?
Lieto: There's always change to how you train and how you race each year. I have been racing for many years, and you always have to approach it differently—you can't just do the same thing year after year. As I did last year, I'm focusing a lot on core strength, and this year I've increased that even more as well as stability stuff. I've been doing a little bit less overall training and hitting the key sessions and making sure I've been maximizing those sessions and dropping a little bit of the fluff sessions. I feel like my fitness is even better doing less and I'm bouncing back better from workouts.
Triathlete.com: Will Kona be your main focus this year?
Lieto: Hawaii is a unique race. For the last five years I've made it the biggest focus of the year and sometimes it pays off and sometimes it's a frustrating day because all your eggs are in one basket. This [past Kona] was a little frustrating—getting heat exhaustion and other stuff about the way it unfolded. Right after that race I was frustrated and not sure what I wanted to do, but as I've gotten into my training and looked at my year and the goals that I've set for myself and my career, I still want to focus on Hawaii. That doesn't mean, though, that's the only race I'm going to focus on. I'm going to also focus on 70.3s; I do well at those, it's kind of my strength. Ironmans take a lot out of you. It takes a lot of focus to get those things done. But I will definitely go and try to crack out a win in Hawaii. I'm going to give it my all but I'm not going to put as much pressure or mental focus on it. When the day comes and I'm at the start line in Hawaii I'm still going to give it as much effort as I can to try and go for the win; I'm not going to do anything different.
Triathlete.com: Are you going to be racing Abu Dhabi this year?
Lieto: Yeah, I'm finalizing everything with that and it looks like it's going to be the first time I'm going to be doing that race. I'm looking forward to it; I think it's going to be fun and it's going to be a good race. One of the reasons I didn't do the race earlier is because I wanted to see how it was going to unfold, what it was going to look like. I just wanted to see how it would play out. It seems like the first two years it was a really good race. It's a unique format and structure—there are a lot of good athletes going. Everyone that I've talked to absolutely loves it—it's a first-class race and a unique experience. The distance suits me but it still takes a lot of focus and training to get fit for that long of a bike ride. Even though the run is shorter is still takes a lot out of you. I think patience on the bike ride is important, and speed is important—you're running a 20K so you have be in half-ironman shape and still have some Ironman fitness in you to be able to tackle that type of structure and distance.
PHOTOS: 2011 Abu Dhabi International Triathlon
Triathlete.com: At last year's Abu Dhabi, the heat cracked a lot of people, so how will you approach the race knowing that the heat will likely be a factor?
Lieto: The heat there is a little different—it's drier [than the Kona heat]. I seem to do a little better in drier heat than humid heat. Training here [in Hawaii] helps—it's not quite as hot as it is in October but I think I'll still be getting in a lot of heat training. I've been out in the middle of the day doing some runs and have gotten used to it so that helps. The longer I'm out here the easier it gets.
Triathlete.com: Tell me about your plans for Panama after you race.
Lieto: One of my focuses this year is to continue to race the best I can and continue to win as many events as I can but when it's all said and done if I do win races it's gonna be great and if I don't there's a reason for me to do these races—and that is to give back to the community. In Panama [Lieto's charitable organization More Than Sport] aligned with Homes of Hope, an organization that's based out of Panama and Baja, Mexico. You build homes, which cost about $6,000 a home, and we can build a home in three days. I thought it would be a great opportunity to rally some athletes that are racing certain races like this one and challenge them to stay and give back to the community. Right now there's a group of 20-plus—we're still signing people up and there's still time to get involved—and the day after the race we're going to the Darien Gap, which is four hours away [from the race site], and the Panamanian Guard is behind what we're doing and we're using their vehicles and helicopters to get to this remote village that got hit by floods last year and lost 30-40 homes. We're going to go into that community and build homes ourselves.  If people are going to the race and want to stay until Wednesday—or even if they only have a day to help out, we're always looking for more help—they can go to Morethansport.org and find more information or email us at morethansportinfo@gmail.com. They can help by actually building, but we're also looking for help financially—we have to raise some funds to build those homes. The more funds we raise, the more homes we can build.
I'm going to be racing in Texas again this year so we'll again be doing something in Texas. We'll probably be doing something in Kansas, and we're trying to create a movement to get athletes involved. It's really a mindset change—to go out there, kill a race or PR but then after do a little bit for the community.
I really got an awakening when I went to Mexico for a race. We were put up in a four-star resort and I was doing a bike ride and was a couple miles from the resort and I saw a bunch of kids playing in the woods and I realized this whole village was living in boxes and I just realized if every athlete gave $40 or $50, and there were 2,000 athletes racing, that could feed and house that village for like a year—it doesn't take that much. It's just trying to make a small shift and see if we can leave the locations we've enjoyed so much when we race a little more improved and give back and say thank you.
We'll do something again in Kona this year, too. As people qualify for Kona and want to do something a little different, email us and we'll keep you posted. Anyone can be an ambassador.