Ready for More? Here's How To Tackle Your First Ultra Tri
Conquered Ironman and looking for more? You're not alone.
Heading out the door? Read this article on the new Outside+ app available now on iOS devices for members! Download the app.
Conquered Ironman and looking for more? You're not alone. More athletes than ever are taking to ultra-distance triathlon, with events ranging from double Ironmans to multi-day stage races to Guinness World Record attempts (the record for longest triathlon currently belongs to Norma Bastidas, who swam a total of 94.5 miles, biked 2,295, and ran 707.5 in 2014).
It's a feat that leaves most people tired just thinking about it. For many, a day of racing at any standard distance, be it Olympic or Ironman, is enough to leave the body feeling wrecked the day after. To get up and do it again the next morning? That sounds like a superhuman feat.
But triathletes Brian Fredley and Anim Swart insist the feat is actually quite achievable, so long as one respects the distance and the body covering it. Fresh off their victories at the Florida Xtreme Triathlon, a three-day, 300-mile triathlon that traverses from one coast of Florida to the other, Fredley and Swart share their secrets for going long (really long).
Assemble Your "A" Team
Unlike most triathlons, which eschew outside support in favor of fully-stocked aid stations, ultra-distance triathlons require athletes to self-support or utilize a crew. Fredley recommends the latter: "The best athletes have a crew. There is quite a lot of stuff to keep track of these races. Having a crew that understands your nutritional and hydration needs during the race and keeps you on track is key. They change flat tires, maintain your bike, and pace you on the run."
Stop Sitting
In preparing for multi-day races, long workouts are a given. But the number one tip Fredley has is to stay on your feet as much as possible, even when you're tired: "Yard work and building projects become my third-tier cross training on weekends and evenings. I get stuff done around the house and train to be on my feet continuously. It really makes a big difference when I get into the late hours and miles of a stage race."
Long = Slow
When it comes to a multi-day race, be like the tortoise, not the hare. "It is better to undershoot the pace and be conservative, rather than burn too much and crash. I try to put out a 75 to 80 percent effort and maintain that effort. As you get into the deeper parts of the race, to maintain that 80 percent effort will take 100 percent of your ability and energy."
Eat, Eat, Eat!
To fuel multiple days of continuous forward progress takes an insane amount of calories—often upwards of 4,000 per day. Both Fredley and Swart break that down into smaller bites throughout the day. "The key to stage racing is eating your way through the race," says Fredley, who will nosh on sushi, potatoes, burritos, and almond butter sandwiches. "The food you eat today is the energy you will need tomorrow."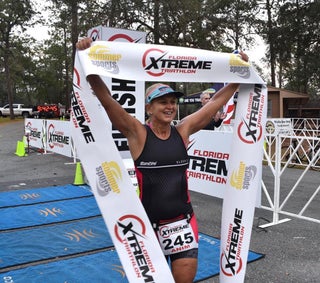 Accept Things Can (And Will) Go Wrong
With so many hours and so many variables, odds are high something will go off the rails at one point: cramping, blisters, mechanical issues, are just some of the issues that will pop up during the course of the race, and fatigue can lead to poor coping. "Be prepared to just deal with it," advises Anim. "No need to freak out. Every problem has a solution. Know your obstacles, and don't be afraid of them."
Recover, ASAP
In addition to nutrition, a solid recovery strategy is key to gear up for the next day. Massage, Epsom salt baths, and ice are oft-used immediate treatments after each stage, quickly followed by a big dinner and bedtime. "We typically try to pack up and leave the stage quickly to go through the recovery routine and get to bed by 9 p.m.," says Fredley.
Back-to-back training days are the perfect time to identify recovery methods that work best. Swart discovered her Normatec boots were "almost as good as a meal," while Fredley prefers a roller stick.
Get Your Head in the Game
For Swart, the biggest difference between an Ironman and multi-stage race is not physical, but mental: "Your focus has to stay on. Through Ironman, I was already physically trained for a long endurance event, but my plan had to be adopted mentally for doing it multiple days."
Fredley, whose next challenge is conquering the 700-mile Epic 5 Challenge, agrees: "Mentally, I feel more worn out from watching every square inch of the road on the bike to ensure I stay out of harm's way. Have patience, and focus on what you are doing: form, safety, pace, speed, wats, heart rate, and calories."