Our 3 Favorite Ironman World Championship Qualifiers
It's time to shed your Kona qualifying FOMO.
Heading out the door? Read this article on the new Outside+ app available now on iOS devices for members! Download the app.
You've dreamed of making it to the big island, of qualifying for the big dance—but how? Achieving a Kona qualifying time on any Ironman course is no easy feat no matter the course, but let us help you towards your goal with a few of our favorite Ironman World Championship qualifying races, and break down just what kind of chance you have (and time you need) to get one of those coveted spots.
Best Family Location
Ironman Boulder
June 9, 2019
Boulder, Colorado
Buzz: Boulder is a mecca of endurance sports, especially triathlon. Not only is Boulder where the likes of Dave Scott, Craig Alexander, Chrissie Wellington, Tim O'Donnell, Mirinda Carfrae, and Tim Don have lived and trained, the city also features a scenic race venue (including a downtown run finish amid loads of cheering spectators), great bike and running shops, and the best pre-race Underpants Run outside of Kona.
Your Qualifying Chances: Ironman Boulder has 40 Kona qualifying slots for 2019; the average final age-group qualifying times are more moderate compared to other North American races (for example, 9:25:48 for men's 30-34; 9:40:30 for men's 40-44; 10:51:38 for women's 35-39; 11:02:52 for women's 45-49).
Why It's Awesome: Boulder is a trendy town known for its eclectic restaurants, live music, boutique shops, hiking trails, craft breweries, a BMX/mountain bike park, and the open-air Pearl Street pedestrian mall. Other local attractions include a spring-fed cold-water swimming pool, the atomic clock at the National Institute of Standards and Technology, and tours of the Celestial Seasonings tea headquarters. In other words, it's a great place for significant others, friends, and family members to focus on something other than your pre-race stress.
Insider Tip: Offset the negative impacts of Boulder's 5,430-foot altitude (irregular sleep patterns, dehydration, fatigue) by arriving in town four to seven days before the race, sipping water or a sports drink continually, and laying off alcohol in the days before the race.

Most Beautiful Course
Ironman New Zealand
March 5, 2022
Taupo, New Zealand
Buzz: Start planning now for that big vacation you're been saving up for. You're not the only one who has always wanted to visit New Zealand. More than half of the competitors in this race typically come from international destinations, but the happy-go-lucky Kiwi spirit of the volunteers and spectators is infectious and will make you feel like you belong. The venue was among the races that has earned Ironman's Athletes' Choice Awards for best host city experience, best race venue, best overall run, and a race that attendees are most likely to return to.
Your Qualifying Chances: Taupo is offering qualifying slots for Kona 2022; the average final age-group qualifying times are more moderate compared to other locations (for example, 9:26:49 for men's 30-34; 9:31:13 for men's 40-44; 10:37:23 for women's 35-39; 11:57:09 for women's 50-54).
Why It's Awesome: It's New Zealand, the land of enchantment, and the course is amazing. Lake Taupo is one of the world's largest freshwater lakes, and the one-lap swim through its crystal-clear waters makes it one of the best on the Ironman circuit. Both the two- loop bike course and three- loop run course are hilly (with massive spectator support), which means qualifying is more about strength than speed.
Insider Tip: Try to arrive at least three days before the race, and make sure to rest and rehydrate
to help acclimate to the local environment and time zone. Focus on short, easy shakeout workouts (try a 10-minute swim, a 30-minute spin, and/or a 10-minute run) to keep your body loose and familiarize yourself with the course. Although you might be tempted to stay out longer due to the incredible views, spare your legs for race day.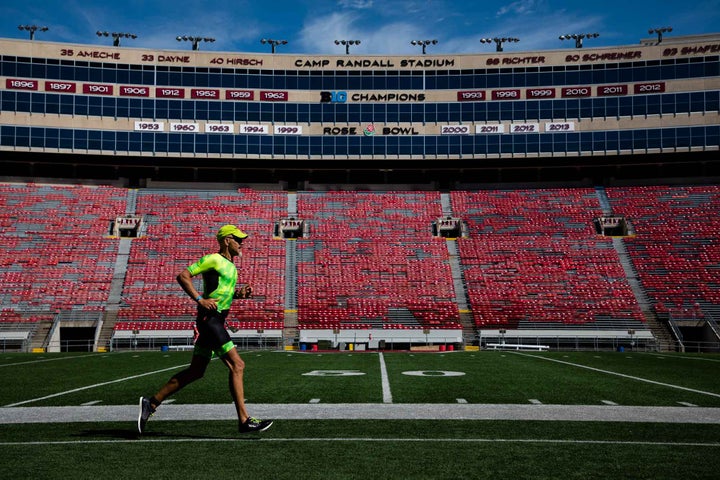 Best Qualifying Chances
Ironman Wisconsin
Sept. 12, 2021
Madison, Wisconsin
Buzz: If you're a strong cyclist and you appreciate the along-the-course energy of spectators, IMMOO could be the place you punch your ticket. While the bike course is full of rolling hills and twists and turns, the two-loop run along Lake Mendota—through the University of Wisconsin campus and around the state capitol building en route to the downtown finish—is packed with cheering spectators.
Your Qualifying Chances: This race offers qualifying slots for Kona over a year away, and the average age-group qualifying times are some of the slowest on the domestic circuit (for example, 9:33:44 for men's 35-39; 10:01:53 for men's 45-49; 11:27:05 for women's 30-34; 11:00:26 for women's 40-44)—likely because of the timing.
Why It's Awesome: The race venue regularly earns Ironman Athletes' Choice Awards for best host city experience, best race venue, and best post-race celebration on IM's domestic circuit. The rowdy, late-summer-back-to-school atmosphere in Madison is palpable during Ironman weekend: The day before the race, University of Wisconsin's football team tends to have a home game at Camp Randall Stadium (so book your room early!).
Insider Tip: If you stay downtown, you can walk to the race expo, the swim start, and transition area—as well as outdoor cafés, music shops, art galleries, souvenir stores, and brew pubs.