Opinion: The Triathletes in the Tokyo Test Event Deserved to Get DQ'ed
In which columnist Kelly O'Mara eviscerates any arguments stating otherwise.
Heading out the door? Read this article on the new Outside+ app available now on iOS devices for members! Download the app.
At the Tokyo Test Event this week, which served as an Olympic qualifier for a number of countries, two Brits dominated the women's race and crossed the line together.
Jessica Learmonth and Georgia Taylor-Brown pulled away on the run from a front bike group of six, creating a gap over Flora Duffy. As they neared the finish, the two teammates and training partners stayed shoulder-to-shoulder. They exchanged a few words, staying in matching stride, and cross the line holding hands.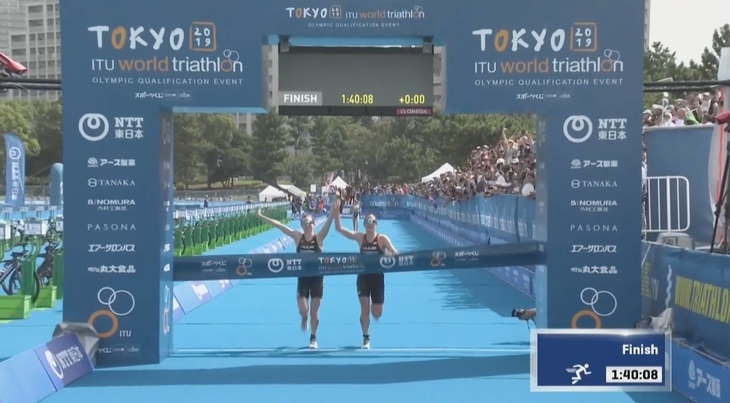 Twenty minutes later they were disqualified.
ITU rule 2.11.f clearly states: "…athletes who finish in a contrived tie situation, where no effort to separate their finish times has been made will be DSQ."
Do I think the two knew that rule? No, probably not. The ITU rules are long and byzantine. And, sure, I appreciate that the duo were likely simply excited about all the work they've put in together and the opportunity to finish together. They were far and away the best two on the day; it wasn't close.
That doesn't change that it's very clearly a violation of a clear rule. The ITU had no option but to enforce their rule.
What about the Brownlee brothers?
A lot of people have noted the Brownlees weren't disqualified after Alistair carried Jonny, who was on the verge of collapse, across the finish line of the series finale in 2016—changing the season results at the time.
Yes, the ITU got a little swept up in how viral that moment went and maybe found their hands tied. But let's first note that if your complaint is the rules need to be more fairly applied, then you should be for less arbitrary capriciousness, not more. Still, there are a few specific differences as well.
Most importantly, there was no rule at the time against what Alistair did. There is now a rule that bans "physically assisting the forward progress of another athlete." That rule was added after the Brownlees went viral, because of the outrage calling for them to be disqualified.
Assisting other athletes isn't fundamentally against the rules of ITU. Domestiques and team tactics are built into ITU strategy. There is no requirement that you make an honest effort or anything.
This is a bit more philosophical but: For whatever strong-arm tactics you think the Brownlees have exercised over the years, I do not believe they planned for their infamous race to end that way. I think Alistair came up on his brother wobbling and simply did what he thought he should do in the second. He simply wanted to get his brother across the line as quickly as possible, where medical could help him. (As long as Jonny was wobbling, medical wasn't going to intervene and potentially DQ him.) He even said later he didn't care if he got DQ'd. Conversely, I think Learmonth and Taylor-Brown made an active decision to end their race in a voluntary tie. They exchanged a few words and decided not to sprint for it.
That brings us to the next issue. A lot of people have said the ITU is shooting itself in the foot because this moment was heartwarming good sportsmanship that serves as a model for children.
Was it really heartwarming and good sportsmanship?
I'd say, no, actually it wasn't. Look, I have nothing against Learmonth or Taylor-Brown. I think they seem like good people and great athletes and I completely understand their desire to finish together.
But it's not automatically good sportsmanship to not race in a race. Think about it this way: Neither sacrificed anything. (I mean, ultimately they did, but that wasn't their intention.) In fact, they hoped to *both* be first instead of just one of them getting first. Good sportsmanship is when you give up your potential performance, sacrifice something that means something to you, in order to help someone else. If you think 'instead of me winning, both me and my friend can win,' then that's actually just trying to have your cake and eat it too.
And maybe this is an unpopular opinion—it certainly seems like one judging by the Instagram comments—but: If you're in the race to win the race, then you should try as hard as you can to win. That's what racing is. Before we knew they were going to be DQ'd, when it was clear they weren't going to sprint, everyone I was watching with groaned.
Isn't it sexist?
I've also heard the argument from a few people that this rule enforcement is sexist, partially because the Brownlees weren't disqualified. I don't think this is true. There were a lot of reasons the Brownlees' outcome was different and, sure, some that is their star power, but I don't think any of those reasons are inherently based in gender.
In fact, I would put the question back to you: Why do you think it's automatically better to see two women *NOT* race each other? Why is that something you want to teach to your daughters? Would you feel the same way if two men had crossed the line holding hands?
—
Yes, it completely sucks for the two of them. (Fortunately, it didn't change the British Olympic qualification, which is already arbitrary and subject to whims.) Yes, a DQ is too extreme a penalty for something that wasn't ill intended. It's likely the ITU will re-examine its rules, but it originally made this rule after another intentional tie controversy.
They instituted this rule and the athletes expect the rules to be fairly enforced; they can't simply enforce rules at their discretion. And so the ITU had no option. The athletes racing do.