No One Left Behind: Watching The Watchers At Ironman 70.3 California
Heading out the door? Read this article on the new Outside+ app available now on iOS devices for members! Download the app.
Breathing in Ironman California 70.3 in Oceanside this morning fleshed out a growing divide wedged in the psychology of those who pack in and around such an opening season event.
Written by: T.J. Murphy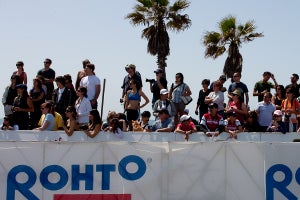 Over the last decade the quality of the experience for the racers has done nothing but skyrocket, right along with the price of an entry. Generally speaking the courses are safer, better thought out and double-stacked with precautions against the inherent dangers of a couple of thousand adrenaline-charged triathletes ripping through the course. For example, over the years I've lost count of how many times I've cringed while watching a poorly monitored spectator crossing: Bikes coming from the left, runners from the right, and single-minded spectators dashing across to try and get the next snapshot of their loved one. In Oceanside this morning, I witnessed one of the safest spectator crossings I've ever seen. Crossings were separated into two one-way passages, each passage managed by at least two volunteers at each opening, and additional volunteers—clearly all were well trained by the way—spotting the bikes flying from around the corner.
This of course is a valuable and necessary trend. A poorly run triathlon is a dangerous triathlon.
But the other side of the skyrocketing consumer value of large-scale triathlons these days is the VIP treatment. In Oceanside, the racers were treated to top-notch race announcers, an event thought out with the athlete in mind by a race director like Roch Frey who has a long history as a triathlete and a coach, and a post-race experience that is an event in itself—the tent for the "Athlete's Lounge" looked like it could have covered a football field. From Mirinda Carfrae and Michael Raelert to those pushing the cut-off envelop, everyone was treated like a star. If an announcer didn't give you a shout out in Oceanside this weekend, your race numbers must have been crumpled.
Unless you're more the adventure racer type of triathlete where you'd rather live off the land than have hundreds of volunteers bust their butts all day to make sure you're taken care of, this is fantastic stuff. But as usual in triathlon, there's one community that's routinely left out of the fun: the bedraggled, exhausted, hungry, sunburned Sherpa-like spectator who get up at 4am just like the athlete and proceeds to tend to all manner of duties including videography, photography, amateur sports psychology, extreme course navigation in concert with multiple time-dependent tasks including child care, cheering, dog management, and perhaps the most challenging responsibility for the partner-spouse-photographer-therapist Sherpa—that of ardently listening to "The Story."
Watching age-groupers roll into transition I spent time watching the ever-loyal and ever-loving triathlon spouses, boyfriends and girlfriends, many pushing strollers and with cameras roped around their necks, get the first race of the new season under their belts. Oceanside is not in the middle of a state park—it's shoehorned in to a tremendously busy military town that's intertwined with Camp Pendleton, Highway 101 and Interstate 5. Trying to watch the race is a pain, let alone moving around the bit of course you actually have access to. On a bridge where cyclists and runners were zipping past in both directions many Sherpas posted themselves along the sidewalks, sidewalks that were being overrun with foot traffic from fellow Sherpas resolutely on the move. While the race started when it was freezing in the morning dark, by 11 the San Diego sun was blasting away. Being in the triathlon Sherpa traffic jam was just not fun at all. I couldn't help but wonder how many of the folks out straining to catch a glimpse of their triathlete were thinking about how this is just the start of the 2010 triathlon season.
It's certainly not the job of the race directors to figure out how entertain the spectators stuck trying to watch a race that takes four, five, six and more hours to pay attention to, but you have to wonder how many triathlon careers are cut short because, unless you're in the race, it can't possibly yield much enjoyment for those who start their day stressing out over where they're going to park, and then things just tumble wildly from there.
This is in fact part of the mission statement of the new Rev3 triathlon series, where their initial offering of races has been staked out next to amusement parks. It's a pretty good idea. It's a lot easier to sucker a spouse and kid or kids to a triathlon if there's a built in prid quo pro involved. Lately much banter has surfaced on how the next decade might follow the NBA (1991-2000) and then golf (2001 to the present) by becoming the decade of endurance sports, where more and more people participate rather than just being stuck in front of the TV. Possibly. But the only way that will happen for real and happen for good is if we keep the emphasis on the participation part of the equation, where no one gets stranded in the stands.