Triathlon in China: Growing Pains and Big Potential
It's been four years since Ironman announced a new focus on China, claiming the country's exploding, flush middle-class was the world's next greatest endurance sports market. Turns out, getting a country hooked on tri is a lot more complicated—and fascinating—than just finding the money.
Heading out the door? Read this article on the new Outside+ app available now on iOS devices for members! Download the app.
Two hours outside of Shanghai, in Chongming, near the site of the inaugural 70.3 Shanghai, there's a two-lane bike path next to a near-empty road. It's brand-new, in pristine condition—built in anticipation of the coming athletic boom in China. At the edge of a creek, the path ends abruptly. The empty path continues on the other side, as if runners are supposed to simply hurdle the five-foot-wide ditch without thinking. Another half-mile down the road, it happens again, and then again and again—like someone has chopped out sections of the trail. Or, like whoever built this expensive running path had never really been for a run.
Just because you build it, doesn't mean they will come. Especially if you build it wrong. And just because there's an increase in disposable incomes and a new interest in individual endurance pursuits, doesn't mean people will flock to triathlon.
In much the same way as when the sport was new in the U.S. and entire infrastructures had to be created out of nothing, China now finds itself trying to build an infrastructure for all these potential new triathletes. Plus, there's a cultural shift taking place in the country, as an entire generation starts to embrace middle-class leisure time and the concept of fitness-for-fun.
"People haven't had the time or the means to think about it as a lifestyle," says Jeff Edwards, who heads up the World Triathlon Corporation's (WTC) efforts in China. But more Chinese have the time and means now. And that's something WTC, which owns Ironman, has been hoping to capitalize on ever since it was bought by the Chinese conglomerate Wanda Group in 2015.
In the beginning
Historically, amateur athletes—the kind who fill U.S. parks on weekends—weren't a common thing in China. "Athletes were not fully respected in society," says Susie Bian, a former Chinese swimmer who founded the Shanghai Elite Triathlon Club, "but now it's changing." There wasn't a huge middle-class with disposable income to spend on things like triathlon, and there was a cultural perception about wasting time on sports. The idea of triathlon was difficult to understand too—the words used to describe it made it seem tough to Chinese people, "like a thing to avoid," Bian explains.
But throughout the 1990s and 2000s, China's move toward more open markets, both economically and socially, has driven middle-class growth and an interest in more individualistic pursuits. Sports, of all kinds, are a natural outlet for free time and money. And while the sports system in China has historically been a state-backed system, that's starting to change too. Pros like Hong Kong-based triathlete Leanne Szeto are nabbing their own sponsorships, and kids are getting their own coaches outside the state structure.
But even as newly self-minted athletes have started to create a Chinese market, one that Ironman and running races quickly identified as a possible goldmine, there hasn't been infrastructure to support it—coaches, training groups, or perhaps, even more importantly, an understanding of the lifestyle that comes with triathlon. "We're so accustomed to it, we don't even think about it," Edwards says of Western athletes. Things like what to eat during races, or even what kinds of facilities athletes need access to, are relatively new concepts for most would-be triathletes in China. Even the notion that coaches, trainers, and bike mechanics need to make a living too is novel, Bian says. Chinese athletes, she explains, don't feel like they should have to pay someone, whom they consider a friend, to come up with a training plan for a hobby. "You don't talk about money," she says. "They'd rather buy gifts or bring you expensive presents [than pay a fee]." But this too, she thinks, is starting to change with younger generations.
Triathlon in China didn't start with Ironman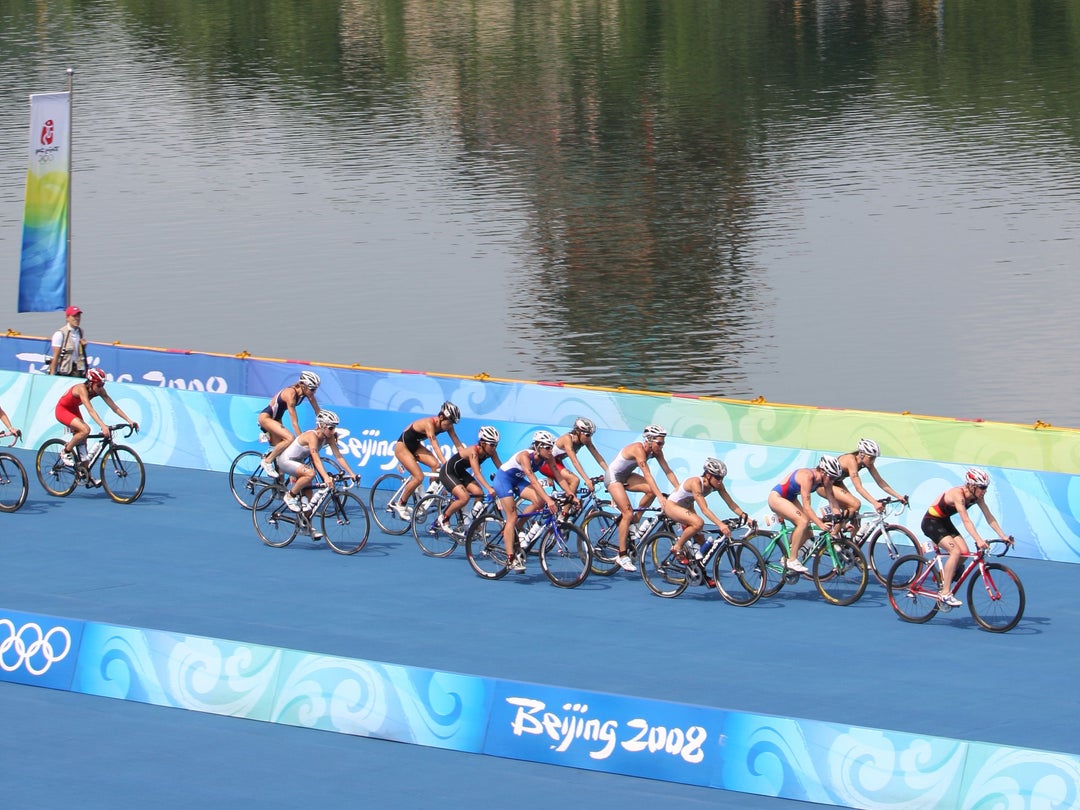 "Really it started all the way back at the Olympics in 2008," Martin Lorenzo says. A European who moved to China from the Philippines three years ago for work, Lorenzo set about trying to find local triathletes. Now he's part of two triathlon clubs and one cycling group in Beijing (with many overlapping members).
Going into the Beijing Games, there was a large push throughout the country to get youth into sports. As is often the case when a country hosts the Olympics, there was an effort in the years leading up to build an elite development pipeline and increase the odds of winning medals. There was also a desire to capitalize on the peaked interest in Olympic sports and on the new infrastructure being created as part of the Olympic Games build-up.
The Beijing International Triathlon, now owned by IMG, has taken place every year since 2012, with big names like Britain's Brownlee brothers and Australia's Ashleigh Gentle. After a few hundred amateurs participated in the first few years' editions, last year's race had around 1,000 people across the Olympic and sprint events. It's become one of the big prestigious races for Chinese and China-based triathletes.
The biggest beneficiary from the country's new interest in endurance sports has been running. It's easier to lace up a pair of shoes, and China's running boom is well-documented. Estimates range wildly, though, with Sanfo, a Chinese sporting goods store, putting the number of runners around 20 million, while Gudong, a Strava-like sports app, guessing it's more like 200 million, up from almost nothing a few years ago. According to the Chinese Athletic Association, there were over 1,000 running races last year, compared to just a few dozen races as recently as seven years ago.
There are so many running races, and the sport has grown so quickly, that it's experiencing inevitable growing pains. Not everyone who jumps into a race knows about running or cares. In a well-publicized incident, for example, 258 runners were penalized at the Shenzhen Half Marathon for cheating. Video showed dozens of people blatantly turning off course and taking a shortcut through the trees.
Triathlon's growth now comes on the back of that running boom—much like triathlon's inception in the U.S. that followed its own running craze in the '70s. "Compared to marathons, it's not as big, but it's growing," Bian says. Edwards agrees: "We're poised to see a big jump."
Growing pains
To report this story, I had to download an app. Email and phone and Skype and WhatsApp and Facebook and everything else weren't enough. It wasn't enough, even, to have actually raced in China. To really understand the Chinese triathlon community, I had to get on WeChat.
"It took a while to figure out," Lorenzo says. Along with being an avid Beijing-based triathlete, he's also in the 165-person Tri-Happy WeChat group, which I found myself added to.
These clubs and groups are just like triathlon clubs and groups anywhere. They swap training tips, make plans for upcoming races, and share inside jokes. They do local sprint events and bigger international races. "Clubs are very numerous and influential," says Edwards, but they're also far more social than we think of most U.S. triathlon clubs—taking pictures during races and traveling together as a group.
He estimates the triathlon community is split about 60-40, in terms of local Chinese athletes versus foreigners who live in China. Both groups travel around Asia for races, especially full-distance races, though the foreign China-based athletes are more likely to travel farther and more frequently. They all also train together—often indoors.
"It's easy to train here, but what stops athletes is the pollution," Lorenzo explains. He and his training buddies get out of town to the mountains on weekends, but during the week it can be trickier because of work, pollution, traffic, and a lack of facilities.
"There are lots of challenges," says Brent Reynolds, who moved to China earlier this year after traveling back and forth from the U.S. for work for decades.
He tries to fit in training around Beijing's worst pollution days and city traffic. There are indoor spin classes in neighborhoods where lots of foreigners live, but he's not near there.
Reynolds has also learned to roll with the punches, what he calls the normal quirks and odd snafus of training in China. Sometimes that means buses to races taking eight hours instead of two, not knowing how long exactly the distance is or where to go, or showing up and being told all athletes have to wear a swim safety buoy during the race—a common requirement. Sometimes, though, it also means winning nearly $1,000 just for taking first in his age group at a local Olympic-distance race. "Adapt and keeping moving," he jokes. It could be the sport's motto.
In Shanghai, facilities can be a problem for Susie Bian too. There just aren't enough pools and training gyms yet. In 2016, the swimmer and her boyfriend founded the Shanghai Elite Triathlon Club (SETC) after realizing there was a lack of serious elite-amateur- level clubs in the area. Bian grew up swimming professionally in Shanghai, but quit sports for nearly 16 years after retiring. Once she discovered triathlon a few years ago, she wanted to train seriously as an amateur. She wanted organized coaching and training plans, but that just didn't really exist; neither did many youth programs or sponsorships for pro triathletes.
In China, "the experienced athletes are no different from athletes all over the world," says Edwards, "but the beginners are really beginner," with a wide range of training, prep, facilities, and equipment.
Bian also finds it can be difficult to get the high-end gear she needs, or to find the kinds of triathlon and bike shops triathletes prefer to frequent. "The market is not mature," she explains. Though Reynolds sees this as a plus, since he can pick up a nice Chinese-branded time trial bike for a fraction of what it would cost in Europe or the U.S. Ironman CEO Andrew Messick noted in his 2016 speech at the Triathlon Business International conference that there were challenges in creating the coaching and training infrastructure needed to allow Chinese athletes to pursue triathlon. Expanding Ironman University was necessary, for example, in order to drill a new generation of coaches in China on triathlon basics. There are now 30 IronmanU-certified coaches in the country, which Edwards says has made a huge difference. He's also seen the level of sophisticated training and competitiveness increase dramatically in the last few years.
Of course, as Ironman has expanded in the country, there have been other stumbling blocks. The Hefei 70.3 race and the Chongqing 70.3 were abruptly cancelled in 2017, with race directors saying at the time, "The local authorities have decided to cancel or postpone a series of public events in the next few weeks." Hefei has since been discontinued and the fate of Chongqing is unknown. That kind of press discourages local athletes from planning on those races, Lorenzo says.
It can be hard to tell what's happening behind the scenes in opaque Chinese bureaucracy, which makes it difficult to differentiate between regular growing pains and problems specific to the country. But as Edwards notes, there are downsides and upsides to the bureaucratic approach. For example, athletes get incredibly secure and safe courses: At the Shanghai 70.3 race, the entire highway was fully closed, with police stationed at nearly every intersection.
A Glimpse into the Crystal Ball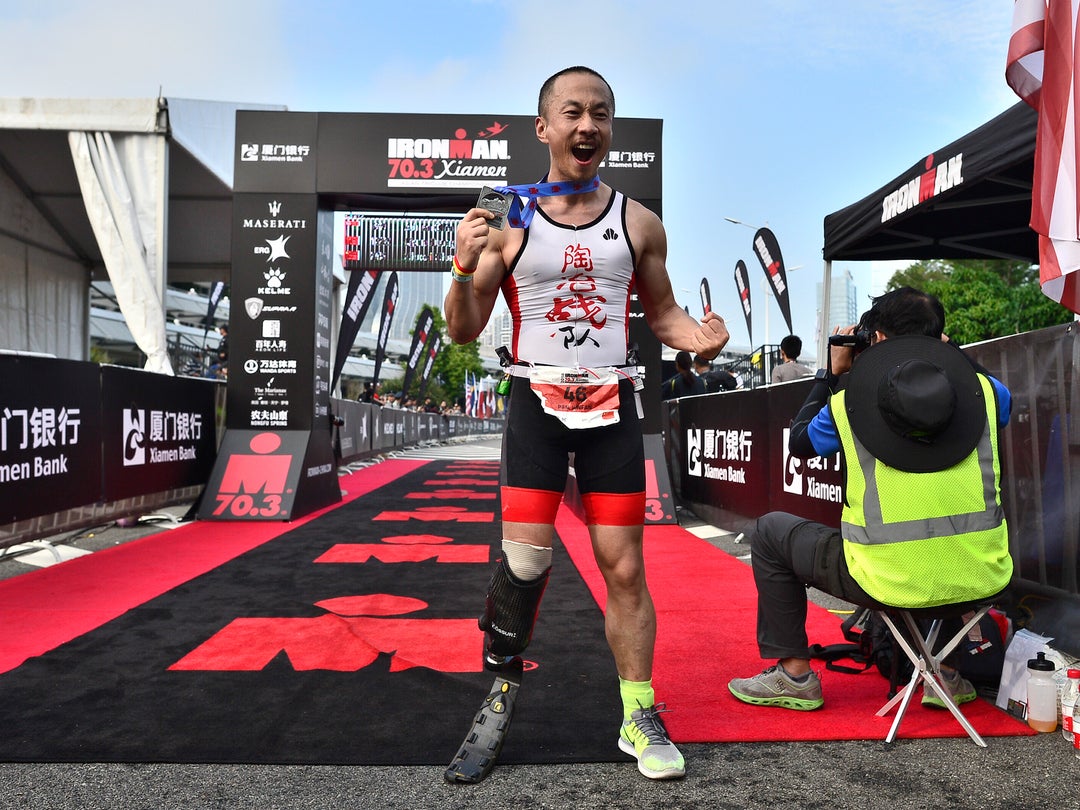 There are now about 300 people in Bian's SETC group in Shanghai. By all accounts, Shanghai and Beijing are the triathlon hubs of China, where there are a couple of main triathlon groups with 100-300 people, in addition to cycling, swimming, and mountain-biking groups. Outside of those cities, the triathlon clubs tend to be smaller, ranging from 15 to 40 people.
For Chinese and foreign athletes living in China, there are also two distinct kinds of triathlon races: the local Olympics and sprints, and the big international events like Beijing International Triathlon, Challenge Hong Kong, and the five Ironman 70.3s. Both types have been rising in popularity, though slowly.
"They're not growing as fast as ones in Europe," Lorenzo says. "It's not an explosive growth, races don't fill up."
Sanfo, the Chinese sporting goods store, puts on a series of races, including a series out of Shanghai with five events that all attract around 800 athletes or so. The Chinese Triathlon League (CTL) awards points and club bragging rights to participants—it's a big enough attraction that Bian skipped her local Ironman 70.3 outside Shanghai to earn points for her club instead. Two years ago, there were "maybe just 15 races organized by Chinese ITU. Now there are about 60," she says. And the races all tend to be very well-run, with total road closures and timetables that get adhered to.
The China Triathlon Sports Association, a governing body for tri in China, now has about 4,000 registered athletes and 230 registered clubs, Bian says. Hong Kong, which is governed by its own association, has nearly another 3,000 athletes. In 2015, there were just two Chinese athletes competing at the Ironman World Championships in Kona. In 2018, there were 33 athletes representing China (and the first Hong Kong racers).
There are two ways to look at these facts: Although there's been growth in the number of Chinese athletes competing in triathlon, it's still not very many participants for a country with almost 1.4 billion people.
"Per capita, there's still a long way to go," Edwards says.
As for how the business world sees triathlon's potential in China, a credit rating agency report is telling. Moody's reviewed the World Triathlon Corporation's credit worthiness after it bought Competitor Group and the Rock n' Roll races in 2017. Moody's noted WTC and Ironman's niche business, small margins, debt and capital swings from so many acquisitions, and markets risks. But Moody's also remarked on growth potential as participation numbers in running, cycling, and triathlon increase around the world—especially how well-positioned Ironman could be in China … maybe, possibly.
"Entry into the Chinese market represents an enormous opportunity for WTC to grow its franchise," the Moody's report reads. "However, penetration into China is in a nascent state." There are other market forces coming to bear on WTC too. Ironman's parent company, Wanda Group, increasingly finds itself at odds with the Chinese government over its financing of offshore acquisitions (i.e., its sports and entertainment holdings). In 2018, both Moody's and S&P downgraded their ratings of the commercial real estate arm of Wanda to below investment grade. And rumors persist that Wanda is looking to sell off its sports assets, including WTC and Ironman.
When in China
There are all sorts of odds and ends—the quirks and kinks, as Reynolds calls them— for a foreigner racing in China. Signs and buses that don't go where you think they're going. Complicated practice swim logistics. Confusion over the sorts of nutrition you might expect at an expo or post-race. When I tried to walk onto the dock before the Shanghai race, a soldier with a military-style rifle stopped me. He hadn't been given the same instructions in Chinese that I'd been given in English.
Triathlon in China will have to work those things out, as would be true with any sport getting off its feet. It will also have to work out the perception among some international triathletes that Chinese races are soft—where Europeans go to get their Kona spots. In an attempt to attract interest in the new China 70.3s, Ironman has handed out slots to Kona—some of the only ones still awarded at half-distance races. It's also a common practice for smaller cities in China to pay foreign athletes' expenses and travel to attract them to races, as a way to draw media and a sort of prestige.
But, on the ground, it's the Chinese athletes who get the biggest cheers, and it's the Chinese market drawing the most interest from outside companies and investors. Of the 1,200 athletes at the Shanghai race in Chongming, nearly 80 percent were from mainland China or Hong Kong. And there were some young female Chinese triathletes who got spots to Kona who never expected to, who now are definitely going to keep doing triathlon.
"The future is going to be emerging populations of local athletes," said Ironman's Messick back in 2016.
That future will happen eventually, with or without Ironman. Edwards believes the company is committed, long term, to growing races in China, but Ironman's on-the-ground realities could change.
Messick is probably right about emerging local athletes, it's just a question of how many and how soon. Hundreds of spectators came out to watch us train and race in Shanghai—they were smoking cigarettes and taking cell phone videos while trying to figure out what exactly was going on. Eventually, they won't have to figure it out, because there will be more triathletes and more triathlons, and the attitude overall will change. Anyway, that's Bian's desire: "I hope to have a revolution in Chinese sports."
Things to Know About Racing in China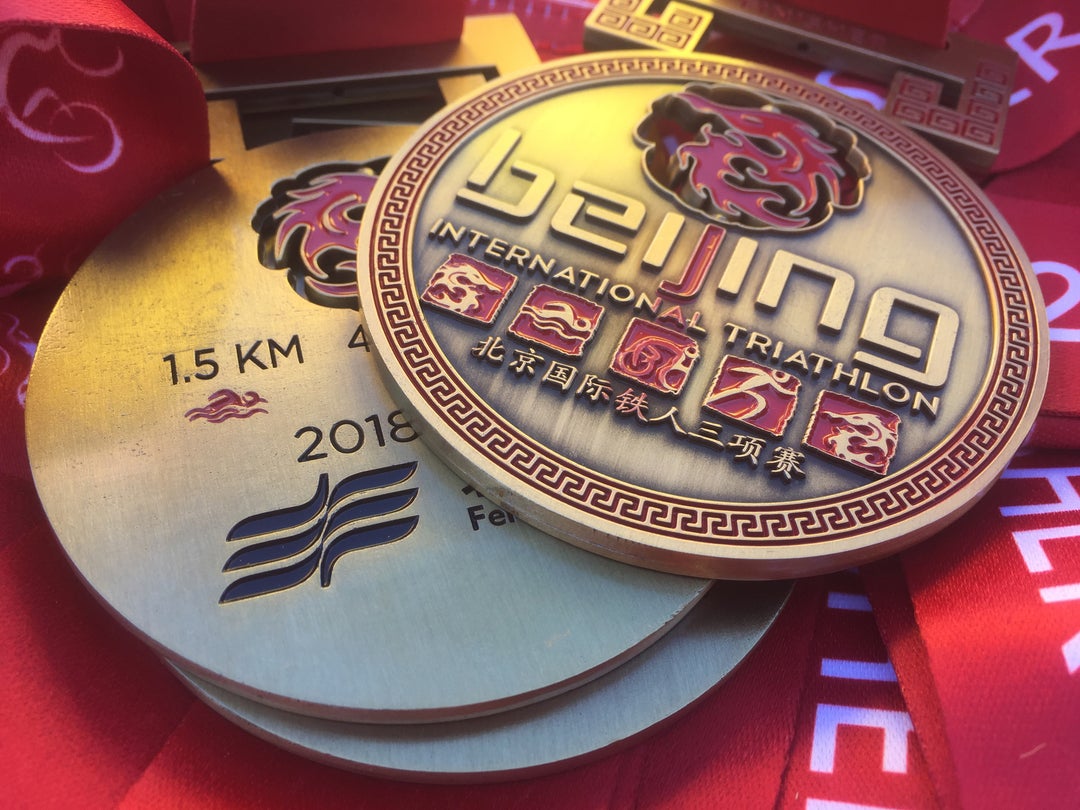 You need a Visa.

Nearly all North Americans have to get a visa in advance to enter China. You can either fill out the paperwork yourself and submit it at a Chinese consulate (if there's one near you), or use a visa application service that requires you to mail in your passport and paperwork in advance. You'll likely also need proof of your roundtrip airline ticket and race registration. Allow at least a few weeks to obtain a visa.

Don't count on English.

While millions of people in China speak English, and you can get by without knowing Chinese, especially in the big cities, that won't necessarily be true in some smaller race venues. Download a translation app on your phone or pick some phrases and bring a dictionary.

Don't count on Facebook.

The Chinese government is notorious for blocking much U.S.-based social media and even internet sites you might not think of, like Google and Gmail. If you need access, consider purchasing a VPN to use while there. You might be fine—I had no problem using cell data to get online while in Shanghai—but access can vary drastically regionally and at certain times.

Bring cash

Credit cards can be used in some places, especially Western hotels and race sites, but if you're out and about you'll need to rely on cash or one of the electronic phone-based payment methods like WeChat—even at McDonald's.

Bring the food and nutrition you'll want.

Of course you can get delicious food in China, but if you have specific things you want to eat on course or the night before, then plan ahead. Consider bringing packets of easy-to-make meals with you. Some people even bring small rice cookers for their hotel rooms when racing internationally.

Roll with the punches.

This is good advice for all races, but especially races in other countries or new races where the kinks are still being worked out. Give yourself extra time for registration, practice swims, and any additional rules that may come up!