Catching up with Chris "Macca" McCormack
Pick up Inside Triathlon magazine to read an exclusive excerpt from Macca's new book.
Heading out the door? Read this article on the new Outside+ app available now on iOS devices for members! Download the app.
The May/June issue of Inside Triathlon magazine, on newsstands today, features an exclusive excerpt from Chris "Macca" McCormack's forthcoming autobiography, "I'm Here to Win: A World Champion's Advice for Peak Performance."
In the excerpt, he discusses how he masterminded his 2010 Ironman World Championship victory—considered one of the most spectacular and unexpected victories at Kona to date—by executing a strategy that perhaps only Macca would attempt: wooing his fellow competitors to become his ally in their shared pursuit of 2008 and 2009 Ironman world champion Craig Alexander.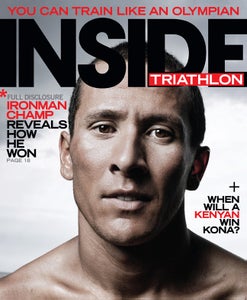 Inside Triathlon magazine editor-in-chief Courtney Baird spoke with Macca recently about his new book, which will be on sale in mid-May, and all things triathlon.
For more insight into the sport's top pros, subscribe to Inside Triathlon by clicking here. Follow Inside Triathlon on Facebook and Twitter.
Inside Triathlon: What made you decide that you wanted to write a book?
Chris McCormack: I guess the timing was right. … After winning again in Kona, it was the perfect opportunity, and we sat down and went through what we'd like to discuss. It was a good time to tell our side. In the past it was a lot of other people, and it was other people's perception of who you were. It was a good opportunity to say, "This is who I am. This is what we do. These are my words and not someone's else's." The timing was right, and we had the people there who were interested. It was kind of a perfect storm.
IT: You're very open and honest in your book. Are you concerned that some of your peers might not like what you've had to say?
Macca: No. I think that's what I've always done in my entire career. And I've always said what I mean. I've always been critical of other athletes or other people who have this behind-the-scenes personality and then this media personality because they're not real. In the past people have taken offense. But I've never regretted what I've said. I wanted to be as honest as possible in the book. I didn't want it to be fake. I wanted people to know who I am. I don't want to try to plan this marketable personality of who I am. I wanted to be as honest and open as I could. I've been that way my entire career.
I hope people don't take offense. There are a couple of people who might. But I don't really care. Everything happened. … I may annoy [2005 Ironman world champion] Faris [Faris Al-Sultan]. Faris might be a little annoyed.
IT: You talk a lot in your book about how not being picked for Australia's 2000 Olympic triathlon team was a huge disappointment for you. Can you talk about what the Olympics mean to you now that you're attempting to qualify for the 2012 Games in London?
Macca: Well, the Olympics is the top of the tree in sport. I was always torn in triathlon because when I picked triathlon as a sport—I was always in love with the Olympics as a kid. But when I picked triathlon, it wasn't an Olympic sport and Hawaii was always the goal. I started doing triathlon, just accepting I wouldn't be in the Olympics, but then on that journey the Olympics came. I can do Hawaii and the Olympics. I was definitely wanting to do Hawaii as a kid, but my body was definitely suited to this Olympic style of racing. With the Olympic stuff, I realized, you know, after a while when I got left off the team, that you don't really control your own destiny to some degree. There were other things I wanted to do that I did when the opportunity presented itself. I felt like my life depended on me making that Olympics. My whole being—if I didn't make the Olympics I was a failure. It's much different this time around. It's an opportunity. If I can get on, I can. If I can't, I can't. If I don't make the team I'm no worse off than I am now. I'm in a unique position because I've qualified for Kona for the next five years. If I get on the team, bonus. I thought five months ago I would never achieve this in my career.
I felt like earlier in my career, I was really angry and felt hurt, so I made a decision [not to go to the 2004 Athens Olympics]. I ultimately should have gone to Athens. Speaking to the guys from Athens, I walked away from an amazing opportunity to medal or even win. Why not have a crack at London and become an Olympian? Because I feel like I was good enough to become an Olympian. It would be nice to take my kids. And I say this is with the utmost respect to the guys who race it. After the Sydney race [the ITU World Championship Series event in Sydney on April 11], I went out with [reigning ITU world champion] Javier [Gomez] and said, "Hey guys, I'm not disrespecting the ITU in any shape or form. I know how good you guys are and what you are doing." If I can get on the team, I can. If I can't, I can't. I don't need to be top guy. I just need to meet the Australian selection criteria.
IT: What exactly is the Australian selection criteria?
Macca: The only thing that's set in stone, the only way you can guarantee your spot, is by winning the [ITU World Championship Series] race in London this year and finishing top three [overall] in the series. That's the only way you can secure an [automatic] spot on next year's Australian [Olympic] team. There's only one person who can do that who is Australian and that is [reigning Olympic gold medalist] Emma Snowsill. It's a huge task considering England's and many other countries' selection criteria is London, as well. Otherwise, the three spots are totally at the discretion of the [Triathlon Australia] selectors. They want to pick three athletes who can win the gold medal. If they decide after London that they don't have three athletes who can win, then they may look at a team option. They might have one or two guys they think can win and put someone else in the field [to help as a domestique]. You know what? I'm prepared to roll that dice against three guys not making it. They'll also be looking at performances at major ITU events. Brendan Sexton has actually stepped up. He's the marquee Australian this year, because nothing else matters. Brad Kahlefeldt and Courtney Atkinson aren't necessarily on the team. I saw the opportunity as a good one. In 1999 I was a sure thing for the Sydney Olympics, and I never went. That's the same for these other guys. I'm as good a chance as any. But if I don't go, no hard feelings.
IT: What's your race schedule going to be like this year in terms of ITU races?
Macca: I was hoping to do Sydney but with all the excitement I strained a calf muscle. I will do Japan if the ITU is going ahead with it. [Editor's note: the ITU announced today that it will postpone its scheduled World Championship Series Event in Yokohama, Japan.] Japan will be my first round of my series. I'll do the Edmonton World Cup. I'll do Kitzbühel, London, Hamburg, Tiszaújváros, the world sprint championships [in Lausanne, Switzerland] and then a few of the world cups at the end of the year. I'm going to dive headfirst. Japan will be the first round, which will be a real wakeup call.
IT: How difficult is the qualification process going to be for you given that you don't have any ITU points yet?
Macca: Very very difficult. The IOC says that I've got to be ranked at least 120th in the world—that's to be eligible to qualify [under Triathlon Australia's rules]. If I make the IOC selection criteria, which is top 120, then the [Australian triathlon federation] sees me as eligible. That's going to require a couple of solid performances. … I need to climb that ladder against the other Australians. The big names are [Brendan] Sexton, [Courtney] Atkinson and [Brad] Kahlefeldt, and [Australia] gets four spots [at every race]. But you've also got Dan Wilson, Jimmy Seear—they've got more points than me. … That's the difficult thing when you've had guys accumulating points and I haven't had anything. I have to make sure I can secure enough points to pass the other guys who aren't racing these early season races.
IT: Does Australia have the ability to select you for certain races even if you may have fewer points than someone else?
Macca: They have that discretion—they have that discretionary spot. I could technically take that discretionary spot all year. But there's going to be a point [when they say,] "We can't just give it to you because you're the Ironman world champion." I've been quite open that I don't want to rob some other kid of their dream if I can't be a player. I don't want to be that guy. I think I can do it, but don't do me any favors because I want the best guys to go. I've got nothing to hide. [They asked me to] come to the Australian camp and I'm moving to the Australian camp in June in Europe and working with them. I don't want any favors, and they said, "You're not getting any favors." I was happy about that. What they said is they're prepared to back me on what I've done. We're prepared to give you these spots early, but we're not going to give it to you all year if you come in 58th, 59th, 60th. You have to show us more than that.
IT: Are you nervous at all now that you'll be running against all these young, fast kids?
Macca: I'm actually excited about it. It's quite interesting to be going into a race with a different mindset. Most of the time, I think, "I want to kill these guys. I want to win." But now I just need to beat as many guys as I possibly can. I don't think in these early stages I can be competitive with Javier [Gomez] and [2009 ITU world champion] Alistair [Brownlee]. It's one thing to watch it, and it's another to feel the pace and intensity. People tell me I've got to run sub-30 minutes. I can tell you right now I can't do that. But I've got to try and give myself the best chance to be as close to the top guys as possible, whether that's through working partnerships in the field, or sorting out solutions for multiple guys to work together for the same common objective [through tactics on the bike, etc.]. I enjoy the process, and I'm going to enjoy diving in and racing Alistair Brownlee. I raced Mark Allen at the beginning of my career and now I've gone all the way up to Alistair Brownlee. I'm looking forward to that, but I am a little nervous. [Former Olympian and current long-course athlete] Olivier Marceau said the other day, "I think you're crazy." "Thanks for the vote of confidence," I said [laughing]. But I'm going to go back and have a go. I'm nervous and excited.
The [guys in the ITU] are just good all around. Their swim is superior. I've got a lot of work to do to be competitive—to stay as close to the front as possible. I've got a lot of swim work to do. I think the run is the last thing I'll be able to develop. I can't rush it. I have to accept I'm going to lose. The quicker I try to develop the run speed the more injury prone I'll be. And the Australian federation agrees with that. I have to bring that run back slowly. I think the swim and bike I can get. I can be as competitive if not more so than the other guys. The run is going to be interesting. Sub-30 is quick.
To subscribe to Inside Triathlon click here.
For Facebook click here.
For Twitter click here.
[sig:CourtneyBaird]