The Grand Reinvention of Sam Long
2022 Sam Long would barely recognize 2023 Sam Long - and that's by design. The American speaks candidly about the decision to self-coach, overhauling his training plan and bike fit, and balancing world championship races with a baby on the way.
Photo: Julio Aguilar/Getty Images
Heading out the door? Read this article on the new Outside+ app available now on iOS devices for members! Download the app.
Sam Long knows that proactively making changes is a catalyst to whatever comes next. After a few lackluster performances last year, the frustrating time penalty he received at the Ironman 70.3 World Championships in October, and other lingering stresses, Long decided to make numerous changes to how he approached training and life as he headed into 2023.
But let's be real: it was bound to be a big year of change for the 27-year-old pro anyway, long before he began developing his own training plans and making numerous other tweaks and adjustments to improve his performance. In late January, he and partner Lara Gruden announced they are expecting their first child, a baby boy (nicknamed "Little Unit") due in early August.
With the arrival of their little bundle of joy less than two months away, Long won Ironman 70.3 Boulder on June 10, his third consecutive half-distance win since early May. He's taking this as a sign that his major changes are paying off, though he admits the swim was "absolute carnage" and acknowledges he still has to improve that discipline to the level of his bike and run prowess. Next up is Ironman Coeur d'Alene on June 25, his first 140.6-mile race effort since his disappointing 10th-place finish at Ironman Arizona last November.
"I feel my challenges last year were actually about pushing too hard and not listening to my body enough," says Long, who moved to Tucson, Arizona, with Gruden in early 2022. "And honestly, I was just overworking last year, not just in terms of training, but in terms of everything I was doing, and I also just wasn't doing a great job managing stress within my own life. So I knew I needed to make changes if I wanted to improve."
On the decision to self-coach
After several years being coached by Ryan Bolton for five years, followed by a short stint with Dan Plews, Long decided to take the reins of his own training and forge a new self-coached path in 2023. He admits he's been fascinated with the art and science of coaching since he started in the sport – he double-majored in integrated physiology and psychology at the University of Colorado, and also minored in business. This fascination has grown exponentially as his career has progressed and as he's helped his own age-group coaching clients realize success.
"It's just been really cool to apply what I've learned and I've seen success with everyone I've worked with and then say, I'm different, but I'm also just the same and I can apply the principles I've I've developed on my own and learned from all my great coaches as well," he says. "It's cool to have the responsibility and know that I'm in charge of my training. If a race goes good or bad, it falls on my shoulders now. When things go well, I know how I can build on that, but when things go wrong, it's a process of how do I troubleshoot? What do I fix? And that's one area where the communication has actually been a lot less, because it's me that's managing it all."
But as he took on coaching himself, he also got help from Gruden taking over the management of a lot of his sponsor and media obligations, as well as the process of daily life like going to the grocery store. They still share cooking duties, but Gruden has paused her own triathlon training so she's been able to take over more of his day-to-day operations that allow him to focus on training without overextending himself.  Once the baby arrives, of course, things will change again.
"I have passed a lot of that along to her and that's really helped a lot," Long says. "I was doing all that on my own, and it was probably another 10 to 15 hours a week of work. I think that was just kind of putting me overboard. She's been great at taking care of a lot of things that were on my plate and that's helped me recover better and just balance and manage it all."
I was just overworking last year, not just in terms of training, but in terms of everything I was doing, and I also just wasn't doing a great job managing stress within my own life. So I knew I needed to make changes if I wanted to improve.
Retooling the training plan
At some point last year, Long had an inkling that he was training too hard, too often and wasn't recovering enough to absorb all of the training. So when he took on his own coaching, he restructured the middle part of his week, essentially changing his Wednesday from a hard day to a moderate day of aerobic training and transferred the intensity to other days of the week.
Typically on Wednesdays, his key workout was a 15-mile tempo run at 5:45 mile pace that he followed with a hard lifting session, then an easy bike ride and an easy swim. In his new approach, he starts his training day on the bike with a moderate-effort fasted ride of 90 to 120 minutes (in Boulder for the past month that's been a ride with the Wednesday Morning Velo group ride) followed immediately by a moderate 14- to 15-mile run at about 6:45 miles pace and then a technique-focused swim session later in the day.
The swim volume is usually right around 5,000 meters (including warm-up and cool-down) and often means swimming 10 x 400 focused on reinforcing optimal technique while working with a pull buoy and paddles. He no longer lifts on Wednesdays, although he often caps his day by doing core strength work and some stretching.
"So the idea is basically the heart rate is low the entire day, even though it's still quite a bit of volume," Long says. "Before the volume was still high, but it was also hard, and the swim would suffer after I did that 14-mile tempo run, and now I actually get a pretty good swim. I find without the intensity I'm not beat up so much."
"I got rid of one of my hard days by stacking the intensity on other days and am making sure my Wednesday is more of an aerobic training day," he says. "So overall I train a little bit less, but the overall intensity structure is the same, and that seems to work well."
Combined with moderate training days on Thursday and Friday, it's allowed him a chance to get a physical reset and a bit of recovery at the end of the week after high-intensity days on Saturday, Sunday and Tuesday. (He converted the high-intensity tempo run he used to do on Wednesday into a hard 10K tempo run on Tuesday after a 4- to 5-hour ride.
Overall, Long estimates he's been training 10 percent less in the first half of the year—probably 32 hours per week instead of 35—but he's found he has more energy in his day-to-day life, he's sleeping better and his mood is more upbeat and consistent.
"My coaches were great and they taught me a lot and I learned a lot from them and they served a huge purpose for me at that time," Long says. "But now I'm just at a phase where it's more learning to trust myself more and learning to listen to my body. The fine art of coaching lies in being able to make those adjustments and having confidence doing it. I find the hardest thing as an athlete is actually to say, 'I need less. I'm good enough. I'm ready for the race. I don't have to push.' But we're often looking at building that confidence by doing more, but at a certain point you fall off a cliff. We just tend to keep pushing and pushing and pushing, but now I'm finding that I'm better at drawing that line and calling the training good so I can actually rest and recover and adapt to it."
A better bike fit
Long spent the winter toying with a variety of changes on the bike. The first thing he tried was shortening his crank length, with the theory that it would open up his hip angle and help increase his cadence and put him in a deeper, more aerodynamic tuck. But ultimately, that change just didn't work for him, because his cadence didn't really change. He wound up having to put more torque on his legs and his quads blew up.
"I was working harder at a different position and because you have to compensate by raising the saddle, I found my center of gravity was off on the bike, so I couldn't corner and descend as well," Long says. "It was great to try it, but that's not for me. Trying it helped me understand what I needed to do and what could work."
One of his successful bike changes was adding 30 millimeters to his stack height. Long has struggled with back strain and fatigue at times during big training blocks and after races because, with a lanky, 6-foot-3 frame, he's been riding in a very deep aero tuck. Working with bike fitter Ivan O'Gorman, who flew out to Tucson to assist Long in finding a new position, Long settled on a new stack height and a new aero helmet—a Met Drone Wide Body—that allowed him to allowed him get more aerodynamic while increasing his power but taking the stress off his back.
First comes baby, then comes world championships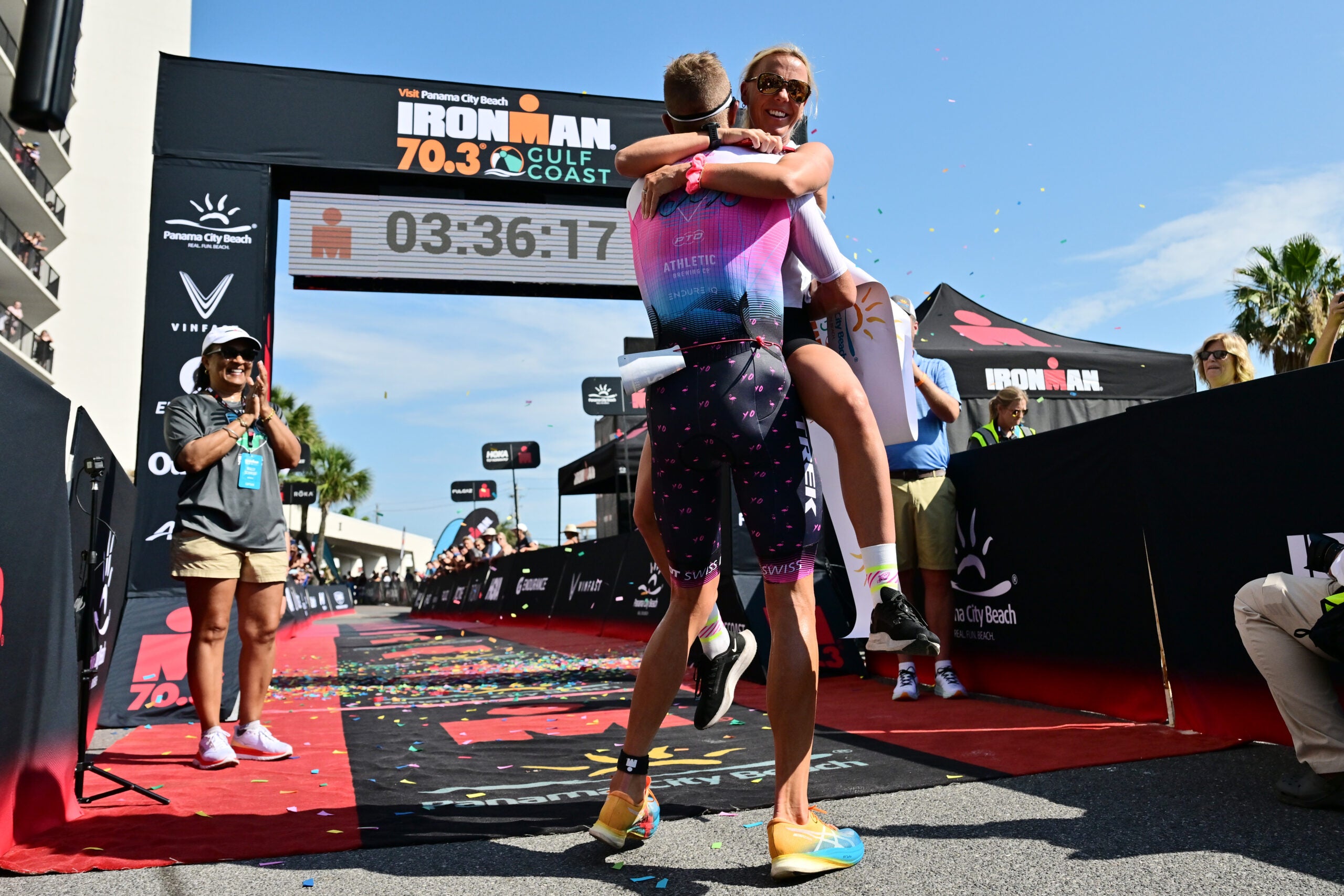 With the baby due on August 2, Long knows he'll have to put a priority in his role as a new dad while also helping Gruden as much as possible. He planned his season around several big training blocks and five middle-distance races between March and June as a lead-up to Ironman Coeur d'Alene. From there, he'll rest and recover before ramping up again for Ironman 70.3 World Championship on August 27 in Lahti, Finland, followed by the Ironman World Championship on September 10 in Nice, France.
While he's away racing in Europe, Gruden will get help from her mom, who plans to visit for three weeks right after the baby is born, and her grandmother, who plans to visit from Italy for about six months. Long's parents will also travel from Boulder to help out.
Once he gets back from Nice, he'll be all-in in his role as a new dad and helping Gruden manage daily life with their son. He'll still be training—likely working on a bigger swimming block than ever before—but he'll keep a lower public profile through the end of the year.
"I'd be lying if I said I wasn't nervous or a little scared about it," he says. "It's a little intimidating. I'm gonna be going to the biggest races of this year with the challenge of also being a new dad. But it's also really exciting, and I think it's just having really clear agreements with the team around me—with my girlfriend, my parents, her parents, and also with my sponsors. They know I'm gonna buckle down for these races, but then after that, September through December, I might be pretty quiet, but I think that's OK, too."
I have had to learn that I'm Sam Long and I'm always just myself. The happiness comes from myself and what I do day to day, not what is being said about me or if I had a good race or a bad race.
A level-headed Sam Long
With the baby on the way, Long knows he's in a year of transition. But he's been adjusting to various stresses and challenges since he turned pro. At the end of last year, he came to the realization that he needed to downplay or ignore some of the buzz of the social media world and just control what he can control.
"I've really just gotten more calm and level-headed with all of that," Long admits. "If it's a bad workout, you put it behind you. If it's a great workout, you put it behind you and you just keep looking forward. You ride that wave. You're gonna have a lot of highs and lows. I have had to learn that I'm Sam Long and I'm always just myself. The happiness comes from myself and what I do day to day, not what is being said about me or if I had a good race or a bad race."
As much as triathlon is a huge part of his life, he knows that the baby that he and Gruden are about to welcome into the world will change his perspective on life even more.
"I think I'm equal parts nervous and excited," he says. "The nervousness kind of comes from, 'How am I gonna manage all of this, life and performing at the highest level? And the excitement comes from knowing this is literally the reason we're on this planet. And I'm just so excited to see the little one come out and, and for the challenge of it and to grow as a human. Yeah, it's gonna be a wild road ahead."
See it for yourself: Outside+ Members can replay the action from Long's 2023 wins at St. George, Gulf Coast, and Boulder on demand with Outside Watch. Become a member today!