Recalled: That Time a Super Bowl MVP Became a Triathlete
Which is a better prize: The Lombardi Trophy or a Kona finisher medal? Only Hines Ward knows for sure.
Photo: Jerod Harris/WireImage
Heading out the door? Read this article on the new Outside+ app available now on iOS devices for members! Download the app.
We often talk about the Ironman World Championship as being the "Super Bowl of triathlon." The big race in Hawaii (and this year, also in France) has a lot of similarities to the big game: lots of hype, lots of lycra, and a competition featuring the best of the best.
But only one person on the planet has experienced both events firsthand: Super Bowl MVP Hines Ward, who famously took on the post-retirement goal of becoming an Ironman in 2013.
The former Pittsburgh Steelers wide receiver, who retired from the NFL after 13 years and two Super Bowl wins, was looking to take on a new challenge. He found it at the 2013 Superseal Triathlon in San Diego: a 500-meter swim, a 20K bike, and a 6K run. Ward set out to finish the race in under 1 hour and 30 minutes; he finished in a time of 1:27:47.
"It's a long way from the football field, I'll tell you that," he told Triathlete after stepping across the finish line. "[I have] a newfound respect for the triathletes out there."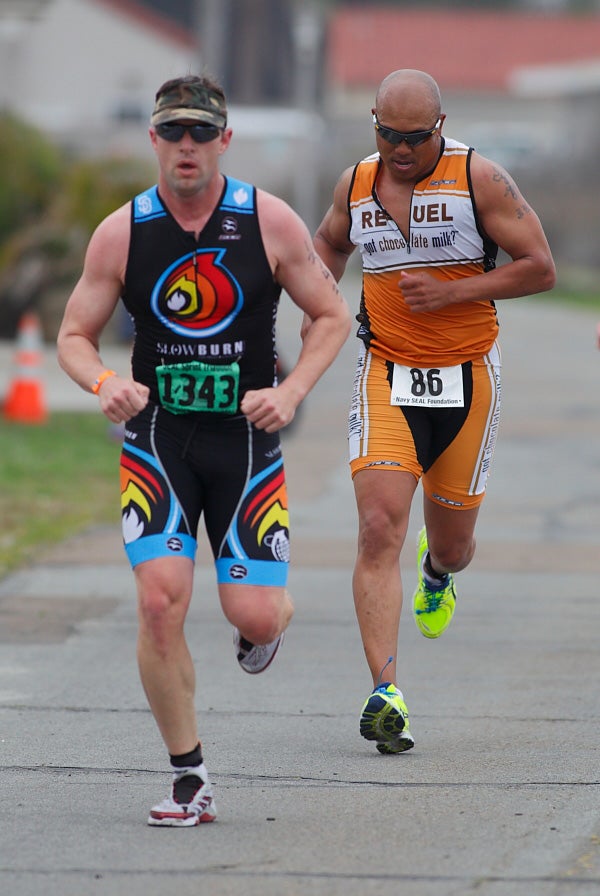 At that race, Ward was not an elite athlete, but a beginner, just like so many out on the course that day. And just like so many beginners, he made mistakes ("It was 500 meters, but I probably swam 600—I was all over the place…I was just following the crowd. Unfortunately, I was following the wrong guy."), fell in love with the triathlon community ("Everybody was encouraging, everybody wanted everybody to do their best.") and couldn't wait to do it all over again.
That's exactly what he did – over the course of the next year, Ward trained for an Ironman. But not just any Ironman: the Super Bowl of Ironman. Ward got his entry through a sponsorship from the "Got Chocolate Milk?" advertising campaign, which arranged for Ward to take a celebrity spot on the start line. But it would be up to him to train to get to the finish.
To achieve his goal, Ward took on the mentality of a professional triathlete, recruiting the best coaches and advisors. Over the next year, he trained with the likes of Paula Newby-Fraser (who served as his coach), Mirinda Carfrae, Tim O'Donnell, and Chris Lieto. He also trained alongside beginners just like him: Captain Eric McElvenny, Chrisann Dalton, and Joshua Kalb were age-groupers selected in the same chocolate milk campaign to train for their first Ironman at Kona, too.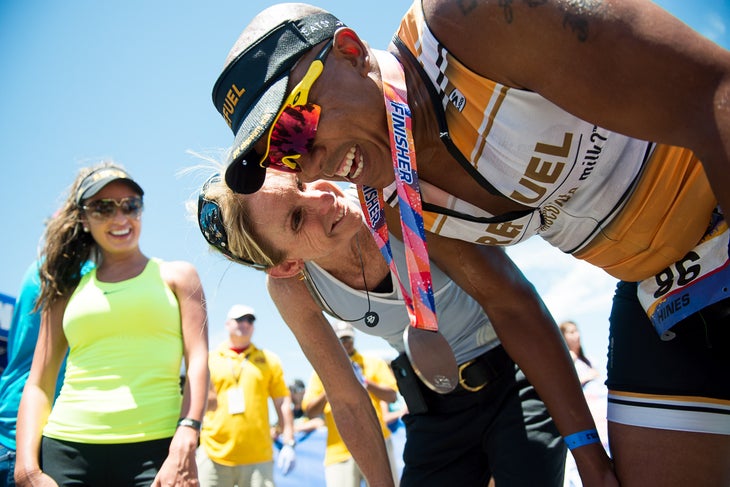 Ward's progress was tracked in a documentary series titled "Become One," produced by Triathlete photographer and videographer Steve Godwin. Episodes followed Ward as he got his first triathlon bike (a Trek Speed Concept) faced his fear of open-water swimming, and learned how to do a brick workout. Cameras were also there as he raced his first 70.3 in Kansas, and as he arrived in Kona for his first attempt at the full Ironman.
With more decades of experience being coached as a football player, it should come as no surprise that Ward was a model triathlete. He followed Newby-Fraser's plan diligently and managed to sidestep injury and burnout in an intense year of going from first triathlon to Kona.
"I said, 'We need to just get you there healthy. If you just get there healthy and have some consistency from there to here, get the whole year under your belt, we can make this happen," Newby-Fraser said in a pre-Kona interview with Bob Babbitt. "Usually the odds are they're not going to make it [to the start line]. There's an injury, there's something, so I am just so proud that [Ward] is here."
And finally, game day – er, race day, arrived. Ward tackled the 2.4 mile swim, 112 mile bike, and 26.2 mile run in a total time of 13 hours, 8 minutes and 15 seconds.
The successful race was Ward's first and only full Ironman. "A full Ironman is pretty grueling. Maybe a sprint or an Olympic or a half (Ironman), but I don't know that I would do another full just in the sense that once you've done Kona, it's hard to do another full anywhere else," Ward told NFL News after the race. "That's like the world championships, the Super Bowl of triathlons. For me, maybe an Olympic is short enough, but maybe a half-Ironman. We'll see."
But Ward, now head coach for the XFL team San Antonio Brahmas, carries forward an everlasting respect for what it takes to cover 140.6 miles. "I think so many people out there don't know what it takes to do a triathlon," Ward told NFL News. "It's a grueling sport and it definitely earned my respect going into it. I was kind of dumbfounded by really not knowing how long a 2.4 mile swim and how long a 112-mile bike ride would take. I kind of knew about a marathon, but to do it all in one day is grueling. Now, having done it and finished the Ironman in Kona, I just get a newfound respect for all of the triathletes out there because I know what they're going through."
Hines isn't the only NFL player who has taken up triathlon after retirement: a 6'6″ and 300 pounds, former offensive lineman Darryl Haley is considered the largest person to finish Kona, and former defensive tackle Don Davey has completed multiple Ironman races. In 2022, former offensive lineman Alex Boone joined the club, finishing Ironman Wisconsin in 15:51:36.
RELATED: One-Hour Workout: Super Bowl Spin