Last Weekend Now: Oceanside Edition
As it almost always does, Oceanside lived up to the hype as the biggest race of the spring.
Photo: Donald Miralle/Ironman
Heading out the door? Read this article on the new Outside+ app available now on iOS devices for members! Download the app.
Last Weekend Now is your weekly commentary on what's happening in pro triathlon, brought to you by Brad Culp. (Ed note: So yell at him if you don't like the comments.)
As it almost always does, Oceanside lived up to the hype as the biggest race of the spring. It's where the very best in the sport have been coming for more than 20 years to gauge how good or bad their off-season went, and even the last-minute withdraw of Jan Frodeno due to illness didn't dampen the day too much. Here's what went down at the star-studded race in Southern California.
Missed the action in Oceanside? Outside Watch has made the replay of the race broadcast free for all. See the race from start to finish by hitting the button below:
Jewett Runs Down Sodaro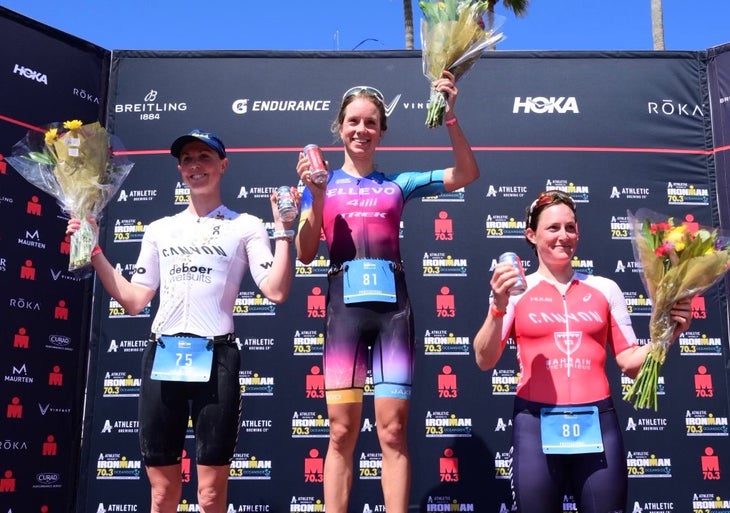 The off-season went very well for Canada's Tamara Jewett, who appears to have put in the work in the pool and that's terrible news for the women trying to beat her at these middle-distance races. She was third out of Oceanside Harbor on Saturday, entering T1 alongside Chelsea Sodaro and Kat Matthews. That's unfamiliar territory for Jewett, who, like Sodaro, began her career as a professional runner on the track.
Sodaro finally got a taste of what it's like to be the one being hunted, after she took the early lead on the run but surrendered it by the halfway point. Jewett went on to win by 82 seconds, even after giving up 30 seconds on the bike with a blocking penalty. (Thirty seconds is a reasonable amount of time for a penalty, in my opinion. The three-minute stuff, even in Ironman, is too much. No one should ever be standing still for three minutes in a race.)
RELATED: Commentary: When the Penalty Doesn't Fit the Crime
Jewett's 1:12:59 half marathon is the fastest we've seen in some time. I'm having a hard time finding one faster. It's better than anything Anne Haug has run, and it was 1:20 faster than Sodaro, who had a really solid 1:15:20 run herself into second at her first race since Kona.
In case you missed it, Sodaro was featured in the New York Times over the weekend, discussing her mental health struggles before and after her daughter was born, as well as after winning Kona last year. She's also recently been outspoken about stricter gun laws and school shootings in the U.S., as she discussed in her post-race interview on Saturday. She even donated her prize earnings from Oceanside ($5,000) to Moms Demand Action, an organization fighting for common-sense gun laws in response to the never-ending string of assault on American schools. You can watch her post-race interview here.
We just registered our daughter for her first year of school, and she'll do her first school shooter drill before her fourth birthday. My wife works in three or four different schools every single day and helps oversee three or four different school shooter drills every year. And they have to do that, because it could happen at any American school on any day. That sucks, and it's a uniquely American problem.
I don't have much of a platform, and thankfully no one takes me too seriously, but Sodaro is willing to use her new platform as the fittest mom in America to discuss real issues and hopefully enact real change. We're lucky to have a champion like her. It's a lot easier to stay quiet and focused solely on your craft, and it's a lot easier for most of us to feel helpless against such a large problem. But Sodaro and Moms Demand Action believe in doing something more than nothing. You can learn more about Moms Demand Action here, or follow them on Twitter and Instagram.
And now onto the third-place finisher, who may have been the most inspiring story of the day. Kat Matthews was having a nearly flawless 2022 and among the favorites for Kona before a driver struck her with a car while on a training ride in Texas, days before leaving for Hawaii. Matthews broke her skull and spine, and it was the kind of crash that left her training partners, like two-time Kona champ Patrick Lange, wondering if she was going to make it. PTO made a great documentary on what Matthews has been going through over the past six months, and we interviewed her just before the race about her comeback.
It's not the kind of crash you come back from in six months, but Matthews has done just that, and is nearly back to the form that saw finish second at the St. George version of the Ironman World Championship last year. She even turned in the fastest bike split of the day at Oceanside, in a field that included Paula Findlay (who finished fifth). It's a remarkably quick comeback for a woman who spent much of last fall wondering if she'd compete again. Even with seven months away from racing, Matthews remains inside the PTO top 20 (currently #14) and will have an invite to the three big-dollar PTO Open events this summer.
Bergere Holds Off Hard-Charging West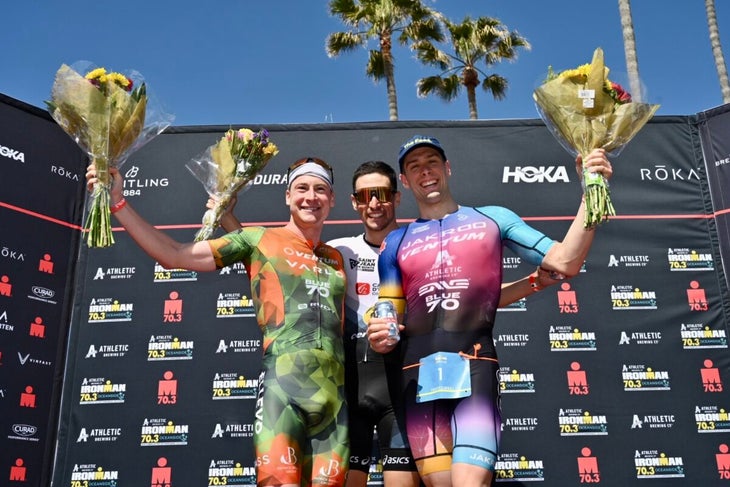 Someone we definitely will not see at the big PTO events is reigning World Triathlon champion Leo Bergere, who was likely competing in his one and only longer-course race of the season. As he did last year in winning 70.3 Lanzarote, the Frenchman made it count and is showing that it's not just the Norwegians who can be good at two things at once.
Bergere isn't getting too carried away, however. His focus now will shift to securing his Olympic spot at the Paris Test Event this summer, as well as defending his world title. This race came at the perfect time—during one of the ridiculously long pauses in the WTS season—and it's a sign of good things to come for Bergere after he contends for two medals in Paris next summer.
Bergere was out of the water 30 seconds ahead of Ben Kanute, which is not easy to do. He stayed at or near the front for the remainder of the day, displaying remarkable control in only his third race at this distance. Even a 1:07:40 half marathon from Jason West wasn't enough to catch Bergere, who ran nearly three minutes slower but made it to the line a 12-second gap and never looked like the win was in jeopardy.
For West, it's further affirmation that he is the best runner in the world at the middle-distance stuff right now. Only the Norwegians have run faster half marathons in recent years, and those came on a suspect course in Bahrain. Worst of all for the rest of the men hoping to win the big money PTO events or 70.3 worlds is that West is riding better at every race. Like Jewett, if he's off the bike within two minutes of the leaders, there's probably nothing they can do about it. He is currently #20 in the world and will only move up with this result, so he's a lock for the PTO races this summer where he'll be among the favorites—even with the Norwegians and Frodeno in the mix.
Defending Oceanside champ Jackson Laundry of Canada completed the podium, two minutes behind West. Laundry is currently #27 in the world and will get a little bump from this result, so expect to see him in Ibiza and Milwaukee. Only the top 20 automatically qualify for the Asian Open in Singapore, so he'll have some work to do to make all three events.
One notable result off the podium was American Matt McElroy in sixth. Like Bergere, McElroy snuck in a 70.3 to break up the break in the WTS season, and finishing between George Goodwin and Sam Long is a very solid result for his first 70.3.