Last Weekend Now: Face-Off in Kraichgau, Off-Road in Alabama, and Stellar 70.3s in Chattanooga and Europe
Plus, Sebastian Kienle "loses it" during Challenge St. Polten.
Heading out the door? Read this article on the new Outside+ app available now on iOS devices for members! Download the app.
Last Weekend Now is your weekly commentary on what's happening in pro triathlon, brought to you by Brad Culp. (Ed note: So yell at him if you don't like the comments.)
Summer is nearly upon us, and the triathlon season is in full swing across the globe. Even if you haven't kicked off your 2023 triathlon season, you can still get your heart rate up by reading about athletes much more talented than you competing in places you probably wish you were right now. Here's what happened over the weekend in the world of professional triathlon.
RELATED: 7 Takeaways From a Massive Weekend of Racing
Philipp Bests Charles-Barclay at 70.3 Kraichgau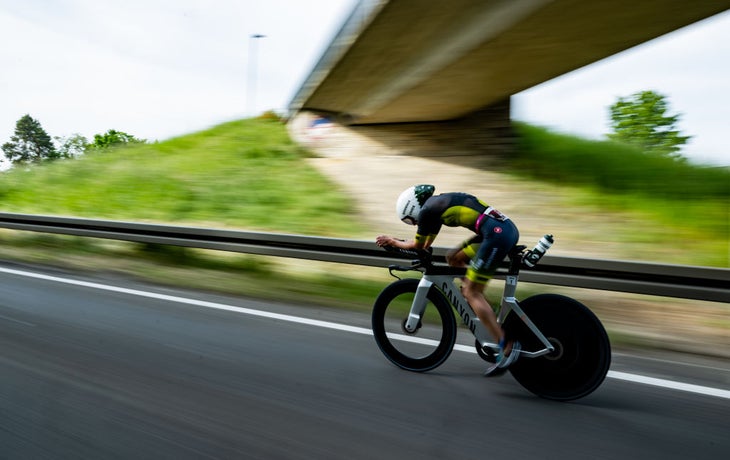 Let's start in central Germany, because that's where the two biggest names of the weekend squared off. After some messy visa issues looked like they would take her out of the race (thanks, Brexit!), Lucy Charles-Barclay made it to Germany, but a mechanical on the bike cost her the lead and she never got it back. Perhaps most impressive about Charles-Barclay's non-win is that she managed to log the fastest run of the day—even better than Laura Philipp, who finished 44 seconds ahead of LCB for the W in 4:15:27. Aussie Ellie Salthouse finished just nine seconds later in third.
Philipp is now two-for-two in 2023 after winning Ironman South Africa in March, and she may finally crack the top five of the PTO world rankings, having started the weekend in sixth. For Charles-Barclay, it's a bittersweet result. Only Anne Haug and Ashleigh Gentle were able to get the better of her on the run at the European Open in Ibiza. She is firing on all cylinders as she looks ahead to the two big 140.6-mile races of the year in Roth and Kona.
I'll be quick on the men, since the race lacked the same star power, but Rico Bogen is a very cool name that we need to start getting very familiar with. The 23-year-old has only been competing professionally for a couple of seasons and is already one of the best in the world on the bike. He's struggled on the run for his first few long-course races, but he kept it together enough in Kraichgau to hold off two-time Kona champ Patrick Lange and take the first win of his career. Switzerland's Andreas Salvisberg finished third.
Lagerstrom Close Second at Oak Mountain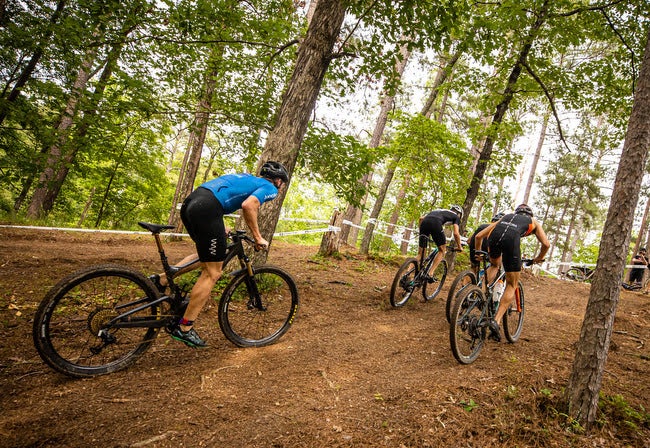 One of the jewels of the XTERRA Global Tour takes place in Pelham, Alabama, bringing out some of the top off-road racers and new faces. American Eric Lagerstrom is no stranger to off-road pursuits, and he showed he can race with the best in XTERRA—most of whom have serious pro mountain biking chops.
That includes Frenchman Arthur Serrieres, who had to chase down Lagerstrom on the 33K bike and then hold him off the 10K run to take a narrow win. Lagerstrom finished just 38 seconds behind the three-time world champion for second. Jens Emil Sloth Nielsen of Denmark finished third and should really drop his second middle name.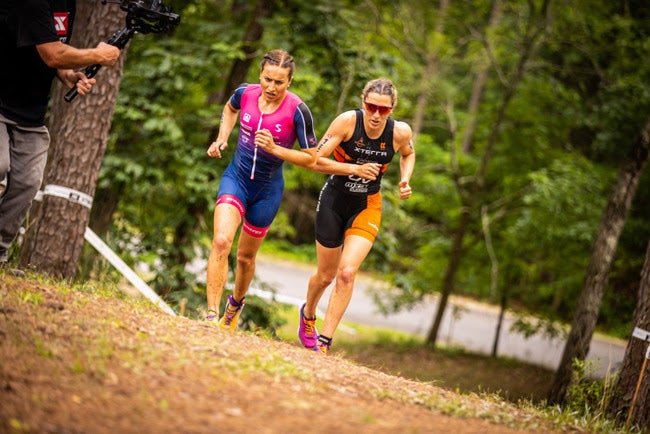 In a rare victory for France in the American South, they made it a clean sweep as Alizée Paties dominated the women's on the bike to finish five minutes ahead of Marta Menditto of Italy.
RELATED: What is XTERRA? Your Guide to Off-Road Triathlon
Margirier and Lee win "The Championship"
I would have loved to have been in the meeting to name this event. It probably didn't last very long. Nonetheless, there was still 100,000 Euro in total prize purse up for grabs and that's more than enough to get plenty of triathletes to come to Samorin, Slovakia, for the weekend.
Frenchman Mathias Margirier took the first win of his career, which had to feel extra satisfying after finishing second at each of his last four races. He ran away from Aussie Aaron Royle and German Frederic Funk after the trio began the run in lockstep.
In the women's race, Britain's India Lee was too fast on two wheels en route to the biggest win of her life. It comes just two weeks after an impressive seventh-place showing against a stacked field in Ibiza. Lee began the weekend #21 in the world rankings and will now be comfortably inside the top 20—which is critical to getting a coveted Asian Open slot later this summer.
Two minutes behind Lee, Germany's Caroline Pohle held off Spain's Sara Perez Sala for second, with just seven seconds separating the two.
Findlay Phenomenal at 70.3 Chattanooga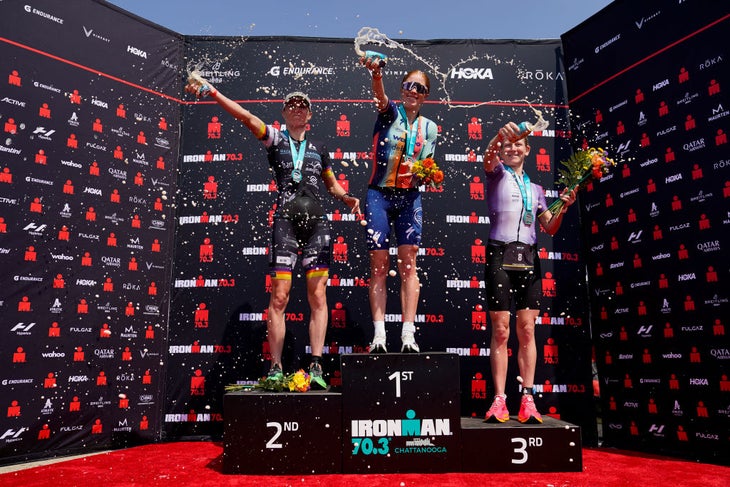 One of America's growing triathlon meccas hosted a pro race for women only, and the top woman on the start line did not disappoint. Per usual, it was the bike that was the difference for Findlay, turning in the day's fastest 56-mile tour of Chattanooga on her way to winning by more than five minutes with an overall time of 4:09:44. American Danielle Lewis was the only woman able to come close to Findlay on two wheels, but a big swim deficit meant settling for a distant second. South African Jeanni Metzler finished third just two weeks after her big win at 70.3 St. George. You can watch the whole race from start to finish on Outside Watch if you're an Outside+ member, so go check that out for your next trainer ride.
RELATED: Outside Watch Announces 2023 Ironman 70.3 Livestream Schedule
Pallant-Browne Tops Jewett at 70.3 Aix-En-Provence
Two of the fastest runners in the sport squared off in the south of France on Sunday. Britain's Emma Pallant-Browne needed every ounce of the four-minute cushion she had off the bike to hold off the charge from Canada's Tamara Jewett. Only one or two women in the sport can run three minutes better than Pallant-Browne over a half-marathon, but that's exactly what Jewett did—even though she came up a minute short of her ultimate goal.
RELATED: Tamara Jewett Is Becoming the Most Feared Runner in Triathlon
Pallant-Browne entered the weekend at #7 in the world after a fourth-place finish in Ibiza, and may move up one more spot when the algorithm does its thing later today. Jewett is all the way up to #9 after her finishing sixth in Ibiza and likewise should move up one spot.
In the men's race, France's Dylan Magnien ran an impressive 1:07:22 half over a challenging course to top Belgium's Bart Aernouts. South African Bradley Weiss finished third.
RELATED: New 2023 PTO Rankings Revealed & Dissected
Kienle "Loses It" at St. Polten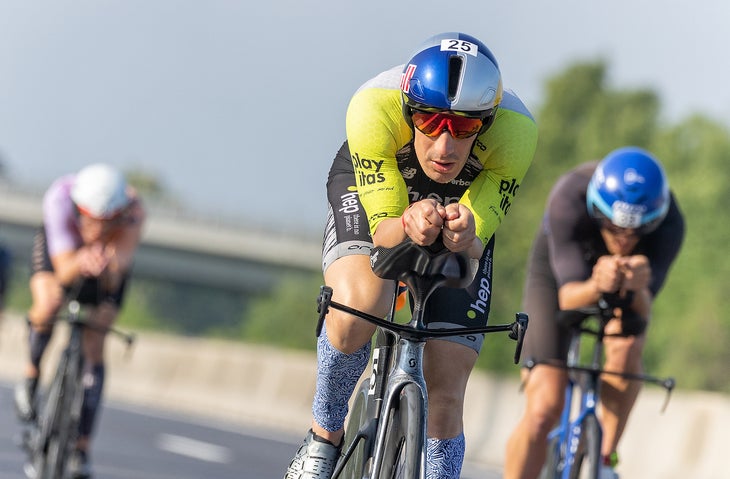 Another weekend and another penalty for beloved German Sebastian Kienle on his "Discontinued" retirement tour. After a drafting penalty that he vehemently denied took him out of the race for the win last weekend at Challenge Frejus, the same penalty this weekend at Challenge St. Polten took him out of his mind—as he explained on Instagram after the race. After throwing his bike and spending some time laying on the side of the road, Kienle accepted a rare DNF.
German Tom Hug won what was just the second pro race of his life. That should help his current #567 world ranking and reminds me that there are way too many "pro" triathletes. Lotte Wilms—who is making her way close to the top 20 of the world rankings—won the women's race. She finished ninth two weeks ago in Ibiza and started the weekend at #26.