Last Weekend Now: Brits Dominate and Gustav Iden's Shoes Confiscated in Abu Dhabi, Short Swim in South Africa, and More
It's only March and already controversy reigns supreme in the world of pro triathlon with an equipment protest at WTS Abu Dhabi, an after-the-fact DQ and podium shake up at Ironman South Africa, and a relatively drama-free day of racing at Ironman New Zealand.
Heading out the door? Read this article on the new Outside+ app available now on iOS devices for members! Download the app.
Last Weekend Now is your weekly commentary on what's happening in pro triathlon, brought to you by Brad Culp. (Ed note: So yell at him if you don't like the comments.)
The World Triathlon Championship Series picked up right where it left off, in Abu Dhabi, while Ironman resumed racing in New Zealand and South Africa. Professional triathlon is alive and well across the globe, so let's get into what went down over the weekend.
Britain reigns in Abu Dhabi and Norwegian kicks confiscated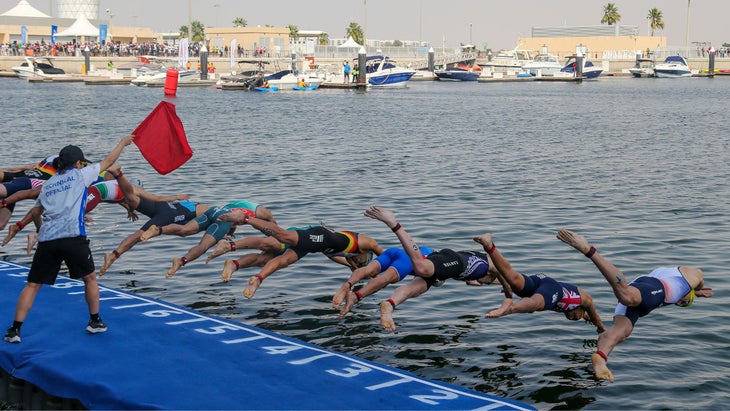 Alex Yee embodies everything that is great about Great Britain and it makes me sick. He's too refined; too polished, and too damn fast at running. At the rate he's going, not even Kristian Blummenfelt's return to short-course racing is going to keep Yee off the top step of the podium in Paris next summer. There are still 512 days until the men's Olympic triathlon, but right now Yee looks to head into the Games as the biggest favorite we've seen since Alistair Brownlee in 2012.
RELATED: Brownlees Step Aside, Alex Yee is The New Heir to The British Tri Throne
I'm trying not to take too much away from a sprint-distance race in March, but the ease with which Yee won on Friday is impossible to ignore. He's doing the Brownlee thing where he essentially ends the race very early on the run. It's important to note that some of his biggest competition on the run was missing last week: Blummenfelt pulled out with an illness; Tokyo bronze medalist Hayden Wilde got a flat tire, and Morgan Pearson—who had by far the fastest run of the day over the Olympic distance in Abu Dhabi last November—also pulled out due to illness at the last minute.
Speaking of the Olympic distance, we really need to chill with all the sprint races. At its highest level, triathlon needs to be a true endurance sport—on par with the marathon. The relay is there to grow the sport and attract a new audience. Sprint races cheapen one of the true endurance events of the Olympic movement. Let's stop trying to make it a half-marathon.
Apologies for the digression. Apart from Yee, the story of the men's race was that 23-year-old Vasco Vilaca continues his meteoric rise toward the top of the sport and is a contender to win Portugal's second Olympic medal in triathlon. He also has me wondering why I didn't name my son Vasco. He's now finished in the top seven in five of the last six WTS races.
Rounding out the podium was a Portuguese name you probably don't but should know in Manoel Messias, who is from Brazil. He is the top-ranked South American in the World Triathlon rankings and this is his second time on the WTS podium after also finishing third in Cagliari last October. The 26 year old has been competing at the elite level since 17 and has been one of the best in the world at every step of the way. He won the junior world championship in 2015 and then finished second at the U-23 world champs the following year, despite only being 20.
In case Yee's flawless running form and character wasn't enough to ruin your weekend, Beth Potter was nothing but perfect in winning her first WTS title. It's a nice rebound from a disappointing 32nd-place showing in Abu Dhabi to finish last season, and it makes her one of the frontrunners to do the impossible and qualify for the British women's Olympic triathlon squad. It's crazy to think that a true gold-medal contender could be left off of that team. That doesn't happen in many other sports.
The Scotland native has performed well over both the sprint and Olympic distance since making the move from professional running, but her 5K times have been particularly sizzling. She's run as fast as 14:41 for a standalone 5K, which would be a world record had the event been certified by World Athletics. Her 16:46 5K on Friday was more than enough to drop countrywoman Sophie Coldwell and American Taylor Spivey, who were the best of the rest from a breakaway group of six.
Coldwell overcame a 10-second penalty for being a bit too eager to dive into the water to earn her fourth trip to a WTS podium. She has yet to win at this level but has been remarkably consistent and looks to be among the favorites for Team GB 2024.
Spivey had the honors of being the fastest triathlete in the world not at the Tokyo Olympics, but it's fueled her to get even faster and do things like make a bunch of money at Super League. Like Coldwell, she's never won a WTS, but she's been the most consistent athlete in the world recently. She's raced ten World Triathlon races over the past two seasons and has never finished outside the top eight. She's been in the top five at six of those ten races. That's really hard to do in races that are often contested by a few seconds. Making the U.S. women's team for Paris looks to be as competitive as the British, especially with a certain former gold medalist back in the mix, but Spivey is leading the way right now.
A note on Iden's shoes (yes, we're talking about Iden's shoes again)
And because it's not a triathlon if there's not some gear controversy and behind-the-scenes mudslinging, World Triathlon confirmed to our European correspondent, Tim Heming, that reigning Ironman World Champion Gustav Iden had an equipment protest filed against him for a pair of shoes he wore during the race. According to World Triathlon, the shoes were sent away for testing, and Iden's fate at Abu Dhabi (where he finished a distant 52nd) will remain "provisional" for the next two-to-three weeks until a ruling can be made.
This isn't the first time the Norwegian has provoked footwear controversy, as he won Ironman World Championships with a pair of On prototype running shoes that World Triathlon later deemed "not illegal," despite buzz otherwise. Currently, however, World Triathlon's rules say that an athlete can't wear "development" shoes not on a preapproved list and require approval for a custom pair.
RELATED: Olympic Snub Fuels Taylor Spivey's Paris Goals
More dominance and more controversy at Ironman South Africa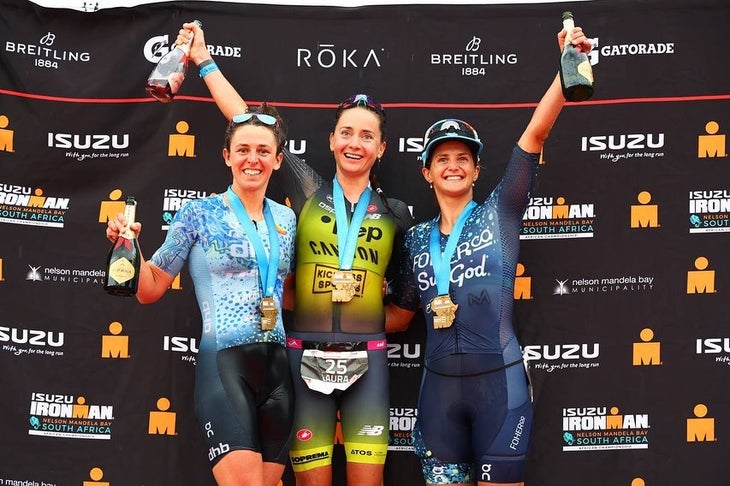 Per usual, the weather was a bit iffy at Ironman South Africa, so organizers did what they always do and cut the swim to 1K. At this point, they may as well officially make it a 1K swim and it can become the Ironman for duathletes.
I know a few people who were there are staring at their computers saying, "But Brad, you weren't there!" I know. And I couldn't watch it either, because Ironman decided not to give this race the live coverage treatment, despite it being one of their regional championships. There wasn't even a tweet from Ironman while the race was going on. The sport needs to become more professional at the professional level, and by the looks of things, Ironman is happy to let others do that for them.
No coverage and short swim aside, it didn't change the outcome of the women's race, with Germany's Laura Philipp showing once again that she's among the best bike-runners to ever do the sport. She's now won seven of her last ten races, and 15 of her last 20 going back to her perfect season in 2018.
RELATED: How Laura Philipp Set A New Ironman Record
The shortened swim didn't give Britain's Fenella Langridge much of a chance, however. Her small gap out of the water was quickly erased out of T1, but she did manage to stay within seven minutes of Philipp in very tough conditions on the bike, which is no small feat.
Philipp ran another four minutes better to get to the line with an 11-minute cushion on Langridge, who was followed less than a minute later by France's Justine Mathieux. She's one of our top picks for athletes to watch in 2023, but you won't find Mathieux third in the results for this race. Shortly after finishing, she was told that she had been given a failure to pass penalty of the bike and didn't stop in a penalty box. It was the first Mathieux—or seemingly anyone but the referee—had learned of the penalty, the latest in a string of controversies involving referees at Ironman races (see also: Sam Long and Magnus Ditlev).
She'd just run the best marathon of her life to post the biggest result of her young career—a result that would've qualified for Kona, skyrocketed her up the PTO rankings and earned her $9,000. And then she got told she did it all for nothing. Letting an athlete run 26.2 hard miles and then telling them they're disqualified for not stopping is insane. Given that, I think an adjustment to her finish would be much fairer than a DQ—if indeed there was no communication between Mathieux and the referee. The DQ moved Aussie Penny Slater into third.
With a nagging hip injury keeping Alistair Brownlee from starting, the big question in the men's race was "could anyone beat France's Leon Chevalier?" And the big answer was "absolutely not." Chevalier and Kristian Blummenfelt were the only athletes to finish among the top seven at both St. George and Kona last year, and now the Frenchman has the second 140.6 title of his very young career. Like Philipp, Chevalier did most of his damage on the bike, keeping pace with Aussie Cam Wurf. They both rode 4:10 in windy and wet conditions, leaving the rest of the competition five minutes behind.
Chevalier quickly dispatched Wurf on the run and went on to finish more than four minutes ahead of runner-up Bradley Weiss. For his effort, Weiss should stay firmly in the top 30 of the PTO world rankings, which will get him into the three big-money Open events. Mathias Petersen of Denmark grabbed the final podium spot ahead of Sweden's Rasmus Svenningsson. All of the top four are now qualified for the world champs in Nice. Wurf finished one spot away from qualifying and will now have to fit another Ironman into his cycling schedule if he wants to race in Nice, which would seem to suit him much more than Kona.
RELATED: Cam Wurf on the Challenges of Crossing Over from Road to Tri to Gravel
Visser and Phillips on top in Taupo
https://www.facebook.com/IRONMANNEWZEALAND/posts/pfbid02Bjic25fmYPDk8vU7hs85XEXSSB91n8u9u2qce1MVSEz31CU3KcYPwazWsKMfmpWZl
Els Visser of The Netherlands won the second Ironman title of her career at one of Ironman's most storied venues. She overcame a seven-minute swim deficit by riding seven minutes faster than everyone else, and then ran away right out of T2 to win by three minutes. Taupo is a pretty good place to run without company for 26 miles.
Kiwi Hannah Berry, who won this race in 2021, settled for second, with fellow local Rebecca Clarke finishing third. Clarke doesn't get nearly enough credit for being one of like two triathletes in the world who can swim with Lucy Charles-Barclay.
The story in the men's race was that someone beat Braden Currie. That someone was fellow Kiwi Mike Phillips, who won his second IMNZ title on Saturday. He did it by posting a 4:15 bike split, which is ridiculously fast on undulating chip-seal roads. That gave him three minutes on Currie at T2 and he held that advantage throughout the run.
The story of the marathon was Switzerland's Jan Van Berkel, who ran his way up to third with a 2:41 split—the best of the day by six minutes. The soon-to-be 37-year old continues to get faster on two legs and has run as fast as 2:37 off the bike. He finished four minutes up on Sebastian Kienle, who has now concluded the New Zealand portion of his retirement tour.