Iron Mom Gina Crawford Is Back
After taking off 2011 to give birth to her son, Gina Crawford came back at Challenge Wanaka to capture her ninth iron-distance title.
Heading out the door? Read this article on the new Outside+ app available now on iOS devices for members! Download the app.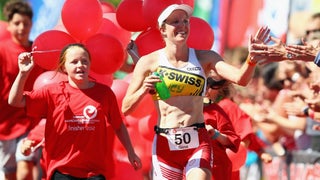 After taking off 2011 to give birth to her son, Benji, New Zealand's Gina Crawford came back in January at Challenge Wanaka to capture her ninth iron-distance title (and fourth Wanaka title) just six months after giving birth. Triathlete.com caught up with Crawford to learn more about the challenges of racing as a new mother, her plans for the 2012 season and her thoughts on the Kona Pro Ranking system.
Triathlete.com: Congratulations on winning Challenge Wanaka! How did it feel to get back into racing after taking a year off?
Gina Crawford: Thanks, yes was great to be back racing, I really missed competing and training, and Challenge Wanaka is my favorite event so it was a great way to kick-start the year.
Triathlete.com: Was that race the longest you had been apart from your son?
Crawford: Yes it was. That was my biggest concern with doing the race. I am still breastfeeding (Benji was 6 months old when I raced Wanaka) so I have never been away from him for more than three or four hours. The logistics of the race took a lot of planning but he had a great day and didn't go hungry! It was a little uncomfortable for me running by the end of the race but not as bad as I had anticipated, and I ran past him several times on the marathon, and it was so good to cuddle him at the end of the race.
Triathlete.com: Why did you decide to do an iron-distance race so soon after having a baby?
Crawford: Challenge Wanaka is my favorite event and I didn't want to wait through a New Zealand summer when I felt perfectly capable of competing. When I first started training for the event I didn't have the goal of winning, but just to go out there and finish. But after I started training and discovered I felt pretty good then I secretly set myself the goal of winning. Yes my training is very different, I have to be flexible and have been doing about two-thirds of what I used to do, but I feel fast, fit, fresh and full of enthusiasm.
Triathlete.com: How has your training changed compared to before you had Benji?
Crawford: I first started training about six weeks after he was born but just one hour per day either swimming, biking on the wind trainer or walk/jogging (I had to start with 5-minute runs). When he was around 3 months old I felt more comfortable to leave the house for short periods (while his dad was looking after him) and slowly started a more structured program. I have to be very flexible, and I try to work around his feeds and naps. I am doing about 20-23 hours per week right now (as opposed to 30-35 hours previously) so when I do train I have a focus of what I want to achieve out of each session and make the most of the time. I think my training program is currently working out really well. It's about having a balance in my life.
Triathlete.com: What's your advice to new mothers who want to get back to racing?
Crawford: Don't listen to a lot of the negative information out there. My midwife said I wouldn't be able to run for a whole year! Lucky I didn't listen to her. If you are breastfeeding then make sure you are getting adequate calories and are staying hydrated and start slowly with low intensity exercise to make sure that the exercise doesn't affect your breast milk. If your baby is putting on weight nicely and is satisfied, then you can start increasing the intensity and length of your sessions, then set yourself a goal and go for it!
Triathlete.com: You've mentioned that Ironman New Zealand is next for you—how's your preparation coming along?
Crawford: Really well. I had a really good recovery after Challenge Wanaka and am focused on improving on my Wanaka performance.
Triathlete.com: And I know you've talked about racing Kona this year—why the choice to focus on the Ironman World Championship?
Crawford: On my debut there in 2008 I finished eighth so I know I can race well there and really want to have a really good performance. This year it could be hard for me to be at my best as I have not raced in 2011 and am behind in the points system and so I have to work really hard and do a lot of racing to qualify. However if I do qualify and pick up some points (from racing Kona) then in 2013 it can be more of a focus for me and my goal will be to be back in the top 10. So it is more a longer term goal for 2013. The second reason I want to be back racing there is that it will be a great holiday for Benji! It is always nice if you can go to a race where your husband and son can have a good time too rather than it being all about me, and I know he would love swimming and looking for fish and turtles.
Triathlete.com: Since your focus is Kona and this is your first season back since the Kona Pro Rankings system has been instituted, what are your thoughts on the KPR as an athlete living and training in New Zealand?
Crawford: I think it is a great idea and there have already been improvements made from last year for athletes on this side of the world. We now have a P2000 race in New Zealand rather than a P1000 and then just across the ditch we have a P4000 in Melbourne so it is really good. I would love to see Asia back with a full Ironman race as Japan, China and Korea have all gone from the schedule.
Triathlete.com: Since Kona is at the end of the Northern Hemisphere's tri season, how will you be able to maintain your fitness through what will be a very long season for you?
Crawford: When you live in the Southern Hemisphere that is just normal for us. Most of us will compete in either Europe or USA in your summer and then also race at home, so this is no change for me; my schedule has always been this way. I personally take little breaks after key sections, so I will take 2-3 weeks off at the end of March and then 2-3 weeks off mid-July after competing in Europe and then 2-3 weeks off after Kona. These little breaks keep me refreshed all year, and now with the new points system I see people in USA and Europe racing much longer seasons too, from March all the way through to November.