Flora Duffy on Crashing, Marriage, and Racing Under Pressure
Flora Duffy is arguably the greatest female triathlete on the planet and she's still showing steady progress in swim, bike, and run.
Heading out the door? Read this article on the new Outside+ app available now on iOS devices for members! Download the app.
Bermuda's Flora Duffy has been on a steady rise since claiming her first big title at the 2014 XTERRA World Championships in Maui. Since then, she's earned three more XTERRA world titles, two ITU Cross Triathlon World Championships and—most notably—two ITU World Championships and an Olympic gold medal in Tokyo. Now she's arguably the greatest female triathlete on the planet, and she's still showing steady progress in swim, bike, and run. We chatted with Duffy after her big World Triathlon Series victory 2018 in her home country of Bermuda, where she's a bonafide celebrity. 
Related: In 4th Olympics and a Tropical Storm, Flora Duffy Flawless for the Win
Related: Bermuda Celebrates Flora Duffy's Historic Gold Medal
Triathlete.com: You finished 2017 with a wedding [to now-husband Dan Hugo]. How was that experience?
Duffy: We got married on Dan's family farm in Worcester, South Africa, a small town about an hour outside of Cape Town. It was beautiful; everything I wanted. We had some people come from Bermuda, Boulder, and obviously our families were there. It was just wonderful.
Triathlete.com: Talk about the crash in your first race of the year at WTS Abu Dhabi [Duffy was leading alone out front when she hit a wet spot and crashed]. How do you handle something like that where you're feeling good about your fitness but something out of your control goes wrong?
Duffy: Of course it was a really tough moment in Abu Dhabi, especially because I really had a great swim. I was off the front of the bike and I felt really good, and you're always nervous and unsure coming into the first race. … I had a pretty tight turnaround between my last race of 2017 and my first race of 2018 so then crashing under the tunnel and having a mechanical that I wasn't able to fix was super frustrating, but for me I just tried to keep a perspective that it could have been a lot worse. Ultimately my body was OK and my bike was OK. I was back training a couple days later. It's part of racing. I hadn't crashed in five or six years. So it's bound to happen at some point… I tried to keep that perspective and realize it's just the first race of the season, there's plenty of time to make it up and it doesn't really matter for the series.
Triathlete.com: How was the experience of winning gold at the Commonwealth Games?
Duffy: It was pretty incredible. It was big pressure going into it because we [Bermuda] don't have many other medals in the Commonwealth Games. There was big expectation for me to go there and not just win a medal but win the gold medal. People think 'it's Bermuda, it's small,' but you're the hope for an entire country. And people are very passionate and behind it. I definitely was like 'you better nail this one Flora!' My preparation went well, I had raced at Gold Coast before so I was comfortable being there, and Dan was there with me. He was accredited as my coach and as the Team Bermuda coach. The individual race went to plan. The crowd was amazing. It was a great day.
The real highlight was the team relay. To have four Bermudians there was amazing. It was like three generations of us: the young Tyler [Smith] and Erica [Hawley], me and then Tyler Butterfield. Trying to think of how much went into the four of us being there; it was very cool.
Triathlete.com: Talk about the decision not to do the mountain bike race.
Duffy: The mountain bike race had always been something I wanted to do as a life dream. The course for the most part was 100 percent fine. It was one or two areas I was just worried about. I thought it could get a little dicey toward lap four or five when you're tired and you make silly mistakes. With WTS Bermuda being so close to it, I didn't want to have a silly crash and be slightly hurt. Especially because I crashed in Abu Dhabi, and then back in January I tripped running, and then in February I also knocked myself. Basically in January, February, and March, my left side was just wrecked. I was like 'you're finally in one piece let's not do anything stupid.' Thankfully everyone understood; it just felt a little stressful at the time.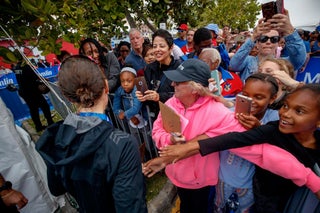 Triathlete.com: It is amazing to see the Bermudian support of you coming into the WTS race here, but it also seems like it could be a lot of pressure. Talk to me about handling that; you seemed pretty composed through it all.
Duffy: It was definitely a lot. I knew it was coming. Every time I'd come back between us winning the bid and now being here to race, it was building and building. I had learned to deal with it. When I see this giant poster of me on Front Street and there are posters of me everywhere; everyone knows who I am. It was hard for me because it's just not my personality to be like that. I don't love walking into a room and everyone knowing who I am.
But I learned that you only have this moment for so long in your career and you're lucky to have it. So you might as well own it and embrace it. In terms of how I stay composed, I don't really know how. I think Dan really helped a lot. Just talking to me through it and almost dumbing things down. Just remembering 'OK you're always staying at a hotel during race week, you always have pressure on you when you race. It's just swim, bike, run.'
Triathlete.com: Speaking of the race, talk to me about the strategy and the realization that you were going to do the whole bike ride by yourself.
Duffy: That was not the plan. The plan was to really push the swim. I knew without Jess [Learmonth] someone needed to take ownership of the swim. I knew I had been swimming pretty well. So I just said 'OK I'll just go for it.' And if I can lead it, then great. So I led out, and then the plan was to do basically the first three-quarters of a lap super hard and not look back. And at that point I was like 'wow I'm really on my own.'
Triathlete.com: Talk about the run. You had a big lead and the crazy crowd support, but you still have to run a 10K with fast runners behind you. At what point did you let it sync it?
Duffy: Yeah I hadn't done an Olympic since September. It felt like a super long race. I was a little nervous coming onto the run because I had ridden pretty hard. I led the swim and the bike, so that takes a lot more out of you than when you can sit in and have a little rest. I tried to stay as composed as I could on the run. Dan gave me a split on the second lap of the run and told me I had opened more of a gap and that I was gaining. I knew I just had to hold it. I was feeling pretty tired, but I said 'OK you don't need to kill yourself.' With about 800 meters to go, I kind of put my sunglasses up and looked around and soaked it all up. I had to keep myself pretty composed because on the run you can really hear the noise. I said 'you must enjoy this moment. This might never happen again in your life.' I did, and it was pretty amazing.
It was crazy. I've never expected to see so many Bermudians out watching a triathlon and be so passionately and emotionally involved in the race. It's people who don't know me and don't know a lot about triathlon. It was special. I grabbed the flag and really tried to be present in that moment. Sometimes it's very hard to be at the finish line, but just realizing this is a pretty big deal and it means a lot to a lot of people. It was a huge relief washing over me.
Triahtlete.com: It feels like you've already had a pretty big season and it's only April! How do you take that step back and refocus for the rest of the season?
Duffy: There's still a lot to go in the season, but in a way it makes it a lot more fun for me because these were my two big objectives for the year. Obviously I would like to try to win the series for a third time but these are the two races I really wanted to win. Now it's about thinking a bit more big picture. Like long-term Tokyo picture. What are some of the things we want to work on and try tactically that we can test out in a few races? It takes the pressure off to know I don't have to be perfect in every race. I've achieved more than I thought I would so I'm just going to enjoy the moment. Generally if you're doing that, the good racing follows.