Chris Leiferman Loves Being the Underdog
Three months after a failed surgery and three days after the arrival of a new baby, the recently-crowned Ironman Coeur d'Alene champ proved he knows how to roll with the punches.
Photo: Patrick McDermott/Getty Images
Heading out the door? Read this article on the new Outside+ app available now on iOS devices for members! Download the app.
When Chris Leiferman lined up at Ironman Coeur d'Alene last month, he had already had a pretty good taper week. Just three days earlier, his wife had given birth to their second child, a baby girl they named Levi. He was also riding high from a podium performance at his season opener, 70.3 Boulder, a few weeks prior. It was a complete turnaround from just a few months prior, when post-surgery complications had the top American at the 2021 Ironman World Championship in St. George wondering if he'd even make it to any races this year.
But if you're ever looking for proof that when Plan A falls through, Plan B might actually be even better, then Leiferman's tale might just be it.
Surgery, setbacks, and doubts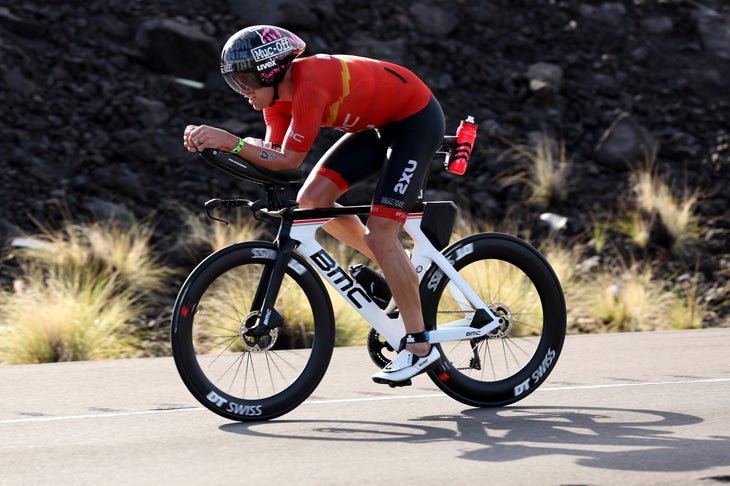 "I'd been planning to open my season with 70.3 Oceanside followed by 70.3 Texas," says Leiferman. "And then just before Oceanside I had to go to the ER for kidney issues."
Diagnosed with a congenital narrowing of the ureter, Leiferman was scheduled for surgery to dilate his ureter. "They put a balloon in there, dilated it, and then put a stent in there to bypass the ureter from the kidney to the bladder," he says of the procedure.
Prior to the surgery, doctors had told him the surgery was routine and he would be moving just fine the next day. But that's not how it worked out; instead, he was in what he describes as "the most significant, unbearable pain." Leiferman rushed to the ER once more, where he was admitted to the hospital for two nights and underwent a removal of the stent that had just been put in, even though it was due to be in for four weeks. He would need another surgery in May.
It was at this point Leiferman started shelving his racing plans, pulling out of Oceanside and Texas. Without any races on the calendar and unsure when he might get back to a start line post-surgery, he says he was "aimlessly exercising, not really training" and his head was "in the dumps."
But after two huge days of riding at the end of April, Leiferman started feeling "surprisingly strong" and experiencing zero symptoms or pain. He started questioning whether he would need the surgery after all. After getting the all-clear from his doctor to push his surgery date back from May to November, the pro set out to salvage what was left of his race season.
"It was a gamble," he admits, "because I didn't know for sure if the kidney problems might flare up again. But it was one I was willing to make."
A "big step forward" at 70.3 Boulder
With surgery now on the back burner, Leiferman entered 70.3 Boulder and Ironman Coeur d'Alene. With his name on a start list, his motivation, spark, and zest for training came right back.
Yes, this rushed return to racing meant Leiferman toed the line at 70.3 Boulder on June 10 with a less-than-ideal training lead-up, but from the spectator side of the race course, no one could tell. The seasoned pro executed a tactically smart race, made possible with the huge respect he has for his competitors and his physiology. He ran shoulder-to-shoulder with Lionel Sanders right up until the finish chute in a tight battle for second and third, which Sanders narrowly won (sprint finishes, after all, are a superpower of Sanders).
For Leiferman, the race was a "big step forward" as he executed a strong bike (1:56:49) and a strong run (1:12:45), whereas previously he says he's only run well off lesser bikes.
RELATED: Watch Leiferman's big 70.3 Boulder race on demand with Outside Watch – become a member today!
From under the radar to top of the podium
70.3 Boulder was the perfect confidence booster leading into Ironman Coeur d'Alene a few weeks later, which – as someone who describes himself as Ironman racer, not a 70.3 specialist – had been Leiferman's focus all along.
Buoyed by the arrival of his new daughter ("she's just the sweetest, most chill little baby," he says), the Team BMC athlete arrived in Idaho happy and relaxed. Given the quiet start to his season so far, he was flying under the radar.
"I wasn't even invited to the pro panel," he laughs. While Sam Long's Yo-Yo-Yo hype train was pulling out of the station at the pre-race press conference, Leiferman had his feet up watching comedy movies with his buddy, retired pro Justin Daerr. That's exactly how he likes it. Leiferman knows what he needs before a race, and says "staying away from the hoopla" is a key part of it. Known for his steely, quiet confidence and zen-like calm, it makes sense that Leiferman's ideal preparation is high on chill time and low on drama.
Come race day, it all seemed to come together perfectly. He exited the swim in the second chase pack in 53:26, and it was on the bike where he started making the race his own, riding a race-best 4:20:32 that meant he hit T2 in the lead. Long had dropped out with mechanical problems on the bike, which Leiferman said he was disappointed by, as he thought they could have ridden together to build a bigger buffer to the rest of the field. On the run course, the race was by no means sewn up, with up-and-comer Matthew Marquardt matching Leiferman's pace.
"It was only with 5K to go that I thought, OK, I've got this," Leiferman admits. And given that he clocked the fastest run split of the day with a 2:49:03, it's staggering to hear he was managing a not-so-healthy knee throughout the entire marathon: "I wasn't in pain, but I knew one step of over-striding, and it would go."
Up next: Nice
Unsurprisingly, then, high on his to-do list now is getting an MRI on his knee, and then, all being well, diving into his preparation for the men's Ironman World Championship race in Nice on September 10. Given his strong performance at the 2021 event in St. George last May (Leiferman finished fourth), there's plenty to be excited about.
"I like world championship races. There's always someone good on the course to work with," he says. "You can fly under the radar. St. George was pretty chill, it didn't really feel like a world championship race, [it felt] very different to Kona."
And it's all the hype and intensity in Kona that he finds draining: "Being inundated with every aspect of triathlon every day beforehand is mentally exhausting, and that's just not me, that's what I mean by flying under the radar. Staying away, keeping to myself."
His build into Nice will be just the way he likes it: at home in Boulder with wife, Zana, their three-year-old son Cruz, and baby Levi. Returning home from bike rides and being greeted by Cruz, saying, "Daddy go bike ride, Daddy go round and round!" is exactly what he wants as he prepares for the biggest race of the year.
"I won't be doing anything different or special," he says of his Nice preparations. "My focus is to stay healthy, be patient, and be consistent." He's worked with his coach, former pro cyclist Ben Day, since 2019, and together they know what does and doesn't work.
Leiferman might not be at the center of anyone's social media hype leading into Nice, and he might not even be at the pre-race pro panel. But watch out, because that's exactly when he gives everyone something to talk about.
RELATED: The Triathlete Hour Podcast: You Don't Know Chris Leiferman Yet—But You Should