Ben Kanute's "Damn Near Perfect" Record-Setting Day
Maybe you didn't expect Ben Kanute to pull off a 7:37:01 in only his second attempt at the full Iron distance. But the newly-crowned "Fastest American" and his coach, Jim Vance, absolutely did.
Photo: Daniel Löb/picture alliance
Heading out the door? Read this article on the new Outside+ app available now on iOS devices for members! Download the app.
Whether it was breaking away with the Brownlees in the Rio Olympics or charging from the front in almost every Ironman 70.3, Ben Kanute has long been known for his aggressive style of racing. Kanute's strategy can best be described as a no-mercy approach to the swim, fearlessly attacking the bike, and putting anything and everything that's left into the run.
If that goes against the patient, steady-state effort traditionally needed to succeed at Ironman, then the newly-crowned fastest American at the full Iron distance can – with plenty of justification – beg to differ.
The 30-year-old's 7:37:01 and third-place finish in Challenge Roth on Sunday was achieved not by locking in on power numbers, but by simply racing his rivals. For both Kanute and coach Jim Vance, this tactical choice was a necessity to be competitive.
"The sport is moving to [demand] a different style of athlete," Vance explains to Triathlete. "You must have the ability to come out with firepower early. You have to push the swim, and understand the high demands on the bike, particularly early on. I think through the first hour and a half, Ben was at his 70.3 watts. If you're training an Ironman athlete to go out and ride steady, you're training for the wrong type of racing."
As they have for some time – Vance was first introduced to Kanute when he was 14 years old – the two see eye-to-eye. "There are rumors of Magnus [Ditlev] doing a 20-minute power test at 500 watts," Kanute says. "If I'm losing speed when training for an Ironman, I'm not even going to be a good Ironman athlete anymore. The pace we're racing, I need get-out speed and sustained speed for the swim, high power on the bike, and foot-speed and cadence for the run. The way that people are racing now, full distance is being raced like middle distance, middle distance like the Olympics. It's so much more aggressive."
RELATED: Tri Race Results: A Record-Breaking Day at Roth
Roth: "I had to race to the circumstances"
Roth was only Kanute's second full-distance race, and the first he's been able to give his full training focus. At his Ironman debut in Arizona last November, he finished the swim just behind British neo-pro Andrew Horsfall-Turner, and with a 2 ½-minute gap to the rest of the field. In Roth on Sunday, he led out the 2.4 miles in the Donau canal in a brisk 46:36, but had six men for company, among them eventual champion Ditlev. The heat was on immediately.
"It would have been nice to have ridden steadier, but unless we shook Patrick [Lange], I don't think they [Ditlev, Sam Laidlow or Daniel Bakkegard] were really going to relax. I was in a hole for like an hour and a half after [legally] holding their wheel. I think I squeezed every drop out of the race, and I had to race to the circumstances."
Ditlev's 3:57:45 bike split meant that once Laidlow had pulled up with calf issues, neither the race win nor breaking Jan Frodeno's 2016 course record ever looked in much doubt. The Dane knew that – just as he managed last year – a key early objective was to distance Lange and build enough of a buffer on him before the start of the marathon.
While Kanute, who eventually split 4:10:17, would have dearly loved a gap too, there had to be some circumspection, and he spent most of the race riding in the company of the German. "I tried to make him sit on the front more than maybe he would have liked as there is no advantage to me pulling Patrick around the course," says Kanute. "But whenever I was on the front, he was strong, and I wasn't in a position to commit to a 10-15-minute effort well above Ironman pace to do that [drop him].
"I knew Patrick would be running around 2:30 if not a little under with the [new Adidas prototype] shoes and how he ran in Israel [Lange split a record 2:30:27 for the marathon in Roth], but he also rides a lot stronger than everybody thinks he does, especially on a course like this where being a little bit lighter he can push the hills."
RELATED: Stay or Go? When to Follow the Race Plan (and When to Go for Broke)
A damn-near perfect day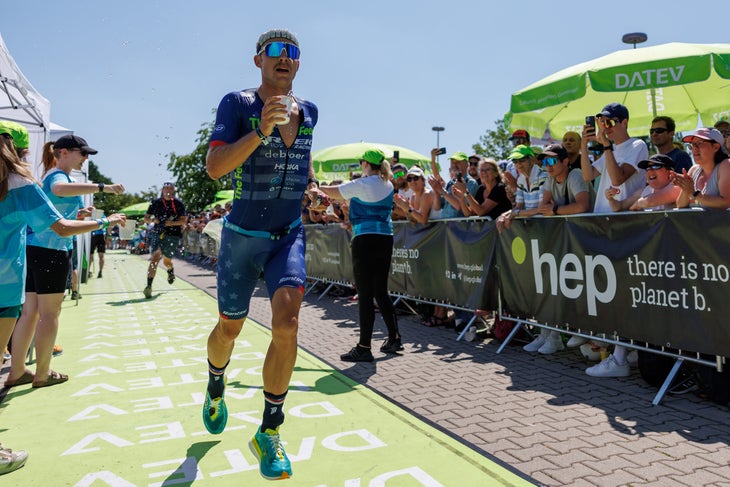 Vance was also full of praise for two-time Ironman world champion Lange. "I would argue that was probably the most complete race Patrick Lange had in his career. He was with the leaders, rode with the best guys in the race he could, and ran a record time. I think Patrick is in the same boat we are, and Magnus is just on another level right now. It's incredible. If anyone wants to say Magnus had a perfect day, then trust me, Ben had a damn-near perfect day, and Patrick did too."
That perfect day resulted in the fastest ever time by a U.S. triathlete over the full distance. Even accounting for contested results, such as Matt Hanson's 7:39:25 from a shortened bike course at Ironman Texas in 2018, the stars and stripes have never flown faster.
"I've had it as a goal to have at least one of the fastest Ironman times," Kanute says. "The 'first American' thing is cool, but the goal is to always win and that's what we're shooting for. That said, it shouldn't take away from the fact that we put together not just the fastest U.S. time, but one of the fastest overall. It's pretty cool."
Without certified courses, the subject of iron distance fastest times is always a topic for debate, but Kanute estimates that there have only been around six faster times in history, caveated on whether you choose to include Ironman Cozumel with a downstream swim, or Jan Frodeno's one-versus-one Tri Battle with Lionel Sanders.
It wasn't just about the data though. The pair loved their first experience of the small Bavarian town that doesn't so much put on a triathlon every summer, but a celebration of all things multisport.
"It was a bigger event than I even recognized," Vance says. "In terms of the commitment of the community and the connection the homestays have with the athletes – all the houses around here are hosting people – 'family' is the word. You feel like you're part of it. Before the race even started, Ben and I were talking about coming back."
"We haven't even planned the second half of the season yet, but it would be hard to say no to coming back [to Roth], that's for sure," Kanute adds. "Everything either met or exceeded expectations across the board."
RELATED: Photos from 20 Years of Challenge Roth
A less-is-more approach to racing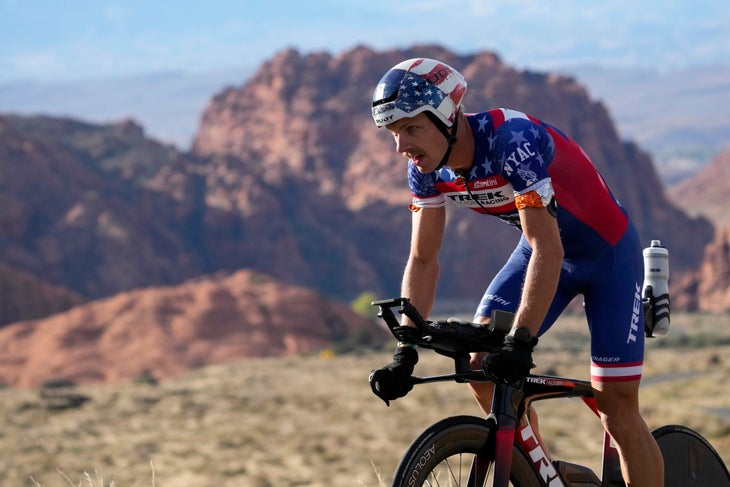 It's easy to overlook that Kanute is still only 30 years old, and was racing World Triathlon events until the eve of the pandemic. Other than last year's St. George and Kona winners, Kristian Blummenfelt and Gustav Iden, you have to go back to Faris Al-Sultan in 2005 to find an Ironman world champion under 30. Kanute has time on his side.
But he also has plenty of non-drafting experience, having been mixing it up on the 70.3 scene since 2017. A solid resume – including a second place in the 70.3 World Championship in Chattanooga in 2017 behind Javier Gomez, and fourth a year later in South Africa behind the triumvirate of Frodeno, Alistair Brownlee and Gomez – showed he had potential in stepping up from short-course to long-course. But it was a then-career-best performance at the Ironman 70.3 World Championship in Utah in October, where he pushed Blummenfelt until the closing stages, that was the catalyst for further improvement.
"Ben really changed as an athlete after St. George," Vance explained. "We felt like this is the template, and we need to stick to it and leverage it effectively in the best races where he's really motivated."
That template was narrowing the focus. Now married and a father of two, Kanute has more priorities to consider than where he should turn up next to race. The calendar becomes even more streamlined as he lines up only the biggest non-drafting races in the world. The strategy appears to be working.
"I could tell he was enjoying the day," says Vance. "We've brought a lot more fun and enjoyment to the schedule and he's found a new depth of performance from that. It's almost as if he's a rookie again, and I think it was expressed on the course in Roth, which to me is the most fulfilling. At times, I was starting to get teary eyed trying to grasp the enormity of the performance.
"I knew he would do well, he was so calm coming into this. I think I've only ever seen him like that a few times, his second in Chattanooga and fourth in South Africa, and the first time he won [Escape to] Alcatraz. It's certainly a day I won't forget in my career."
"I'm being much more selective," adds Kanute. "We learned a lot in St. George, from having concentrated training blocks and time to just train versus just racing a bunch where I'm traveling."
Roth, with its estimated 300,000 supporters, topped the list of attractions."It's why I picked it. I can't go to [this year's Ironman World Championship in] Nice because of my brother's wedding, so was there another full-distance race that motivated me? Maybe Lake Placid, because my dad did the very first one there, but I'd have had to do some mental gymnastics to get fired up about something else.
"Roth has the eyes on it, the competition, and the prize purse. Standing at the finish line, it has the soul of a grassroots event but just on an enormous scale. When you choose to suffer for seven and a half hours hours, this was an easy choice."
RELATED: The 30-Minute Mobility Routine That Helped Ben Kanute Nab His Second 70.3 World Championship Podium
"Roth has the eyes on it, the competition, and the prize purse. Standing at the finish line, it has the soul of a grassroots event but just on an enormous scale. When you choose to suffer for seven and a half hours hours, this was an easy choice."
What's next
Racing feels no less aggressive for Kanute these days, though the training itself has become specific to the longer distance. As such, there is more volume at a slightly lower intensity than if Kanute had been training for a 70.3, and while there was time to do little but recover from 70.3 worlds to go for the full distance in Arizona, a six-week block of strength work could be planned ahead of Roth.
"It's more hours than I've done before, and more time at race intensity," Kanute explains. "I find I respond really well to the volume and seem to recover super fast. I can do a long run or a brick session and come back the next day and not feel fatigued, whereas if I do super high intensity work it takes me more time to recover fully."
Vance is keen to point out that his charge is still not the finished article: "We're still learning. I'm still learning. This is the next progression in his career, and where the stimulus changes. I want to be careful he doesn't become this slow, slogging athlete."
"Everybody keeps rushing to raise the bar," Kanute says. "If you're looking at what Magnus did and saying it's a world record that will never be broken, it's a little silly. It's not taking anything away from Magnus, but if you're only trying to get to where he's at now, you're already four years behind."