7 Takeaways from 70.3 St. George and PTO European Open
From anti-drafting to anti-doping and Olympians to underdogs, last weekend's races in Ibiza and St. George had a few takeaways for fans of triathlon.
Heading out the door? Read this article on the new Outside+ app available now on iOS devices for members! Download the app.
With flagship professional races from three different organizations, the PTO European Open, and World Triathlon Long Distance World Championship and Ironman 70.3 North American championship in St George, you could get your triathlon fix wherever you turned this weekend. Here's what we learned about the state of the sport last weekend from the double blockbuster weekend.
RELATED: Last Weekend Now: Stunners in St. George, Ibiza, and Oz
The PTO has (finally) figured out how to throw a party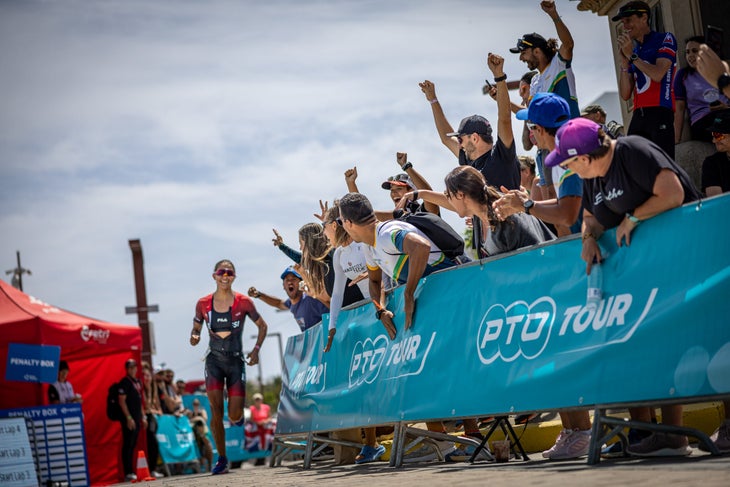 The PTO has faced criticism for its choice of locations to date, with venues at Daytona, Samorin in Slovakia, Edmonton and Dallas often appearing soulless and/or deserted. Running through the old town of Ibiza multiple times, tri fans, locals and tourists lining the route, with world-class triathletes flying past every few seconds, was a welcome step up. It was close-quarters racing that many competitors said were a throwback to their short course days. The PTO's contentious decision to keep the field sizes small (both races had under 30 pros) meant that having lapped runners didn't become too confusing and – as long as the spectators pay enough attention when crossing the route – it looks like a blueprint to follow.
😳 #PTOEuropeanOpen pic.twitter.com/SxCFAZqnP4

— Triathlon Out Of Context (@TriathlonOOC) May 6, 2023
Three blockbuster races might be too many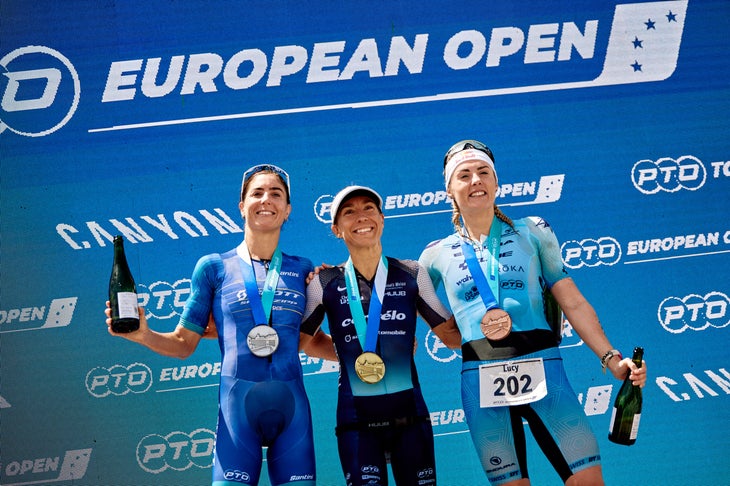 The PTO are also at pains to point out they want to deliver a season-long narrative to make triathlon easier to follow, especially for the casual sports fan. The challenge is whether it's achieved by collaboration with Ironman or World Triathlon, or by trying to elevate PTO events to such a status where it overpowers the rest. Judging by this weekend there is a way to go. The PTO European Open welcomed big names, but Ironman 70.3 St. George also attracted many of the North American stars, including Sam Long and Lionel Sanders. There were also highly-ranked PTO athletes, such as Joe Skipper and Kat Matthews, who opted to race the World Triathlon long course event instead. Choice can be great for the athletes, but makes it tough for fans to follow. Perhaps a question for the PTO in the debrief is: "What would it have taken to get Sam Long to race in Ibiza?" If they can't find an answer, the fragmentation remains.
In a field of all-stars, it sometimes pays to be an underdog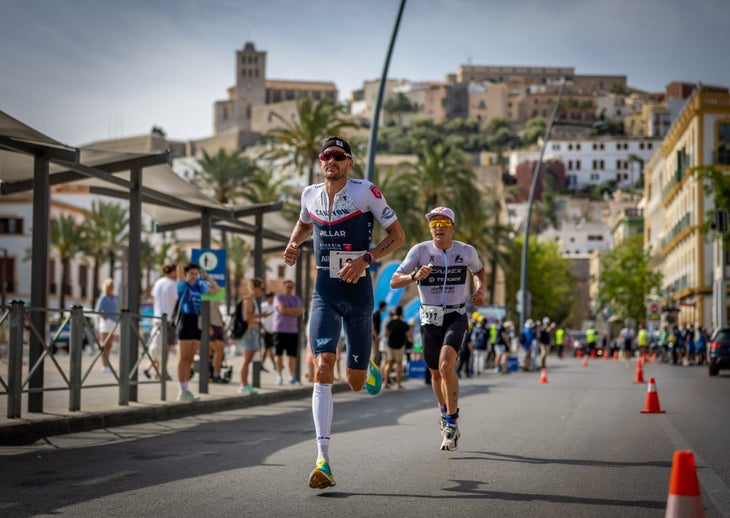 The PTO European Open was billed as a showdown between three Olympic champions: Jan Frodeno, Alistair Brownlee and Kristian Blummenfelt. In reality – and so it proved – there were any number of contenders who had the ability to win, and while Australian Max Neumann might not have been a hot tip, the fourth-placed Hawaii finisher wasn't as shocking a result and it might have first appeared. Of the headline trio though, it was second-place Blummenfelt who seemed most disappointed with his lot. Don't mistake this for the other two mellowing with age though. Frodeno in fourth and Brownlee in sixth were just happy to have finished in one piece, following such a catalog of injury in recent seasons. If they stay healthy for the rest of the season, expect fireworks.
Anti-drafting detectors are getting the job done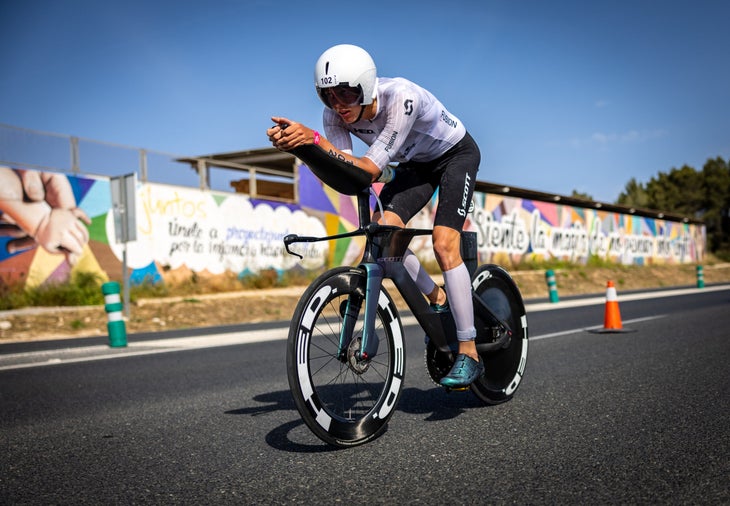 It was not the first time we have seen the new, anti-drafting Race Ranger system, but with the PTO and World Triathlon both adopting it in Ibiza for the professionals, it was certainly its biggest test to date. With so much new wave technology packed into two small discs on the bikes, and shifting draft zones from 20m to 12m between events, there was always the chance of a few gremlins creeping in. Other than one unit failing – unfortunately being Jan Frodeno's – it helped solve the issue of blatant cheating. More nuanced debates about how the officials enforce the rules with Race Ranger are now ensuing – and dipping in and out of the draft zone shouldn't come without consequence – but it stopped the egregious wheel-hugging we've seen in the past. A big thumbs-up.
Bike mechanics are the unsung heroes of our sport
For all the millions spent, perhaps one of the PTO's shrewdest investments was to employ two dedicated mechanics to support the professional racing. Like many heading for a weekend in Ibiza, Anthony Foy and Lewis Lacey hardly got a wink of sleep, but where others were throwing shapes on the dance floor, they were rooting around in their toolbox to make sure pros got to the start. It's unseen and unheralded, yet vital work: fixing wheels, cables, tires, including spotting a series of punctures after bikes were racked and even one quick wheel change in T1 – saving triathletes not just heartache for wasted trip but countless dollars in potential prize money.
(Mental) health is wealth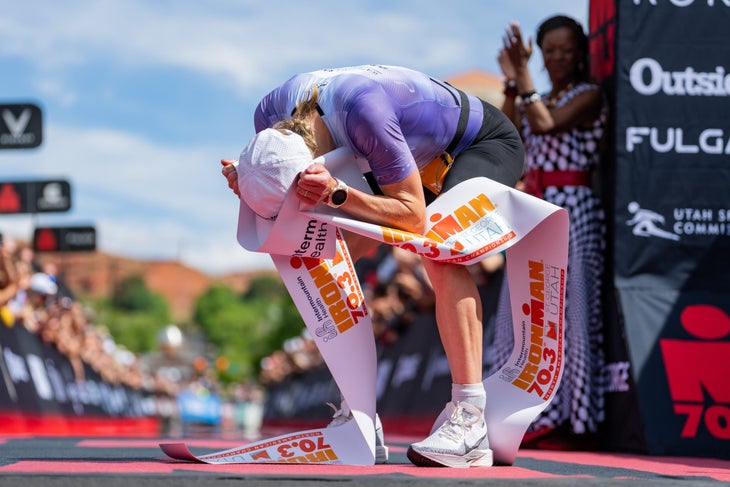 Sam Long will understandably and deservedly grab the headlines from St George. Whether it's wild sprint finishes, hotly contested penalties or now, thumping wins, the Big Unit's Yo-Yo (Yo) relationship with Utah is on the upswing at present. But spare more than a thought for women's winner Jeanni Metzler, back on top of the podium after a break to look after her mental well-being. It really wasn't so long ago that a decision like that would've been stigmatized as career-ending. Our mental health doesn't work in such a binary way. Metzler's maturity to step back, take the right nurturing steps and return when ready is a lesson to heed in any walk of life.
Missed the action in St. George? Outside+ Members can replay the action on demand with Outside Watch. Become a member today!
The Chartier effect in display?
We've had our fill (not literally) of drug talk over the past fortnight, thanks to the recent bust of Collin Chartier. But it's noticeable how PTO, World Triathlon and Ironman all took heightened action this weekend. In Ibiza, the PTO tested all the pros before the race with a new technique called Dried Blood Spot testing. The following day World Triathlon looked to be calling in an increased number of age-groupers for urine samples. And in St George, Ironman – currently the gold standard in triathlon anti-doping after their bust, with the help of the International Testing Agency, of Chartier – were also deploying dried blood spot.
Before you protest that in-competition testing is flawed, it still has been known to catch cheats. Out-of-competition testing (which caught Chartier) is still preferred, and we could do with seeing the registered testing pools enlarged, but this is at least a signal of intent that the organizations are on the same page when it comes to being vigilant in trying to catch cheats.
RELATED: Exclusive Interview: Mikal Iden, Coach of Suspended Pro Triathlete Collin Chartier